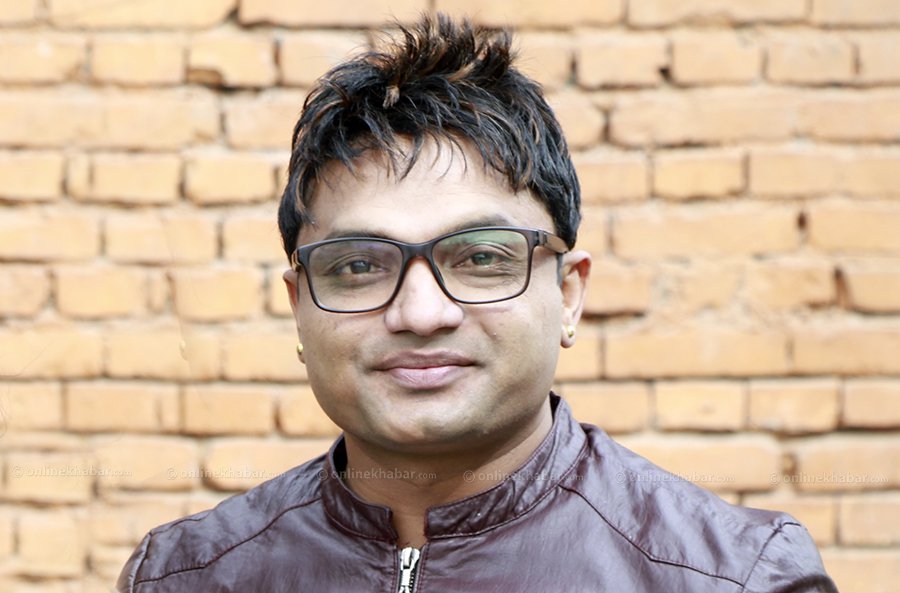 Folk singer Pashupati Sharma's 'Lootna sake loot' (loot if you can) is no ordinary song. A video of this song, uploaded by the singer on his YouTube channel, has generated a national debate on freedom of speech. The song, which according to the singer is a satire on corruption in the country, had to be pulled from YouTube following threats from a youth group aligned with the ruling Nepal Communist Party. Sharma, who had earlier said he would upload another video soon by 'correcting' some of the words used in the song, is not in the mood to do so. Onlinekhabar's Chiranjivi Paudel caught up with Sharma to talk about the controversy.
Excerpts:
Let's begin by asking you about how you came up with the song.
This song is actually not my creation. I would rather say I compiled the song. As a lyricist, I do not write songs inside closed doors. I have to travel to different places for work, meet a lot of people. When I talk to the people, they tell me about their frustration. The older generation says the politicians are not doing their job, the youngsters say they can't do anything in the country, nothing is in order.
Even when we read the newspapers, all we see is negativity. Corruption is making the country hollow. These are the things that I compiled in my song. My motive was to express the feelings of the common people.
I believe that an artiste should be independent; an artiste represents the voice of the common people. They do not belong to a political party. In my case, my wife is an NCP sympathiser, so is my father. My mother, meanwhile, sympathises with the Nepali Congress. But, I don't have any allegiance to any political party.
But did the song send a message you intended to send?
It depends on how you look at it. Because it is a satire, you should not take the song literally, you need to understand the satire.
When you were recording this song, did you feel that this song has something that would generate this kind of wave?
Not at all. I thought the corrupt would not like the song, but the public would appreciate my work. That is what has happened. Ninety-nine per cent of the people have appreciated my work. Only one per cent have protested. I understand that their souls would have also appreciated the song, but because they belong to a certain political party, they cannot withstand criticism
Looking at the immense support you have received from the public, don't you feel you deleted the video in haste? 
I did what my heart told me to do. My heart told me to delete the video, I deleted it. I feel it is the responsibility of an artiste to produce a work that is acceptable to everyone. I felt that if I changed one or two words in the lyrics and that would make them happy, I should change it. I am a straightforward person, I do not want to hurt anyone's feelings.
Rumours are that you pulled the video after receiving threats from the NCP supporters.
I received a phone call from the Youth Association of Nepal. They said they were not happy with the song. They used the language of threat. But I did not pull the video out of fear, I thought that all they wanted was changing a few words, and it was not hard to do it. That is why I removed the song from my channel.
Did you receive any other call?
That was the only call I received.
Did you hear anything from the government?
No. The only thing I have heard is that it became a topic of discussion among political leaders.
You said you would upload an updated version of the song. When do you plan to do that?
I am still thinking. But, most probably, I don't think I will upload the song again. I would like to thank the MP who announced to give me Rs 50,000. I would say that it would be better if he could give the money to those who are in need.
Why did you decide not to upload the second version?
The song is already out in the market, Everyone knows about it, everyone has heard it. Other YouTube channels have already uploaded it. If I upload a second video, people would think I am going after views and subscribers. I am not interested in that. I would rather move on to another song.
Yes, I might have to bear financial losses. But I have received the love I deserve from the public. I feel satisfied that my song represents the voices of the general public.
What do you say to the owners of other channels who uploaded your song?
I took the responsibility of my song and pulled. I see that other channels are uploading it. I won't do anything about it. I won't even complain that other people are earning money from my song.
The Lok Dohori Pratisthan asked you to reupload the song as it is.
Yes. A meeting of the Pratisthan (in which I also participated) passed the decision. But it is up to me to decide.
If the audience demands you to sing this song on stage, would you do it?
Yes, certainly. There is no reason for me to not sing it. But I would sing after changing one or two words.