MCube Gallery is currently displaying paintings and installations by 10 artists under the exhibition–Parallel History–at Chakupat, Patan. The group exhibition features Bhuwan Thapa, Bidhata KC, Jupiter Pradhan, Kapil Mani Dixit, Manish Lal Shrestha, Muna Bhadel, Pramila Bajracharya, Rabindra Shrestha, Roshan Mishra and Sagar Manandhar.
All of the artists in the exhibition have expressed themselves in their own styles, and they do not have any similarities. Yet, they are articulating their experiences sharing the same gallery space. The exhibition spreading over two floors gives you a sense of peace as the artworks are neat and do not clatter.  
Diverse viewpoints
In the Parallel History, artist KC in her installation 'My left is right' has depicted numerous hands holding each other in a row. Her concern is how practical her society is and narrates her own story of dilemma.
"The use of the right hand or left hand is associated with purity in Nepal, including in Hindu cultural practices. The right hand is supposedly clean and the left is dirty. This socially and culturally constructed norm has always confused me," she explains, "I always have a question, 'What to the person who only uses the left hand? Do all the rituals I practise with my left hand ever reach fruition?"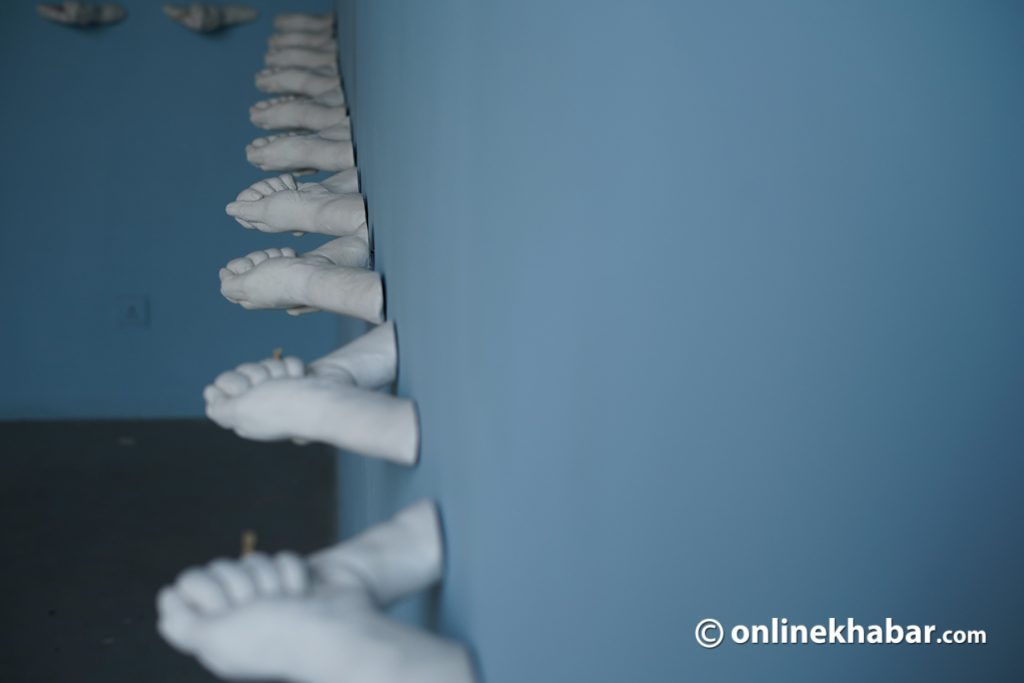 Then, in the exhibition, artist Pramila Bajracharya in her painting, Mother Nature, shows women and nature together portraying the aesthetic sense that she found in nature.  
Identities for coexistence
About the exhibition, artist Manish Lal Shrestha, also the curator of the exhibition, writes in his curatorial note, "The present time that we are in coexists with the tangible and intangible forms of heritage. We are in such an era, in which we celebrate the Machhindranath Jatra and at the same time enjoy the new technologies of the modern world. Society has not only been influenced by such cultural aspects but also the politic and the economy. Thus, with the exhibition entitled Parallel History, we are trying to capture those moments. Every thought process co-occurs in different time frames and correlates with parallel norms and values."
Moreover, all the artists in the exhibition delved into their own identities, everyday rituals, memories, and feelings of injustice about the past.
The exhibition continues till June 20.