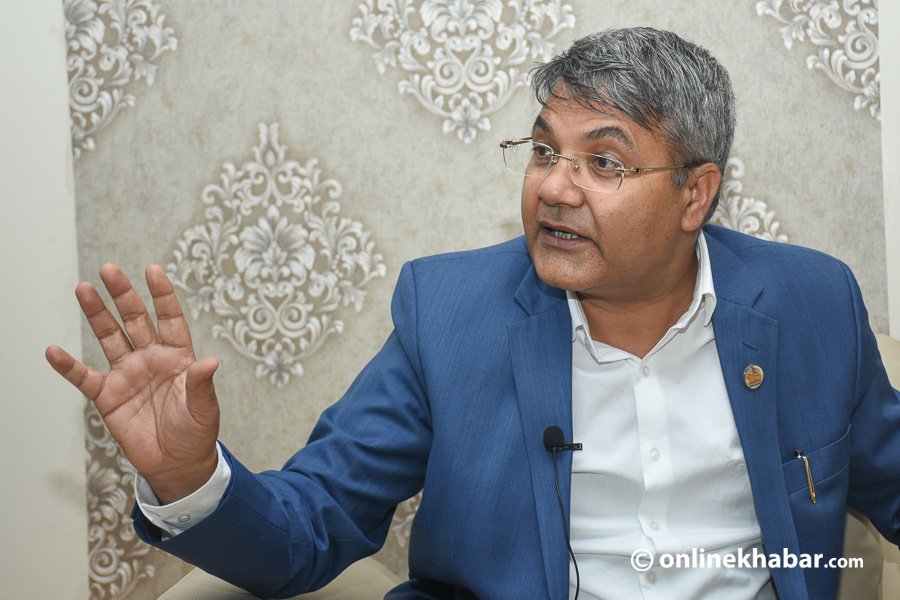 Minister for Information and Communication Gokul Baskota is one of the most recognisable faces in the Oli cabinet. His critics describe him as arrogant, discourteous and extremist. However, his allies describe him as being straight-forward and honest. Baskota was not a household name in Nepal Communist Party before being elected to the House of Representatives for the Kavre-2 seat with the most number of votes, after Oli.
Baskota, a former journalist, has been on the crosshairs of journalists across the country for his remarks related to the proposed Media Council. Onlinekhabar's Chiranjibi Paudel recently talked to Baskota about his term in office.
This is the first time you've become a minister. How would you describe your 14-month-long tenure?
This my first time taking office not just as a minister, but also as a member of Parliament. Things are moving ahead as I had expected. We are yet to see results. It took me around 2-3 months to understand the structure of the ministry. In a way, the 14-month period has been a time for me to lay the foundation stone.
Could you tell us your priorities as the communication minister?
When I took office, there were already several things going on. The first thing I did was implement the 'box office' system in Kathmandu. By the time you publish this interview, the system would have found its way outside Kathmandu. The system has given a huge relief to movie producers.
The second thing was to implement Nepal Telecom's 4G service expansion programme. The third: the security printing press. As of new, we need to get stickers, bank notes, ATM card and the like printed outside Nepal. We are losing Rs 10-12 billion on this. When I came to the office, I decided to prioritise plans to establish a security printing press in Nepal.  The initial work is being carried out. The project will take three years to be completed.
The other thing I have done is tried to introduce legal reforms in journalism. The debate over the proposed legislation is an ongoing one. We are trying to implement the clean feed policy (under which foreign broadcasters would have to send a local advertisement-free feed to Nepal). We are also trying to implement a proportionate advertisement policy. Our plans to launch our own satellite, provide accesses to the internet to ward offices, health posts and schools are also gathering pace.
The optical fiber laying program was already being implemented. Why did the Prime Minister recently inaugurate a programme that was already being implemented?
Let's not talk about lies. What actually happened was that the company that dug around a 15 m stretch in Karnali ran away after that. Nepal Telecom recently launched a programme to connect Panchthar and Gorkha. We haven't started work in provinces 4 and 5.
All we did was re-boot the programme. The Prime Minister inaugurated it, the people of Dhading came to see this. We did not spend a fortune on the event. People who have a negative mindset would only term such an event 'extravagant.'
Ever since you became a minister, you have been associated with so many controversies. If we are to look at social media, you are one of the most criticised people.
The biggest weakness of a person is to not see his own weaknesses. The people who criticise me are also not free of weaknesses. I agree that I may have some weaknesses, but we need to look at a person's intentions. If you are to judge me by my intentions, no one can point a finger at me. No one can raise a finger at me if someone were to judge me on honesty.
Different people have different ways of doing things. Some people are introverts while others are extroverts. Some people can convey a negative message in the most diplomatic terms, but others talk straight. I am one of those straight-talking people. There are many people who think I am scolding them even when I talking to them in my normal tone.
There are also those who don't like anything about me. There are always on the lookout for reasons to criticise me
During the elections, you need to convince people to vote for you. How did you do it with your straight-forward talk?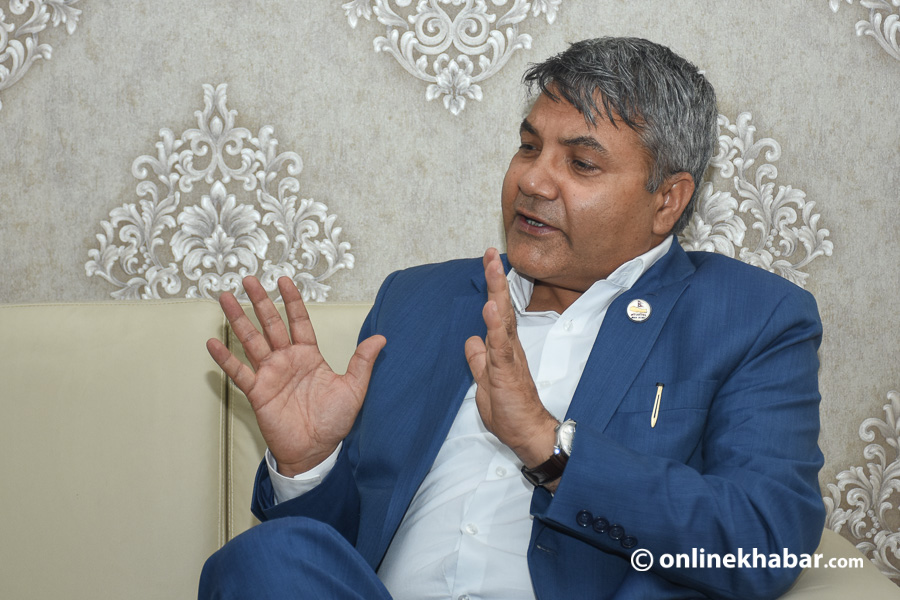 Voters are not people you need to convince. You need to show them work. I was a candidate from among the people; everyone knew about who I was and what my contributions to society were. You may win an election by making false promises to your electorate, but that win is not going to sustainable. That is why I presented the real me to the voters, who liked me for I was was.
You say that you don't know how to please other people to get benefits out of them. But they say that you became a minister by pleaseing Prime Minister Oli.
I did not become a leader of the party overnight. The Prime Minister did not take me out of his pocket and place me on this seat. I am here because of my own struggle. I did not lobby for a place in the cabinet; I was offered a place, I accepted it. That's it.
When you submitted your asset details to the government, you said that you own a 'Samsung (iphone)'. You were rdiculed by a lot of people on social media for this.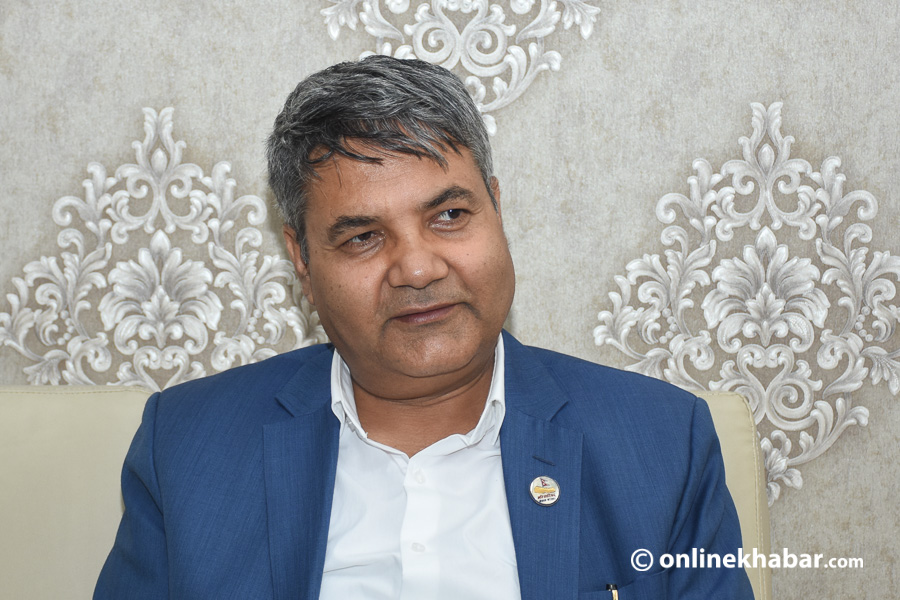 What happened was a result of human error. I should take responsibility for it, but I did not fill out the form. I asked one of my aides to fill the form. He'd ask me questions on the form and he'd fill in my response. He asked me about my mobile phone. I had to: one Samsung and the other iphone. I told him to mention both the phones. Instead of mentioning Samsung, iphone, the person wrote 'Samsung (iphone).' This was a minor issue, but it was blown out of proportion.
I did not review the form, I submitted it directly.
You allegedly shutdown a TV programme on Nepal televesion when a journalist asked you about your assets. 
I didn't want to talk about it. But since you've asked, let me tell you the truth.
I didn't shut down the show. I could have sued the journalist, who appeared to conduct the interview with mal-intentions. Most of the questions he asked were not worthy of answers. But I answered his questions. The interview was aired, and I did not even bother to watch it. But later, the interviewer posted an excerpt from the interview on his Facebook. That showed the real intention behind the interview.
I am also a student of journalism. I also understand that it is beyond journalist ethics to present an excerpt from an interview with the wrong caption. The other issue here was that the interview belongs to the broadcaster, he cannot post excerpts on his Facebook.
That is why you shut down the show?
As I said earlier, I did not shut down the show. I had even forgotten that I gave him an interview. The journalist went around saying that I shut down his show after he posted excerpts from the interview on his social mecdia. I don't even use social media.
I was later told that the show had to be cancelled as its timing coincided with the FIFA World Cup broadcast.
But why didn't the show return after the World Cup?
Why would we? It was not a show people wanted to watch. There are 128 tv stations in the country. If the journalist was great interviewer, other tv stations would have tried to get him on their station. The show demonstrated mal-intentions agaist the government, there was no question of allowing it to return.
You are known as a special confidante of Prime Minister Oli. How did that happen?
I met him not log ago. When Oli was Home Minister during the nine-month-long UML government, I used to report for Radio Nepal's Ghatana ra Bichar programme. But I did not have the opportunity to meet him them. I met him after the UML government fell. At a programme in Kathmandu, I heard him talk about Madan Bhandari. It was then I realised that it was Oli who could take Bhandari's legacy forward.
Prime Minister Oli reached the height of popularity during his earlier tenure. But why is he so unpopular these days?
The situation now is a bit different from back then. The issue of national soverignty was a the forefront then. We are past that phase. We are now in the nation-building phase. The people want results. The government may not have delivered quick results. But Prime Minister Oli has not stepped an inch backward from his earlier positions. Also, how do you measure popularity?
You live in Prime Minister Oli's private residence. How does it feel?
I live there because there was not enough space at the ministers' quarters.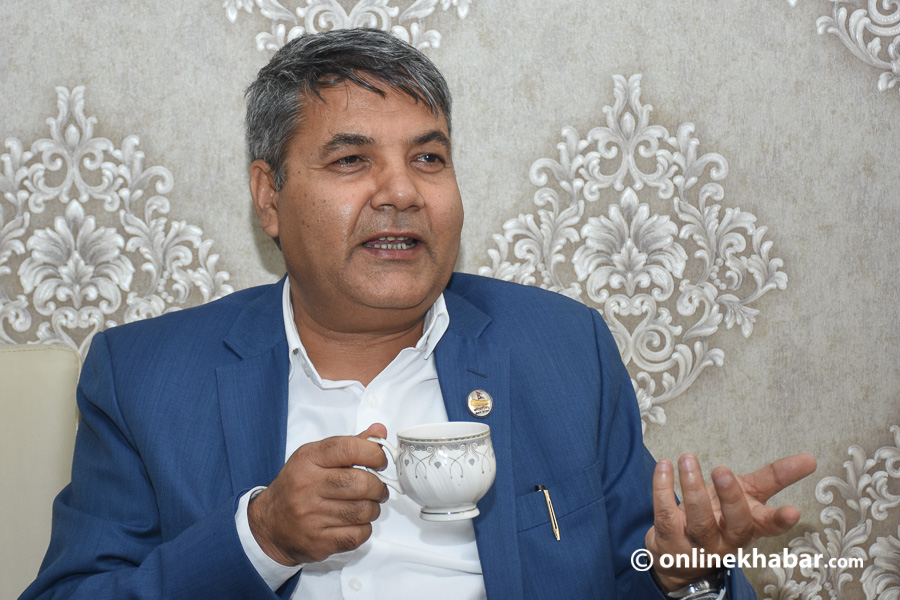 The Nepali Congress' Ramhari Khatiwada recently called you a 'guard' for this.
That's far better that being a burglar or a thief.
You are a former journalist. But you now stand with a bill that intends to make journalism difficult.
I think you haven't read the bill. What has been said about the bill is not true. I cannot explain the bill to people who haven't reead it themselves. This is a bill under works for the last four years.