For Nirjala Tamrakar, January to June 2021 were probably the hardest six months of her life. At 41, she was at a crossroads in her life. Dissuaded and lost, she wanted something that would make her feel alive again.
She had been Nepal's national mountain biking champion for 12 years, from 2001 to 2012, only stopping to start a family. In those 12 years, she had taken part in national and international tournaments in South Asia, Middle East and Europe. In 2012, she had taken part in the Mountain Bike World Cup in France as she stood on the podiums in around 80 per cent of her races. But once she quit, things changed for her. But, her desire and hunger to race never disappeared.
"It was tough to give up, but for my children, I had to. But, I always knew that I would be back," says Tamrakar.
And, back she came as the month of six and three-year-old kids. More determined and hungry to do something that would fill her life with passion again, she set herself a goal. The goal was a mammoth one as she wanted to take part in a full-distance (226 km) triathlon event.
Having already taken part in a sprint-distance triathlon event (25.75 km) during the 2019 South Asian Games, she was more determined and passionate to do something for herself. On June 6 this year, after 15 hours and 13 minutes, she did exactly that, as she completed the UK Ultimate Triathlon event that took place in Whitchurch. But, to get there, she sacrificed a lot as she battled her inner demons, even putting her marriage on the line, as she achieved a long-held dream of becoming Nepal's first woman to complete a full-distance triathlon.
"It's the proudest moment of my life. There were times where I was physically exhausted, but my mental strength helped me push myself to the finish line," says Tamrakar, who wants to inspire mothers like her to push themselves to do the things they want to do in life even after giving birth.
Getting ready to return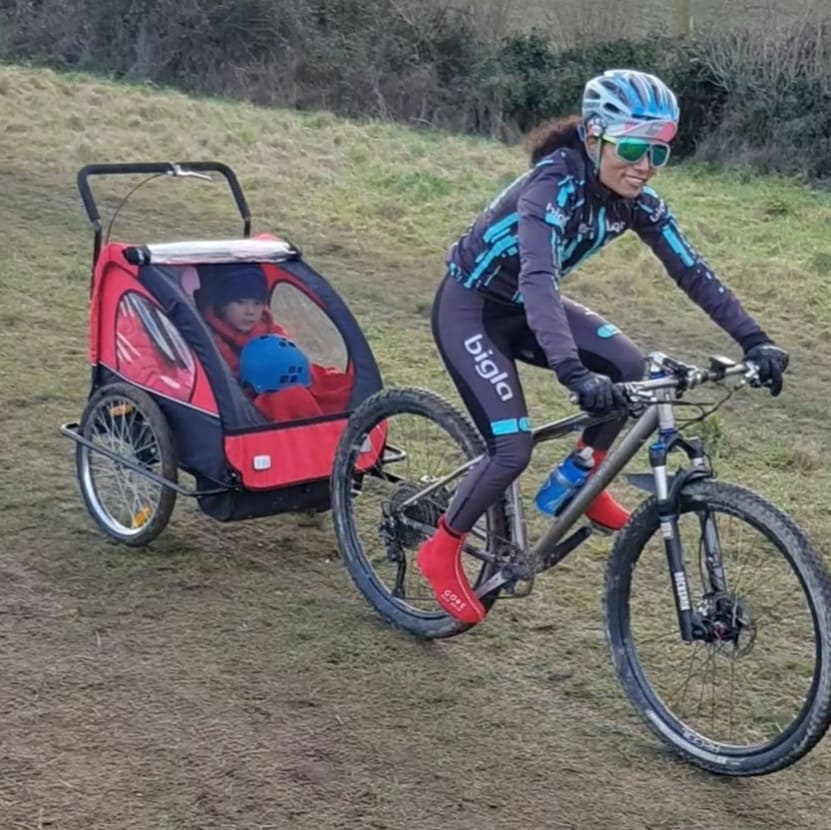 But, the road to the finish line was not easy for her.
She made a comeback in 2018 taking part in a cross-country cycling race called the Waling 100. But, the race did not go as she had hoped it would after which her focus shifted to the 2019 National Games, in which she wanted to test herself in the triathlon event. But as she had doubts over her swimming abilities in open water, she opted to take part in the duathlon event.
"I could swim in the pool, but swimming in a lake was incredibly hard. My teammates from the Armed Police Force motivated me, but I felt I needed more training before I swam in open waters."
She came second in that event and it gave her added motivation to work hard to take part in the sprint triathlon event at the 2019 South Asian Games.
"Fitness-wise, I was good. I'd started to run in Ranibari to regain the fitness I had in the late 2000s. But, my main issue was learning how to swim in open waters."
Tamrakar, who was a contract player with the Armed Police Force, took help from her teammates to learn how to swim in the Phewa Lake. Swimming there with fellow triathletes from the APF, she started to gain confidence as she decided that she was ready to take part in the triathlon event during the SAG.
"I loved swimming in the pool, but open water was a different ball game. I had to get over the fact that nothing would happen to me."
After learning and unlearning a few things, she mastered the art of swimming in open water and took part in the short triathlon race during the SAG.
"It was a great experience. Normally, people take part in multiple short-distance triathlon events like these before they opt for a full-length triathlon event but I was already in my late 30s so I decided that it was now or never and decided that I would take part in a full Ironman-distance triathlon.
Big even in Britain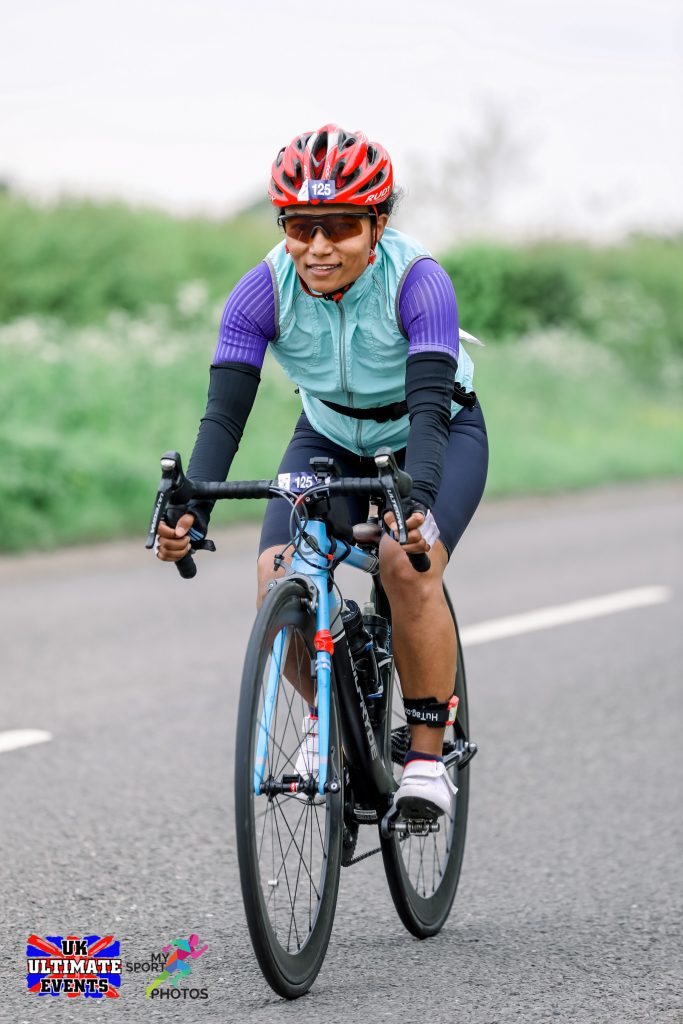 She was fit, but to take part in the 226-kilometre race, she needed to be extremely fit. Her training started when she moved to the UK where her husband Dan Wright had relocated. When she reached the UK with her kids in December 2020, the country was on complete lockdown. She found it hard to adjust to life there.
"I knew no one who could help me train. My husband would be busy with work or looking after the kids as I went out in the cold damp weather to train."
With things risky, she made no friends there and would normally run alone around her neighbourhood to practice for the 42 km she would have to run during the event. But, for cycling, things were different.
"As I didn't know the place and was a bad navigator, I did most of my cycling training indoors using a roller."
She trained between one to five hours a day depending on her training plan as she also had to give her body proper rest. The UK's cold weather also helped her a lot, but she still had one major problem, finding a place to swim. Due to Covid-19, swimming pools were shut, which meant she had nowhere she could train. It opened on April 12, 2021, but only for an hour each day. The race would take place at Alderford Lake and swimming in a heated pool would not be helpful.
"I and Dan started looking for places where I could swim. There was a river close by, but as it was only February, the water was very cold."
With rivers a bad option, she started looking for lakes. But swimming in lakes in the UK was not allowed. It was not until May that she was finally able to swim at a lake. But, as it was quite a distance, her husband used to drive her to the lake where she would swim for an hour.
"Dan has been so helpful in all of this. Yes, there were times where we fought and our marriage was pushed to the limit. But, he stuck with me and helped me."
Now-or-never situation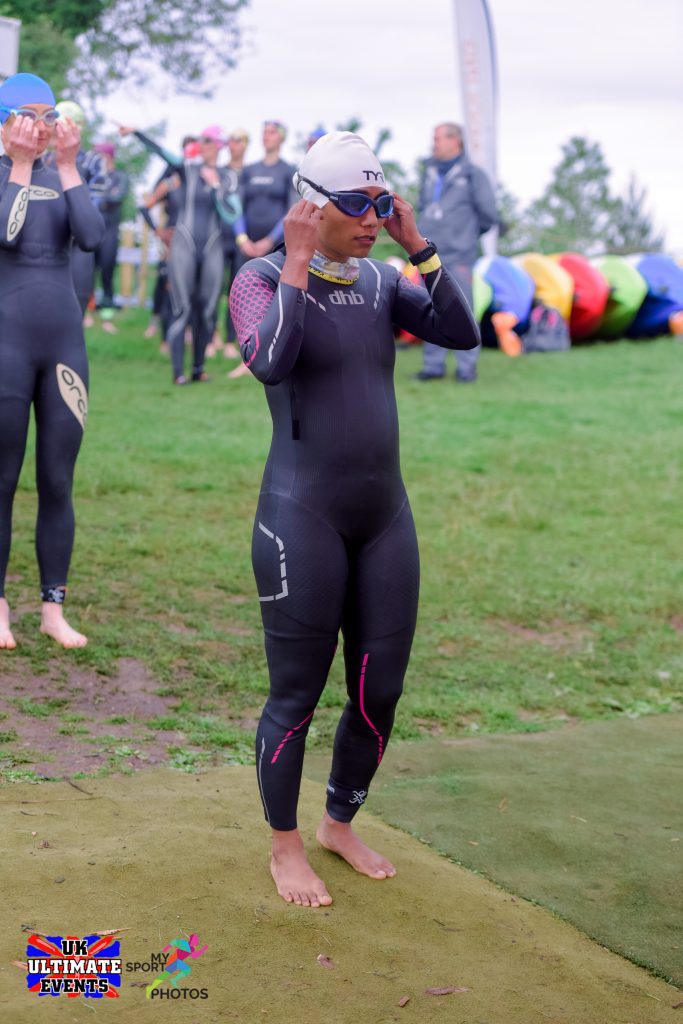 The race day was approaching, but she was yet to get accustomed to the cold water. To ensure that she would be ready, she started to take cold showers. But, things did not change as she struggled a lot and even contemplated doing half of what she had initially planned.
However, other athletes told her that by June, the water would warm up and as the lake is not too deep, a few days of sunshine would mean that it would be a lot warmer than what it was in May. Those words calmed her as she felt that if she did not do the full distance triathlon now, she would never do it in her life.
"I had put in a lot of effort to reach a fitness level needed for the race. I'd sacrificed a lot and fought with my family. These times were stressful, but despite the stress and anxiety, I didn't lose focus."
Pre-race, she was nervous. She had been through a lot in the past six months. The night before the race, she hardly slept as she kept on thinking about it. This was what she had wanted to do ever since she decided to make a comeback in 2017. Four years of hard work had brought her to a place where she wanted to be.
It had rained a lot the night before as the weather in the north of England was typical of how anyone would describe them – cold, cloudy and damp. Nervous and excited at the same time, she started the race quite well as she swam 3.8 km in one hour 56 minutes.
"When I finished swimming, I saw my family cheering me on. That motivated me a lot."
The cycling section was what she knew could make up time. But, she understood that she could not push too hard as she had to run a full marathon distance after this. She completed the 180 km event in 7 hours 12 minutes. At the transition, she knew the final hurdle would be hard. She had given it her all in the past nine hours but knew that if she did not complete the last stretch of the race, she would regret it.
"I pushed myself a lot. I had come too far to not finish."
She ran with pride and confidence for most of the 42km race. But with 14 km to go, she started feeling dizzy. She tried to walk as she wanted to complete the race.
"I thought about Dan and my kids and ran like my life depended on it."
Inspiring fellow women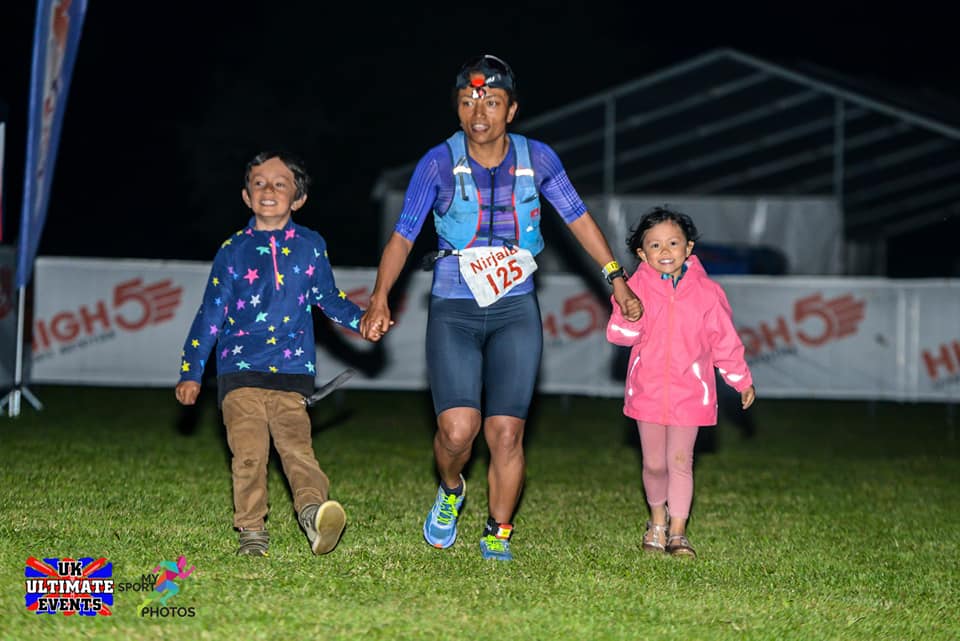 In five hours 48 minutes, she reached the finish line running the final 50 metres with her two kids as she became the first Nepali woman to complete a full-distance triathlon. Emotions got the better of her after the announcer told everyone that she had done it after becoming a mother of two.
"It was overwhelming. Six months of intensive work and stubbornness had helped me reach the finish. It was an emotional moment."
She says that she would not have done it without the help of her husband who, despite her being stubborn, stood with her.
"Anyone else would have left me. But, Dan stood by me and I'm incredibly thankful for that."
She says that having done such a gruesome race, she hopes she can inspire Nepali women to push boundaries and do things that they love doing.
"I had no one from Nepal who I could look up to who'd done such a thing in endurance sport. There were a few mothers who proved to people that they could still compete at the highest level, but they were from a different sport. I hope that doing this will make young women want to do things that people have told them they could never do."