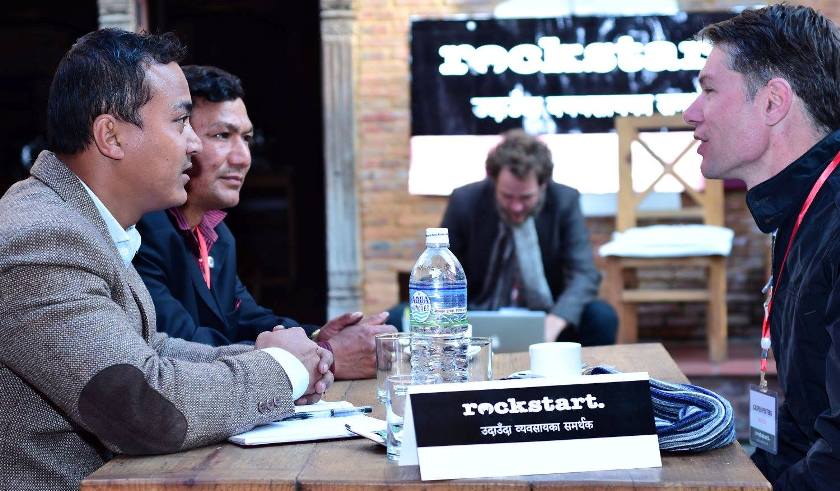 A Netherlands-based investment programme is helping Nepali entrepreneurs to grow their enterprises in 100 days.
Starting a business in Nepal is quite a task. Entrepreneurs are faced with hurdles beyond their imagination.
Rockstart Impact plans to help these entrepreneurs by training and mentoring them. Initiated by One to Watch, a Netherlands-based investment company, the programme began last year, and it aims to help Nepali entrepreneurs get connected with Dutch investors.
At the end of the programme, the participants face Demo Day where they get a chance to pitch their companies to investors from Nepal and the Netherlands.
Rockstart Impact seeks to make 10 enterprises investment-ready by the end of the program. The program had seen a great success last year where 8 out of 10 companies received investment pledges. This year too, there are 10 enterprises that were picked out from a pool of over 200 participants, a huge number compared to last year's entrees.
"The participants have shown flexibility in these times of crisis."
"The participants have shown flexibility in these times of crisis," says Simon Mathijssen, Program Director of Rockstart Nepal. "It shows that they are looking for growth despite the challenges. We couldn't have picked better entrepreneurs."
The participants this year were picked on the basis of their capability to create a social impact. These entrepreneurs come from diverse backgrounds like tech, agriculture and waste management.
Each participant is receiving mentoring sessions from two Nepali and two Dutch investors. The mentors are helping the entrepreneurs learn about finance, HR, and business analytics, according to the kind of enterprise that they belong to.
"We want the participants to get the best of both team of mentors," says Simon.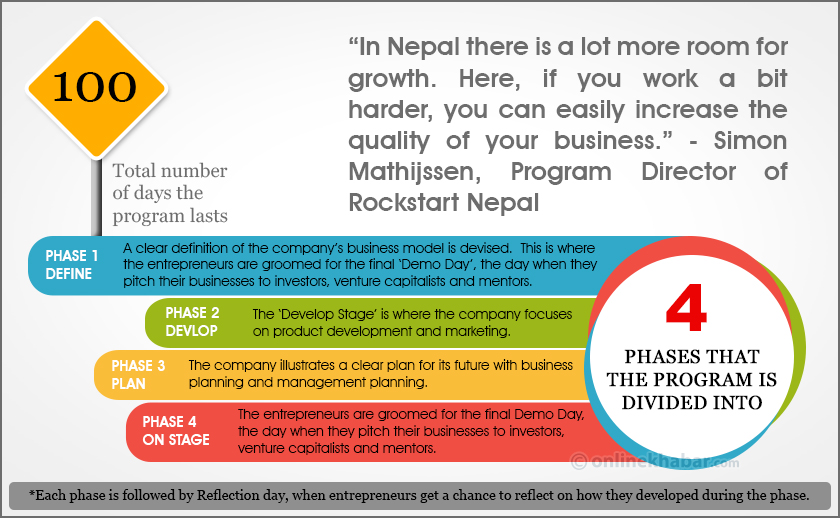 But the participants do not have to spend all their time at the program. They only need to spend 14 hours a week with their mentors. That gives the entrepreneurs enough time to focus on their daily business as well. During the session, Rockstart Impact is also hosting talk programmes with successful entrepreneurs to help them get inspired and to build network.
And why is Rockstart Impact important for Nepali entrepreneurs?
Simon states that every startup can expect to grow their business on their own, but that might take a longer period of time. However, with accelerator programs such as these, the companies can expect to grow much faster. "Their businesses can accelerate 3 to 4 times more," he adds.
As for One to Watch, the team is planning accelerator programs for the next 3 years. They have created a large pool of Dutch investors and Nepali entrepreneurs and they strive to connect more companies to the investors.

Companies selected for this year:
i. aQysta
ii. Bajra Brick & Tile Industries
iii. Cotton Mill
iv. FICUS Biotech
v. Kalpavriksha Greater Goods
vi. Karkhana
vii. Luniva Tech
viii. R&D Innovative Solution
ix. Values Innovations
x. Waste Services