The government of Nepal launching the new foreign policy is commendable, but it lacks strategic depth and clarity. A clear and succinct policy statement could have paved the way for strengthening diplomatic engagement with external partners, especially neighbours, including institutions and friends of Nepal.
Before anything else, one is forced to wonder why there is no English version available – its main objective seems to be domestic consumption rather than a message for regional and international stakeholders – nor is there an 'executive summary' for a document that includes many sub-topics and themes.
The document has reiterated the long-existing policy wish list and big expectations at length but has not specified any transformational mechanism to achieve them. Besides, the government clearly concedes the absence of consultations with political parties while issuing this document, remaining short of providing a real political weight and semblance of future stability in diplomatic affairs of the country.
However, it is noteworthy that the government remains open for timely review and future reform. Similarly, the recognition of the role of diaspora as a force-multiplier in conducting Nepal's diplomacy and promoting its image is a step in the right direction, but some more explanation on the mechanisms to enable that would be desirable to move forward with some concrete steps.
Cold War-era non-alignment policy
The government has taken this opportunity to repeat its policies of 'non-alignment' and 'neutrality'. However, this Cold War-era non-alignment talk by successive governments in Nepal has become a platitude. Instead of reiterating such policies, Nepal could have asked: what should be the main thrust of Nepal's foreign policy that suits the 21st century? For instance, has Nepal been able to effectively utilise international trade provisions and mechanisms to optimise the benefits coming from them even in the existing order, regardless of what global order will appear or disappear? No. Has Nepal given due respect and protection to the backbone of Nepali economy, the migrant workers — the unsung heroes of Nepal — they deserve? No. Many such questions and concerns remained unaddressed.
The continually relying on the old term is evident that the government is not interested in articulating its foreign policy in a creative way. The choice of words and policies seems a mere insurance policy in the event of failures in the accomplishments of ambitious objectives. Regarding the Cold War and non-alignment, the global contexts and conditions have transformed. China and India have become major economic and military powers. Indonesia and India no longer subscribe to these old dogmatic policy phenomena between capitalism and communism. China has embraced most of the attributes of economic capitalism in business practices and trading systems and relentlessly pursued global strategy at building a new world order dominated by economic prowess. India is increasingly emphasising the irrelevance of Cold War-era phrases and thinking. The current world was certainly un-foreseen by the fathers of nonaligned movement in 1961 in Belgrade summit. In fact, former Yugoslavia has already disappeared from the new atlas.
But, Nepal somewhat seems reluctant in being creative here. Even granting that Nepal's non-alignment has relevance, Nepal's seemingly disproportionate closeness with China and Pakistan, and singing up to China's BRI and rejecting US's MCC grant, are actually making such policies realistically impractical anyway. It rather seems to be a failure of the government to maintain its much-emphasised 'economic diplomacy' and 'neutrality'. This economic diplomacy is counterproductive, with no indication of how economic development diplomacy would be reinvigorated. Similarly, there is no specific policy strategy to restore investors' confidence as Nepal was recently qualified as the 'topmost corrupt country in Asia' by Transparency International.
Buddhatwa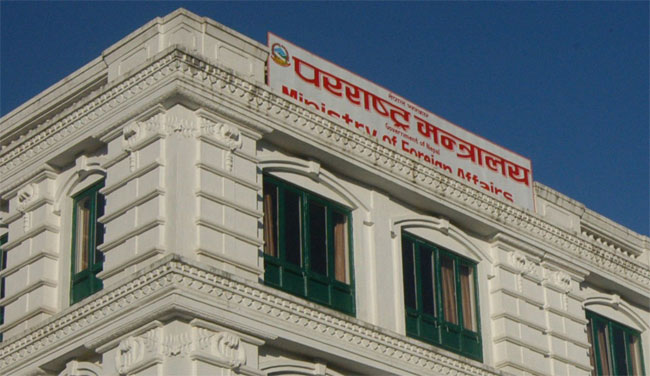 The use of Joseph Nye's term, 'soft power', in the document is not convincing. Nepal might consider going for a 'creative economy' which would include the sectors the document lays out as 'soft power' and several other sectors of the creative economy, mainly the innovative and creative sectors. In any case, whether it is 'soft power' or 'creative economy, ' Nepal should prioritise a harmonious co-existence philosophy of Buddhatwa to promote peace and harmony with all nations as part of Nepal's diplomacy and foreign policy strategies. Buddhatwa in this context refers to peaceful and harmonious relations between nations. Nepal could leverage the origin and historical associations of Buddha and Buddhatwa to create an impact not only for the cultural diplomacy but also in areas of foreign policy. Nepal could advance its international relations by using Buddhatwa that advocates a non-coercive approach.
Multipolar world requires a new thinking
As explained earlier, the Cold War conditions have transformed. The founding members of non-alignment have transformed. And, now the European Union is another powerful pole, perhaps the most powerful one. All this has or is leading to a different geopolitical landscape, as a multipolar sphere emerges.
In such a situation, Nepal's pursuance of unchanged 'non-alignment' policy is not pragmatic. Nepal should review if such articulations are actually helping. Until and unless Nepal gains comparative advantages, it will continue to lose opportunities. Prosperity is possible only if it comes 'out-of-the-box thinking' and adapts to the new world economic pragmatism and realistic political orders in the making. Regardless of the nature of the world order, Nepal has enough space to manoeuvre if it seriously prioritises the development of the nation and the improvement of ordinary Nepali people's lives.
Dr Sigdel is associated with Nepal Matters for America, Washington DC, US. Prof Dr Basu Sharma is with University of New Brunswick, Canada. Neupane is a retired United Nations staffer and is with We for Nepal in Switzerland.