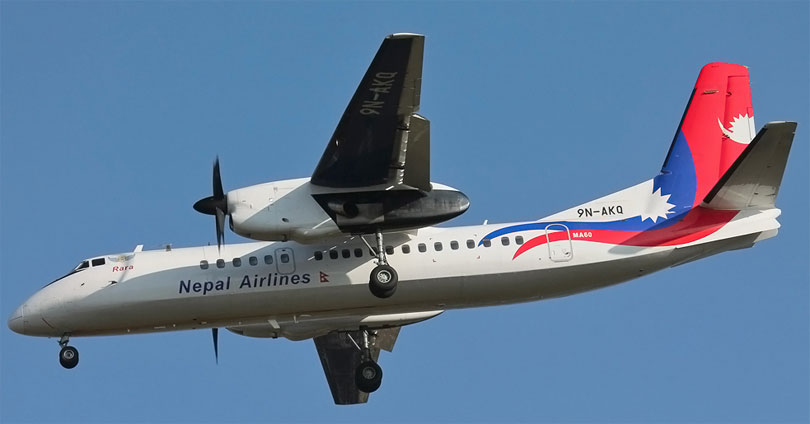 Kathmandu, January 8
In 2016, Nepal's national flag carrier, Nepal Airlines Corporation, won back its control over the market of international flights to and from Kathmandu after years. It became the company serving the highest number of international passengers as well as operating the highest number of flights.
The government-owned company, however, is likely to lose both statuses to India's private Jet Airways in 2017. According to the data from January-July 2017, it is in the second position in both rankings.
The Corporation was using two Boeing aircraft for international flights. But now, one of them has been sold on auction and another was grounded at Singapore-based ST Aerospace Technologies for nearly a month. The Corporation, therefore, had significantly curtailed its international flights in 2017.
In the first seven months of 2017, Jet Airways operated 2,17 flights to and from the Tribhuvan International Airport to serve 267,466 passengers. The Corporation operated only 1,818 flights to serve 230,13 passengers.
Fearful of losing the market, the Corporation in July-August last year planned to hire an aeroplane from Bhutan Airlines. The plan, however, could not be implemented owing to a provision of the aviation policy.
"Foreign companies manage replacements to serve their passengers if an aircraft breaks down," the Corporation's spokesperson Rabindra Shrestha says, "But, we could not do that. Neither could we hire any aircraft, resulting in the loss."
Currently, the Corporation is operating flights to New Delhi, Mumbai and Bangalore of India, Bangkok of Thailand, Kuala Lumpur of Malaysia, Doha of Qatar, Dubai of the United Arab Emirates and Hong Kong.