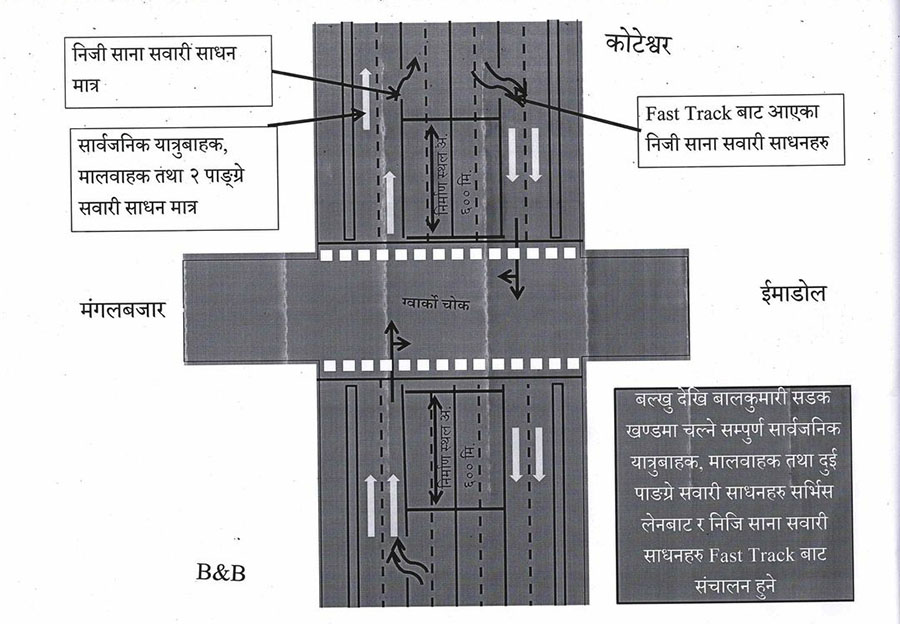 Kathmandu, December 5
Nepal's first overpass is being constructed at Gwarko Chok in Lalitpur from December 9.
Kathmandu Valley Traffic Police Office has said diversions will be put in place to ensure the overpass construction will go smoothly.
Until the construction is completed, vehicles including public busses, load-carrying vehicles and bikes going and coming from Koteshwar to Satdobato drive through the service lane from Balkumari Bridge. Cars, however, will be allowed on the fast-track ring road.
Ashish Samanantar Religare JV, which won the bid, has said it will build the project for Rs 170 million. The Ministry of Finance had set aside a budget of Rs 330 million for the project.
The company is preparing this project on the engineering-procurement-construction (EPC) model. The contractor itself is going to construct after completing the drawing and designing work.
The overpass will be 35 metres long and going be built on four lanes of the ring road. A 280-metre ramp will be constructed from the Balkumari side while a 175-metre ramp will be constructed from the Satdobato side.
The plan is to build the overpass within two years. The Department of Roads believes that the overpass, which will be made parallel to the four lanes of the ring road, will reduce the traffic jam at Gwarko Chok.
After the construction of the overpass, the vehicles plying the Imadol-Patan road will pass through the existing ring road under the overpass.