Five years ago, Shankar Luitel, a farmer who lives in Bahundangi village in Jhapa district, in the southeast corner of Nepal, used to spend several days every month at local forest department offices. There, he would help his neighbours to get compensation for the deaths or injuries of family members or loss of property and crops caused by wild elephants coming from across the border in India.
These days, this takes up much less of his time. It is not because the government has made the compensation process for human-wildlife conflict easier – it still involves a labyrinth of recommendations and decisions at different levels, taking between six months and a year to get the money. But it is because the residents of Bahundangi are having to deal with fewer incidents of human-elephant conflict, thanks to the work of Luitel and a network of fellow volunteers spanning both sides of the Nepal-India border.
Luitel is a part of a cross-border wild elephant movement management team formed in 2018 by around a dozen volunteers from Bahundangi in Nepal and Kolabari across the border in India, which aims to prevent incidents of human-elephant conflict, as well as subsequent retaliation from people.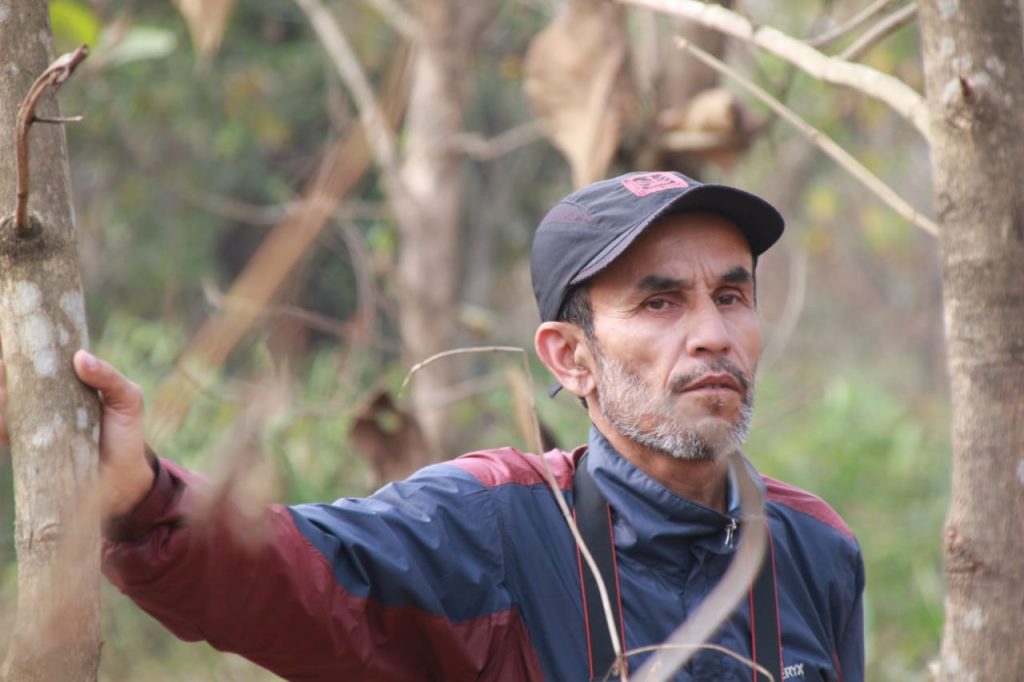 "I go to the Mechi [the river forming the border between Nepal and India] almost every morning to see if there are footprints, so I can know if an elephant has entered Nepal during the night," says Luitel. "And with my colleagues in Nepal and India, I go to the Kolabari forest [over the border in India] every afternoon before dusk, to see the same."
The area lies on a traditional elephant corridor ­– a route used by around 100 wild elephants to travel between habitats. The corridor spans mostly forest areas and fenced tea estates on the Indian side, where there is little human activity, but on the Nepal side, the elephants pass through farmland and human settlements.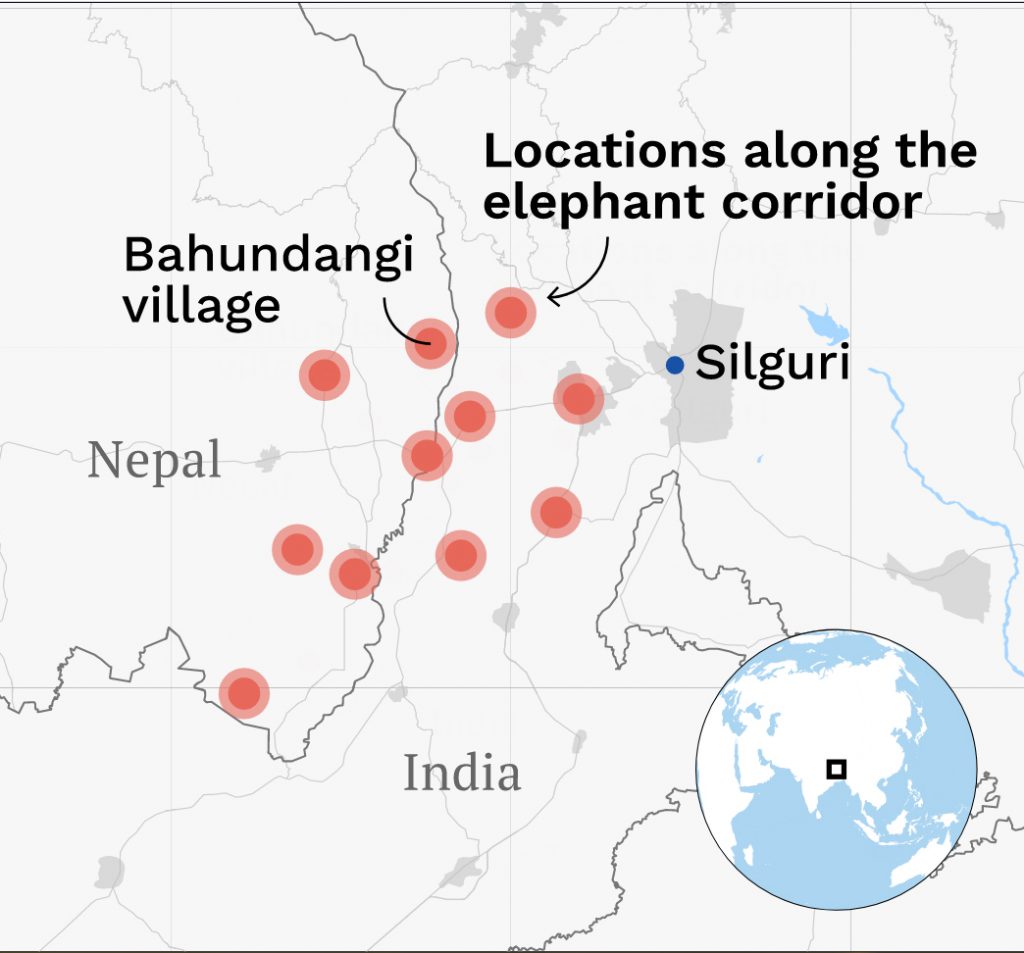 An opportunity to forge connections
Over in India, in the Siliguri subdivision of the state of West Bengal, five community activists are working with Luitel, including Ritwik Biswas, a medical science student living in Naxalbari.
Biswas keeps note of the elephants' movements on the Indian side of the border. "We have a WhatsApp group connecting over 10 members from both sides [of the border] as well as some other 15 stakeholders including local government officials and community leaders," says Biswas. "Whenever we see elephants, we post photos and videos on the group. It will give Nepalis on the other side some time to make their neighbours aware of the movement so that they can salvage their belongings."
While the benefits of the operation in terms of reducing human-wildlife conflict are largely one-way, Biswas says the group offers an opportunity to make social connections with Nepalis across the border. "Although it is not regular, elephants from Nepal also enter our land and cause havoc sometimes," he adds. "Hence, it's important for our communities also."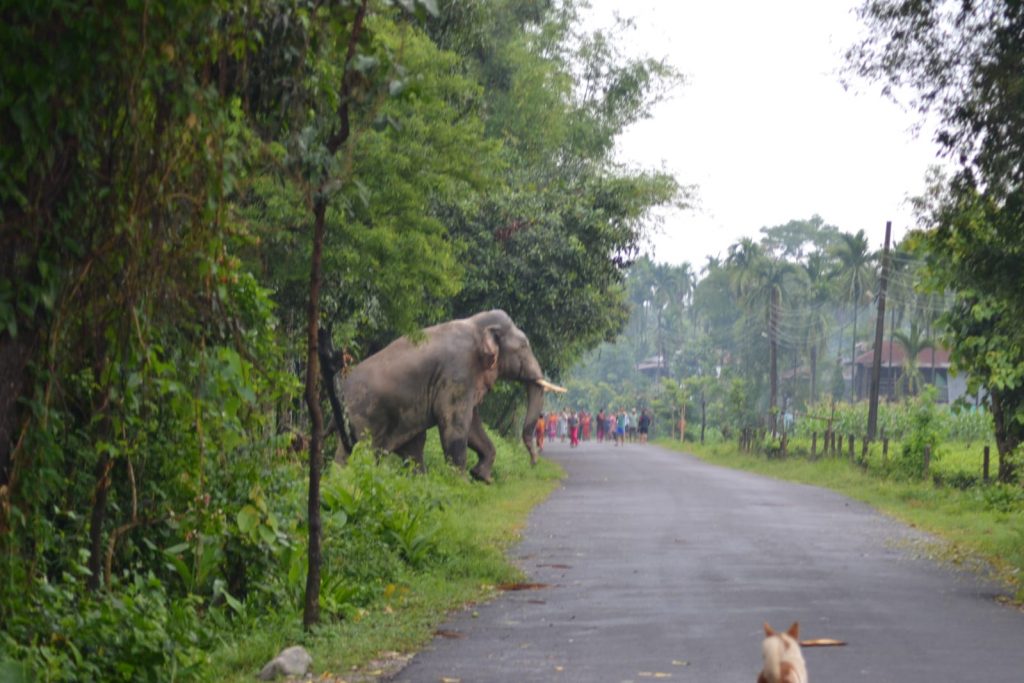 Multifaceted approach to human-wildlife conflict
Having worked to reduce human-elephant conflict in the area since the mid-2000s, Luitel developed this into an organised group in 2018, focused on information-sharing and awareness-raising.
"It's a multifaceted approach. We teach school kids how we can save ourselves and our property from elephant attacks and why it is important to not harm them in retaliation," Luitel says. "When communities have meetings to discuss other issues such as road construction or drinking water management, it's our job to go there and talk about potential dangers of cross-border wild elephant movement and methods to save ourselves from them."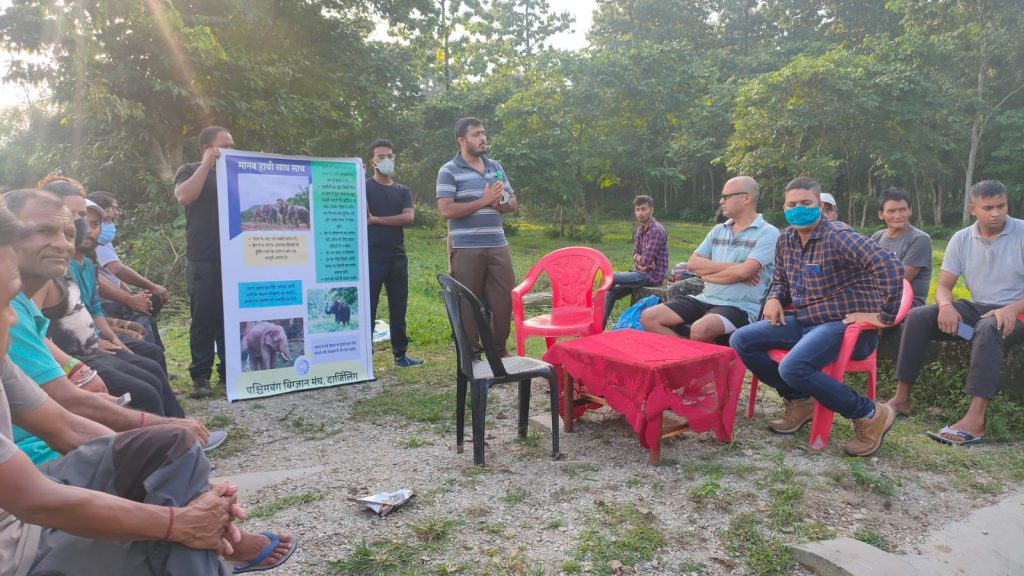 The initiative has received the support of NGOs from as far away as Bardiya in western Nepal. "Ujyalo Nepal [a Bardiya-based conservation organisation] has helped us operate a siren system [which] we have been operating in coordination with Armed Police Force personnel at border outposts," Luitel says. "Whenever they see an elephant, the border security personnel trigger the siren which will be heard in target neighbourhoods." The siren can also inform locals via a mobile app.
The siren system does not cover the entire elephant-affected area. In other places, volunteers drive tractors around human settlements to ward off elephants with their continuous loud noise. Wildlife biologist Ashok Ram, who has a PhD in elephant ecology, tells The Third Pole that such activities are unlikely to have long-term adverse impacts on elephant conservation. "If there had been any impact, the routes [would be] clear of elephants now, as locals have been trying different methods over the years," he says. Nonetheless, he says experts should be consulted and a fair limit should be set on activities aimed at scaring away elephants.
The Ward 4 committee of the Mechinagar municipal government, which covers the Bahundangi village, has allocated NPR 2 million (about USD 15,000) for the coming fiscal year (which begins in mid-July) to address human-wildlife conflict, including funding for the volunteer group to purchase fuel for the tractors, ward chairman Arjun Karki tells The Third Pole.
Karki says the local government has also established a rapid response team, comprising around 30 volunteers, to support the volunteer group when incidents of conflict occur. The team is equipped with megaphones and torches and is in regular communication with the cross-border volunteer group.
Cross-border cooperation to stop tiger attacks
Elsewhere along the Nepal-India border, other cross-border grassroots efforts are underway to tackle human-wildlife conflict, including on the Khata Tiger Corridor, which links Bardiya National Park in southwestern Nepal with Katarniaghat Wildlife Sanctuary on the Indian side.
Anil Kumar, the head of the Wildlife Trust of India's Terai Tiger Project, tells The Third Pole, "We have been sharing with Nepalis living in the bordering region how mobs can be controlled whenever they spot tigers and leopards. In exchange, locals in Bardiya of Nepal have been helping us with making patrolling against wildlife attacks more effective."
Kumar says Nepali volunteers have been helping with the Wildlife Trust of India's project in camera trapping to better understand tiger behaviour along the corridor. "In April this year, thanks to newly installed cameras, we have been able to reunite two lonely tiger cubs with their mothers."
Kumar communicates with the Bardiya District Poaching Control Youth Mobilisation Campaign, a community initiative which involves over 3,300 people, according to campaign leader Hemanta Prasad Acharya. "We are more focused on poaching control, but as the number of human-wildlife conflict incidents has increased, we are now making people aware of safety measures in partnership with other organisations across the border."
Acharya says his team meets frequently with organisations on the Indian side of the border to share information about the cross-border movement of tigers, and they also communicate via WhatsApp. "Working together, we are asking locals to build fences and walls around houses and crop farms. We are also teaching them how to ask for government compensation whenever necessary."
Maheshwar Dhakal, the director-general of Nepal's Department of National Parks and Wildlife Conservation (DNPWC), says the country's wildlife officials have found local-level partnerships against human-wildlife conflict helpful, and are making efforts to accelerate them. "Officials in Parsa, Chitwan and Shuklaphanta national parks [in Nepal] have been encouraging locals to work together with locals from neighbouring Indian areas," he says. "We are hopeful with the early progress in these areas."
Results and limitations
In Bahundangi, Luitel says local residents are happy with the efforts the cross-border volunteer group has made. "They still fear elephant attacks, but [now] they have someone to ask for help whenever there is a need."
Reena Darjee, a young woman who lives in Bahundangi, agrees. "Their initiative has proved meaningful for us. As a result, many of us today want to protect elephants even though they cause problems sometimes," Darjee says.
According to the forest department office of Jhapa district (where Bahundangi is located), the last human death from an elephant attack in Bahundangi occurred on November 7, 2016. Prior to this, one death was recorded in each of 2012, 2014 and 2015. Elephants were also killed by locals in 2012 and 2015. These were the last cases of violent retaliation against human-elephant conflict recorded in either Bahungandi or the area over the border in India.
The fact that no human or elephant deaths have been recorded on either side of the border in the last six years proves that the cross-border initiatives against human-wildlife conflict have been impactful, says Maheshwar Dhakal of the DNPWC, who is closely observing the situation.
Rudra Prasad Sapkota of the Jhapa Division Forest Office says that other types of human-elephant conflict – including injuries caused by elephants and damage to crops – are also on the decline in Bahundangi.
But the picture across the Jhapa district is not all rosy, according to elephant researcher Dinesh Neupane, who notes that initiatives like Luitel's have been restricted to just four wards of Bahundangi. "Yes, the number of incidents has decreased in Bahundangi, but it's still alarming in other areas of the district," Neupane says. "Also, people's attitude to human-elephant conflict and co-existence has not changed significantly."
Nor has Bahundangi been immune to unfortunate examples of human-wildlife conflict. In June 2022, residents abused an elephant calf that had become separated from its herd, while in 2018 the village was criticised in international media for installing electrified fences that impeded the movement of wild elephants.
"Now, we realise those were things which should not have taken place," Darjee says. "Now, we are committed to elephant conservation and making people aware of its importance."
Human-elephant conflict is a persistent and serious issue across India and Nepal, bringing danger to both people and elephants. Media reports say that more than 500 people and 100 elephants die in incidents of conflict every year in India. In Nepal, the DNPWC recorded 2,058 incidents of damage caused by wild elephants in the fiscal year 2021-22, ranging from deaths to the destruction of crops and houses. This figure represents more than 16 per cent of all cases of human-wildlife conflict in the country.
| | |
| --- | --- |
| Fiscal year | Human-elephant conflict incidents |
| 2018/19 | 2,349 |
| 2019/20 | 3,258 |
| 2020/21 | 1,486 |
| 2021/22 | 2,058 |
Source: Department of National Parks and Wildlife Conservation
Hope for India-Nepal collaboration on human-wildlife conflict
As cross-border collaboration to prevent human-wildlife conflict continues at the grassroots level, the central governments of Nepal and India are preparing to sign a memorandum of understanding (MoU) to strengthen such initiatives. According to Maheshwar Dhakal, the MoU will focus on strengthening partnerships at the national and local levels to control wildlife crime and human-wildlife conflict; providing more staff training; and exchanging best practices between the two countries.
Preparations for the MoU began in 2017, but stalled due to the Covid pandemic, says Dhakal. While the Indian cabinet approved a draft of the MoU in August last year, the Nepal government has yet to do so. Dhakal says he hopes the approval will be received within a few weeks.
While the new agreement will not be legally binding and will be funded within existing budgets, Dhakal says it will enhance local-level cross-border cooperation on controlling human-wildlife conflict in different regions. "For example, the agreement ensures that initiatives taken in Jhapa and Naxalbari get more funds from the governments of both sides," Dhakal says. "We can facilitate cross-border learning exchanges to empower them."
Observers in India are also hopeful. "This MoU can help both countries protect all three big species: tigers, rhinos and elephants," says VB Mathur, former chairperson of the National Biodiversity Authority. Indian institutions can help local cross-border initiatives with funding, capacity building and knowledge sharing, he adds.
"I hope, after the MoU, they [wildlife officials in India and Nepal] monitor cross-border wild elephant movement more easily to ensure both humans and elephants are safe on both sides," Biswas says. "We are excited with the news."
Additional reporting by Flavia Lopes
---
This story first appeared on The Third Pole and Onlinekhabar is republishing it under the Creative Commons licence.