According to the National Disaster Risk Reduction and Management Authority, 1,205 people died due to landslides in Nepal in the past 10 years while 297 have been missing (that means they are also feared dead). The numbers are expected to rise this year as the government believes that the forthcoming monsoon is likely to affect nearly 2 million people in the country.
However, there have been no measures set in place by the government to tackle this issue as the monsoon is nearing.
The Department of Hydrology and Meteorology has already stated that the monsoon has already entered Nepal for this year. Indira Kandel from the department tells Onlinekhabar that it is likely that Nepal would be getting more rainfall this time than in previous years.
But, the government has not taken any steps to save lives, warn experts. Especially, preparation is much needed in areas like Baglung and Sindhupalchowk, which the government has listed as risk zones.
Untimely sense of urgency
The authority's spokesperson Liladhar Adhikari says the government has set aside Rs 200 million to relocate households that were prone to landslides in these two districts. But, experts believe doing so on the eve of the monsoon season is pointless as implementing it would be next to impossible given the short time frame.
Disaster expert Ganga Lal Tuladhar accuses the government of not being proactive when it comes to risk management.
"They don't do any prior planning; that's quite disappointing. These people in power haven't learnt to pay attention to risk management. I don't think if these things are ever discussed in their party meetings," says Tuladhar.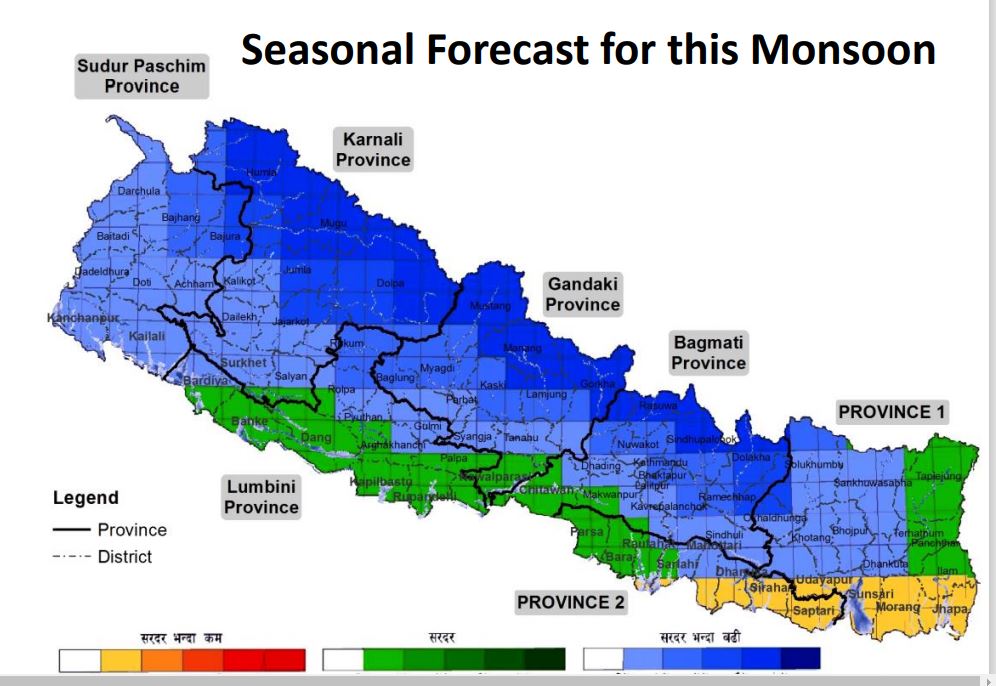 Sindhupalchok to be affected the most
On August 2, 2014, a landslide in Jure in Sindhupalchok, killed 145 people and displaced 127 families. A year later, the district also bore the brunt of the 2015 earthquake which killed 3,575 people there.
In July 2016, a flood in the Bhotekoshi river swept away 81 houses from the district and caused damages worth millions. A flood near Larche on July 22, 2017, swept away a bridge on the Araniko Highway along with a part of the road. A few days later, a landslide in the area killed 39 people.
In the past year alone, 73 people have died due to floods and landslides in the area destroying 127 houses. People were so traumatised about dying of floods and landslides; many did not sleep until the monsoon was over.
Sindupalchok's District Administration Office prepared a report recently stating around 1,100 households in the area were under the threat of floods and landslides.
But, government bodies are not active enough to help these people, experts say. The district's Chief District Officer Arun Pokharel says even though the government tried to relocate these people for the past nine months, no progress has been made.
"We don't have the technical know-how and human resources needed for this kind of work. We've been writing to the centre, but we've not had any positive response to deal with the issue," says Pokharel.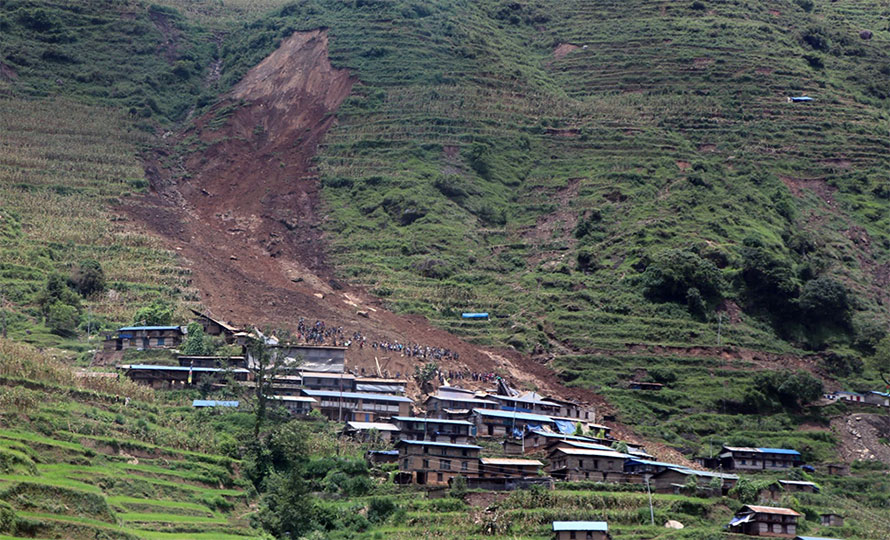 Due to the government not being proactive enough, it is likely that a lot of people will die from floods and landslides again this year. Pokharel has said that he has asked for technical help and asked for people to be stationed in Barabise.
"Technical expertise is only available in Kathmandu. When they arrive after a landslide or a flood, it's already too late. If they were stationed in Barabise, it would be very helpful," says Pokharel.
A committee formed to identify vulnerable zones had advised that some settlements in Jugal, Bhotekoshi and Helambu rural municipalities be relocated. There were a total of eight settlements that needed to be relocated.
They had even proposed locations to relocate these settlements. But, the budget announcement a few weeks ago has all but assured that they will not be relocated anytime soon.
Late release of the budget
Between April 2020 and March 2021, Sindupalchok and Baglung suffered the most due to natural disasters. The government then announced that the two districts were a disaster-prone area and called for a reconstruction drive in the area.
However, the funds for the project were released only in April. As the funds were only available two months prior to the monsoon, it has made it impossible to conduct any reconstruction drive. And, everyone blames the government for this.
Adhikari, the spokesperson for the National Disaster Risk Reduction and Management Authority, says the funds have been released by the government in April to start the reconstruction of houses destroyed by natural resources.
"I know it's late, but at least they have released a budget, which is a start," says Adhikari. "We've started another project from the Myagdi district and it's going on good."
Ganesh Bahadur Adhikari, Myagdi CDO, says 247 houses were destroyed in the district the past year. This year, a further 829 houses, which are located in vulnerable zones, are under threat in Dhaulagiri rural municipality, the official adds.
Likewise, Baglung's CDO Shiva Kumar Karki says that a lot of households in the district fear they will be affected by floods and landslides this season. Dhorpatan and Nisikhola rural municipalities are under the biggest threat, says Karki.
"There are 636 people who need help. We've sent the list to the concerned authorities. Hopefully, we'll have funds soon so we can help these people," says Karki, who says relocation is a must.
The blame game
It is clear that there is hardly any coordination between local, provincial and central governments when it comes to mitigating disasters and helping those who have suffered.
For example, Pokharel, the CDO of Sindhupalchok, says there has been no decision regarding the relocation of 1,100 families for the district.
"We're dependent on the centre for help. But, as of now, that has not come and we don't know what to do," says Pokharel.
He says that the National Disaster Risk Reduction and Management Authority is the government body that hands out funds and deploys human resources during disasters. This is why he says the authority needs to be a bit proactive and be ready during these times.
Jugal rural municipality chair Home Narayan Shrestha says this shows how least bothered the government is. Last monsoon, 39 people died due to landslides in his municipality. He says he had submitted a report to the district's relief committee to relocate people from vulnerable areas.
But, the committee's delay in paperwork meant that nothing will be done as Shrestha says that the committee does not even have funds to manage tarpaulin for these families who are likely to lose their houses to floods.
According to the new rule, survivors do not get relief support from the authority unless the district administration office lists them as beneficiaries upon a recommendation from the local government. The Sindhupalchok District Administration Office says many local governments have not sent their recommendation lists yet.
But, Shrestha says that he has already sent a list with names of 209 beneficiaries to the DAO and adds that they are yet to receive an acceptance from the authority.
"Due to the government's incompetence, locals have had to bear the brunt and that is unfair," he says.
Just tents for the rescue
Looking at things, particularly in Sindhupalchok, it is unlikely that the relocation will happen this year. The central government is planning to distribute tents in the district just in case anything bad happens in the area.
Shrestha says that they will be starting to distribute tents to vulnerable areas from next week. The tents will be distributed to local ward offices.
Jugal rural municipality, which is one of the most affected areas of the country, has had to relocate 500 households in the past few years. Shretha says that the local government has been in regular contact with the federal and provincial governments about helping these people.
According to data, the district has set aside aids like tarpaulin, tents, plastics, sleeping bags, blankets and sleeping mats.
But, CDO Pokharel says the locals need more than just that and have been begging the centre for help.
"Looks like it's going to be a long monsoon for a lot of people here," says Pokharel, who feels the history is going to repeat itself in Sindhupalchok as people will lose their home to landslides yet again.
What is the authority up to?
The National Disaster Risk Reduction and Management Authority has already started warning the vulnerable areas in the country. But, it has not released any plan to help the most vulnerable area in the country – Sindhupalchosk. Even in other districts, there has not been a relocation drive as the authority has only warned people that a 'storm is coming.'
"We've warned people to be prepared for the worse," says the authority's spokesperson Liladhar Adhikari. "We've also conducted impact-oriented forecasting and are planning how to conduct rescue operations when we need to."
The authority is also disseminating information in local languages to make sure it reaches more people so that they can brace themselves when the storm comes.