On July 31, Jaya Singh Dhami from the Byas rural municipality in Darchula went missing after the tuin, a makeshift cable contraption installed across a river to cross it, he was on was allegedly cut by the Indian Sashastra Seema Bal (SSB) personnel as he tried to cross the Mahakali river. He had left his home for Kathmandu to start a formal procedure for his job migration.
Eyewitness say Dhami was around two metres away from crossing the tuin when it was cut by two SBB personnel and he was lost in the river forever.
"He was so close when they cut it. We could see his head for 30 seconds as we yelled at him to go to the side, but we could not see them after that," says Kalyan Singh Dhami, an eyewitness.
Kalyan Singh says they even asked the SSB not to cut down the rope, but they did not listen. He says that lately, he has been getting threats from the SSB telling him he is on their hit list and has been warned not to walk around the Indian side of the border.
Kalyan Singh says the Indian border police have been bullying Nepalis for years. "This has been highlighted because a man died. They have been troubling us for years. The government should investigate this incident and others."
Nepal's border with India is 1,880 kilometres long as it stretches from Kanchanpur and Darchula in the west to Jhapa and Panchthar in the east where incidents like these happen on a regular basis. Every day, incidents like thefts, abuse and beating are reported in these areas, but only a few cases like these come out in public light. Even those that do get swept under the carpet after a week of publicity and criticism from the opposition. The same happened this year too as Home Minister Bal Krishna Khand is yet to speak publically about this incident. It goes to show how Nepalis living in the border areas are living with fear as they have been getting little to no help from the Nepali government for all the torture they have to face at the hands of Indian security officials.
Perennial problem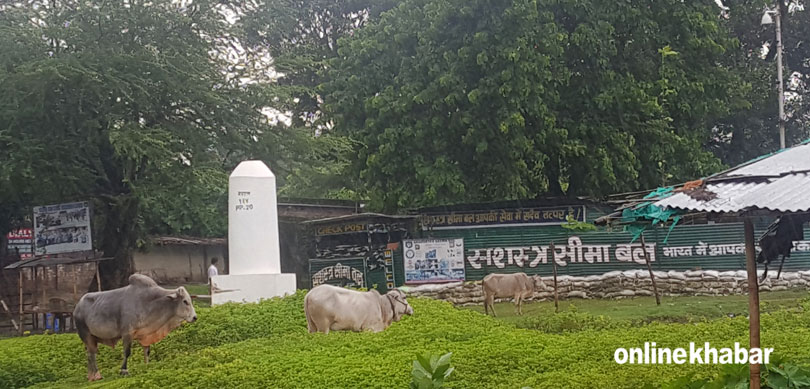 "Indian officials have been regularly harassing and torturing Nepalis in this area. They throw away the things in the river, beat us and bully us. These have become common here," says Byas rural municipality-2 chair Diran Singh Budathoki.
On March 10, 2017, India's SSB killed 30-year-old Govinda Gautam from Punarswas, Kanchanpur. He was killed after an incident on the no man's land in Kanchanpur. Nepalis from the area had constructed a culvert inside Nepal that did not go well with Indian nationals from across the border. Time and again, they would threaten Nepali that no good would come if they built the culvert.
A day before Gautam was killed, the SSB personnel had come to Nepal and beat up a few Nepali nationals including journalist Hemanta Neupane. To condemn the act, Nepalis staged a protest on the no man's land. Soon, tensions flared up as Indian nationals also came there to confront the Nepalis. Both started to pelt stones at one other.
Watching that, India's SSB personnel entered Nepal and started to open fire. One of the bullets hit Gautam who was critically injured. Even though he was rushed to the hospital, he succumbed to injuries before he could even reach the hospital. Chaos ensued following the firing. Suresh Thapa had got injured in the head as a local Shyam Gurung's shop was vandalised by the Indians. Gurung says Indians stole his motorbike, cattle and goods from the shop.
On July 4, 2021, the SSB harassed and beat up Nepali women in Punaswas-19. Nepal police's report states that SSB posted near Gauriphanta harassed three women sitting under a tree. After the incident, Armed Police Force (APF) and Nepal Police and SSB officials started to discuss the incident. But, the person who harassed the women faced no action.
In Biratnagar, the SSB tried to abuse its power again as it obstructed the construction of a culvert in Islampur on July 18. The culvert was being constructed by Biratnagar metropolitan city to manage the water in the area. But, after the obstruction by the SSB, the project has been on hold, informed ward 17 chair Samir Kamar.
"On the other side of the border, they have three culverts. They throw away all the dirty water into the no man's land. When they do, it is okay; but when we do it, they have a problem with it, which is immoral and wrong," says Kamar, who adds that the canal and sewage built on the Indian side inundates major parts of Jogbani.
In Jhapa, things were even worse as the SSB personnel had been giving Nepalis a 24-hour ultimatum to leave the area they have been living at even though the land belongs to Nepal. But, things have been different since Nepal's AFP started to live near the area.
Likewise, Gauribas-Kamalpokhari Tourist Road in the Sandakpur rural municipality of the Ilam district, for example, had to seek permission to build roads near the border areas.
"It's ridiculous that we have to seek their permission to make roads in our country. This is bullying," says Umesh Gurung, chairperson of the project.
Basudev Sah, 55, from the Dhanpalsthan rural municipality-2 in Morang died after being shot by the SSB on May 25, 2010. He got shot when trying to end a fight between an oil industrialist and SSB inspector Hitendra Dev. The SSB shot him in the chest on the border. He was taken to Koshi Zonal Hospital, but the doctors could not save him.
The incident was investigated by the National Human Rights Commission that claimed that the Indian force had killed an innocent man. But, the government has not done anything to condemn such acts.
Misusing uniform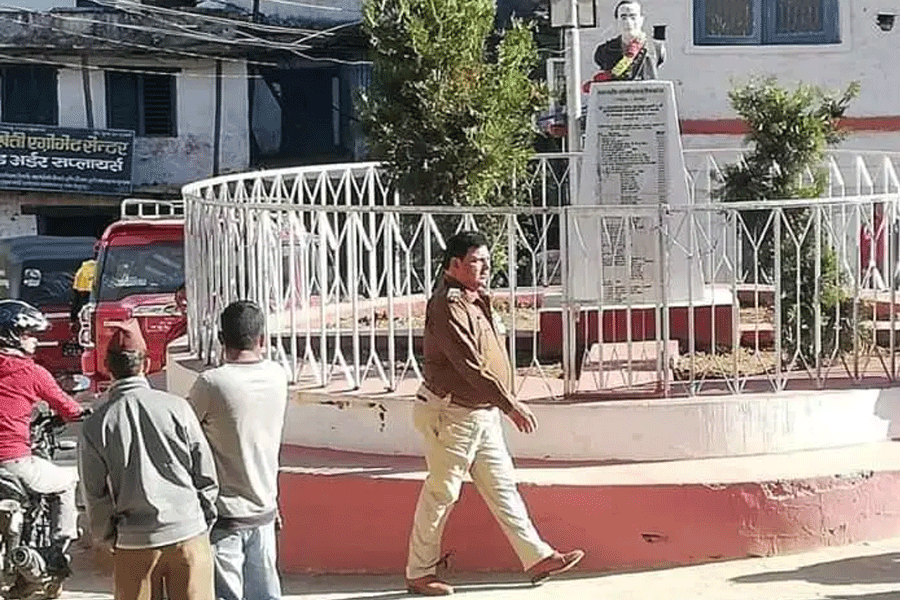 Indian security officials have been entering Nepal in their uniform with guns in hand. But SSB's Nepali counterparts, the Armed Police Force personnel, have been doing nothing about it, claim locals.
"Most don't know that they can't enter like this. Senior Indian officials need to tell this to their officers in the field," says former DIG Hemanta Malla.
On March 17, 2020, three Indians working for Haryana Police entered Nepal in their uniform. After seeing them walking on the road, Nepal Police quizzed why they were there. The Indians told Nepal Police they had come looking for a person who was accused of robbery and poisoning. The Indians were released after they apologised for coming into Nepal in their uniform.
On November 29, 2015, 13 SSB personnel came into Nepal, bearing guns. Seeing that, locals of Kechana in Jhapa confronted them, asking why they were in Nepal. They were allowed to leave seven hours later, but no action was taken against them. Then Assistant Chief District Officer Damaru Prasad Niraula had told Onlinekhabar that they let them leave after SSB commander BB Negi took responsibility for the incident.
SSB personnel on November 27, 2015, came into Koshi rural municipality in Sunsari, and opened fire, injuring locals Ashok Yadav, Manoj Yadav, Saroj Yadav and Naresh Yadav. Then prime minister KP Sharma Oli had asked the home and foreign ministries to investigate the manner and submit him a report.
But, Indian Embassy in Nepal claimed the incident happened in India and said that no Nepali had been injured in the firing. No investigation took place on the incident.
In Dipayal Silgadi municipality of Doti, Indian security officials tried to abduct Nepali national Lal Bahadur Aauji on June 1, 2017. Indians claimed that Aauji was involved in a theft. But, they could not take him away as a commotion ensued and Nepal Police arrived to the scene. They arrested the Indian officials but took no action against them.
Lack of data causing problems
The government does not have any data about most of these incidents. Even though the Home Ministry has a Border and Immigration Administration Section under the Security and Coordination Division that should deal with these incidents, for most parts, it has remained mum about it.
The division does not even have a report of these incidents as it seems to have turned a blind eye to Nepalis living near the border areas as it has only one staffer and one computer. Minister Khand's silence in the Darchula incident shows how much attention he has given to such a sensitive issue.
After criticism, the Home Ministry had asked the Foreign Ministry to send a diplomatic note to India following the death of Jaya Singh Dhami. But, an official at the Home Ministry says Khand asked the Foreign Ministry not the send the note.
Talks ineffective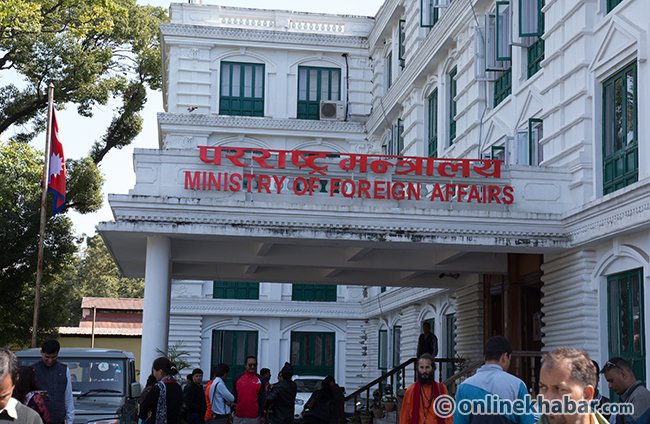 Nepal's government has rarely held talks about these incidents with India. Even though the Foreign Ministry has written to its Indian counterparts, rarely has it received a reply.
Nepal asked for clarification regarding the incident in which four Nepalis got injured after getting hit by bullets fired by SSB officials in Koshi rural municipality in Sunsari. It has been six years since Nepal wrote to India seeking clarification, but it has not received any statement from neither the SSB nor the Indian Foreign Ministry despite the then brigadier commander of the force accepting that the incident happened. The injured locals have not received compensation either.
Despite the Home Ministry having two mechanisms to deal with such issues, its inactiveness is a clear sign that it does not care about Nepalis getting beaten, bullied and killed by Indian security personnel.
When Maheswar Neupane was home secretary, he had asked India to sit for a meeting to discuss this matter on two separate occasions. India never replied.
"They seem disinterested because other issues will also be addressed in this meeting," claims an official working at the Home Ministry.
He said even Nepal's Foreign Ministry also does not show interest to hold these meetings. "The foreign ministry seems to be afraid of India. Even at a time when we can conduct a virtual meeting, India has been avoiding it citing Covid-19," says the official.
"I don't know why there haven't been talks held between India and Nepal regarding this," says Phanindra Mani Pokharel, the Home Ministry spokesperson as well as the Security Coordination Division chief there. "When I was the CDO in Saptari, I dealt with the issue by talking to India's district magistrate, after which the construction of a bridge, which had been stopped by the SSB, resumed."
Pokharel adds a monthly meeting is held between the APF and SSB regarding border security. But, people say that this happens only in a few areas.
Social security threats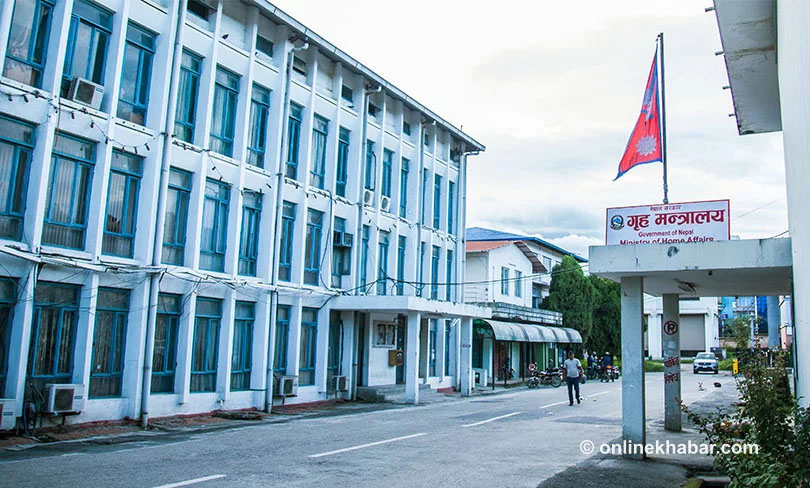 Nepalis living in border areas have also stressed how risky their lives have become. Not only do they have to deal with the SSB, but they also have to tackle the goons and thieves that come to Nepal from across the border.
An example is the incident that happened in Devgunj in Sunsari where people live with the fear of being robbed as even the rural municipality's website has asked people to stay alert.
"Due to the open border, goons and thieves enter Nepal and steal things and run away. This has happened a lot," says the Lali Prasad Mehta, the chair of the rural municipality.
After Bihar banned the sale of alcohol from April 1, 2016, cities close to the border of Nepal and Bihar have been affected as Indians now come to Nepal to drink alcohol, resulting in many untoward incidents.
Locals say that numerous liquor shops have opened in the area and with it, crime has increased too. Locals of Jhapa say that people come from Bihar during the evening, drink, cause commotion and leave.
"It gets traumatising," says a local Ram Sah.
Areas, where police presence is limited, are where problems are worse. Along the 213 km long border in Darchula, there are only a few police posts. Due to the location and demographics of the place, the security arrangement, like the weather, is seasonal. This has resulted in an increase in theft in the area.
Regulating the border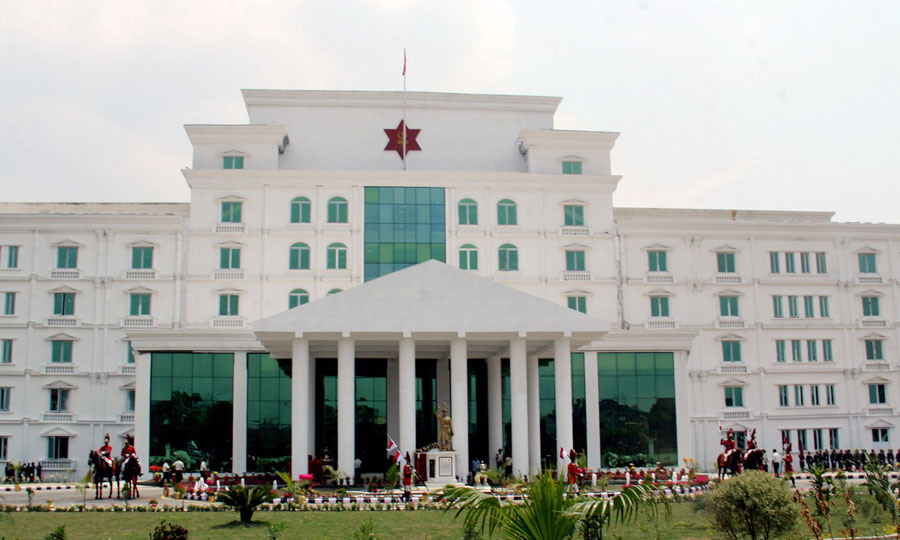 The Nepal Army has been calling on the government to regulate the border as it feels that it also affects national security. Outgoing chief of army staff (CoAS) Purna Chandra Thapa during his tenure focused a lot on managing Nepal's borders with India and China. He also asked the government to clarify jurisdictions of the security agencies and asked the government to talk to India about giving citizens living in the area an ID card through which they could travel around nearby areas of the border.
Former home secretary Chandi Prasad Shrestha says Nepal has already held talks about this with India in 2001. But, conclusions of the meeting are yet to be implemented, says Shrestha. He further adds that the bullying and harassment issues arising recently are mostly due to personal hatred by the Indians rather than the government.
"The Darchula incident happened because that one SSB staffer had some form of hatred. It wasn't because he was ordered by his superior," says Shrestha who adds that most Indian personnel working near the border try to bully Nepalis.
He adds that for this to end, Nepal must work towards uplifting the living standards of Nepalis living in the border areas. He also urges for an awareness campaign in the region asking people not to be afraid of the Indian personnel.
He also adds that the Indian officials should also hold these people accountable because if they do not, incidents like these will continue for a long time.
"Action has been taken against a few, but overall, they don't take action which gives these people the confidence to do anything they want," he says.
Former state minister for home affairs Devendra Raj Kandel says increasing the number of Nepali security personnel along these border areas will also help change things.
"When we increased security personnel in different areas, theft and bullying stopped. It should be done all over the country," says Kandel.