When Sunil Chhetri was running through on goal following a counter by the Indian national team, everyone at the stadium and at home knew that the game was all over for Nepal football team. Having been played in by youngster Anirudh Thapa, Chhetri calmly dispatched the ball beyond Nepal's goalkeeper and captain Kiran Kumar Limbu to give India an unassailable lead putting the game all beyond doubt.
As India led Nepal 2-0, the scoreline flattered the visitors who, for many parts of the match, were the second-best team. Despite being 63 positions below India and not having the domestic structure or the infrastructure that their neighbours have, Nepal played with a lot of heart as they made everyone at the stadium proud.
Tej Tamang did manage to get a late consolation with a long-range effort, but in the end, Nepal, who missed out on a lot of scoring chances, were left to rue these misses as India held on to win the match and continued their unbeaten streak against Nepal.
That said, there were many positives for Nepal football from the two friendly matches held on September 2 and 5 in Kathmandu that Nepal can take before they go to the Maldives to take part in the SAFF Championship.
Despite not winning, Nepal showed they were playing as one unit with one goal, making people proud of their performance. Indian coach Igor Stimac praised the manner in which Nepal played as did most of their players who after the match talked about how hard they had to play to win.
Manic midfield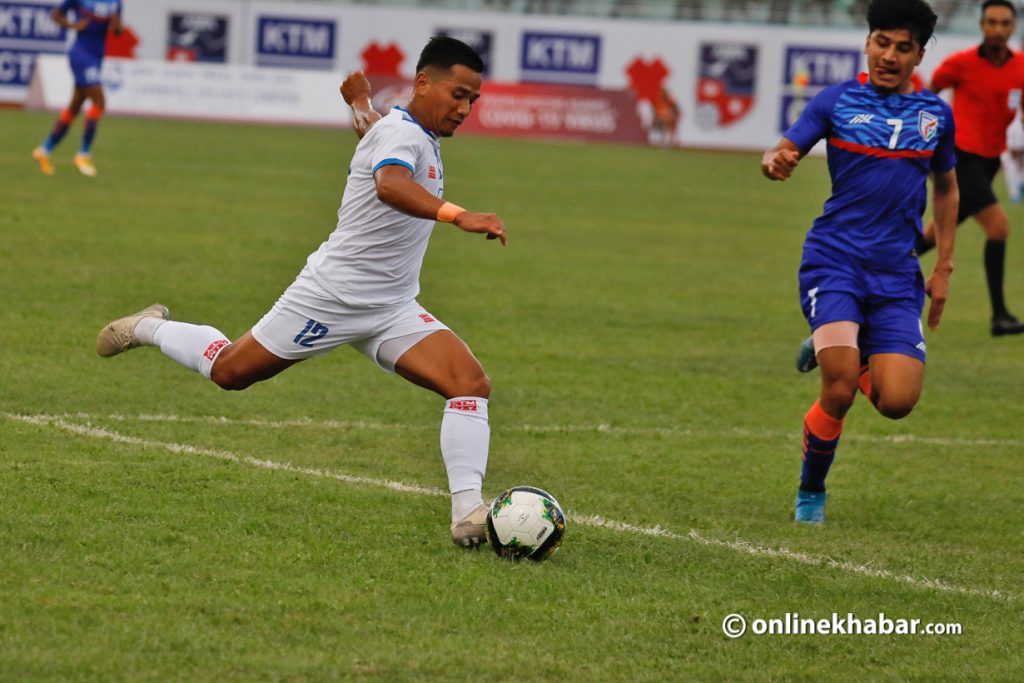 What was impressive about Nepal football performance during the two games was how well they defended as a team. Believing in each other, they gave no space to the Indian attackers who had to resort to long balls and crosses. During the 1-1 draw in the first game, India's playmaker Bradon Fernandes rarely got any space to put his head up and look for teammates. Pujan Uperkoti who has been a revelation in Nepal's midfield marked Fernandes very well. His robust tackling and match awareness were key as Nepal nullified the Indian midfield. You also have to give a lot of props to Tej Tamang and Suman Lama who pressed India's midfield in such a manner they hardly did anything. It took them 50 minutes to register their second shot on target, as they mostly resorted to hopeful long balls and crosses testing Nepal's Limbu with every chance they got. Going forward the midfield was just as important as they won the ball quickly and passed it forward. Nepal team playing intricate short passes was a joy to watch. More of this can help Nepal football do well and reach the finals of the SAFF Championship.
The midfield trio were impressive again as they did the same thing in the second game. Thapa who had played instead of Fernandes also had a lot of trouble finding spaces as Nepal dominated India in midfield in the first half of the second game. Their pressing was on point as was their passing and movement as the midfield created chances for wide players to put the ball in the box. The solitary goal Nepal scored in the second game was also a result of pressing and winning balls back from their Indian counterparts. If the trio get the guidance they are receiving now, Nepal football's future is bright.
Makeshift defence looks promising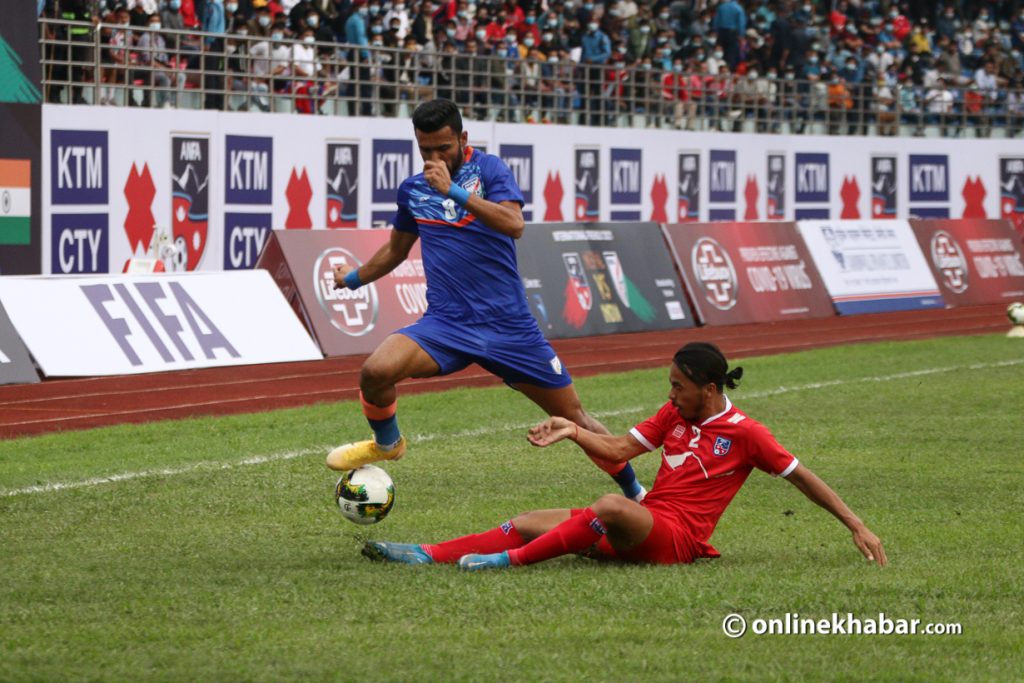 In the past, Nepal football teams have let goals in too easily. A similar thing happened in the two matches as well, but prior to conceding, they looked quite solid. With Rohit Chand in Indonesia, Abdullah Al Mutairi had to opt for a makeshift defence. Al Mutairi played Dinesh Rajbanshi as Ananta Tamang's partner in central defence in both games. Both Tamang and Rajbanshi did quite a good job as they tamed India's attackers. Sunil Chhetri, an all-time great who has scored almost as many international goals as Lionel Messi has done, hardly had any chances. Right-back Gautam Shrestha did look a bit nervous, but with time, he also looked settled to block out India's attack. Al Mutairi did change things a bit at left-back. Suman Aryal played well in the first game as he combined well with Anjan Bista creating a lot of chances for Nepal from the left-hand side.
Despite a good showing, Al Mutairi changed things in the second game and he gave rest to both Bista and Aryal. Aryal was surprisingly replaced by Sujal Shrestha, who for the most part of his career, has always played an attacking role. It looked an odd fit as Shrestha did not feel comfortable. While Nepal's attacks came mostly from the left in the first game, in the second, it was balanced as wingers Manish Dangi and Ayush Ghalan impressed the fans of Nepal football with their skill and pace.
The goals the defence conceded, however, were disappointing. In the first game, the blame has to go to Kiran Kumar Limbu who parried a fierce shot in the air only for Anirudh Thapa to tap the ball in. In the second, the first goal was completely avoidable as the lack of concentration led to a simple goal by Farukh Choudhary. The second was a brisk counterattack following a corner from Nepal. Nepal could have done better in transition, but as they were chasing the game, it was understandable. Al Mutrairi will be hoping that the defence does not make similar mistakes in the forthcoming SAFF Championship.
Attack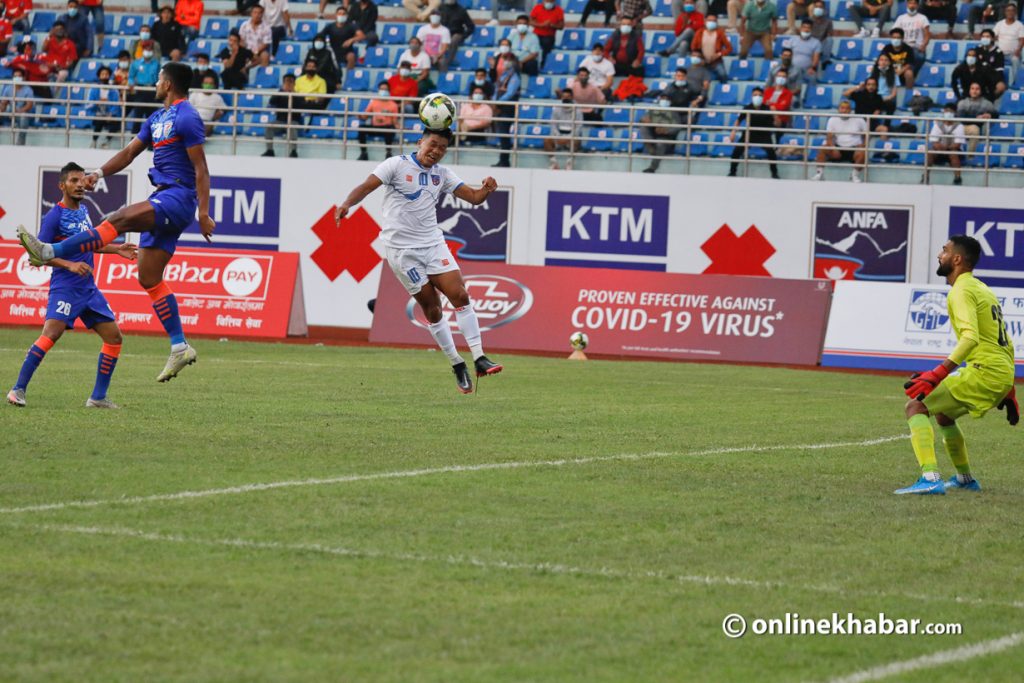 Going forward, the players showed a lot of potentials for Nepal football. They played ball in spaces and players ran through the channels. Nepal overloaded India and outnumbered them when in possession playing intricate passes in small and big triangles. Uperkoti and Tej Tamang were key in this as they burst forward whenever they felt they had a chance along with Suman Lama. Nepal's attacking in game one was not up to the mark as both teams were cagey.
However, in the second match, things were different. Nepal created numerous chances as they created pressure after pressure.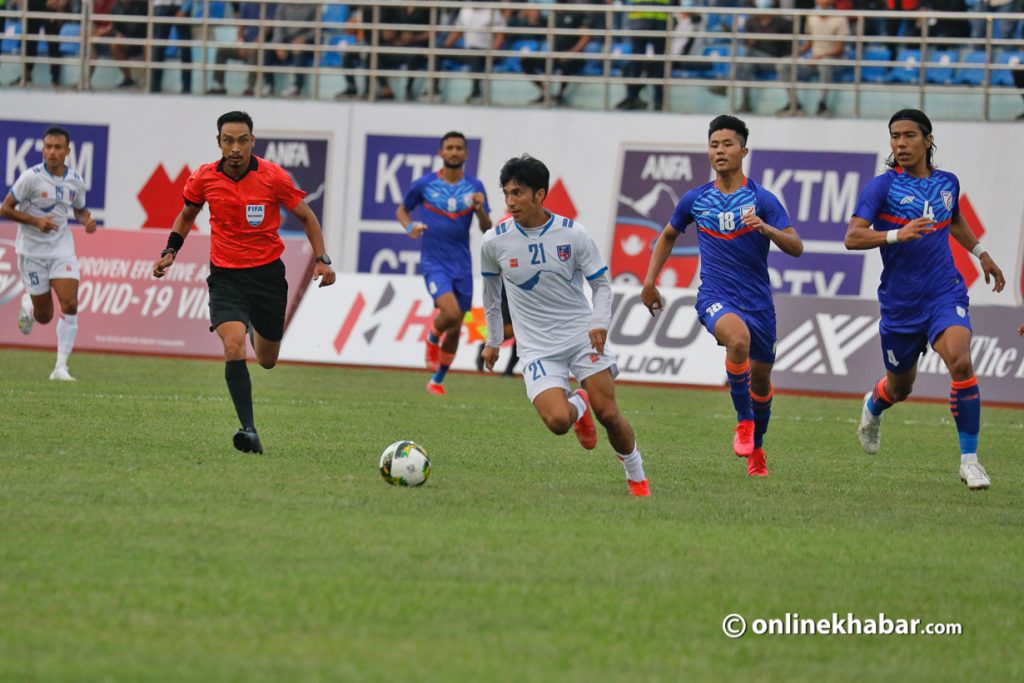 Manish Dangi should have scored after he was at the end of a deflected shot, but he could not apply the finishing touch. Forward Aashish Lama also had a great chance to score, but his header went wide. Apart from these two chances, there were numerous opportunities to score in the second half too. Substitute Bishal Rai missed a sitter after being set up by Nawayug Shrestha and Dangi once again missed from close range to level the match. Al Mutairi in his post-match conference said he was happy with the performance but added that his players needed to believe in themselves more in situations like that. That said, Nepal have to do a lot more on finishing if they want to win the SAFF Championship.
Keeper's butter fingers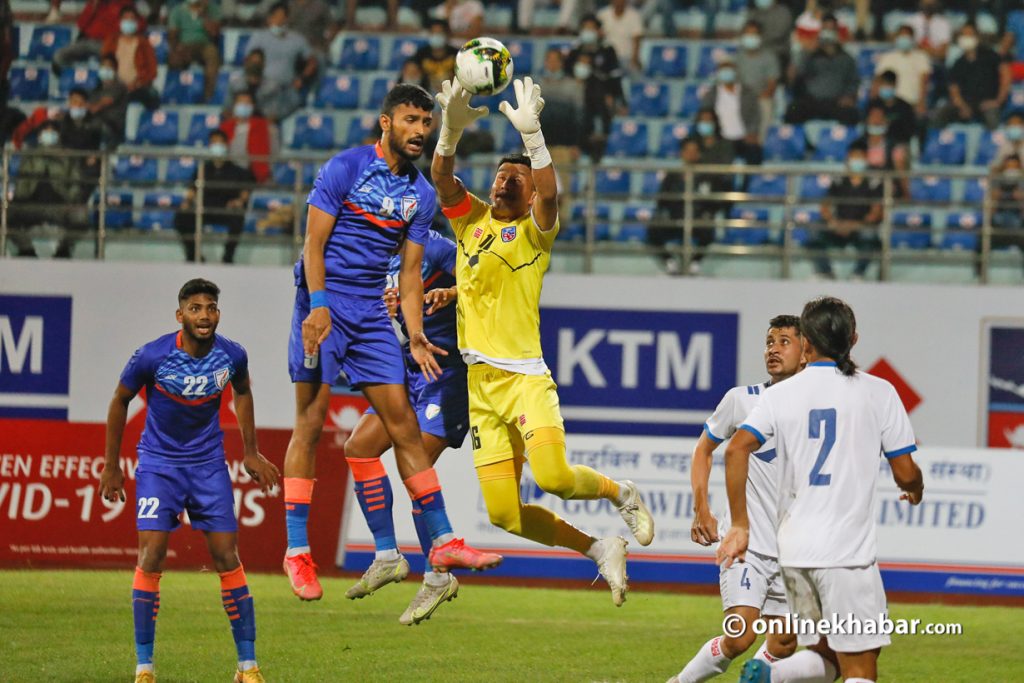 Kiran Kumar Limbu is arguably the best goalkeeper Nepal football teams have had. His shot-saving ability along with distribution needs to be applauded. But, in the past few matches, he has been prone to mistakes that result in goals. It would be harsh on him to say that the goal Nepal conceded in game one was his fault, but he should have been able to get a better hand on it. His confidence when it comes to crosses should also improve because opponents will put in crosses to test him. He needs to work on this side of the game if Nepal have any chance of winning the SAFF Championship.