On January 19, 2021, then Minister for Industry, Commerce and Supplies Lekh Raj Bhatta said China was not being fair when it came to trade with Nepal. He even went on to say that there were factors other than geography affecting Nepal-China trade.
"China is very irresponsible which is making trade difficult. We need to think and act fast because if things carry on as it is, it'll be a disaster," he had said.
Onlinekhabar asked Bhatta, who has already lost his position, if things had changed since his statement. He said there had been no progress.
"I did talk to the foreign minister about this and asked him to talk to the ambassador about this. China is a reason many Nepali businesses persons were at a brink of collapse during the past year," Bhatta had said then.
It has been nine months since he talked to the foreign minister, but there has been no effort to smoothen trade at various Nepal-China border points. This has left many businesses on the verge of bankruptcy as businesspersons have been frustrated at the government for not being proactive enough.
The Tatopani (Kodari) border crossing has been in operation since 1966, but the 2015 earthquake caused a lot of damage near the crossing. After that, the Rasuwagadhi border point started to be used to import and export things to and from China. Even though the Nepal-China border is 1,414 kilometres long, these are the only two border points through which trade takes place. But, the roads that aim to join Nepal to China and China to the rest of South Asia are as poor as they have ever been.
Ever-extending loss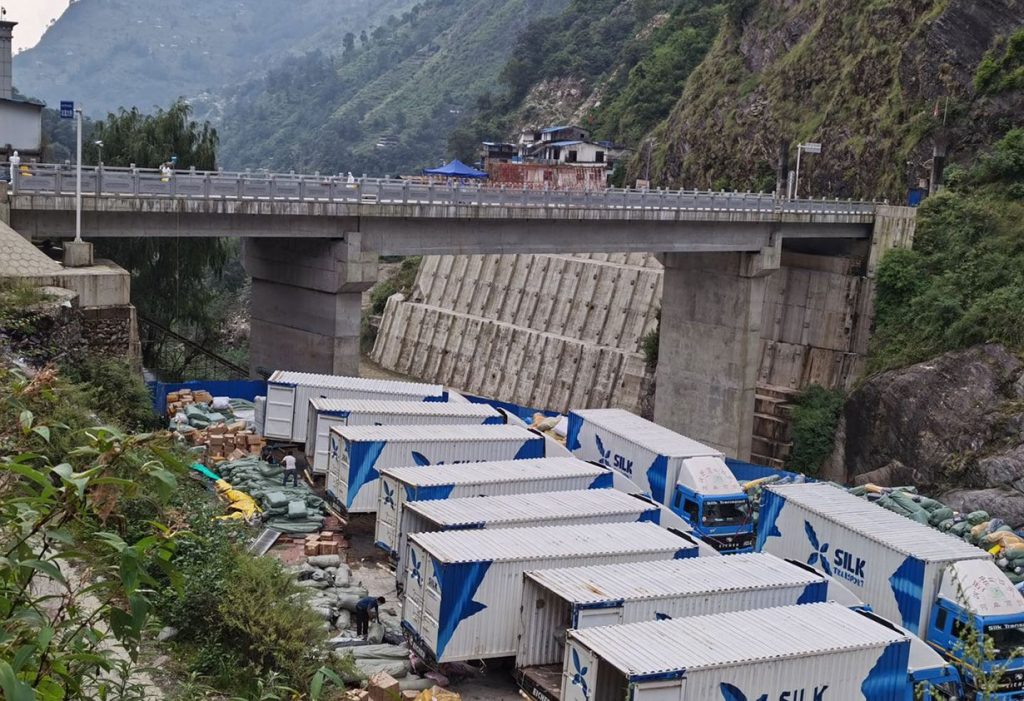 Silk Road Transport, after getting a government tender, is aiming to bring over 10,000 metric tons of urea fertilisers from China. But, the business house does not know when the fertilisers that are used to produce wheat, vegetables and mustard will arrive in Nepal. In total, the company aims to bring in excess of 40,000 metric tons of fertiliser from China.
Kalyan Silwal, the company's managing director, says they need to bring in around 400 trucks to bring in the fertilisers. But, China only lets anything between eight to 10 trucks enter Nepal a day. As this has been the Chinese policy for a few years, businesses have been losing millions of rupees.
"It'll take us a week maximum to get all the trucks to Nepal, but due to this policy, there are times when we've had to wait for over 40 days, sometimes even two months, to get our goods from China," says SIlwal.
Astha Automobile, a company that sells electric scooters, ordered 400 batteries from China in April. The batteries reached the border points in Kerung and Tatopani, informs the company's owner Surendra Manandhar. But the batteries never reached Nepal as many got lost at the border points.
"They said it was Covid-19 protocol and told us to wait. We waited and now we have nothing. Because we didn't have batteries, we couldn't sell scooters and have suffered a lot of loss," says Manandhar.
Things were not always like this. Three years ago, an order would reach Kathmandu in less than a month. But, now businesses are refraining from ordering things from China as they fear they will lose money.
Anup Shrestha, a trader who imports decorative items for households, says he ordered a few things from China. But, Nepali traders there warned him how things were unfavourable as they could not guarantee delivery.
"They told me that there was no way they would take a guarantee as they had no idea how many days these items would be stuck in Kerung or Tatopani," says Shrestha.
This has been a problem as Nepal is heavily dependent on China for everyday goods. Last fiscal year, Nepal imported goods in excess of Rs 233 billion from China. In the two months of the current fiscal year, Nepal has already imported goods worth around Rs 42.84 billion from China.
Open and shut case
The border point in Tatopani has been affected heavily after the 2015 earthquake. The Covid-19 pandemic made things even more unstable. Citing issues like landslides and floods, the border point has been open and shut multiple times since 2019. Apart from that, the Chinese side has been allowing trade to happen on their terms only, say traders.
Both Rasuwagadhi and Tatopani were shut due to the Chinese New Year in January 2020. In February, these border points were shut due to heavy snowfall. By March, Covid-19 had hit China hard and the border points were sealed. In July, landslides blocked the border point in Tatopani while China shut down Rasuwagadhi after Covid-19 started to spread in Nepal.
The Tatopani border did open in October, but a warning of glacier bursting and risk of Covid-19 meant the border was shut again. The border did open in November but was shut again as plans of making a bridge intensified in Tatopani.
The Tatopani border point did open on February 9, but the Rasuwagadhi point was closed on February 11 due to Lhosar. Post-Lhosar, the point opened but with strict preventive measures.
Export close to zero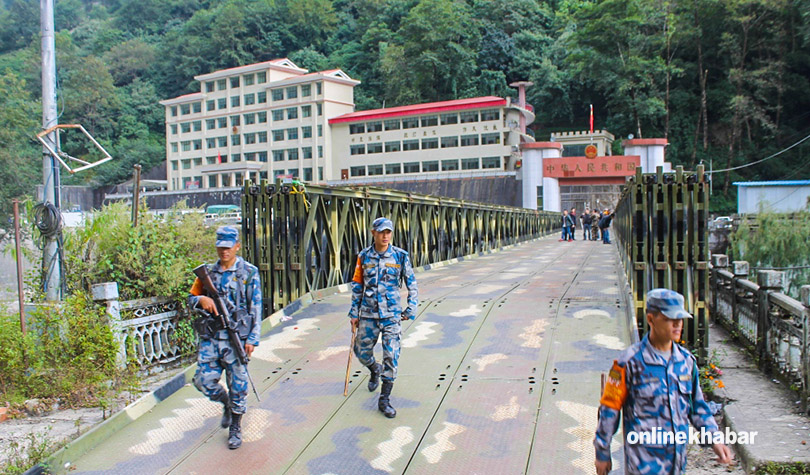 It has been over two years since Nepal last exported anything to China via land. Citing Covid-19, China is only allowing Nepal to import things from the country. In the fiscal year 2018/19, Nepal had exported goods in excess of Rs 2.1 billion. In 2019/20, it decreased to Rs 1.19 billion and Rs 1.01 billion in 2020/21, according to data provided by the Department of Customs. The items include instant noodles, biscuits, handicrafts, pet food and herbs.
But, almost none of these exports have been done through Tatopani and Rasuwagadhi, says customs officials.
Besides Tatopani and Rasuwagadhi, borders points in Korala in Mustang, Yari in Humla, Lamabagar in Dolakha, Olanchungola in Taplejung, Kimathanka in Sankhuwasabha, Larke in Gorkha and Mugu Bhansar in Mugu are used for trade. But, trades that take place from these areas can be counted in one's hands. Yet, most of these points have been shut indefinitely since the pandemic began.
The Mansarovar trip has also been affected due to Yari being shut, affecting the lives of thousands of locals who depend on tourism to make ends meet. The point did open for a while, but it was shut again.
After the border point in Kimathanka was shut, the customs office called its officer back to Kathmandu as they realised that China was not going to open it anytime soon.
Lack of talks causing problems
There is a mechanism that says local units of Nepal and China near border points should hold talks every three months. These meetings are carried out under the guidance of the Home Ministry; respective chief district officers, customs officers and security personnel attend the meetings. But the Rasuwa District Administration Office says such meetings have not been held in a long time.
Deputy Chief District Officer Durga Thapa says that the Chinese officials have been avoiding them stating Covid-19 concerns. People have been restricted from crossing and a quota system has been in place for big vehicles, she says.
"Our district has been fully vaccinated, yet they are not interested in holding talks. This has affected a lot of people," says Thapa.
Chinese officials from border points tell Nepali officials that nothing can be done until they get orders all the way from Bejing.
Infrastructural crisis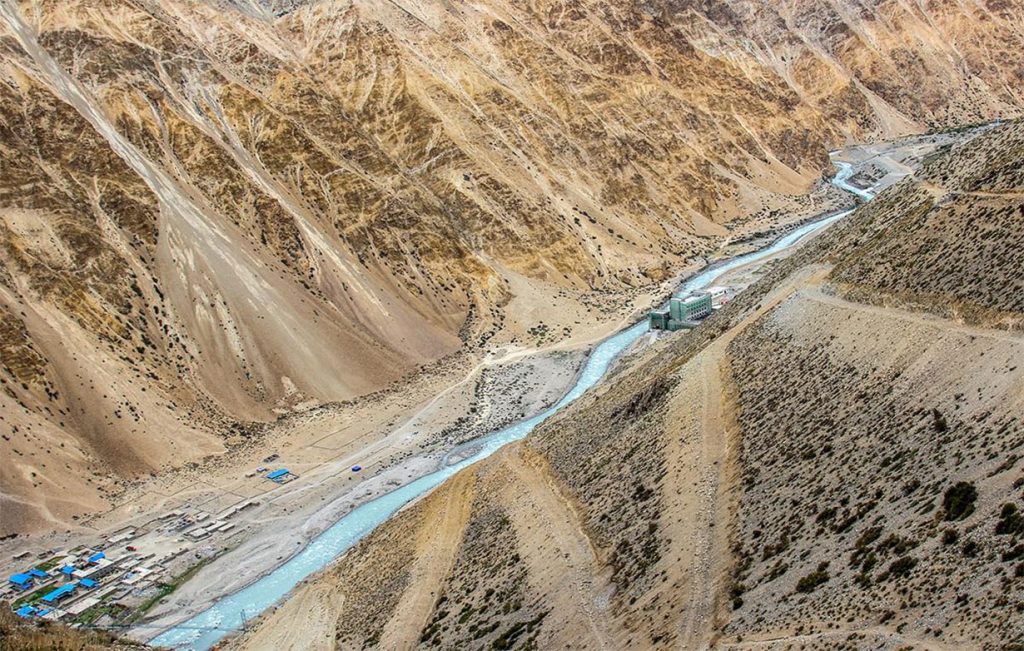 Narayan Prasad Regmi from the Bilateral and Regional Trade Division under the Minister for Industry, Commerce and Supplies says they have held talks about these issues with China. Diplomatic notes have been sent to the northern neighbour by the Foreign Ministry while dialogues have been held with the Chinese ambassador as well.
Regmi says China remains positive about making trade easy between the two countries, but they do fear the rising Covid-19 cases in Nepal. He says the officials have been showing the Chinese side how effective the vaccination drive in areas, mostly around border points, have been.
He says during the talks held in Lhasa a week ago, China was positive in increasing the number of containers to enter Nepal on a daily basis.
But, former minister Lekh Raj Bhatta says China is using the coronavirus card to cause a delay in the facilitation of the border points in Nepal. He says China wants to use the border points for its political gain only.
"There is politics all over this issue. Whatever they say, you can't keep blaming the pandemic for everything. This excuse has bankrupted a lot of Nepali businesspersons," says Bhatta.
But, Rupak Sapkota, an expert in Nepal-China relations, says problems have also arisen due to geographical reasons and natural disasters. He also adds that Nepal's infrastructure is not that great at other border points for trade.
"When one border point is shut, the other should be open, but when there is no infrastructure in these areas, what can the other country do," questions Sapkota, who says China wants Nepal to build better infrastructure as it believes Nepal is the gateway for China to move into South Asia.