Determining your body shape can help you understand your proportions and choose clothing styles that flatter your figure. The human body comes in a wide variety of different sizes, proportions, and body compositions. Understanding our body type helps with mapping clothes and tweaking them in a way that matches our style. The idea is to make sure the dresses we choose sit beautifully and proportionately (or according to our body proportions) and enhance our looks for an even better-looking silhouette.
Here are some steps to identify your body shape and find dresses that suit your size.
Take accurate measurements: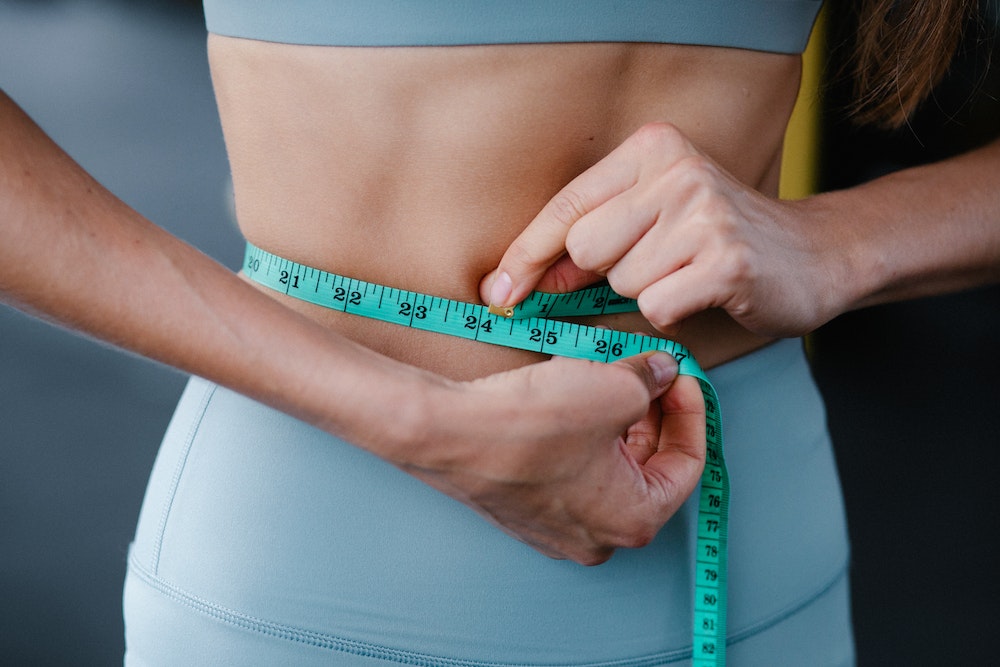 The first step is to take measurements of your body.
Measure your shoulder, bust, waist, and hips. Use a measuring tape and make sure it is levelled and snug but not too tight. Note down the measurements for reference.
Based on the measurements, identify the body proportion and dress accordingly. While there are various dress types for body shapes and many inspiring ideas, it still is a challenge to pull off a suitable one for your body type. Here are some tips to follow:
Pear Shape
A pear-shaped body, also known as a triangle shape, refers to a body type characterised by having wider hips and thighs in comparison to the bust and shoulders. This body shape is named after it resembles the pear, where the lower body is fuller and broader than the upper body. If your hips are wider than your bust and your waist is well-defined, you likely have a pear-shaped body.
The triangle body shape is the most curvaceous. It's easy to notice it by looking at the legs as they are visually wider, fuller, and more muscular than other body parts.
Dresses that emphasise your upper body and define your waist. According to the style craze, for a pear-shaped body, if you wear, an A-line or fit-and-flare dresses are flattering, as they highlight your waist and flow over your hips.
Wide-legged pants, A-line skirts, or dresses with patterned or ruffled tops that add definition to the upper body look great. Skinny jeans with loose tops help create an hourglass illusion. Crop tops, sweetheart, V or deep-V, padded jackets and tops, and scoop, or boat necks will balance your bottom.
Apple Shape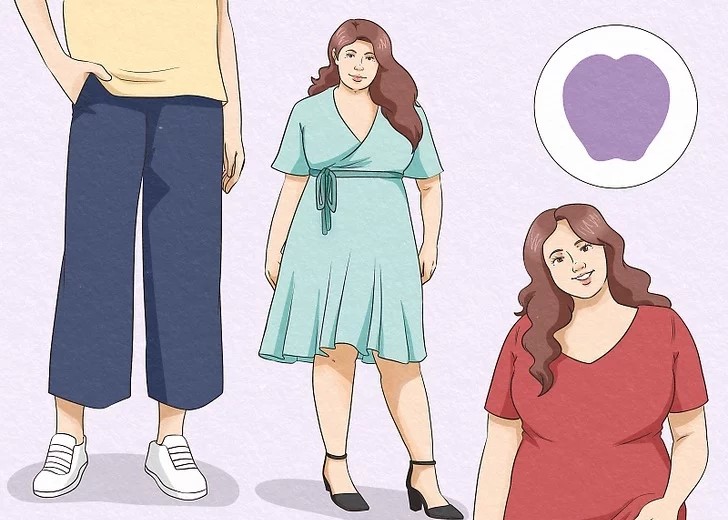 An apple-shaped body, also known as an oval or round shape, refers to a body type characterised by carrying weight predominantly in the midsection, specifically around the abdomen. This body shape is named after the resemblance to an apple, where the mid-section is rounder and fuller compared to the arms, legs, and hips.
If your bust and shoulder are larger compared to your hips, and you carry weight around your midsection, you likely have an apple-shaped body. While choosing dresses that draw attention away from your midsection. Empire waist or wrap dresses work well, as they create a flattering silhouette by defining the smallest part of your waist.
For an apple-shaped body if you try an A-line or empire cuts are ideal for you. According to the style craze, wear printed dresses or patterned jackets that add a layer to shift the focus. Monochrome looks, dark colours, full or three-quarters-sleeve dresses, and flowy tops will help. You could also wear flared bottoms, palazzos, etc., to create a balance. Also, since your shoulders are broad and you might already have a bigger bustline, ensure you wear the right bra.
Hourglass Shape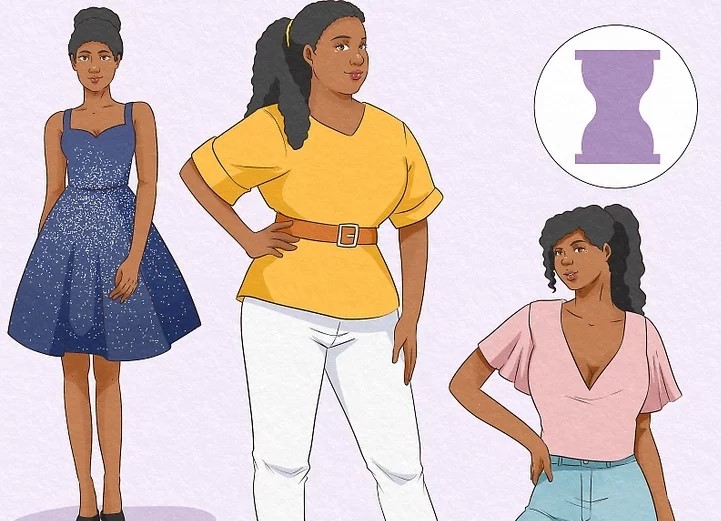 The hourglass body shape is considered to be the most classic and balanced silhouette, often associated with a feminine and curvaceous figure. It is characterised by well-defined curves at the bust and hips, with a narrower waist in between.
Hourglass body shapes are often considered highly desirable and versatile for fashion choices. The goal when dressing an hourglass figure is usually to highlight and accentuate the natural curves while maintaining balance.
Dresses that cinch at the waist will be the best fit for an hourglass body shape. V or plunge V and sweetheart necklines help to flaunt your upper body. As well to flaunt your waistline, go with a belt at your natural waistline or below the belly button. A-line, wrapped and bodycon dresses will define the shape of your body beautifully.
Rectangle Shape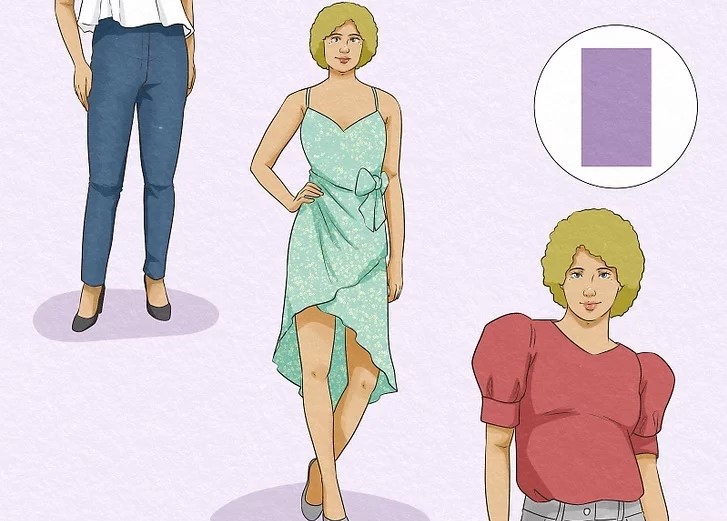 The rectangle body shape, also known as the straight or athletic body shape, is characterised by a more athletic and straight silhouette with minimal waist definition.
Rectangle body shape is a well-defined straight shoulder line consistent with the hips.
If your bust, waist, and hips have similar measurements with minimal waist definition, you likely have a rectangle-shaped body. People with this body type don't have curves like those with pear or apple bodies. Often you'll appear straight with flat shoulders.
When it comes to dressing for a rectangle body shape, the goal is to create the illusion of curves and enhance your natural proportions. Dresses that add definition to your bottom and necklines that add meat to the upper body. Sleeveless, strapless, and sweetheart lines are best for a rectangle body shape. More layered dresses and fit-to-flare dresses like wearing a fit top with a flared skirt or pants will add more value to your shape.
Inverted Triangle Shape
The inverted triangle is the most athletic-looking body type. Your shoulders are much broader than your hips. If your shoulder is larger compared to your hips, with little to no waist definition. Their body follows the shape of a "V", and their shoulders may be straight, squared, or athletic-looking.
Inverted triangle shapes focus on dresses that balance your proportions. According to the fashion influencer Gabrielle Arruda, A-line dresses, V-necklines, and styles with fuller skirts can create a more balanced look. The best pair of jeans that work with an inverted triangle body shape would be the boyfriend jean.
Consider fabric and patterns choose fabrics that drape well and skim over your body rather than clinging tightly. Option for vertical patterns or details to create the illusion of length and balance.