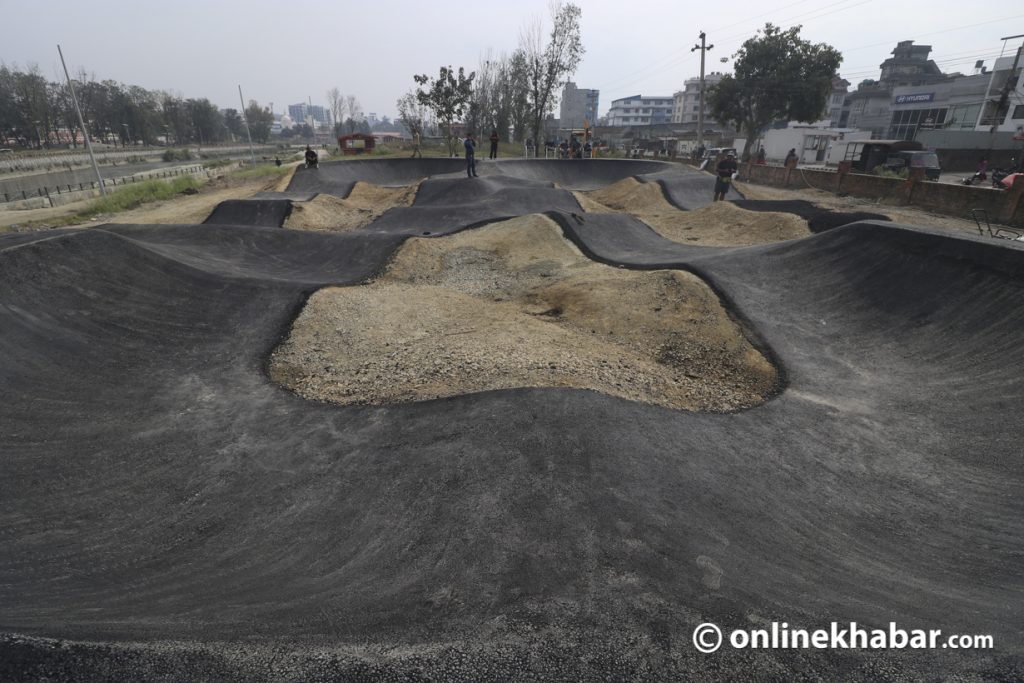 There is a small crowd gathered near the bank of the Bagmati river near Kupandol in Lalitpur. The crowd has bicycles and skateboards with them as they wait to inaugurate the country's first asphalt pump track.
Everyone is excited; after eight days of working hard in the sun, the track is ready, and those who volunteered to help build it are the first to try it.
"It feels great. The track looks good and I can't wait for people to try this. This is going to be great for the mountain biking community. It will help us grow a lot," says Abishek Mainali, a mountain biker and a volunteer, after taking a lap on the track.
Pump for Peace
The pump track is part of Velosolution's Pump for Peace project through which the company aims to build pump tracks in underdeveloped countries with aim of making cycling and action sports more accessible than ever before. And, in a bid to help the cycling and mountain biking community in Nepal, it has brought the project and in little over a week, completed it.
"We hope more and more kids come here and cycle or skate. The excitement was great and we hope the community benefits from our work here," says Claudio Caluori, the founder of Velosolutions.
The Pump for Peace project, according to Caluori, started when the company was building a pump track in Thailand. There, it saw how interested young underprivileged kids were to try it.
"These kids near the border between Thailand and Cambodia were so excited to try it. The joy on their faces to ride bicycles on a pump track was great to see. From then, we decided that we would do our bit and try and build tracks in these communities so that these kids could use it free of charge," says Caluori.
The project built its first track in Lesotho in 2018. Since then, there have been two more tracks in Lesotho, three in South Africa, three in Israel and one in Armenia.
3-yr hard work concludes in a week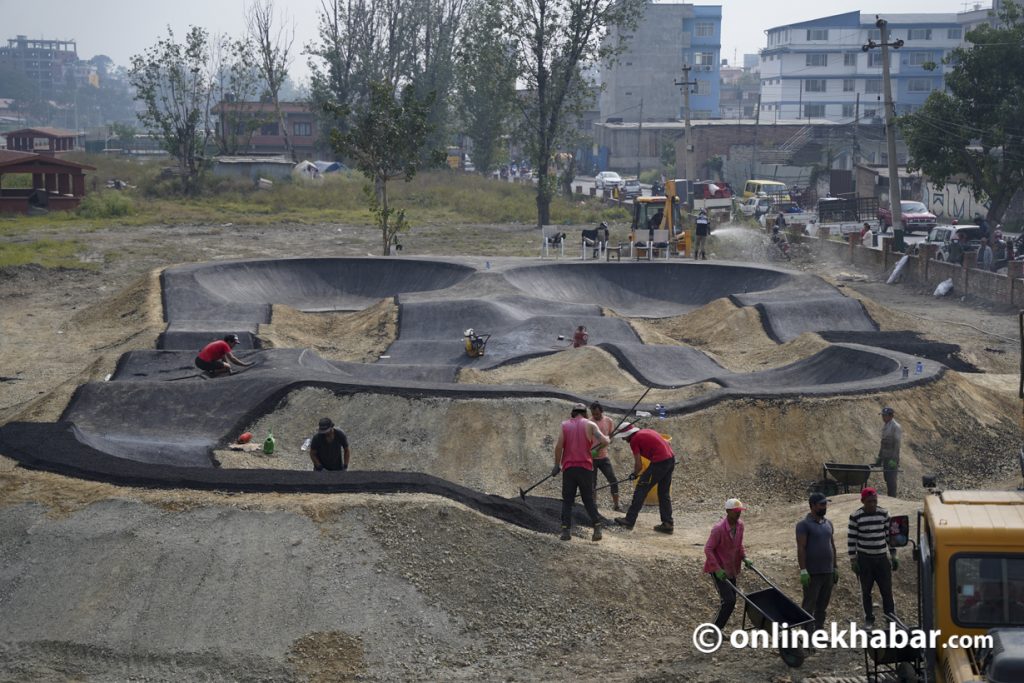 The project in Nepal has been in the pipeline for over three years. Different issues including the Covid pandemic meant they had to delay it.
Caluori says he was contacted by Jenny Caunt from Himalayan Single Track. He came to Nepal in 2019 to even see a few areas but as the project had to be halted, he choose a different destination for it.
"We have one criterion; the location needs to be accessible to all. And, this felt quite central and I want to really thank people like Jenny and Jay who made this possible."
He also thanks the High-Powered Committee for Integrated Development of the Bagmati Civilisation for providing land for the project.
To build the pump track, Caluori and three members from Velosolutions came to Nepal. Here, they were helped by people from the mountain biking community to build the 170-metre-long track.
Caluori and his team from Velosolutions say this project is a collective effort and hope that people build relationships around the track.
As per preliminary calculations, the project has spent around USD 100,000 in Nepal. The fund was generated with the help of a mountain bike accessories company, Crankbrothers.
Open to all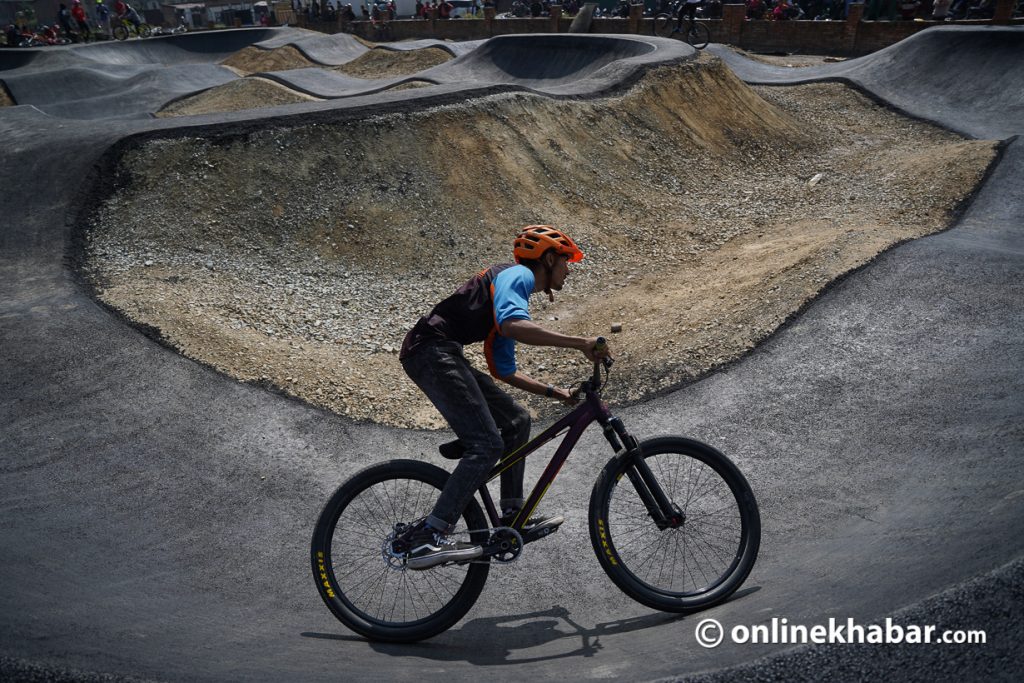 Despite the cost, the project wants to keep the place free for all age groups and free of cost too. It wants it to be as accessible as possible as it is the best way to get into any of the biking or skating sport.
"We want this place to be very inclusive. Sure, it's good for the sport, but I personally to see the community grow," says Bojan Magister, a member of Velosolutions.
"You don't need any expensive gear as people with basic bicycles can ride around the track. All you'll need is a helmet," says Caluori.
Raj Gyawali, a tourism entrepreneur and mountain biking campaigner, says the track will help the future generation a lot as it helps build the basics for those who want to get into the sport as those who ride on a pump track can handle their bikes on the trail.
"It strengthens their body and legs and prepares them. This track is great news for the community," says Gyawali.
The track can be used both by beginners as well as pros. People can start slow without taking risks but after learning the basics, the riders can try different like and jump.
"It will never be boring and after learning this skill, you can go to the forest or hills to do down hills," Caluori says.
Road to the future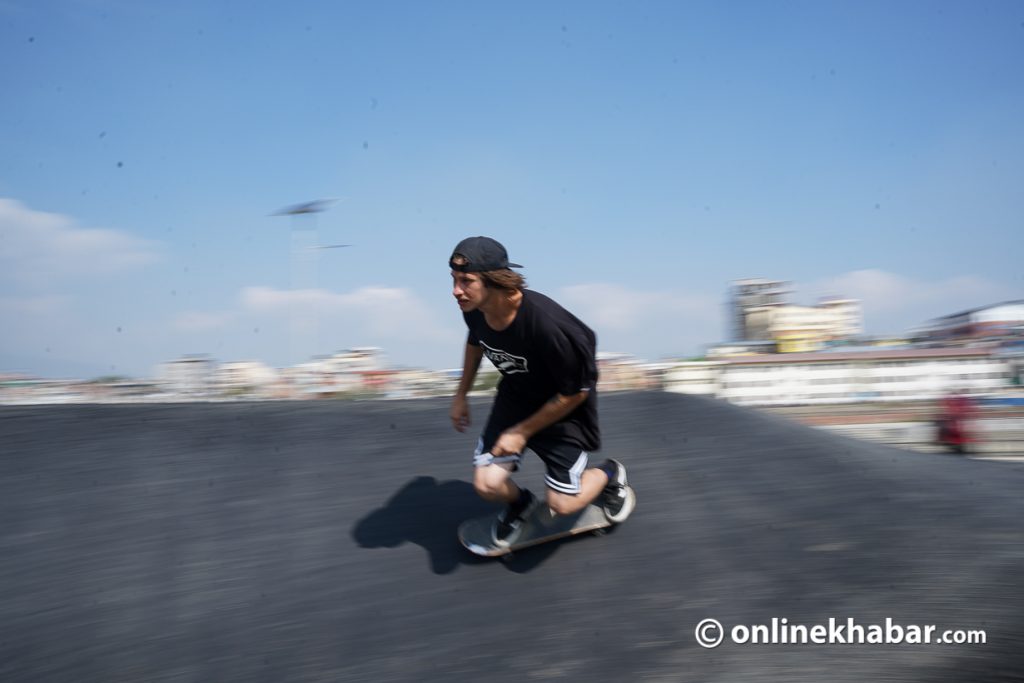 Now, Caluori hopes that he can bring a global qualifier to Nepal and host it on the pump track here. The winner of the qualifier will then take part in the Pump Track World Championship.
"One male and one female will get entry. I hope we can make it happen here," he says.
But for now, bikers are just happy that they have a place within the city where they can polish their skill through which they can compete in races abroad. Mainali feels the track will improve the core strength of many riders and is confident that their racing skills will improve as a result.
"I'm sure even current athletes will benefit from this," he says.
But, as Pump for Peace wants, the track will be accessible for all. That could be seen when a person with no legs came on his skateboard and went around the track with a bright smile on his face.
"That is what we want to achieve through this," says Caluori.