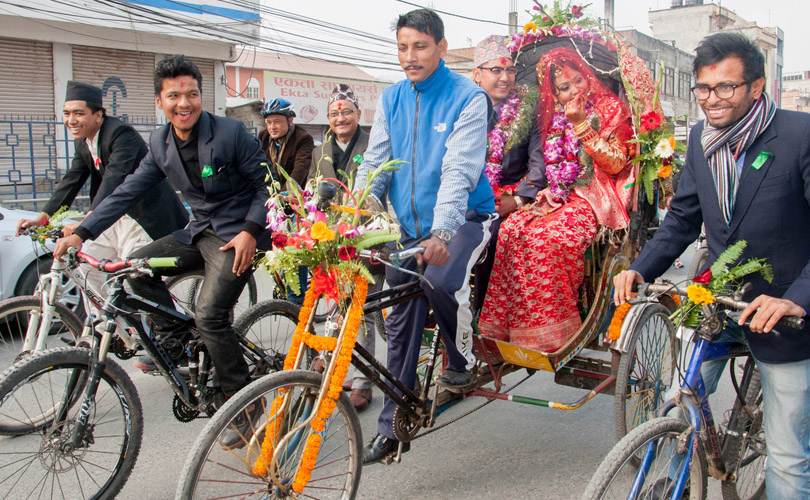 Kathmandu, June 15
Sailendra Dongol's 85-year-old grandfather had wished that his only grandson ride a Mercedes when he goes to his bride's home on wedding day. But, when D-day came, the 29-year-old had something else in mind.
"I told him that I had hired a rickshaw for my big day, but he did not believe me at first," one-and-half years after the wedding, Sailendra shares his story. "But when he saw the rickshaw as we prepared to leave our home in Kalimati for the wedding, he was so furious that he immediately went into the house."
"He came to the wedding venue on my uncle's car, but I could see how mad he was at me for next couple of hours."
Sailendra, an active member of the Cycle City Network Nepal, was determined that he would not take a car to his wedding procession. He had already convinced his girlfriend, swimmer Sumira Shrestha, about the plan.
When he invited other relatives for the wedding, Sailendra had told friends and family to ride a bicycle to the event as far as possible.
"If you cannot ride a cycle or do not have it or feel uncomfortable, you may choose to walk or take a bus; but I want to see as many cycles as possible," he had told them.
"We had a different kind of celebration at the wedding venue at Khusibu. Finally, our granddad agreed to lead the dancing procession and around 20 cycles followed."
The wheel of fortune
The idea of taking the Janti on cycles did not come out of the blue. Sailendra and some of his friends had thought of it around eight years back. Shail Shrestha, a Media Studies student at the Kathmandu University, had shared his idea of promoting cycling as a mode of transportation in cities like Kathmandu. Then, they had initiated the Cycle City campaign in 2009.
The campaign evolved into an NGO as Cycle City Network Nepal in 2013. Sailendra was also a part of the Cycle City campaign since its conception.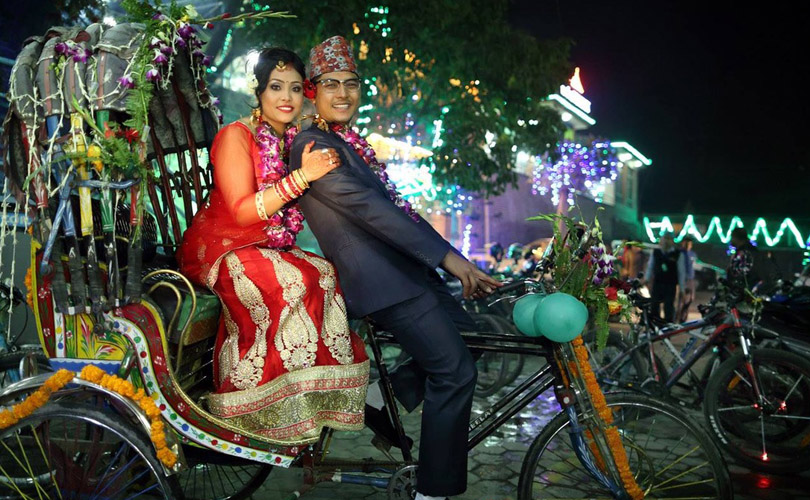 "I was so immersed in the campaign that I felt like my bicycle was my beloved," Sailendra chuckles "Then, I thought it would be morally wrong if I used anything but a cycle for my wedding."
Sailendra and Sumira turned their 11-year-old relationship into marriage on December 16, 2015, when Nepal was reeling under an acute fuel crisis triggered by the Indian blockade.
"People thought I was just protesting the border blockade by snubbing cars," Sailendra says, "But, no, I had planned to the Cycle Janti since the Cycle City campaign was born."
"Many onlookers thought it was a symbolic protest as we brought out the wedding procession. Many thought we were part of a film shoot! "
In the second half of their 11-year courtship, Sailendra and Sumira went on a number of cycling dates. "We had a bicycle for each one of us and would go on dates pedalling," he shares.
Before bringing his girlfriend to the campaign, Sailendra ride to wherever Sumira would call him.
"I used to work in Baneshwor and Sumira in Baluwatar. I would go to Baluwatar alone, and would ask her to sit on in front returning," he shares, "I had to drop her home and during this journey, we would ride very often."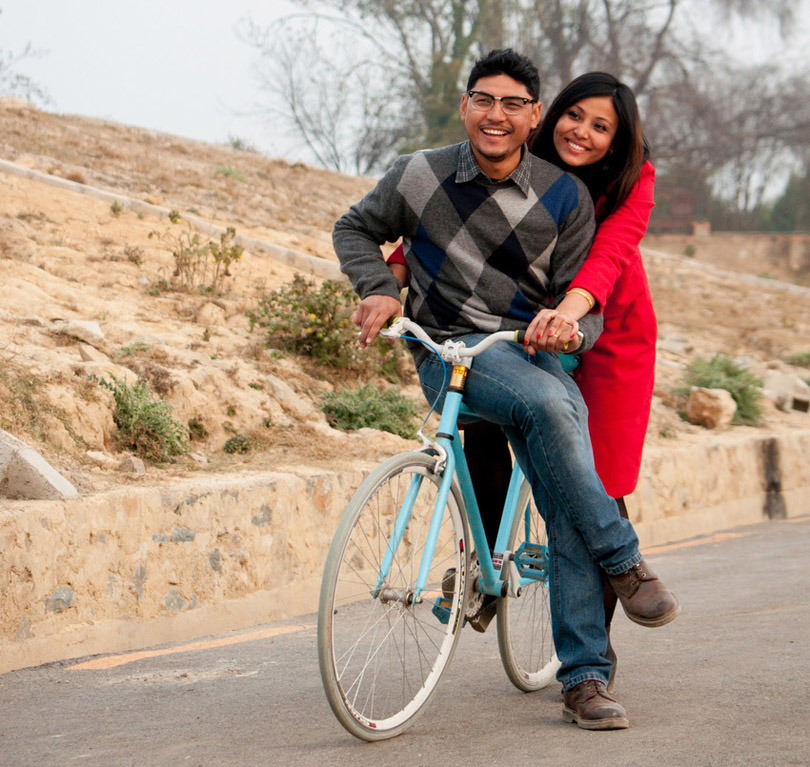 "The 'couple-on-a-bicycle' ideal felt and looked so romantic," he jokes, "Men riding motorbikes in my circle would say it felt so sweet when they put on the brakes when their girlfriends were riding pillion. But they would never know what it feels when you and your beloved have cheek-to-cheek connection as you ride the bicycle."
Shail also has similar experiences. The Dharan resident used to live in Koteshwor of Kathmandu while in college."My girlfriend lived in Kapan and I had to take her home after every date," he shares, "Most of the time, we had different cycles. But, we also experimented riding on the single bicycle together."
"Of course, it was immense fun!"
The second wheel
Shail was in Paris attending a climate change conference when Sailendra tied the knot with Sumira. His parents were in the United States.
"As I shared his wedding pictures on my Facebook, my parents asked if I would follow suit," he remembers, "I instantly said yes."
Shail also used a rickshaw to take his bride, Dristy Nakarmi, home in April this year. "We had to go to Biratnagar from Dharan and it could take quite a long time to pedal along the entire highway. Further, it rained and stormed on the wedding day. Therefore, I had to modify my plan," he shares.
"We just used bicycles and the rickshaw for first four kilometres on our way to Biratnagar and the same stretch while returning home." It was also challenging for Shail to convince the eldest member of his family, his uncle. But, he convinced him explaining why he wanted the wedding to be different.
"Now, my community recognises me as the boy who took the Cycle Janti," Shail shares.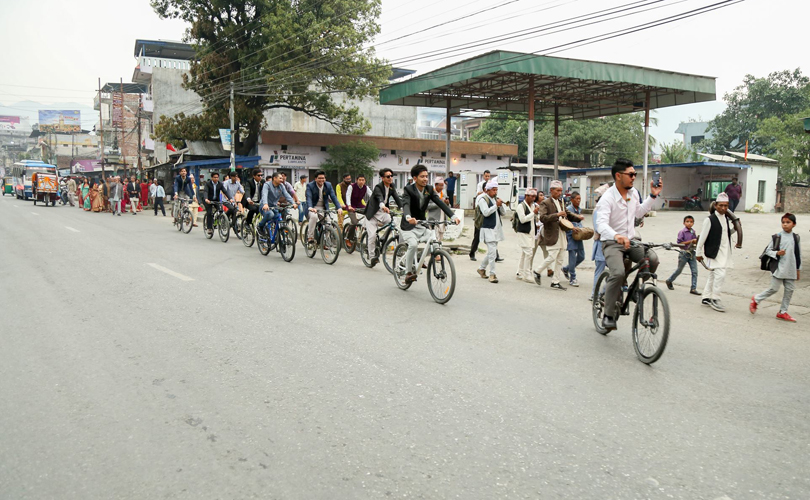 Next in line
Shekhar KC from Dang is not an active Cycle City campaigner, but as a classmate of Shail, he has also been inspired by the two. He also plans to use rickshaws and cycles on his wedding day.
Shekhar is marrying his fiancée this December.
"I was not in any relationship and my family found the girl for me few weeks back," he says, "As soon as I knew her, I have been trying my best to convince her that we follow the Cycle Janti campaign."
"I am yet to convince her, but I am very hopeful."
In past two years, two other couples have taken up the Cycle Janti tradition, according to Sailendra. One of the founders of Cycle City Network Nepal did it just last month in Kathmandu. Another event had happened in Pokhara.
"Now every member of our organisation is under pressure to follow suit," Shail says.
"Few of my relatives have said they will do the same during their children's wedding," Sailendra adds.
—-
Sailendra, Sumira, Shail and Shail's wife Dristi can be seen riding their bicycle around the city these days. While Sailendra and Sumira share a bicycle, Shail and Dristi prefer to use different bicycles.
"Now the Cycle City Network Nepal plans to buy a tandem cycle and we will let our newly wed members use it for wedding, free of cost," says Shail with a laugh.
Photos: The Montage, Ganga Sagar Rai and Shishir Maharjan