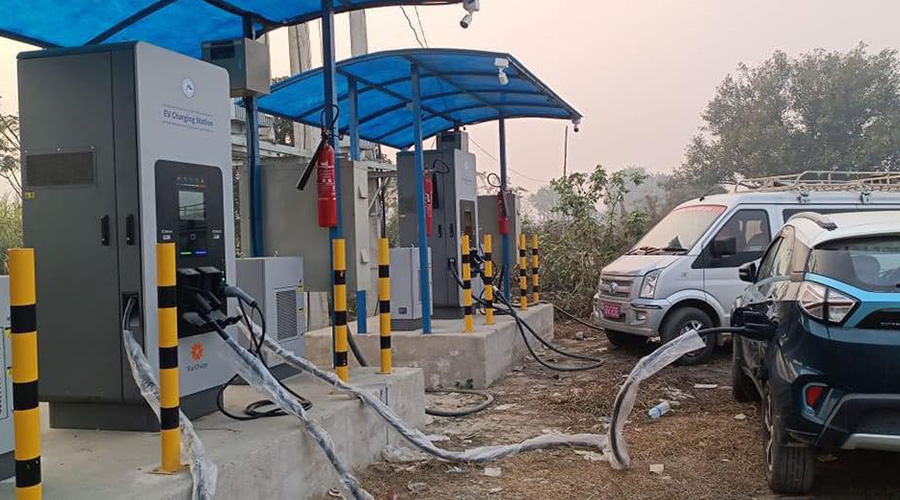 Kathmandu, September 7
Fifty-one fast charging stations installed by the Nepal Electricity Authority (NEA) were inaugurated on Wednesday.
Minister for Energy, Water Resources and Irrigation Shakti Bahadur Basnet and Ministry Secretary Dinesh Kumar Ghimire jointly inaugurated a fast charging station set up at Nepal Police Club, Bhrikutimandap on Wednesday.
Such fast charging stations have been constructed along the main highways of the seven provinces, bus stations and major cities.
These have been constructed under the Electric Vehicle Charging Infrastructure Development Project with investment of NEA, the concessional loan of the Asian Development Bank and the technical assistance of the Norwegian government.
The charging stations were constructed with an investment of around Rs 400 million. Big buses, micro buses, trucks, pickups and cars can be charged in 26 of the charging stations while big and small cars can be charged in 25.
On the occasion, Basnet described the operation of the 51 charging stations as an important step towards sustainable development of the country through reduction in carbon emissions and the adverse impact of climate change by means of consumption of clean energy.
Stating that the government is working towards policy and legal provisions for the promotion of electric vehicles, he said the investors are being enticed to manufacture EVs in the country itself.
Energy Secretary Ghimire said the transport sector is a key area to increase domestic consumption of electricity and the use of EVs will help boost per capita energy consumption.
NEA Managing Director Kulman Ghising said the fast charging stations have been set up to promote EVs. Stating that EVs are 15 to 20 times cheaper than petrol-operated vehicles, he said the use of EVs will also make a positive contribution to the foreign currency reserve of the country.
He said NEA is going to install 500 more charging stations across the country.
Chief of ADB South Asia Energy Division, Sujata Gupta said transport is an important sector for reducing carbon emissions and stressed on construction of infrastructures that promote the use of electric vehicles.
It will cost Rs 0.70 per kilometre for charging cars, Rs 0.80 for charging SUVs, Rs 0.90 for charging microbuses and Rs 1.20 for charging buses.
Depending on the battery capacity of the vehicles available in Nepal, it takes at least half an hour to one hour to fully charge a vehicle at these fast-charging stations.
Each fast charging station is equipped with a 142-kilowatt capacity charger, a 50 kVA transformer for power supply and an online billing system. Fast-charging 60/60 KW DC and 22 KW AC chargers will be placed at the fast charging station.
All 51 fast charging stations will be controlled from Kathmandu. After charging the vehicle, the customer can pay the bill through a QR code and mobile app.