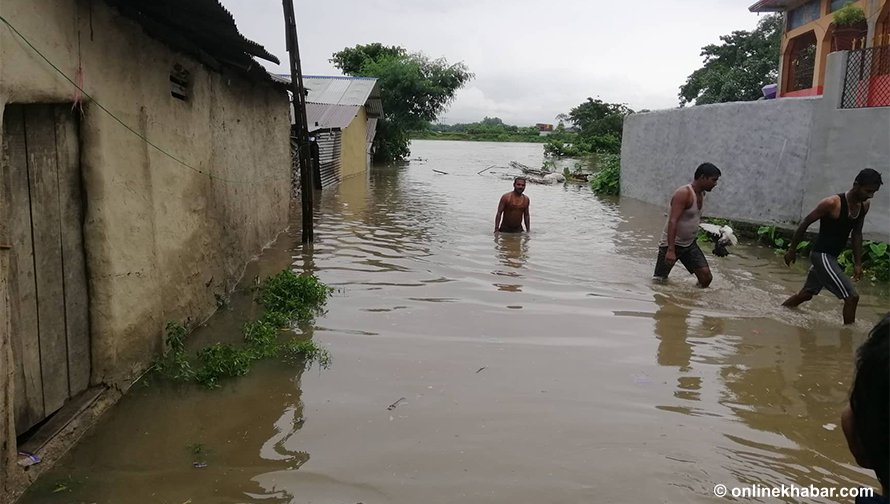 Kathmandu, July 12
With reports of three more deaths in Mulpani of Kathmandu, the death toll has reached 10.
Natu Yadav, Sharmila Yadav and Kundan Yadav died after a landslide buried their house in Kageshwari Manahara municipality on the eastern outskirts of Kathmandu today, according to police.
The Yadav family from Bara was residing in Kathmandu for a past few years.
(Updated at 4:15 pm)
—
Monsoon menace: Seven killed in a single day across the country
Kathmandu, July 12
Seven people have died in various parts of Nepal due to the incessant rainfall from Thursday night. Nepal Police Headquarters has informed that people have died in Ramechhap, Kavre, Bhojpur, Lalitpur and Parsa district.
Two have died and other two have been injured in Banepa of Kavre after a landslide covered the house of a 2015 earthquake survivor. The dead have been identified as Goma Dangal, 55 and Sohina Dangal, 7. Sushila Dangal and her three-year-old daughter Anusha Dangal were injured.
Padam Kumari Sunuwar, 45 of Ramechhap has also died after a landslide covered her house. One other person has been injured.
One person has died in Bhojpur after water entered his house, breaking the wall. Jagat Bahadur Rai, 66, was found dead under his house's wall in Ram Prasad Rai rural municipality.
Fourteen-year-old Janak BK from Tempkemeyung rural municipality in Bhojpur lost his life after getting buried in the landside.
Home Ministry has also informed that one person has died in Lalitpur due to the continuous rain. The ministry further stated that three people in Khotang have gone missing.
One boy has died in Parsa after the Singyahi khola swept him away. The 10-year-old Nikhil Patel from Parsagadi Municipality has been identified as the dead.