Kriti, who lives in the US, was quite low during the Covid pandemic. She had just graduated and was looking for a job. But, with the infection in full swing, she had to spend most of her time at home; it frustrated her. With everything uncertain, she used to be very anxious. That is when her friend introduced her to Memeossa, a diasporic meme page that had memes about being a Nepali abroad and life there.
After a few days, she was hooked.
"Life here can be quite lonely, and during Covid and all the restrictions, things were pretty dark. That is when I followed the page and started to share its posts with my friends living here," says Kriti. "Some were funny and so relatable. I think it helped me connect with people both in the US and in Nepal during those lonely times."
Since then, Kriti has continued to share memes and posts posted by the page with her friends and talk about various issues pointed out by the page. "The intention of the page is good. It has jokes but I think it also sheds light on issues that need talking about. I hope they continue to get better," she says.
Memeossa started on Instagram in the summer of 2018 and since has amassed over 40,000 followers. The page's admin, who wants to remain anonymous, says all of this has been a pleasant surprise. The page talks about religion, male privileges and other silly jokes that Nepalis living in the West (and even in Nepal) can relate to.
From boredom to fun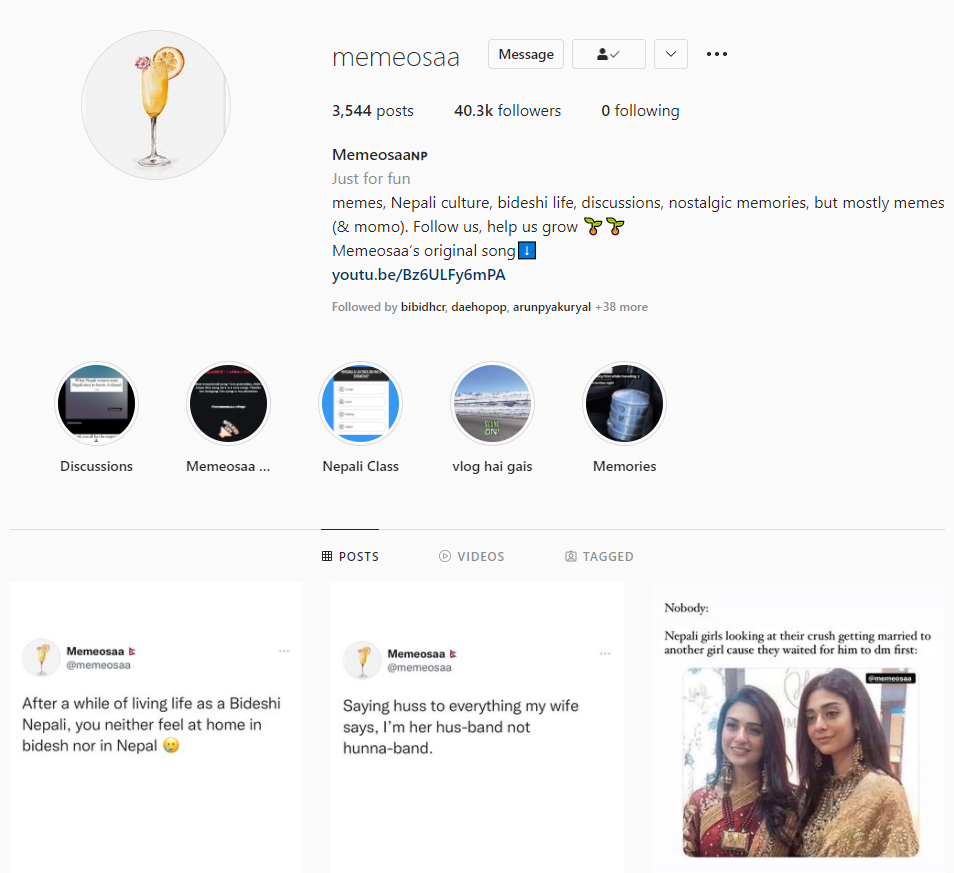 Memeossa's admin says he started the page out of boredom. "It was summer break and I was sharing the idea of starting the page with a few friends. They told me to go for it and now we're here," he says.
The page has been a solace to thousands of people living both in Nepal and abroad who relate to the page. The engagement over time is getting better as more and more people have started to follow it.
The creator says it started to grow during Covid when everyone was at home. People, like Kriti, followed the page and with time and word of mouth, the page started to get noticed.
"The page has become a part of my life. It's bittersweet because there are times I feel I'm investing a lot in it," he says.
But that said, the Memeossa admin says he loves memes and as he was fond of them, he wanted to start a page that would be related to Nepalis living in the US.
"There were Nepali meme pages but they mostly catered to people living in Nepal and their experiences. I don't think there was a meme page at the time that talked or made memes about Nepali people in the diaspora and their experiences. So, I thought I would just make one."
From praises to protests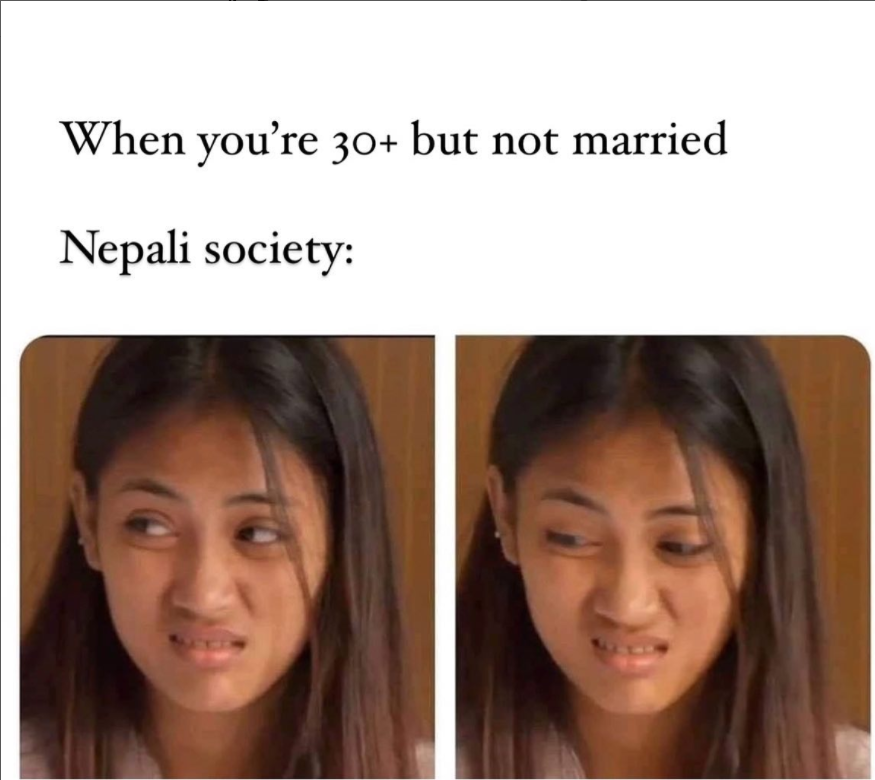 When he started Memeossa, he hoped it would take the people by storm, but he was not expecting it to. But as time passed, he started to put in the effort as the page has broadened its reach. He says that it feels nice that the effort he has put in has been admired by people.
"I always think about what I want to talk about next. Because of that, I keep learning about Nepal and Nepalis living both in and out of Nepal."
He moved to the US in his teens and as he lost touch with Nepal and its people, it was important for him to brush up on his Nepali, and stay connected to his Nepali roots, which he calls 'Nepalipan'.
That has helped him gain followers on Memeossa from places like Darjeeling, Assam, Hong Kong, Australia and the UK also.
"They tell me how the page helps them reconnect with Nepal."
But, Memeossa has had to deal with criticism too. People have called out the page for being problematic, immature and insensitive. He says he is okay with constructive criticism, but there are times when people are just mean which he feels is wrong.
"Not everyone sees the world through the same lens, so I'm bound to get criticism, which is good for me as it'll help me grow. But, there are people who are just mean to me whenever I post about religion and male priveledges in society, people throw slurs and cuss words at me needlessly."
People question if he has given up on his Hindu roots and the question if he was brought up in a proper manner. They even ask what right he has to talk about Nepali culture when he does not even live in Nepal.
"The worst criticism I got was when I talked about Kumari Pratha on Memeossa. I am a Newar and take pride in Kumari, our living goddess; it is one of the oldest Newari traditions. However, since it's such an old tradition, I do believe that we might want to make a few changes to make sure that we are not robbing someone of their childhood," he says, "But, that's just my opinion. I got a lot of flak from Newari followers regarding this subject, that I had disrespected the culture and disrespected Kumari. I eventually deleted the post."
He says that when he has to face issues like these, he has to take a break and find ways and mechanisms to deal with them.
Another criticism Memeossa often gets is when he makes posts about male privilege in Nepali society.
"I get many message requests from male followers asking me if I am not proud to be a man and if I am ashamed that I was born as a man," he says. "But, these comments don't bother me too much."
From privacy to publicity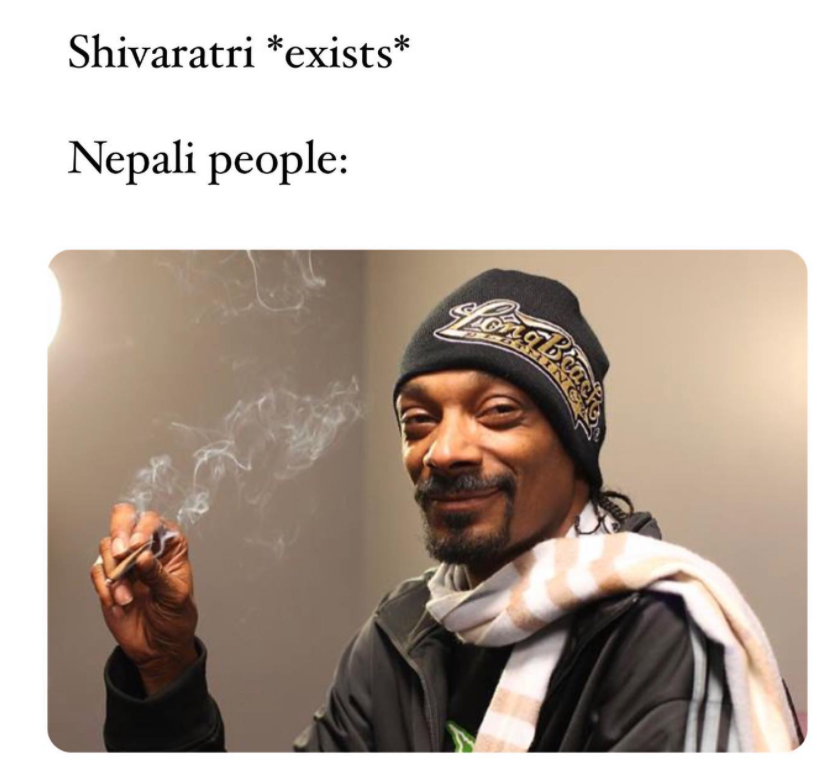 He says he wants to continue learning and growing as a person and during the Memeossa journey; he knows he will make mistakes along the way. But that said, he says he is willing to listen, remain open to criticisms, and receive feedback.
But, with Memeossa, he wants to continue to give people in Nepal a perspective on what life is like. The admin says he likes to keep things private, which is why no one knows who he is.
So, for a person who likes to keep things mostly private, he feels that it is ironic to run a meme page that has a decent following at this point.
But he says, "I'm a regular guy who considers himself an introvert. I think I might come across differently on the page but that's how I am."
When asked if the Memeossa admin will do a face reveal, he says he might do it when he reaches 100,000 followers.
"I'm not sure about that, but let's see. I'll continue to make memes though and make people laugh through them even if I don't reach 100,000."