The relationship between a couple is always seen as special. Then, there are relationships between friends and families. This very special relationship between eight contemporary artists helped in organising a group art exhibition, Maulik: A venture of 8 contemporary artists.
The exhibition kicked off on Friday at Nepal Art Council, Babermahal, and like the title of the exhibition, each one of the artists—Ishan Pariyar, Anisha Maharjan, Laxam Bazra Lama, Deepmala Maharjan, Namrata Singh, Sabita Dangol, Deepak Thami and Nilesh Shakya—have created masterpieces of their own.
Pleasant execution of artworks
Maulik is displayed on the ground floor of the gallery. While entering there, you can feel a pleasant vibration due to the colourful display of artworks and how they have been placed inside the gallery. The exhibition is aesthetically pleasing and lets you go into a happy colourful world.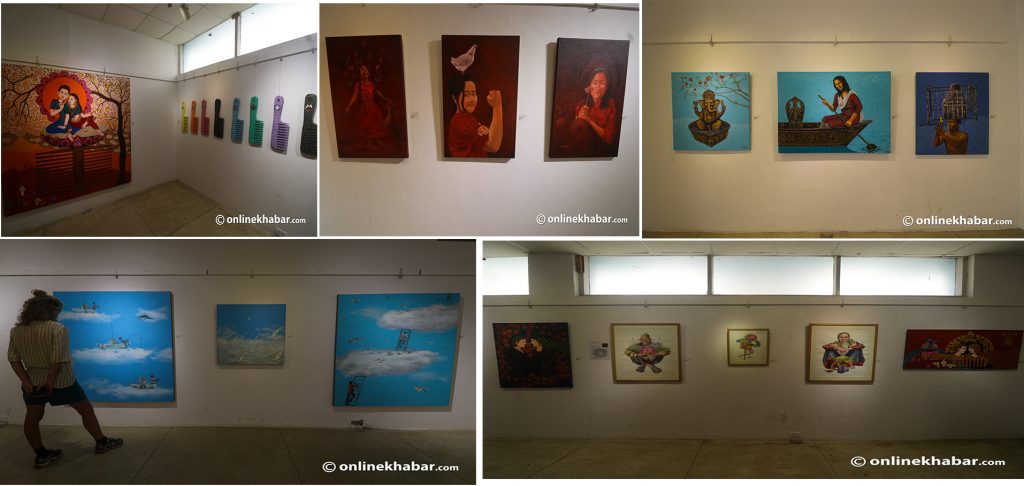 Although being friends and four married couples, it showcases distinct artworks on the themes like the relationship of a mother and a daughter, human senses, love, hope, identity, desire and more that are entirely different from each other, using symbolism in their paintings and sculpture.
Symbols like clouds, lotus, birds, flowers, and trees have been used in these artists' paintings. In Lama's and Thami's paintings, the clouds symbolise the uncountable desires of a human in this world while s/he is alive. Then, flowers in Singh, Thami and Dangol's paintings denote prosperity, calmness and beauty in life.
The themes explored by the artists
In Maulik, Pariyar's paintings show his concern for Nepal's heritage and have beautifully presented them with a blend of western and eastern motifs such as the Mona Lisa, Lord Narayan and more. Dangol's works focus on the conjugal love and the ecstasy one gets being in such a relationship.
Then, using the monochromatic theme in red, Anisha Maharjan has depicted a girl with different props in various expressions emphasising the self-identity of women.
Artist Deepmala Maharjan's set of artworks created in collaboration with her mother is simple, subtle yet heart-touching which shows the warmth of a mother and the relationship between a mother and her child.
She has shown a phase of a mother from her pregnancy to her child being an adult. She has used the contrast of dark and light hues in her painting such as yellow, green, blue, black, white, purple and more. These human figures do not have any facial features making it apt for the Maulik exhibition visitors to relate to them with their own bond with their mothers as a child.
Expression of different emotions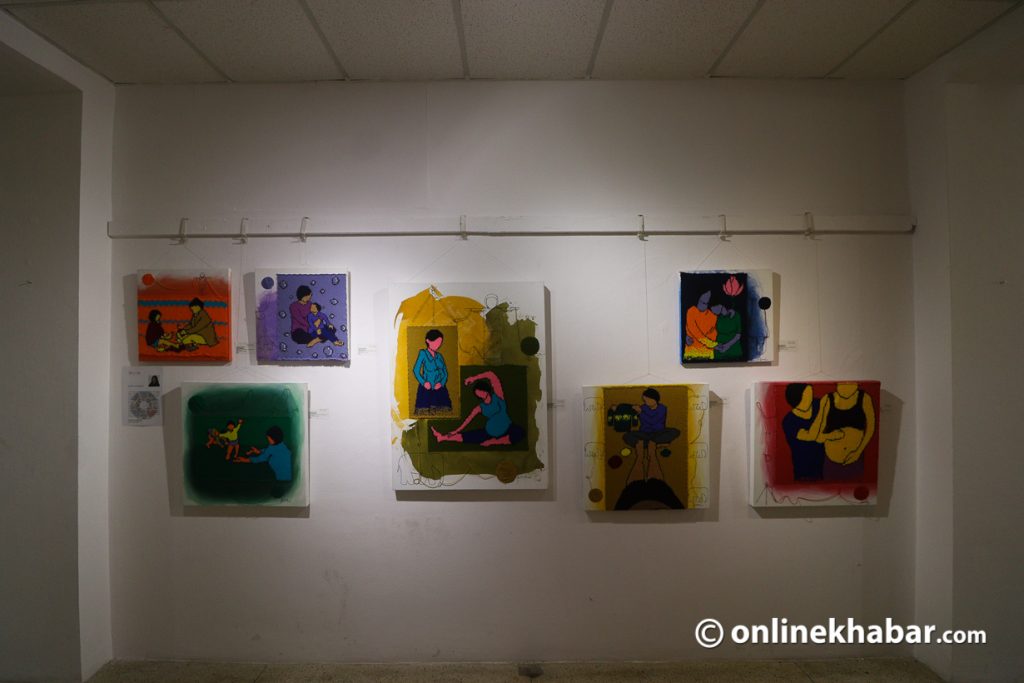 Moreover, her works have shown an upgrade having more maturity in the execution and style than her previous works. She has recently become a mother herself and including her own mother in the art process through knitting has helped the viewers see her expressions as well as a message that anyone with a little bit of craft can be an artist.
About the paintings, her mother Heera Maharjan shares, "I am really happy about the Maulik exhibition and I used to knit sweaters with different patterns, but I had never thought it can be turned into such a beautiful piece of artwork."
Likewise, similar tones of colours can be found in Singh's paintings with the themes of love for humankind and nature where her paintings have depth in them while using motifs from Mithila art. Then, in one of the sculptures of Shakya, viewers can find his concern towards nature and its future.
In Maulik, Deepak Thami's philosophical watercolour paintings explore self-identity and finding peace with oneself through various symbolical motifs.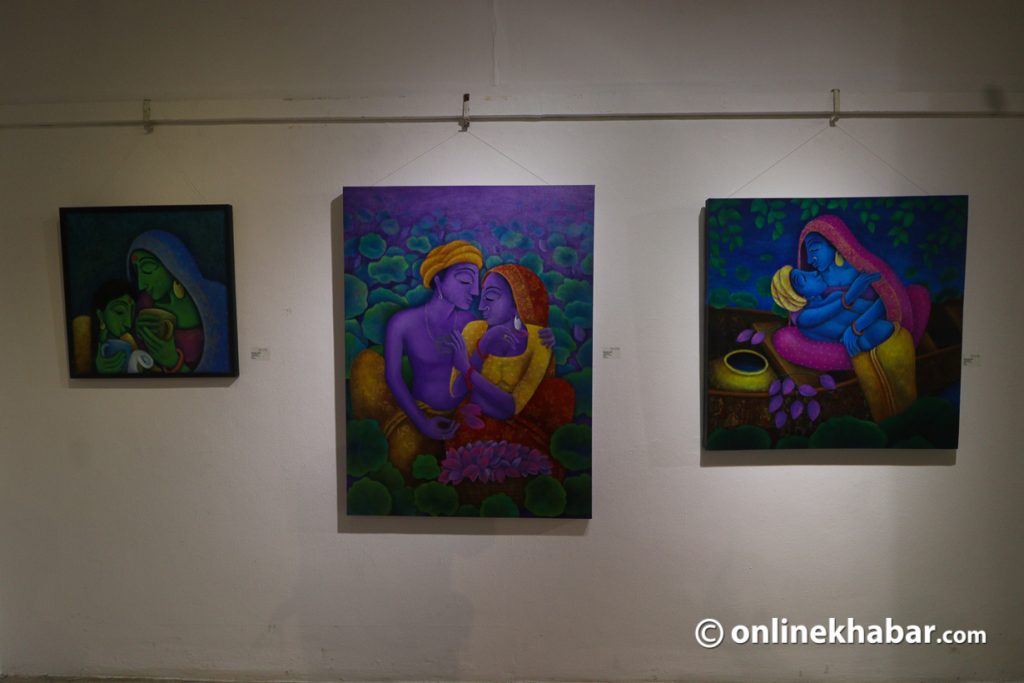 And Laxman Lama, in his paintings, shows humans' never-ending desire for wealth and power.
All in all, the exhibition explores life in general and that life is all about its experiences and getting peace while we are alive.
Maulik will continue till Tuesday, June 7.