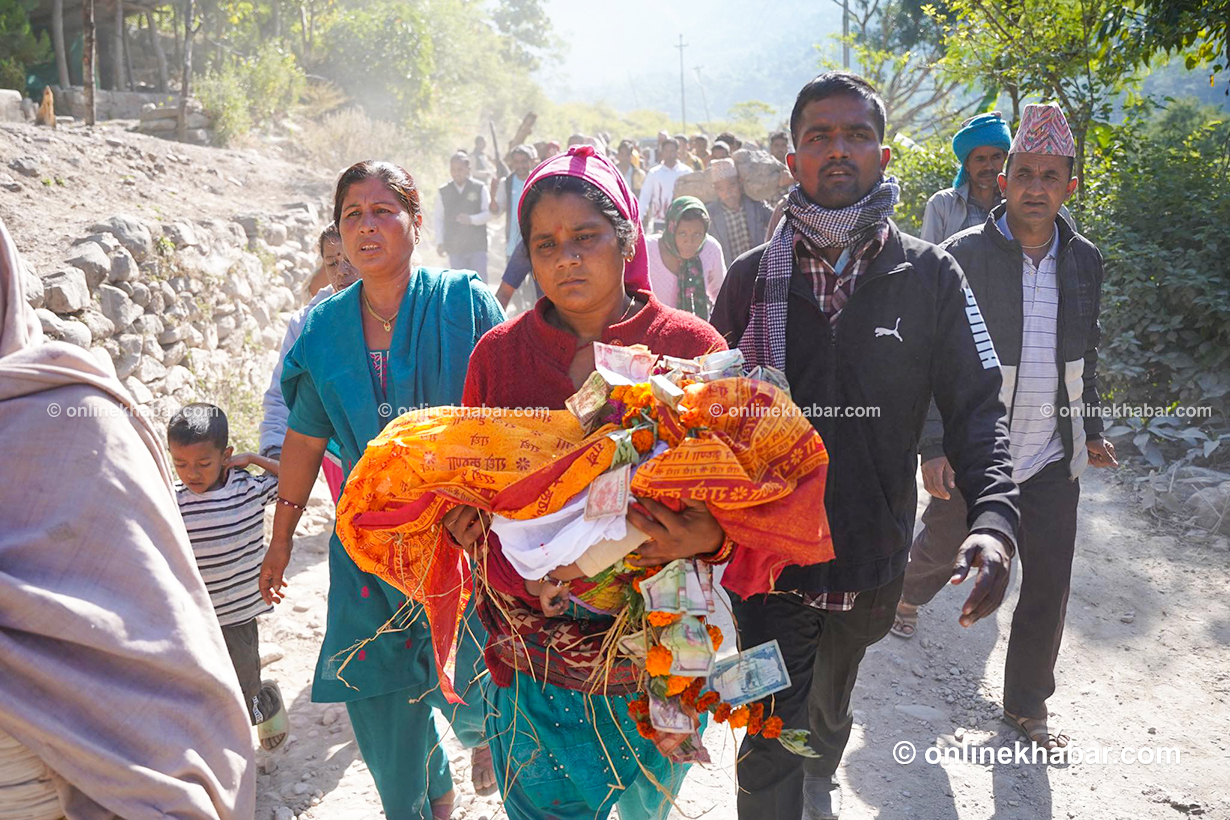 Only one side of the house, spared by the earthquake, still stands; the rest now lie in ruins. In the courtyard, three lifeless bodies are arranged on straw, shrouded in white cloth awaiting their funeral.
"I have lost everything," says Bhagwati Pariyar who is inconsolable. "What do I have to live for?"
Bhagwati's relatives and neighbours are trying to console her but there is no consoling a mother who has lost a daughter and two grandsons. The earthquake took away everything leaving her with nothing but bad memories and sorrow.
Bhagwati's pregnant daughter-in-law, Sapana, finds herself in the same dire straits. The condition of her son, Sameer, and son-in-law, Deepak, is equally precarious. In Friday's 6.4 magnitude earthquake, a total of five lives were claimed in Bhagwati's house in Chamakhet, Nalgad Municipality, Jajarkot.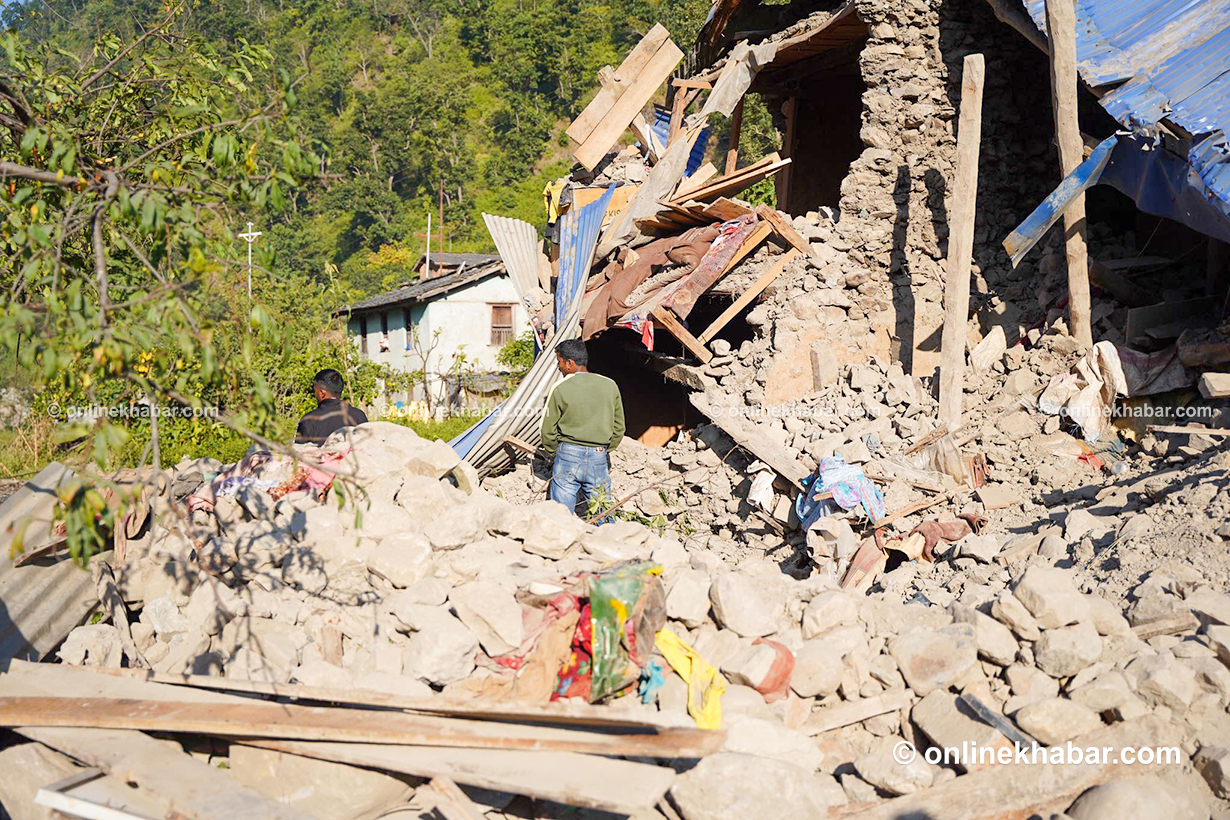 When the earthquake struck, there were eight people in the house. Bhagwati's daughter Savita Pariyar, 38, along with Bishnu Pariyar, 15, and Sandeep Sunar (Savita's 18-month-old son), were asleep on the upper floor of the three-storey house. Sameer, Bhagwati's son, and his wife Bipana were on the first floor. Additionally, Bhagwati's neighbour Bindu Lama, 28, along with her nine-year-old daughter Bipana Lama, also spent the night in the same house on Friday.
Sameer, still groggy from a deep sleep, woke up with dust all over his body. The earthquake had jolted him to the front of the house, and as he woke up, the gravity of the situation hit him.
"I was completely covered in dust. I was in shock. I didn't know what exactly was going on," he said.
He hurriedly woke up to check up on his pregnant wife.
"All hell had broken loose. I saw brothers in a frenzy, and immediately, I began calling out to people to check on their whereabouts in the house."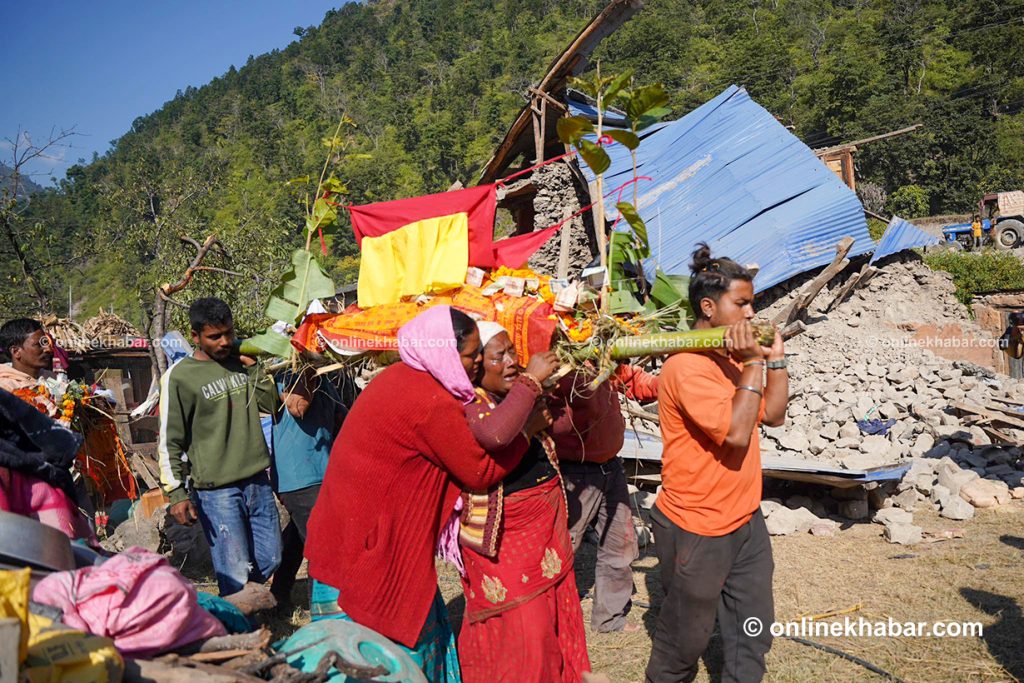 According to their neighbour Lokendra KC, the house, which was made from stone and mud, crumbled during the initial tremor of the earthquake.
"Someone on the ground floor was crying out in pain. We attempted to dig through the rubble, but couldn't locate them, so we brought in a bulldozer to clear the debris," says KC.
The neighbours rescued everyone and took them to Nalgad Hospital. While Bhagwati returned after receiving initial medical attention, five people from the home were pronounced dead.
The deceased were brought back, and their bodies were placed in front of the house on Saturday. Two neighbours were cremated on the same day, whereas three members of Bhagwati's family were cremated on Sunday.
Pain of loss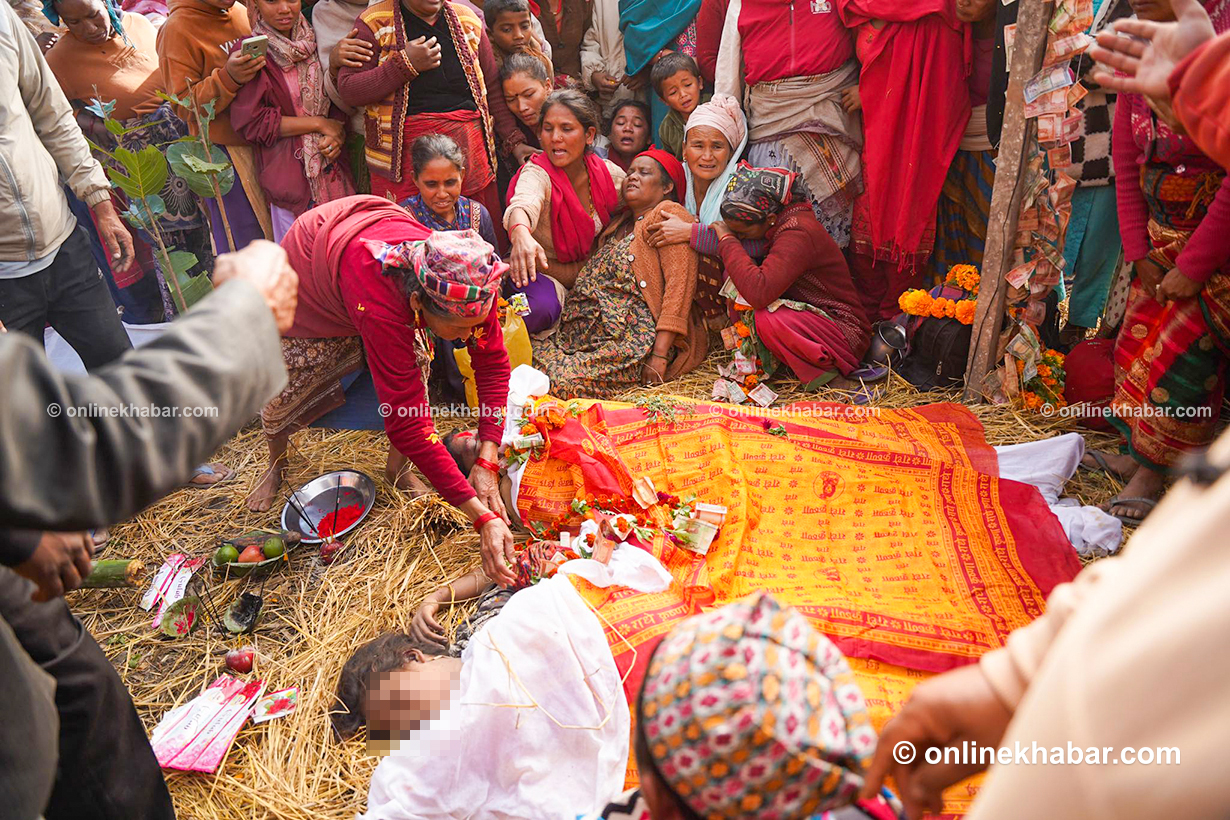 When Savita Pariyar was crushed by the house, her husband, Deepak Sunar was in Dolpa. Due to the scarcity of work in Chamakhet, many individuals seek employment in Dolpa. Deepak, who works as a driver, was in Dolpa at the time of the incident.
Upon receiving a call from his neighbour informing him of the destruction caused by the earthquake in his in-laws' house in Chamakhet, he hurried to the scene. Four hours later, when he arrived at his in-laws' residence, he discovered the devastating news: his wife and son had not survived.
Deepak, who is originally from Ramkot Municipality in Kalikot is rarely home. This is why his wife would spend most of her time with her parents in Chamakhet. Whenever free, Deepak would visit Chamakhet and stay with his in-laws.
"It's been three years since I got married and I am mostly away due to work," he says.
Chamakhet has 45 houses. Keshav Prasad Sharma, a local politician, says the majority of these houses are now uninhabitable. Fortunately, there were no casualties in the other families but Bhagwati and Deepak have lost everything.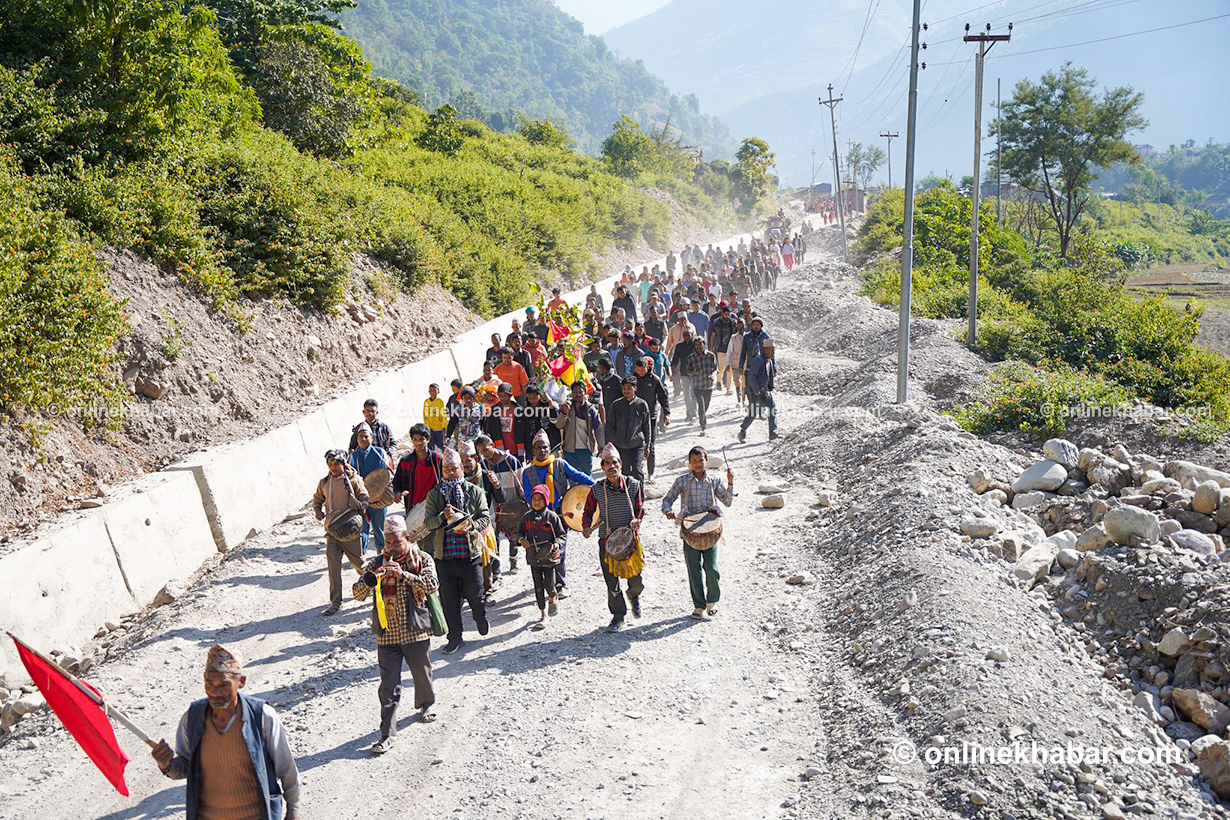 Upon learning that someone was trapped in Bhagwati's house, a collective effort was made to rescue them. But when the crowd got there, it was already too late. Five people, including two children, died.
On Sunday, the entire village bid them farewell while mourning the loss of Bhagwati and Deepak. The sombre atmosphere was palpable, as everyone present empathised deeply, realizing that it could have easily been them or their own loved ones in that tragic situation.
This is the prevailing situation in many villages of Jajarkot and Rukum West, both severely impacted by the earthquake. Most places have conducted mass funerals for a majority of the victims.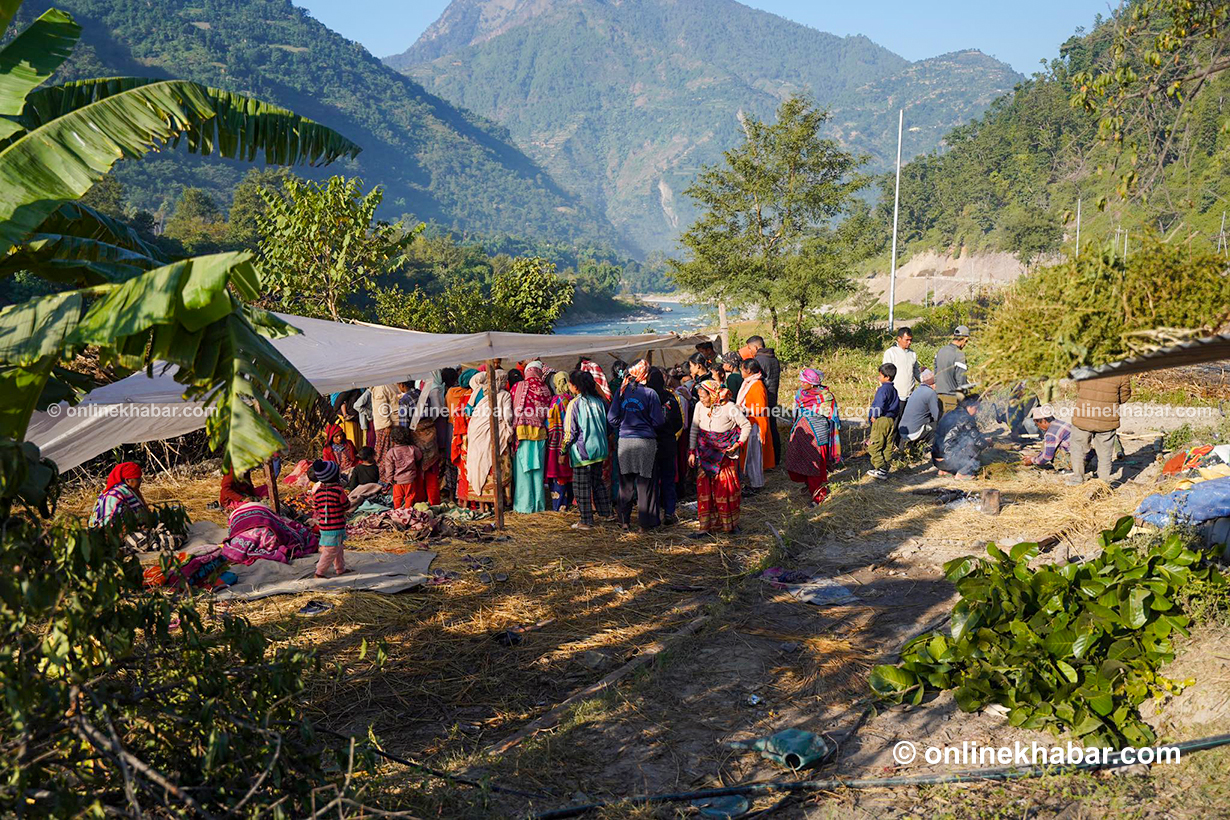 The earthquake on Friday claimed the lives of 157 people, with 105 casualties in Jajarkot and 52 in Rukum Paschim. According to Nepal Police, 246 individuals sustained injuries, with 146 of them having received initial medical attention and returned home, while the remaining 110 continue to receive treatment in various hospitals.
The earthquake destroyed 910 houses, while 2,861 houses sustained partial damage. With the initial rescue operations now concluded, the Ministry of Home Affairs has announced the commencement of distribution of tarpaulins, blankets, and sleeping bags to aid the earthquake victims.