When Mangal Lama set off to do the Great Himalayan Trail on his bicycle alone, he knew he would be facing a lot of challenges. But, what happened at the West Col Pass in the Makalu Barun region nearly broke him.
He had reached the top of the pass with his porter and was on his way down. The trail was full of hard blue ice – dangerous if you do not have the proper gear. Lama was scared for himself and his porter. As he was about to finish the toughest section on the trail, he saw all his belongings fall down.
His porter slipped on the blue ice. Luckily, he was able to hang on to the rope on the trail, but all of Lama's belongings including his tent, sleeping bag, portable gas canisters, food, cycle gear and clothes fell.
"It was a disaster," he says. "I thought I was done. I had nothing and had lost all hope because I lost everything. I was doubting if I should continue."
But, he did not give up. Not wanting to give up on his dream, he came to Kathmandu, got gears he had lost, and returned to Baruntse base camp to continue heading west. But, the journey to get to Hilsa in far-western Nepal was not easy. He continued to face problems.
Mangal Lama had self-doubts. He missed his family and the comforts of home. There were days he hardly slept due to the cold weather. Despite wanting to give up multiple times, he did what he set out to do and completed the 1,700-kilometre journey from Kanchenjunga base camp in the east to Hilsa in the far west in 88-days becoming the first person to do so on his bicycle alone.
"It was so hard that I don't think I'll even think of doing that again. But looking back, it was a journey of a lifetime," says Lama.
A taste of simple life
Mangal Lama's journey started from the Kanchenjunga base camp in the east. Before he started, he was in a major dilemma. He had received a job offer from a construction company in the United Kingdom. He was also asked to halt his project as there were a lot of guiding trips on offer. Having given his word, he decided to let everything behind and went on a journey of a lifetime.
The first phase was tough. With most of the trail not fit enough for cycling, he carried around 40 kilograms on his back. It was tiring, both mentally and physically. He recalls eastern Nepal as being very raw. The people were amused seeing him walking and cycling alone. When he flew his drone, kids would surround him.
"It was great seeing how simple things brought them joy. These remote places are beautiful, but the life there is so hard."
Mangal Lama recalls wanting to eat meat in the village of Thudam in eastern Nepal. Despite having meat, the locals refused to feed him. He was shocked but later found that they cut one yak a year and divide it among the village.
"When you find out things like these, it humbles you. The village was completely dependent on China for food. But, since Covid, the border was closed and people from this village are suffering a lot."
Giving up and going forward
From Thudam, Mangal Lama moved further west to Rolwaling and on to the Everest region via Sherpaini Col. There, he lost all his gear after his porter slipped. Losing his gear caused a major issue as he was planning to camp somewhere below Baruntse base camp. But, now, with everything lost, he had no plan.
"I'm really glad nothing happened to the porter, but I was very stressed about what to do next."
Fate was on his side. There was a team of climbers at the Baruntse base camp to give him refuge. He spent a few nights there and called for a rescue chopper who took him to Lukla to return to Kathmandu.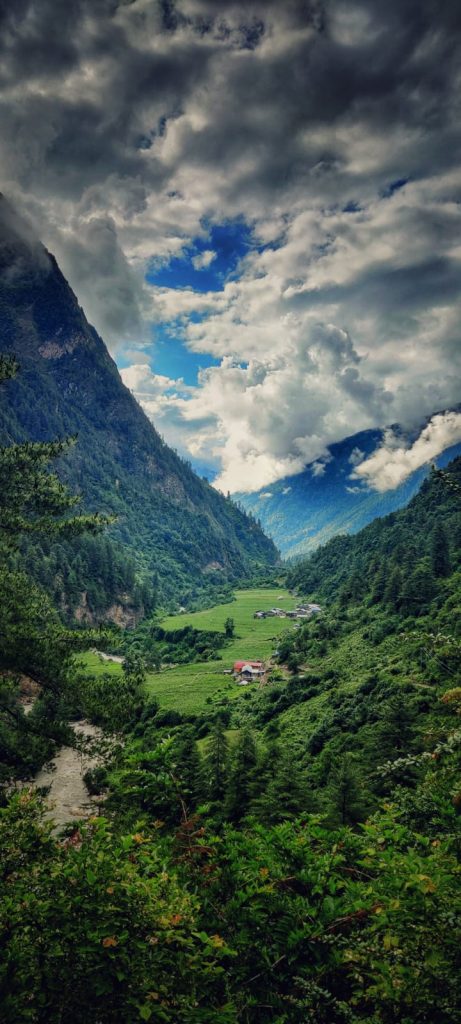 After managing supplies and cash, Mangal Lama returned to Barunste to continue. He was having doubts about continuing it, but he carried on not wanting to be a quitter. He reached the Everest region where he fell ill. He called his doctor who told him he needed proper food and rest. Even though he did not want to do that, he had no choice but to do so.
"That was hard."
From Everest, he moved towards Rolwaling. He moved further west towards Langtang and then towards Ruby valley and on to the Manaslu region and the Annapurnas. The more he moved west, the more he got to cycle. The trials were beautiful as was the scenery.
"The happiness I felt even if I got to cycle for 30 minutes in a day is something I'll never forget."
Fighting against frustrations
But, there were some moments which frustrated Mangal Lama. Due to a lack of proper trails, he got lost a lot in the hilly forest. There were even days when he climbed four to five hours only to return to where he came from. He often took the help of his drone he had taken to document his journey to find ways on a trail which were rarely walked by trekkers.
"I had to change the route a lot. There was a day when a person from an area in Sindupalchok asked me to not go to a particular village because the locals there had recently robbed a traveller. As I was alone, I decided not to risk it and went the way the locals suggested."
As Mangal Lama moved west, the monsoon had started. The rain posed a major challenge due to slippery trails, leeches and swollen rivers. But, it also gave him the chance to witness something beautiful.
The hills were green as were the fields that surrounded had tons of wildflowers adding to the already spectacular scenery. Even when tired, scenes like these lifted his morale as he often told himself why he had come there.
The burden of a record
He had carried a lot of things with him during the start. But, by the time he crossed Mustang and on to Dolpo, he had realised he did not need many.
"I let go of my tents, cooking equipment and a lot of excess gear that I didn't need. I wish I had a team with me that would have helped me from phase to phase with these items as after Kanchenjunga, I didn't have to carry a tent as people mostly were hospitable and gave me a place to sleep and food to eat."
Walking alone with so much weight was Mangal Lama's biggest challenge, even more than crossing over 20 high passes. He knew it would be hard but looking back now, he recalls this was one the toughest thing he has ever done.
"It was so hard that I'll not even think about doing this again," he says.
Amazing achievements
But, Mangal Lama did have fun. Looking at the bemused faces of locals who saw a bicycle for the first time gave him joy. Most of them questioned why he was alone and why he was doing it on the cycle. Some even told him that this was a bad idea to be doing it alone. Others would be amused at his perseverance and his sheer determination.
"These things were amusing to me too."
When he reached Hilsa in far-west Nepal, he was brimming with joy. He had made it. Through sheer will, he had completed the Great Himalayan Trail in 88 days. But, he knew that this was only the start as he wants to help promote the trial which he believes can be great for the tourism sector in the country.
"There's so much potential on this trail, but it needs to be managed well. The route has both easy and technical trails for cycling and I've even thought of preparing a map dedicated to cycling."
Mangal Lama also thinks the promotion of the trail would be great for the people living in these areas. With most of them away from district headquarters, creating homestays on the trail would be great to sustain livelihood.
Now, Lama is working on a book and a documentary as he wants to promote Nepal and the trail all over the world. He feels it can be the best place for technical riders, but more than that it can be a great tourism product just for the views this place offers.
"It is hard. It is brutal. It will test your inner ability," Mangal Lama says, "But, this is what adventure is and I'm glad to have done it."