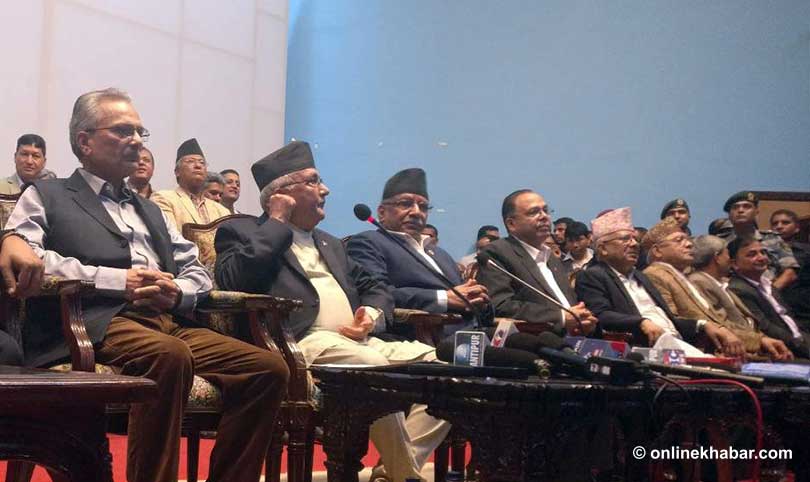 Kathmandu, October 5
Two task forces constituted following the agreement among CPN-UML, CPN-Maoist Centre and the Naya Shakti Party Nepal to forge an electoral alliance for the upcoming House of Representatives and State Assemblies elections have been given the deadline to complete the assigned task.
As per the agreement, the UML and Maoist Centre are to share candidacy in the 60-40 ratio in the upcoming elections in the first-past-the-post system.
The task force formed to divide the constituencies among parties has been directed to prepare a report within next three days.
The second task force has been instructed to prepare draft of the election manifesto within the next seven days.
In the very first joint meeting of both task forces that took place at the Singha Durbar-based UML Parliamentary Party office today, UML Chairman KP Sharma Oli and Maoist Centre Chairman Pushpa Kamal Dahal among top leaders of both political parties gave deadlines to the panels.
Talking to media following the meeting, member of the second task force Naya Shakti Nepal's leader Ganga Shrestha said they were directed to incorporate the issues of constitution, democracy and social justice in the election manifesto.
Bishnu Poudel and Surendra Pandey from the UML; Ram Bahadur Thapa, Barshaman Pun and Matrika Yadav from the Maoist Centre; and Ganga Shrestha from the Naya Shakti are in the constituency determination task force.
The task force assigned to prepare the draft of joint election manifesto comprises Bamdev Gautam, Bhim Rawal and Pradeep Gyawali from the UML; Narayan Kaji Shrestha, Dev Gurung and Bishwa Bhakta Dulal from the Maoist Centre and Dambar Khatiwada and Dr Laxmi Devkota from the Naya Shakti.
RSS