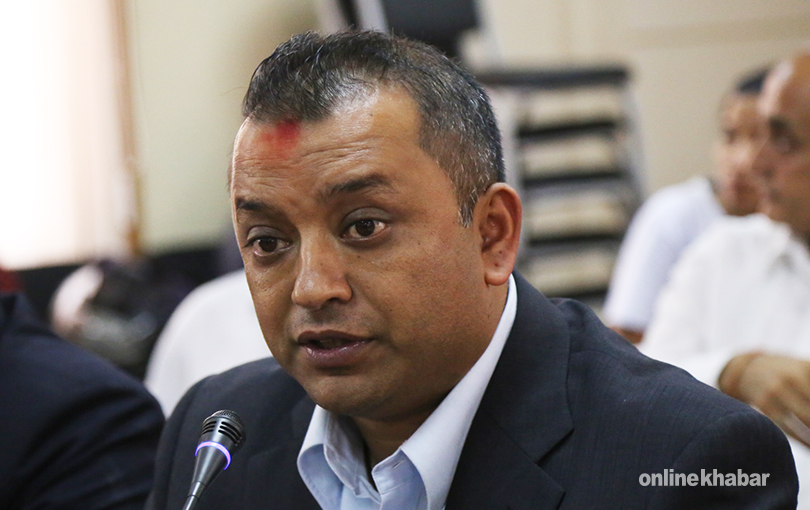 Kathmandu, October 5
Popular youth leader in the Nepali Congress, Gagan Thapa, has predicted that leftists cannot overpower democratic forces in Nepal though total seats won and total popular votes received by communist parties were more than those of the democrats in most of the past elections.
Thapa, talking to Onlinekhabar about major communist parties' decision to contest upcoming provincial and federal parliamentary polls together and go into a merger thereafter, says the UML was considered a democrat party by the voters till today and with the formation of communist alliance, the party has lost the popular position.
"The [leftist] leaders have claimed they now hold around 60 per cent votes and say they will expand it to 75 per cent," he says, "But, their argument is erroneous."
"Around 70 per cent voters of Nepal support democratic values and the communists are restricted to remaining 30 per cent space. The UML was competing in the 70 per cent democratic space so far. Though the Congress would claim itself as the sole democratic force of the country, people had given the UML the same status," he explains, "But, now, the unified communist party gets only 30 per cent space. It means the UML has been restricted to 30 per cent from 70. The Congress can enjoy a wider space."
However, he suggests the party leadership be careful enough to protect those 70 per cent votes.
In another context, Thapa says his party failed to prevent the leftist alliance as it could not evaluate the position of UML.
"The UML decided to give 40 per cent share in candidacy for the polls. The Maoist leaders conveyed the message to us on time, but we did not believe it," he says, "The UML is as big as the Congress. Hence, the news that the UML gives 40 per cent seats to the Maoists is unimaginable for Congress leaders."
"Therefore, the Congress could not make any offer. If we had known that the UML was giving 40 per cent seats, we would have offered 42 per cent to the Maoists."