Kenton Cool is one of the world's leading high-altitude climbers. He is the only European to summit Everest 14 times. Apart from that, Cool, in 2013, became the first person in history to complete the 'Everest Triple Crown', climbing the peaks of Everest, Nuptse and Lhotse in one continuous push from base camp. In 2007, he even pushed himself to the summit of Everest twice in one week.
His track record as a mountain guide is immaculate. He has completed over 44 expeditions as he holds the highest success rate of any mountain guide on Everest. His track record is so good that names like Ben Fogle (broadcaster), Sir Ranulph Fiennes (adventurer), and Richard Branson (business tycoon) climb with him.
Cool was recently in Nepal to climb Mera Peak and Ama Dablam with his clients. Onlinekhabar caught up with Cool to talk to him about his recent expedition, his love for Nepal, and how Nepal's mountaineering industry can make a comeback in these unprecedented times shattered by the Covid-19 pandemic.
Excerpts:
Are you upset that you didn't get to summit this time?
I am upset that I haven't climbed anything this season. Of course, it would have been great to summit Mera Peak or Ama Dablam. But for me, the summit is a very small part of a much bigger adventure. If we get focused on the summit, we are often disappointed. But, my client is really happy. We gave it a real go in pretty bad weather. But, we had such a beautiful time in Khumbu. I got to see the country beyond being tourists, and that, for me, is very empowering and enriching. We didn't get to the top, but it's been an amazing adventure. I really feel blessed.
Why and when did you decide to come to Nepal to climb amid this pandemic?
The plan was to climb Everest in the spring with my clients. However, that didn't happen due to Covid-19. It was probably in July when my client said 'why don't we climb Ama Dablam'. At the time, we felt that Nepal would be open by the time autumn arrived. But, as time passed, we realised that it wasn't going to open anytime soon. That caused some readjustment of our plans.
Then, I got a call from the people whom I work with in Nepal who told me that Nepal was going to open on October 17, which fitted my plan perfectly. I was due to come here around October 20 with an Indian client to climb Mera Peak. That didn't work out quite well. So, I came back to Kathmandu to pick up another client and head to Khumbu to climb.
Was it odd taking the route to Ama Dablam instead of Everest?
It wasn't. I've been to Ama Dablam before and it's a beautiful mountain. It's not Everest, but it's still a serious mountain.
What I liked about going up there was realising how peaceful it was. I know Khumbu intimately, but I'd never seen the Khumbu that I got to experience this year. What made this trip better was that I didn't have the pressure of climbing Everest. That and the fact that there were so few people made the trip remarkable.
So do you feel this trip was more intimate?
It was. I was in Nepal for six weeks, and everywhere I went, people were so pleased to see me. From Lukla, I went to the Hinku valley to head to Mera Peak. In the villages, people were so grateful that we came. They were telling me how I was the first tourist they saw in nearly a year.
One of my concerns was how people would react to a foreigner coming to their village. But, everyone was so welcoming. People were thanking me for coming to their villages. It was very humbling.
You also realise how these people were not taken care of by the government. I realised deciding which teahouse to stay in was going to have a big impact on people. Most times, we were the only people there. I feel blessed to have come to Nepal now and experience Nepal the way I have done. It's sad for the country, but for me personally and selfishly, it was beautiful. I know I will never experience Nepal like this before.
How do you rate Ama Dablam among other mountains you have climbed in Nepal?
In terms of guiding, it is the most technical mountain. But, thanks to the fixed lines, it is much more accessible and simpler. Without them, it would be one of the hardest mountains to guide.
With mountaineering agencies already marketing the upcoming spring season, how do you think mountaineering will make a comeback here in Nepal?
From my experience here in Nepal, I've realised how important tourists are in this country. I get messages myself from people telling me how they want to visit Nepal, and how many are planning to come in 2021. You get a sense that people are ready to travel again. I hope that the small number of tourists who have come now will pave the way for more people, but more people in a responsible way.
In Namche, I interviewed some lodge owners, doctors and coffee shop owners, and they were all talking about education on how they can respond to more tourists. It was nice to see that they were talking about how a lodge can accommodate 'Covid restriction' yet still be open for more tourists. And, I believe if this education is put in place properly, and with the right planning, people will surely come, and Nepal will be bustling with tourists again. I am personally hopeful that there will be an Everest season come May 2021.
Do you already have clients for Everest 2021?
Yes, I do. The client with whom I was here to climb Ama Dablam will be with me if there is an Everest season. I hope and pray that things get better globally, and I can come here in April again and I can see my friends here in Nepal and work with them and help Nepal get back on its feet.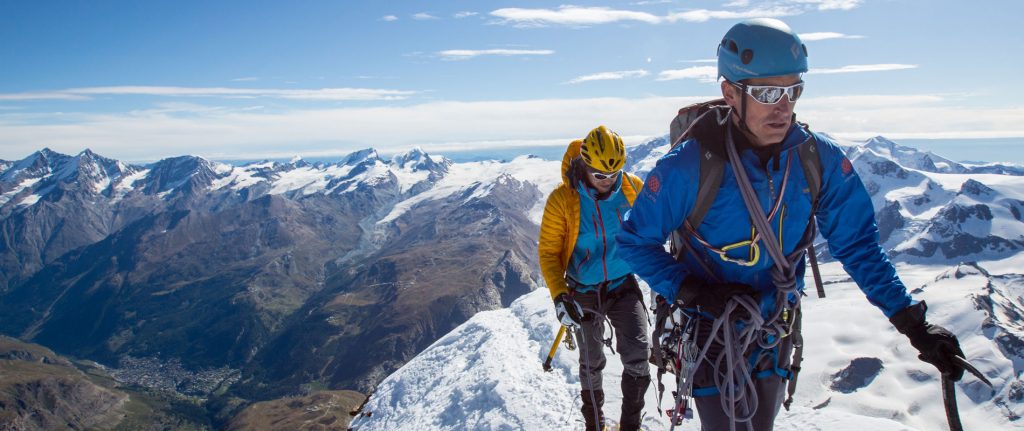 Do you have any plans of climbing Everest in the fall in the future?
It is in the back of my mind. Some of us were hoping to come in September and see if it could be done, but due to Covid, we could not.
What makes Everest accessible in the spring is the number of teams present and of course 'Sherpa power'. During the fall, there are hardly any teams and that means it is a lot tougher than it is in the spring. You don't have the teamwork and collaboration summit. But, yea, climbing Everest during that time would be nice. I want to witness Everest without so many people.
Who is the most famous person you've climbed with? Is it hard to guide famous people?
I've been lucky to have climbed with a lot of prominent names. I climbed with Richard Branson, Sam Branson, Ben Fogle, and Sir Ranulph Finnes. It's not that hard. I feel it's the same 'cause when you are near the mountain, you need to pack your ego and leave it aside 'cause the mountain does not like egos.
Do they go back humbled by the mountains?
Well, in a way, they do 'cause most of them would have never thought that they would be experiencing those things that they experience. They're all very grounded, I feel. They're people like you and me. Ben and Sam are very grounded. Sam's head was in the clouds a little bit, but over the years, he's become very mature and grounded.
Do you look at criteria when you choose clients?
I look for people whom I can get along with 'cause I don't want any tension when climbing mountains like Everest. They come to me, we go to the Alps to see how we get on. If we don't get on, it's too big a risk. If we do, we come and climb. I always say to my client that my goal is to bring them back through the front door regardless of whether we summit or not.
The first priority is always safety. The second is having fun 'cause you got to enjoy it. Lastly, my job is to get them to the summit. But, it's quite a distant three.