Asibul Miya, 60, is alone in his house in Paklawan in Kachankawal rural municipality in the Jhapa district of eastern Nepal. Both of his sons are working abroad.
"There's no work here. They had no option but to leave," says Miya, adding many young people from the village have had to leave due to a lack of opportunities in the area.
Most people in the village of Paklawan are dependent on farming. But, that has also been hard over the course of the past few years.
"We need to get fertilisers from India. When we do that, we get bullied by the border police from both India and Nepal," says Miya.
He says the locals would not face this issue if fertilisers were available in Nepal. Due to the unavailability, they have to sneak fertilisers into Nepal.
"We use our own resources to get fertilisers. Rather than helping us, they torture us. We don't have an environment to continue farming," says Kamaludin Miya, Asibul's neighbour.
The lack of fertilisers is one among scores of problems that locals of Kachankawal, where the point of lowest altitude in Nepal. Despite being in the Terai, considered developed, the area is so remote that people are living with a horde of sorrows there.
No work means no wealth
Frustrated with everything, Kamaludin's elder brother recently went to Saudi Arabia for work a few months ago.
"He's gone there to become a loader. I don't know how good it is, but I hope he's doing good," says Kamaludin, adding he has been thinking about going to Saudi Arabia too.
Further from Paklawan is Paglibhatti, another village inside the Kachankawal municipality. If one spends a few hours there, they will realise that the village does not have young people.
Local Hina Khatun says she knows 12 people who have gone to Saudi Arabia alone.
"Over 30 people have left the village for foreign employment. More will go in the future," says Khatun, who adds different recruitment agencies come to Kachankawal with different offers to take people to countries in the Gulf.
Khatun's husband, Ansaru Miya is on the verge of going to Malaysia for foreign employment.
"He's currently in Delhi working as a driver," says Khatun. "He went to Dubai in the past, but he didn't earn much there so he came back. You only know what will happen to you when you get there."
The money that people who have gone abroad send is mostly spent on their children's education.
No food means no future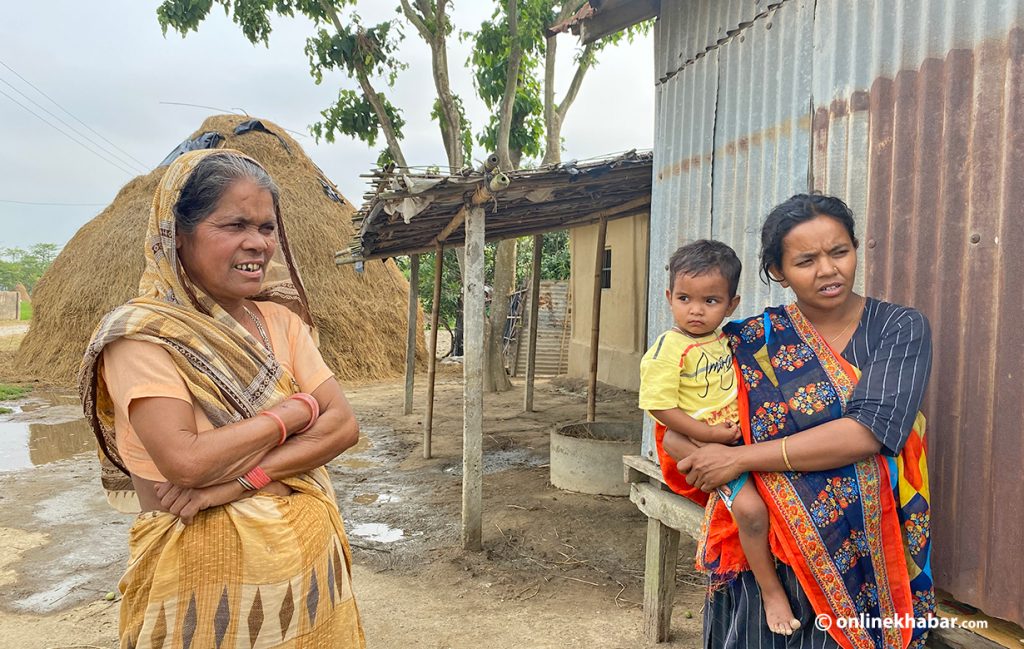 Agriculture has taken the people of Kachankawal nowhere. "There are times when we don't produce even to even eat. There is no other option but to go abroad," adds Khatun.
However, Kachankawal rural municipality's chair Anjara Alam plays down the issue as he says that this is an issue that almost all rural areas in the country face.
But, this is not the only issue that plagues Kachankawan. According to local Mojibul Miya, they have one school in the rural municipality; Sharda Primary School established in 1964.
"But, the school doesn't provide good education," says Mojibul. "It shuts down by noon."
He says that it is not run well as he sees students getting out of the school as they please.
"Teachers there don't know Nepali. Some even teach in the Rajbanshi language. People who can afford send their children to Bhadrapur, the Jhapa district headquarters," he adds.
No roads ahead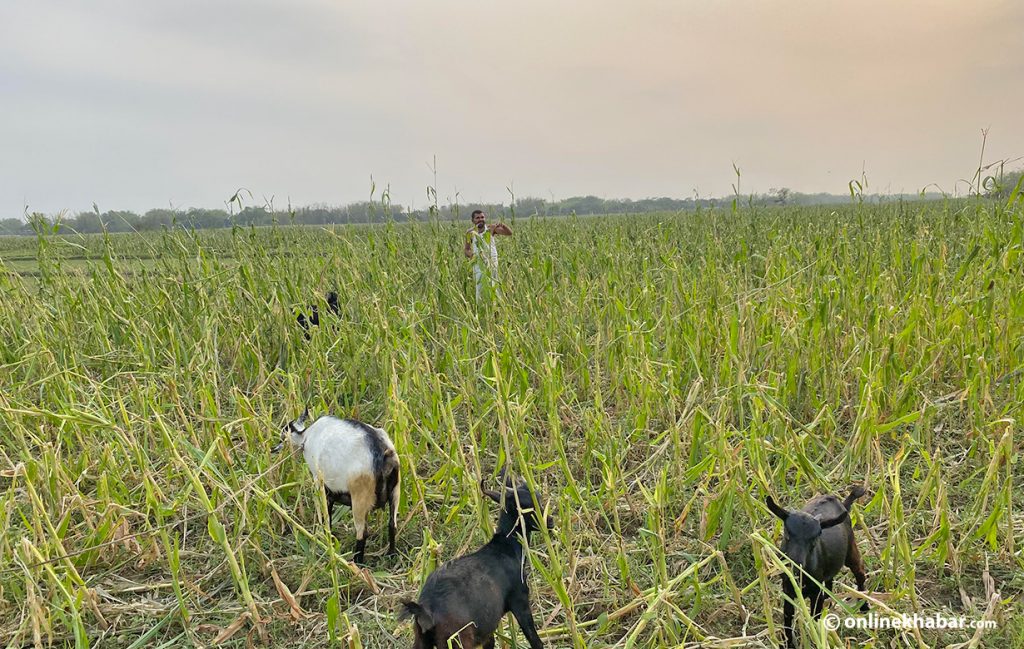 The road that joins Kachankawal to Bhadrapur is also in a sorry state. People from the village say that every election, political parties come to them promising that they will build better roads.
"But, once the elections are over, they forget about us," says Mojibul.
The rural municipality also has a drinking water problem. Locals say the water they use has high iron content.
"When we wash clothes, we can see it. These political parties tell us they will do this, they will do that. But, these people do nothing," says Mojibul
Out in Makaibari in Kachankawal rural municipality, Mabulal Yadav, 53, is feeding his goats. Hailstorms had destroyed crops due to which he has released his goats into the field.
"I'd spread maize in 0.2 acres of land. I'd even used fertilisers and everything, but the hail destroyed it," says Yadav. "I'd taken a lot of money for this. It's like the gods are punishing me."
Another Kachankawal local Shrawan Kumar Yadav says his efforts also went in vain as the hails destroyed everything.
"I don't know if I want to continue farming. There is no encouragement," he says.
He says the fertilisers are too expensive and their cost goes up if they have to smuggle them from India.
"The expense outweighs the returns," he says.
Yadav says only two crops give them profits – rice and maize. But, over the past years, even these crops have started to incur losses.
"Growing vegetables in Kachankawal is possible, but it's not easy," Yadav adds.
Since the rural municipality is the lowest point of Nepal, it inundates as soon as there is little rain.
"When it rains, our fields are full of water for a weak. That means our crops rot and our efforts are in vain," says Amar Singh Ganesh. "I'd planted maize and okra. The rain destroyed them."
He says while all this happened, they got no help from the rural municipality. He says the same people promise them everything during the elections, but when it's time to act, they don't do anything.
"They know what our situation is. Yet, they don't care and we have no other choice but to leave for foreign employment," says Ganesh.
---
This story was translated from the original Nepali version and edited for clarity and length.