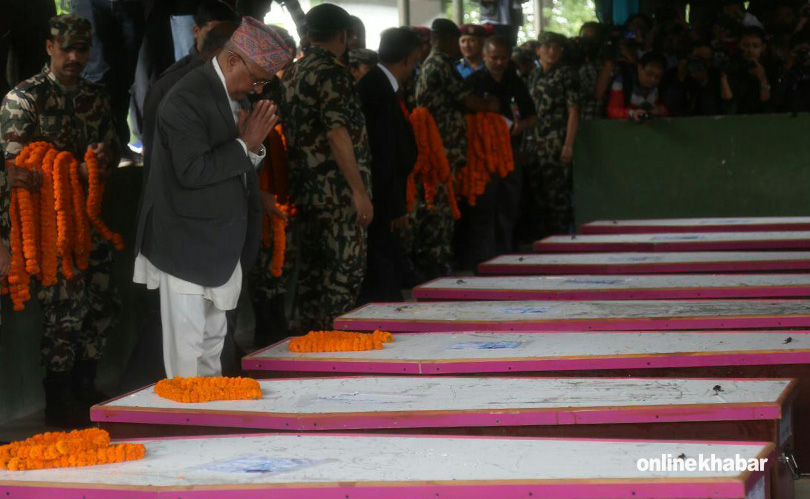 Kathmandu, June 23
The KP Sharma Oli government is making preparations to hand over one million rupees each to families of Nepali security guards, who died in the terrorist attack in Kabul on June 20.
Minister for Labour, Dipak Bohora, told Onlinekhabar the Foreign Employment Promotion Board will soon take a decision on compensation.
Bohora said: We handed over the bodies of the fallen Nepali workers to their families as swiftly as possible. In a similar manner, we will hand over compensation to the bereaved families.
The package includes Rs 5 lakh insurance and Rs 3 lakh from Foreign Employment Welfare Board in addition to Rs 2 lakh from the government.
Though these workers went to Afghanistan illegally, the bereaved families will get one million rupees each, Bohora said.
For this, the FEPB will have to take a decision and the Council of Ministers will have to approve the same. Existing rules do not allow FEPB to compensate families of illegal Nepali migrant workers killed abroad.
FEPB had informed earlier that Ankur Tamang, who was among the 12 victims, had gone to Kabul illegally. Minister Bohora said the government cannot refuse compensation to bereaved families on humanitarian grounds.
Twelve Nepali security guards died on the spot on June 20 when a bus taking them to their work station — the Canadian Embassy in Kabul — came under a Taliban suicide attack. Of the seven other Nepali guards injured in the attack, one died in course of treatment on Wednesday. While five of the injured are receiving treatment in India, one guard is under treatment at a hospital in Afghanistan.
Minister Bohora told Onlinekhabar the government will make special arrangements to bring back those workers, who feel unsafe in Afghanistan and want to return home. We are discussing the matter and will make arrangements for their early repatriation, he said.
Apart from the 12 guards killed in the attack, a Nepal Airlines plane had brought home 24 terrified workers from the Afghan capital on Wednesday.