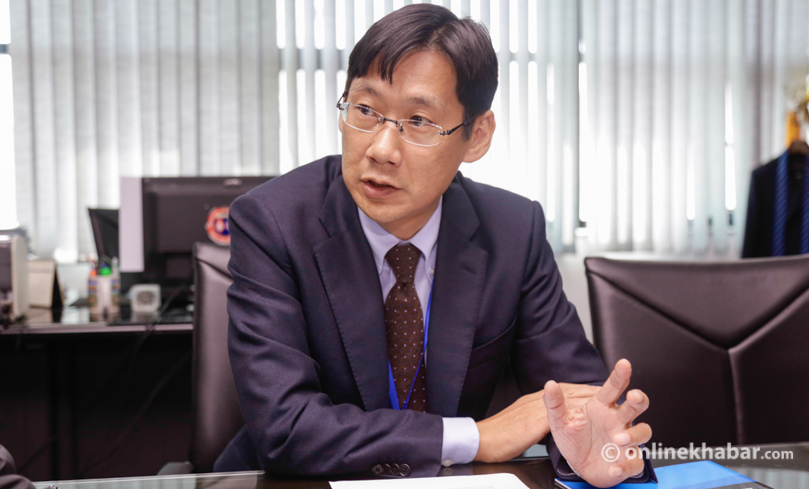 Japan is one of the oldest development partners of Nepal. Whereas the two countries established bilateral relationship in 1956, Japan International Cooperation Agency (JICA) has been working in Nepal since 1970 to facilitate development cooperation between the two countries. Japan's assistance is focused on, but not limited to, physical infrastructural development. After the 2015 earthquake, Japan's priority has been the construction of quake-resilient infrastructures.
Jun Sakuma was appointed the Chief Representative for JICA Nepal Office around a year after the earthquake. Recently, Onlinekhabar talked to Sakuma to discuss overall aspects of Nepal-Japan cooperation and impacts of Japanese assistance on Nepal's overall development.
Excerpts:
For decades, Japan has been a close development partner for Nepal and it has contributed to constructing key roads and other structures in the country. As Nepal and Japan completed 60 years of bilateral relationship last year, how do you review the cooperation?
Japan's development assistance to Nepal primarily has two objectives: to support Nepal's socio-economic development and to promote a cordial relationship between the countries. Though Nepal and Japan were diplomatically connected even before we came in, JICA has been working in Nepal since 1970 to help achieve these objectives. Since then, we have been providing various kinds of support that can be majorly divided into three aspects: technical cooperation, concessional loan, and grant aid. We have extended technical assistance worth JPY 71 billion till 2015. We call the concessional loan 'yen loan' and it has the interest rate of 0.01 per cent. We have provided yen loan worth JPY 79 billion during this period. The biggest portion of assistance is grant: JPY 198 billion.
Since 1970, we have helped Nepal construct 160 km road (the BP Highway). Around 52 per cent water supply treatment capacity of Kathmandu valley is supported by Japan. Likewise, our assistance to hydropower generation amounts to the one-third of the total. We have supported building more than 9,500 elementary school classrooms. Tribhuvan University Teaching Hospital has been receiving our continuous support. Thousands of Japanese have been working in Nepal as technical experts and volunteers. We have trained more than 5,500 government officials from Nepal on various skills.
It seems Japan is focused on construction physical infrastructures only. Is there any particular reason behind the focus on infrastructural development? Can we expect any change in your priorities for Nepal?
These infrastructures, we believe, are basic foundations for human life. You know that after the World War II, Japan had nothing. But, we constructed strong infrastructures in our country and led the development process. Therefore, our own experience is the first reason behind our focus on physical infrastructural development in Nepal. For example, roads are basic and important for other economic activities. Like Nepal, Japan is also a mountainous country, but we have developed a large road network across the country and it has been a key to our overall development.
Besides infrastructures, we are also prioritising human capacity development, which we often call 'software support'. We are extending not only the financial support but technical cooperation too. Let me stress that it is not just the support, but 'cooperation', in which we are equal partners and we exchange the support from each other.
What are prioritised sectors that you have been exercising such technical cooperation for human capacity development in?
For example, consider the health sector. We have been working with the government to enhance technical capacity of health workers. Another priority is roads. Japan did not construct the BP Highway alone. We had the 'technical cooperation' with the Department of Roads for this project and we had extended support to enhance the capacity of staff at the Department. In the future, we will continue such cooperation.
But there are comments that the volume of Japan's assistance to Nepal has not been reviewed of late and hence remained quite consistent over past few decades…
Japan has been a regular development partner for decades now. We have been working in this country as a neutral partner; we do not have any political interests like some other countries and agencies working here. We have been maintaining a consistent amount of aid because of political instability here. Once there is political stability and an assurance that this will not affect development activities, we will increase the amount of our assistance.
Nonetheless, for post-earthquake reconstruction, our support was quite big to address needs of this nation. Therefore, there is always the possibility of expanding the contribution provided there is political stability.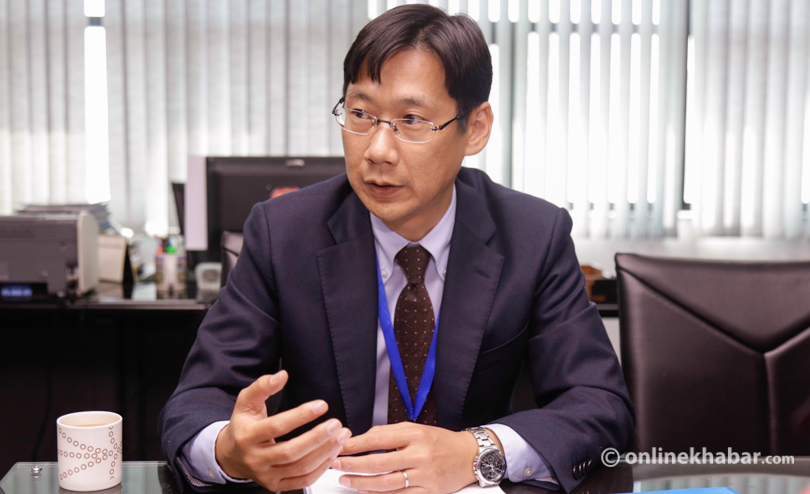 We will mark the third anniversary of quake after six months, but many people are still living in the open. Japan is an earthquake-prone country and has a rich experience of building quake-resilient infrastructures. In this context, can you please share your observation of reconstruction works here?
We think the National Reconstruction Authority (NRA) is working very hard. But, it is also true that the pace has been slower than it should have been. The reconstruction process faced many obstacles. At first, there was the border blockade. Another problem is the weak implementation of plans; it attributes to the weak technical capacity of the government. The NRA does not have enough authority to make decisions. There are not enough staff to work. There is a frequent change of people in the NRA leadership.
Reconstruction is an important issue, but more important is disaster preparedness and this is not enough in Nepal now. In Japan, all government and private offices have adopted preparedness measures so that they can promptly respond to the disaster. Our schoolchildren know how to evacuate when the earthquake comes. Schools and community centres function as evacuation spots. Our building code has been strengthened. There is a provision of quake insurance for damage. Nepal should start adopting these measures step by step.
So what have you been doing here to help Nepal take these measures step by step?
We supported the Nepal government to improve its building code. We helped the Department of Mines and Geology, prepare a hazard map of this country. It identifies danger zones which are more prone to earthquakes. The map has already been submitted to the government. We have proposed that various open spaces of Kathmandu valley be developed as evacuation parks and the government, hopefully, is working on it.
Nepal generally fails to meet deadlines set for infrastructure development projects. There can be many reasons including political intervention and bureaucratic hassles. As an old development partner, how can you contribute to combating such obstacles and ensuring timely accomplishment of projects?
This has been a very serious problem for us too. Whereas the government's technical capacity is very low, they also do not care much about the schedule they prepare for any project. The 'contract management' by the government is also weak. Generally, there is no instruction to contractors to meet deadlines with a warning that they face consequences once they do not meet the target.
We are supporting the government for management of such issues. For example, we have extended our support to a water treatment plant of the Melamchi Water Supply Project in Sundarijal; and we have asked the government to charge the contractor for 'delayed damage' if the contractor fails to follow the schedule. It means the contractor has to pay Rs 2 million a day for the entire period of delay. The Project has agreed to consider our proposal, but the government does not think about such options in general.
What are other hurdles that you have been facing during the project implementation? How have you been coping with them?
The biggest hurdle is the frequent change in our counterparts on the Nepal side. Most government officials that we work with get transferred almost every two years, some even every year. Change in people makes us difficult to coordinate with them for our projects.
We do not have any option that we can adopt in order to stop this problem. Nonetheless, we have been considering two measures: keep projects as long as possible; and help them get institutionalised in Nepal's government system. It means we do not leave any project halfway despite the challenges we face.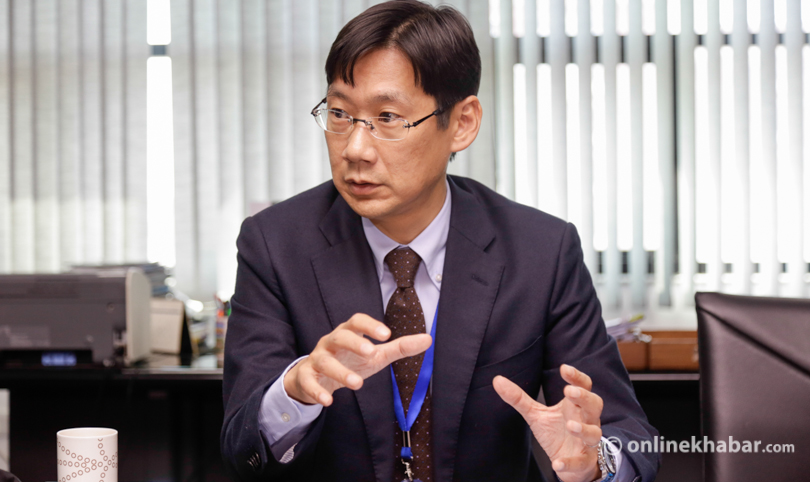 For example, we began supporting the government to make reforms in the Civil Code in 2010. But, it did not get materialised immediately. We continued the support, and the Code has been finally approved by Parliament. Likewise, we have been helping Nepal implement the Project for Strengthening Community Mediation Capacity for Peaceful and Harmonious Society (COMCAP) to support the judiciary. This project is implemented in cooperation with the Ministry of Federal Affairs and Local Development and aims to establish community mediation centres at the local level so that minor disagreements and conflicts get settled at the local level because we know how many cases are pending at different courts here. We will continue working on it till the idea of community mediation gets institutionalised at the grassroots.
In February this year, a section of the BP Highway collapsed and it took four months to repair the damage. It is said that the road was not appropriate for heavy vehicles to ply. Does this incident suggest anything about changes need to be made in technologies and equipment Japan uses in infrastructure development here? What lessons can we learn from the incident?
It took 20 years to construct the highway. There were many constraints in front of us, including the long distance, limited budget and the civil war to name a few. During the project, we got obstructed by Maoist rebels so that we had to hire local people for construction works as much as possible. Likewise, we were under the pressure to use local materials as much as possible. I agree that these decisions might have contributed to the collapse.
While fixing the collapse in cooperation with the Department of Roads, we used modern technology and materials of a higher quality. The collapsed section has become stronger and safer than what it was earlier. The Department itself has also become capable to solve such problems now. We are starting the Naagdhunga road tunnel project soon and we have decided to use even more modern technologies and equipment.
Japan has been assisting India to develop and expand a metro rail system in New Delhi. After recent local level elections, many local leaders in our country have also floated plans to construct such systems. Do you think Japan can extend technical and financial support to such projects in Nepal too?
Of course, it might be possible in the future. But we have to think about various issues like budget and infrastructures needed to operate such systems. Constructing a railway is not an end, but the beginning as it takes a lot to operate the system. There should be a clear understanding of who—the federal or the local government—operates the railway. Whoever operates it needs to have a capacity to maintain the system.
We have just finished preparing the Kathmandu Valley Transportation Master Plan and it has suggested that automated guideway transit (AGT) be introduced here. Kathmandu needs a change in its public transportation system in the near future as roads in Kathmandu have already crossed their capacity.
We have heard that our Transportation Minister, in his recent visit to Tokyo, has requested the Japan government to help Nepal build an east-west railway…
Yes, it is true. We have just begun discussions about the project and no further details have been finalised about it.
JICA has also been contributing to strengthening people-to-people ties between two countries. You bring in dozens of Japanese volunteers to Nepal every year and let them work at the grassroots. Likewise, many veterans are here to provide technical expertise to their respective sectors. Can you please share how Japanese volunteers feel after working in Nepal for a couple of years and how does it contribute to the friendly relationship between two countries?
I appreciate efforts of the volunteers to strengthen the ties between two countries. They reside in Nepali villages for a period of two years; they eat dal-bhat and speak Nepali. After spending their time here, they like Nepal as they understand Nepali society deeply. After going back to Japan, they work for NGOs supporting Nepal so that they can be connected with this country. There are more than 70,000 Nepalis in Japan and our volunteers stay in contact with them.
In a way, these people are cultural ambassadors. Once in Nepal, many of our volunteers fall in love with this country; they spread positive messages about Nepal in Japan and wherever they work. Their contribution is impressive.
Another part of connectivity that you have been working for is training Nepali government officials in Japan. How do you assess impacts of the programme?
They are assets of both the countries. So far we have trained more than 5,500 government officials by taking them to Japan. After coming back to Nepal, they join the JICA Alumni Association Nepal (JAAN), which has been making contributions to various sectors. They organise health camps in different parts of the country. They had also extended support to post-earthquake reconstruction works.
While in Japan, the officials learn not only knowledge and skills for their professional career, but also spirits of our culture like punctuality and hard work. It means these training programmes contribute to their personal and professional development at the same time.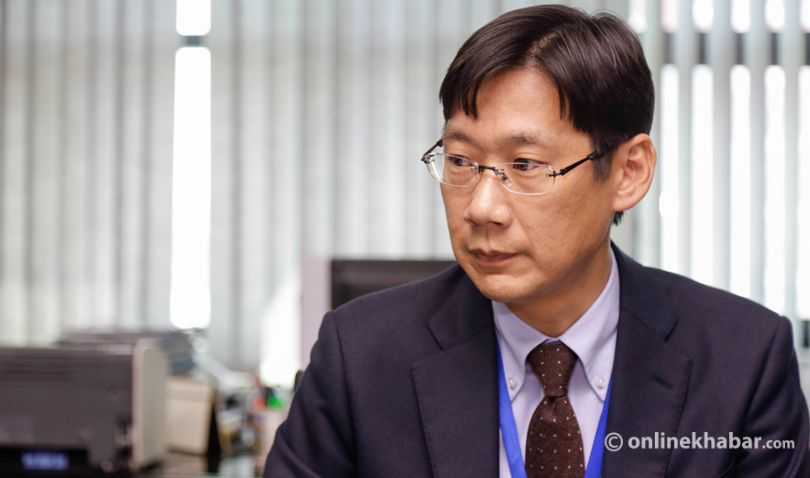 Nepal is heading towards key elections this month and December. Political parties claim that they expedite development activities once elections will be over. It means we need more development assistance. How will you address these demands for more financial and technical support?
I wish the scheduled elections would be over successfully and peacefully, and elected representatives would concentrate more on development issues. But, to attract more foreign support, Nepal needs to improve its capacity. Local governments should be strengthened and their leaders including mayors should be well-capacitated. We are ready to extend our support for capacity building whenever needed.
Once the local bodies and their leaders are capable to handle the projects, we will go to the next phase. That next phase will depend upon the performance of leaders and administrators here.
Finally, can you please share with us your experience of working in Kathmandu?
Like our volunteers, I like Nepal very much. I was here for the first time in 2003, but the trip was just for three days. Then, I joined JICA Nepal Office as the Chief Representative in March 2016. In the beginning, I felt quite sad as infrastructures including roads here were quite problematic and in bad condition. But later, I found that people here are very nice and I am happy today.
JICA generally changes its Chief Representative every three years. It means I just have one and half years more in Nepal and I want to work as effectively as possible till then.