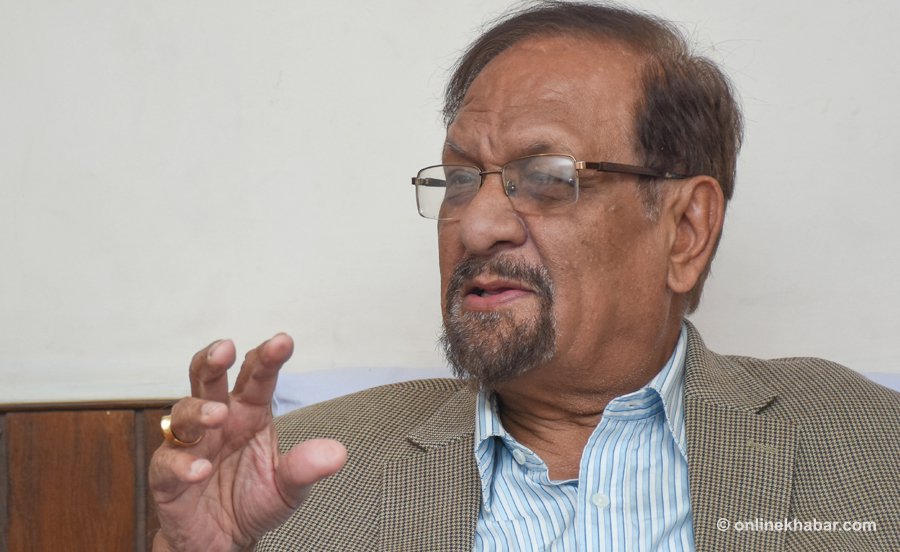 The government is preparing to host an investment summit in Kathmandu from March 29-30. It has prepared a list of 63 projects to showcase at the summit. According to government estimates, the projects are worth over Rs 300 billion. If one is to look at the history of investment summits in Nepal, only a fraction of investment committed during these meetings actually materialise. Onlinekhabar talked to former Finance Minister Ram Sharan Mahat, considered one of the key architects of Nepal's liberalisation policy, about his take on the summit and its prospects.
Following the 2015 quake, the post-disaster summit of donors was organised under your leadership. You were the keynote speaker of the investment summit the government organised after that. Has the government contacted you for your input for this year's summit?
No the government has not contacted me. I don't think they need to contact me. They must be thinking that they understand everything. I have not been consulted. I don't know whether they have consulted other people as well. This is a decision the government has to take. I don't have anything to say about it.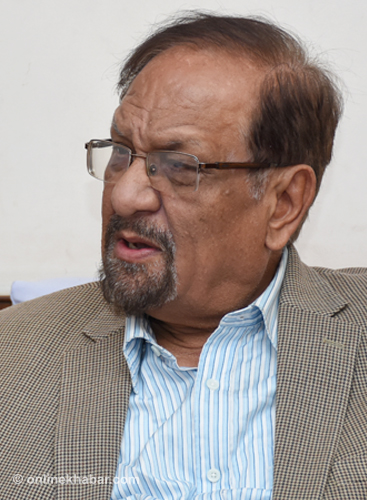 What is your assessment of the government's preparations for the summit?
The point I want to stress is that organising a summit is not enough. The present government has done a lot of publicity over the event. It has even sent representatives to different countries to talk about this summit.
Organising a summit is not enough, We need to look at the situation of the country. We need to create and investment-friendly climate in the country. The government needs to look at at the security situation in the country, listen to foreign investors. The investors look at what domestic investors are saying, what is the governance situation like and what are the returns.
Instead of indulging in publicity, the government should have spend more time on showing investors that the country has a favourable climate for investment. It needs to show that our country is governed well and we do not have strikes. The government also needs to show that if any investor decides to invest in Nepal he/she will get a return
How is the situation different from the investment summits held in the past?
The investment climate in the country has deteriorated. During our tenure, we organised the donor conference, it was not an investment summit. I had announced that I would organise the conference within 60 days after the quake. There were people who did not believe that I would organise the event on time.
During the annual meeting of the Asian Development Bank, I expressed my opinion, That also helped. The government should have followed up on past commitments and asked why the commitments were not being converted into actual investments.
Why do you think the commitments did not translate into investments?
We could not create an investment-friendly climate in the country. There was a lack of good governance. Although we have a stable government in the country, the administration is not stable. Top bureaucrats are being transferred up to four times and how can we attract investors?
One of the major problems in Nepal related to the supply of electricity has been resolved. The government has introduced new legislation and many other reforms have been made. 
It is not enough to talk. You have to implement what you say. Corruption is rife here, no one works without a bribe. Multi-national companies withdraw from Nepal because of rampant corruption. These days we have the NCell controversy. NCell is Nepal's biggest tax payer. It pays Rs 22-25 billion in taxes, although there is some controversy about its capital gains tax.
But NCell's towers are being targeted. In addition to that the Biplav group is collecting money from people in the name of taxes. How can we say the investment climate has improved?
What in your opinion are the reasons why foreign investors need to invest in Nepal?
There are many reasons. We have immense potential in hydropower. Similarly, we can usher in a revolution in the agriculture sector. We are located between to giant neighbours with who we have professional trade ties. Our trade ties with SAARC countries is also smooth. Our labour costs are also not high.
We need to cash these things. We need a leader with a vision who can provide good governance. Land acquisition is very difficult. It is expensive. I have already noted down the other issues.
---
Published on March 19th, Tuesday, 2019 1:00 PM
---
Download Onlinekhabar App. Android click here & IOS click here . Keep in touch with us on Facebook, Twitter & YouTube.