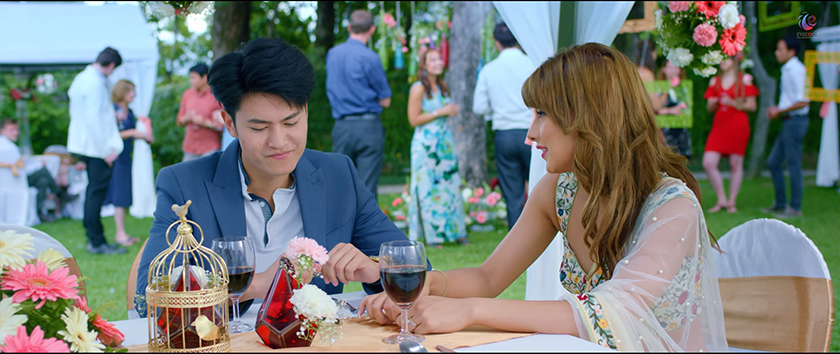 Some movies with their promotion promise a lot. But when it's show time they don't live up to expectation. This week's release Intu Mintu Londonma looked very promising, but this too, like most Nepali movies, lacks substance and is predictable from start to finish.
The movie opens up with what is the climax of the story before taking us to England where we are introduced to Meera aka Mitu (Samragyee RL Shah) who is visiting London to see her dad. There she meets Ishan aka Intu (Dhiraj Magar) through their mutual friend Newson (Bibek Limbu) and both of them unintentionally fall for each other. But their life quickly falls apart and the fate of their relationship rests on a difficult choice when Meera is torn between her happiness and wishes of her parents.
No originality
If one looks closely, this movie has similarities with one famous Bollywood movie – Dil Wale Dulhaniya Lejange. Both the films are based in London where the boy and the girl meet, who then fall in love exactly in the same way. It is also safe to say that Renasha Bantawa Rai, who is writer and director of the movie, has tried to take inspirations from several other Bollywood movies, especially the ones directed by Karan Johar.
Rai has used a screenplay which might be new to Nepali industry, but it is a bit outdated given the audience who will watch this film will have seen many Bollywood movies too. The way in which Ishan and Meera fall in love is a bit odd as the writer could have taken some time building that up which would keep the audience engaged. The manner at which she's gone back and forth between past and present is quite odd and leaves the audience guessing.
The start of the movie is quite melodramatic. The director uses a clichéd start and offers nothing new to the audience which makes the entire first half predictable. However, the second half is a bit better, especially the ending scenes which has been shot and presented quite well.
Nice video with poor audio
The style at which the makers have played with colours is one of best things about the film. The colours of the costume and also the background have been perfectly planned which we don't see in many Nepali films. The cinematography is just as good but if they had used more close-ups in some emotional scenes, that could have helped connect with the audience better. The creative way in which they have used different colour tones to show time gaps is also quite innovative.
But the most disappointing part of the film is the poor sound sync. Having spent a lot on film making, the director has not enough attention on sound sync as it goes missing in many scenes. The lip sync is off in many shots too.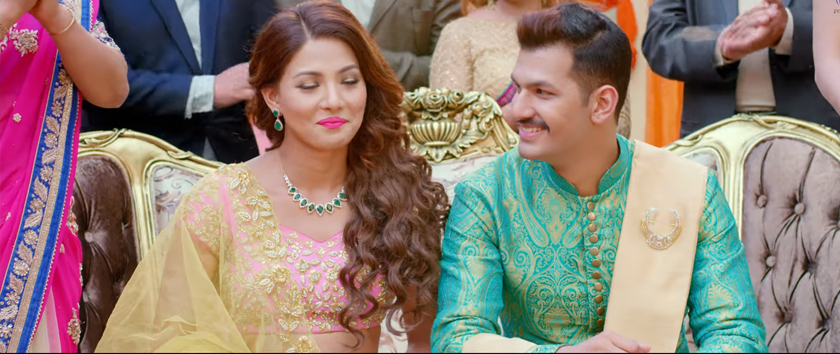 Acting
Samragyee Shah who always plays the same type of roles offers nothing new in this film too. But she fits well in the film and has acted well. Her emotional scenes are getting better with each movie she plays.
Dheeraj Magar, who is playing his first film, has done well too. His expression and dialogue delivery is quite good along with his chemistry with Shah.
Saruk Tamrakar, whose stock is rising with every film, has done his role well. But it goes a bit dark during the end which makes it odd, especially his conflict with Magar near the end is sudden and abrupt.
Verdict
The director has tried to make this film from a female perspective, where a girl is torn between choosing love and family. There are many clichéd moments which is sure to appeal more to the female audience. People who like cheesy and emotional romantic film will definitely like them. But the director needs to work on her storytelling.
The music and songs are good and perhaps the best thing about the film.
---
Director: Renasha Bantawa Rai
Runtime: 144 Minutes
Genre: Romantic love story
Cast: Samragyee RL Shah, Dhiraj Magar, Saruk Tamrakar
2/5