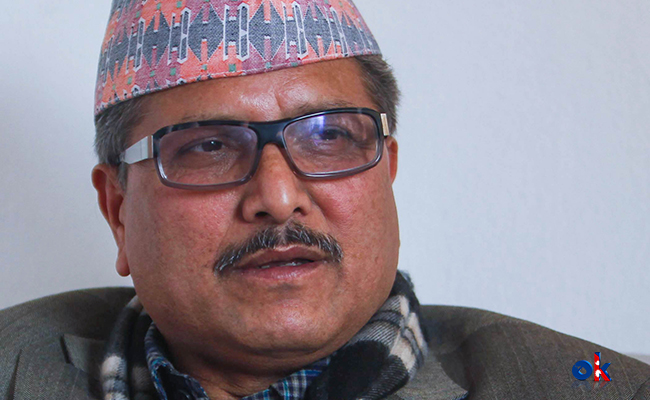 Kathmandu, March 25
A government minister in tears got quite a coverage on social media networking sites and online news portals on Friday. Some said the movie Rahadani touched Agriculture Minister Haribol Gajurel deep down, so he wept, while others accused him of staging a drama.
In a conversation with Onlinekhabar about the episode, Gajurel said the content of the film reminded him of his responsiblity, so he wept feeling a deep sense of responsibility.
I knew that the film, Rahadani, had raised issues related to agriculture. Those associated with the film had called me to inaugurate the charity show meant to raise funds for earthquake victims. And I accepted the invite happily.
Over the years, I have watched only a handful of Nepali films. Ages ago, I watched films like Ama and Manko Bandh. Not so long ago, I watched a film related to the Maoist people's war (I don't remember the film's name).  I watched a movie after that too, but forgot its name.
Based on a handful of Nepali films, I had this notion that Nepali films were poorer compared to Hindi and English films. I had this impression that their storylines were weak and artists' performance unnatural. However, after watching Rahadani, I feel quality of Nepali films is improving.
The film has shown that young people are going abroad for jobs because of lack of development of the agriculture sector. This is a matter of concern for me (as I lead the Ministry of Agriculture). I found the film based on reality and close to truth.
There's a part in the film where a cow belonging to a poor family falls ill. Family members call up veterinary doctor for help. But the doctor is in Bardibas and he says he will attend to the cow tomorrow. The veterinarian comes the next day, but by then the cow is dead. Should the doctor not have rushed to the scene after knowing that the cow is critical?
This part is a portrayal of all that's going wrong in Nepal. Because of negligence on the part of veterinary doctors, cattle are dying.
The scene where the cow dies had me emotionally overwhelmed. As if this were not enough, a male member of the same family goes abroad for jobs and faces hardships. I was finding it really hard to control myself because of these scenes. While I was grappling with swirling emotions, a journalist asked me about the film's content and I started explaining. I could not control myself and broke down. I wept feeling a deep sense of responsibility.