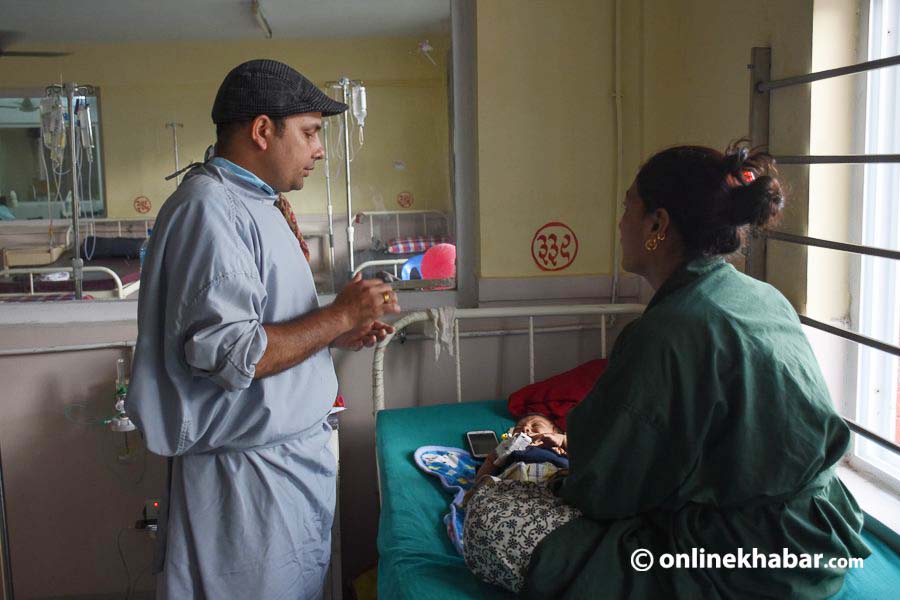 In bed no. 329 at the oncology ward of Kanti Children's Hospital in Kathmandu, a child is lying on her back, with her mom lost in her thoughts next to the child's worried grandmom.
Dr Bishnurath Giri enters the room and the grandmother gets ups. She instantly asks, "What will happen to my granddaughter now?" He asks her back, "Did you discuss it in the family?"
The equally worried mother replies, "We will treat her even if we have to sell our property, but what are her chances?"
"She has a very complex kind of blood cancer. We have records of treating 1 among the 40-45 such patients," says the doctor speaks ambiguous words, "She is only eight months old so the risk is there, but with treatment and the right nutrition, she will get better."
Not quite satisfied, the mother says softly, "…so it's up to God…"
***
In the next bed is Sarita Sah from Mahottari. She is here for her daughter's treatment. Nine months ago, her 10-year-old daughter had a fever. She would vomit as soon as she eats and complained of severe pain in her hands and legs. She went to many local hospitals but to no avail. Finally, she has come to Kanti. Recently, it has been confirmed that she has cancer.
In these nine months, she has spent more than Rs 400,000 for treatment. When she was informed that the treatment would continue for another three years, she was perplexed. She is staying at a hotel in Gaushala while her husband is abroad for employment, "We have sold all of our land; the money he [the husband] sends is not enough. There is so a huge loan to reply," she laments.
And, in yet another next bed is Rambabu Yadav, also from Mahottari for his son's treatment. His son has blood cancer and has been in the hospital for three years. He has a loan of Rs 800,000 and has spent a million rupees he got from selling land, in treatment only. He has an additional monthly expense of Rs 8,000 for a room where he is residing with his wife. It is said that it will take two more years for the treatment to finish.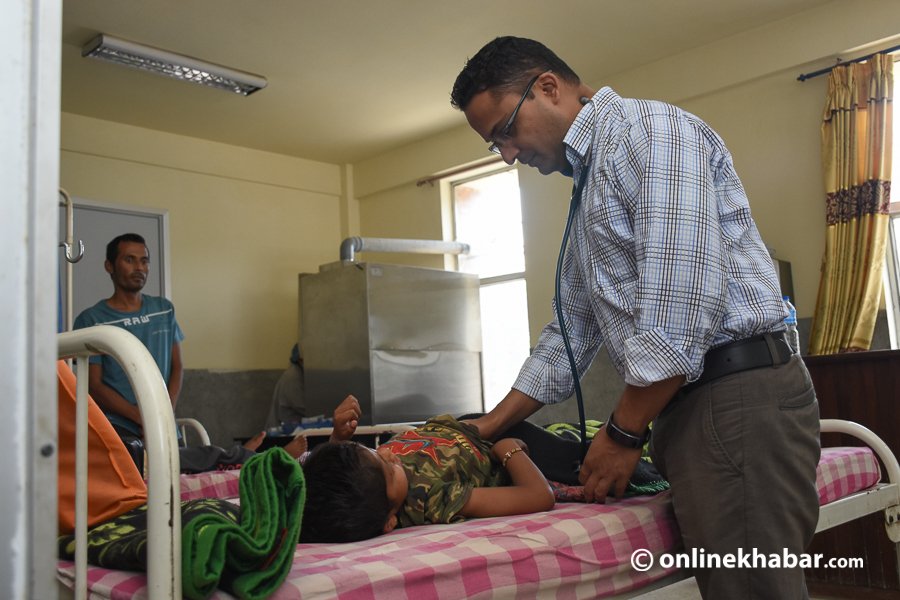 "I was working abroad and came back to Nepal when he got sick. What I had earned is all gone, so is our land. The loan is adding on, whereas the treatment has not finished," he says, "I feel like leaving the treatment at once."
There are a lot of people in the ward who share the same story. From the burden of treatment cost to a lack of rooms near the hospital area, the families face the problems galore. Sah says, "The hotel is expensive, and I've been searching for a room for the past six months."
***
About a month ago, Bagmati Sahani from Chandranigahapur of Rautahat district reached Kanti Hospital with her daughter. The daughter was diagnosed with blood cancer. Oncologist Dr Giri sent her to the Shukraaraj Tropical and Infectious Disease Hospital (Teku Hospital) for a bone-marrow biopsy. However, the mother never returned. They later found out that she did not even have a Rs 1,000 to do the biopsy.
She could not afford to live in Kathmandu for a year. Naturally, her status did not support her plea to get a loan either. In the end, she compromised heavily and ditched the idea of treatment of her daughter.
Sahani is only a case in point here. There is a pool of people sharing similar stories, who after the disease is diagnosed, choose to not get treatment because they do not have money. Dr Giri says one of the 10 cases he deals with gets untreated.
***
According to the World Health Organisation, as many as 300,000 children are diagnosed with cancer every year. The statistics say that the number of children dying of cancer is high in developing countries like Nepal, almost quadruple the number of such deaths in developed countries. Most of the victims belong to lower and medium-class families.
In Kanti Hospital only, there are 200 new cancer patients annually whereas 500 come for follow-ups.  BP Koirala Memorial Cancer Hospital of Bharatpur in Chitwan treats 100 children every year.
Of such patients in the Bharatpur hospital, 60 per cent have blood cancer, says Pediatric Oncology Unit's head Dr Niva Tiwari. In Kanti also, the ratio of blood cancer to other types is 60:40, says Dr Giri. Among 12 hospitals that treat cancer in children, 525 children were admitted in 2015. Of them, 205 were fighting against blood cancer.
That year, there were only 14 children at oncology ward of Kanti Hospital. The number reached 171 in 2019. In Bharatpur, the number reached 104 in 2016 from 50 in 1999.
Based on the records of countries with proper cancer statistics, it is assumed that around 120 in every one million children below 19 suffer from cancer. However, no such research has been done in Nepal. The doctors estimate that around 1,500 children with cancer reach hospitals in Nepal, but the actual number is just half. It suggests the other half cannot afford to visit a hospital. Dr Giri hints at the possibility that only 20 per cent of children with cancer have reached the hospitals.
***
Dr Giri says the number of children with cancer admitting to the hospitals has risen up because of the growing awareness in people about the disease. But, the hospital has not been able to give the proper services to them given the lack of equipment, agrees with the doctor. Though the number of patients has increased, investments in both Kanti and Bharatpur hospitals have not. All services they are providing are based on limited equipment, medicines, beds, specialised doctors, and nurses.
The Bharatpur hospital's director Dr Bijay Chandra Acharya claims that around 95 per cent of cancer seen in children can be detected in the hospital. Even with limited resources, he says, the hospital still gives quality services, "But the problem is that people cannot afford treatment."
Dr Giri also claims Kanti is giving quality services despite not having enough resources.
***
Among the 750 children who reach Kanti for diagnosis, only 250 complete the treatment procedures. Doctors say if the children get full and consistent treatment, their life can be saved.
About 100 children are diagnosed with cancer at BP Cancer Hospital annually. But, 60 per cent of them do not follow the treatment procedure and only 30 per cent of them get complete treatment. In Kanti, 200 children are diagnosed, but 10 per cent of them do not show up again while 10 per cent of them leave the treatment halfway.
Generally, the treatment for cancer is expensive than one of any other diseases. The patients have to go to the hospital for at least five years. The course also involves expensive oral medicine that continues for years. This is why the lower class people cannot afford the treatment.
In Kanti and Bharatpur, services like blood tests, urine tests, x-ray, CT (computerised tomography) scan, and bed charges are free for cancer patients. For children below 15, the hospital also provides food. Likewise, the government also offers a discount of up to Rs 100,000 on medicines at the hospital pharmacy. Dr Tiwari in Bharatpur Hospital says, "The Rs 100,000 sum from the government is enough to cover the chemotherapy for the child."
But even with such incentives from the government, a middle-income family cannot afford the expenses of treatment. Many of the medicines still need to be purchased from outside while for some tests, they even have to go as far as to India. Those from outside Kathmandu have to come to the capital, prepared to rent a room. These factors play to force the families to give up the treatment course and the hope for the lives of their children.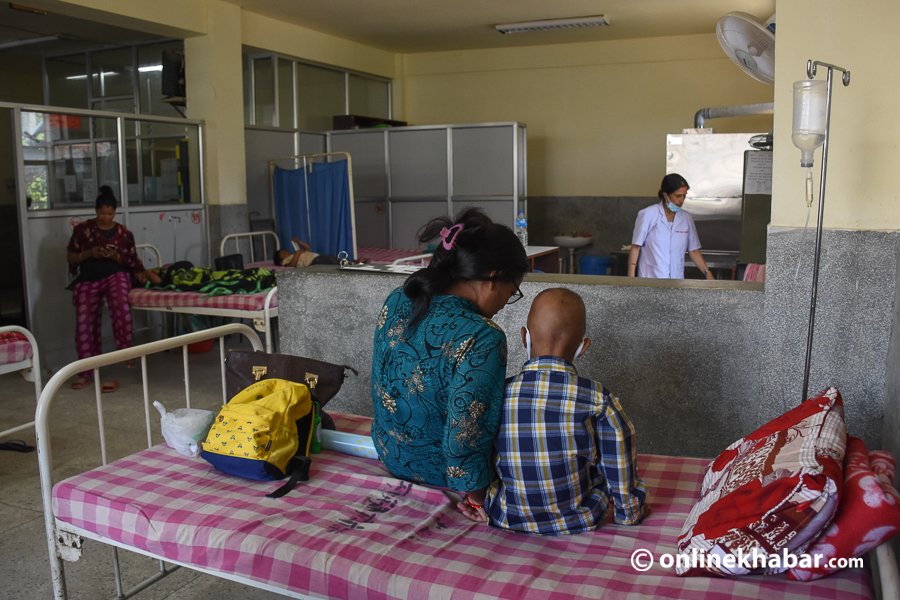 Dr Giri says, for the treatment at Kanti alone, one needs Rs 400,000-500,000. In a private hospital, it costs Rs 1.5 to 2.5 million. With the cost of a cancer treatment done in private hospitals, six children can get treatment in Kanti.
***
The family's failure to afford the treatment is not the only problem. It is neither easy to diagnose cancer. Even Kanti Hospital does not have a functional MRI machine; the hospitals outside Kathmandu even do not have CT scanners. No Nepali hospital has a machine required to detect 40 types of blood cancer cells.
Because the right diagnosis is not possible, children with a brain tumour are more likely to lose their lives early, says Director of the Hospital Prof Dr Rishikesh Narayan Shrestha. It is the second common diagnosed disease in children. Based on different studies, it is assumed that 20 to 25 per cent of the children with cancer who reach hospitals are diagnosed with a brain tumour. However, in the cancer registry of 12 hospitals in Nepal, it is only eight per cent.
Even today, the blood samples are sent to India for an examination which costs about Rs 25,000 to 50,000. It costs the same if one has to detect blood cancer. If the test equipment had been available in Nepal it would have cost around Rs 5,000 only, says Dr Giri.
According to the doctors, a flow cytometre can be bought for Rs 50,000 to Rs 70,000, but an MRI scanner costs as much as Rs 100 million.
Dr Giri says the MRI scanner is necessary but there is no need to get the flow cytometre in Kanti right away. He says Bir Hospital or Teku Hospital can get the flow cytometre. "It is not necessary to have all equipment in all hospitals, but if the government invests Rs 50 million to get the equipment in Teku Hospital, we will no longer need to send the samples to India for tests."
***
According to the WHO, the success rate of cancer treatment has not increased because people are visiting the hospital too late, possibly because they think they cannot afford the treatment. The survival rate in developed countries is 80 per cent whereas it is just 37 per cent in the underdeveloped countries.
Nepal's survival rate is 50 to 60 per cent while it is 20 per cent in Africa, says oncologist Sudhir Sapkota. He says, "To increase the survival rate, we need to increase awareness among the people. If we can just reach out to the children who are out of reach now, we can save a lot more lives."
The WHO has pledged to save one million lives from cancer by 2030. It means the number of cancer survivors has to double. "For this, we have to up the quality of services that we have now in terms of cancer diagnosis and treatment," says Dr Sapkota.
Then, the number of paediatric oncologists in Nepal has to go up.  The Ministry for Health and Population has not allocated any separate quota for a paediatric oncologist in the hospitals. Nevertheless, there are two paediatric oncologists, a resident doctor and nine nurses in Kathmandu.
According to the standards set for the underdeveloped countries, there should be 25 cancer-specific nurses and six doctors along with medical officers in one hospital.
Most of the previous government policies prioritised only communicable diseases, which is why cancer diagnosis and treatment have not been a priority, says the ministry's spokesperson Mahendra Shrestha. "The new provincial governments are working on policies for the quota for the paediatrician(s) and oncologist(s) in provincial-level hospitals," Shrestha assures.
Photo: Chandra Bahadur Ale
---
Published on February 17th, Monday, 2020 10:18 AM
---
Download Onlinekhabar App. Android click here & IOS click here . Keep in touch with us on Facebook, Twitter & YouTube.