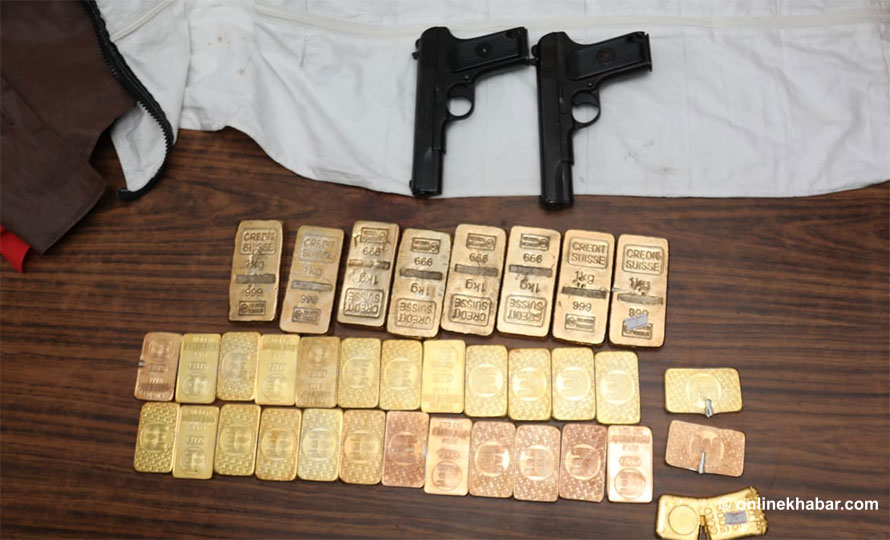 The roles of police officials in various gold smuggling cases have come under scrutiny many times. With many officials from higher as well as the lower ranks detained and investigated in similar cases in the past, the recent incident in which 15 kg fake gold was confiscated demonstrates how the law enforcers also collude with racketeers in similar cases repeatedly.
It has been found that two constables of the Metropolitan Police Circle in Darbarmarg, Bahadur Singh Kadayat and Prasanna Shrestha, were helping the accused flee rather than arresting them in the June 28 incident. The two personnel, as well as their informant, seem to have played a dual role in this case, which ultimately turned out to be a failure for both the smugglers and the police.
What had happened
Metropolitan Police Circle, Darbarmagarg had reported last week that its personnel found 15 kilograms of yellow material, looking like gold, along with two pistols in Kamaladi of Kathmandu on June 28. Later, it was revealed that only a half kilogram of the material was gold whereas the rest was silver, plated in gold.
Following the revelation, the investigators turned suspicious about the role of the police and launched a high-level investigation.
What has been found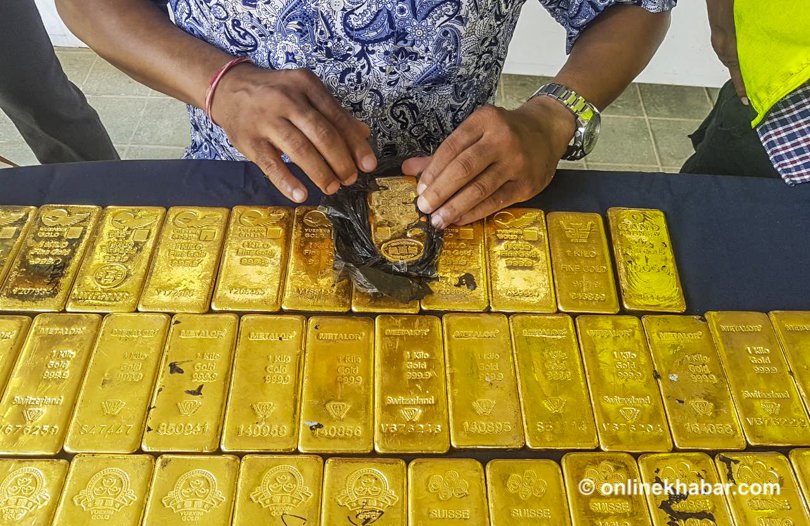 Officials involved in the investigation identify Nilesh Sakhiya and Sanjay Patel as key perpetrators in the case. Having come from Rajasthan, India with a plan to smuggle fake gold from Nepal, they have been found to have contacted their acquaintance, Iltaf Hussain Ansari of Bara, seeking his help in the task.
As reported in Indian media, there is a growing trend in Rajasthan to sell counterfeit gold as genuine. Sakhiya and Patel came to Nepal with the plan to smuggle the fake gold to their home country. They had come to Bara on foot after parking their vehicle near the border area and came in contact with Hussein, who is also involved in counterfeit note trade.
It has been found that the trio–Sakhiya, Patel, and Ansari–entered Kathmandu on July 16 on Ansari's vehicle (Ba 6 Cha 5519) from Bara. They were planning to get aid from Dewan Patel of Rajasthan, who has been running a jewellery shop in New Road of Kathmandu for a long time.
According to the officers involved in the investigation, Dewan Patel had asked Manish Mallik to coat the silver with gold to send it to the trio. Sakhiya and Sanjay Patel had already paid Rs 5.6 million for 14 kgs of silver. But, they did not pay any extra money for the gold plating.
Dewan Patel had taken the bag of the yellow metal to Kamaladi to hand over to the trio. But the three still did not want to pay him for the gold-plating of silver as promised. Instead, they promised to pay the money gradually. An official involved in the investigation tells Onlinekhabar that Dewan Patel then planned to extort money from the trio by taking aid from the police.
The dual role
The group of three still had not paid the sum to Dewan Patel. So, he decided to tip the police and took help from his brother Kaushal Patel, who had a good acquaintance with police constable Bahadur Singh Kadayat when Kadayat was working in the Lazimpat station.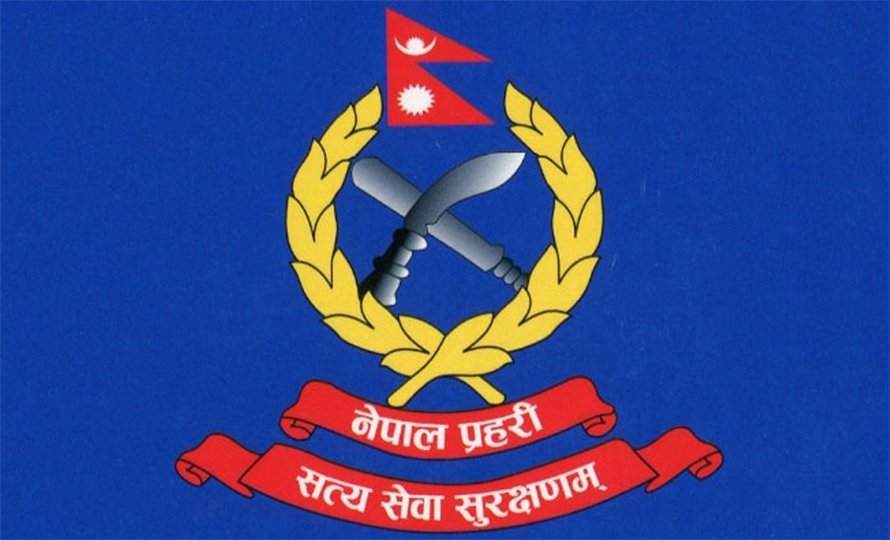 Kadayat and Kaushal Patel then planned t rob the group of three of the white-turned-yellow metal so that Dewan Patel could get the money from them as demanded.
On July 27 night, Kadayat was instructed to proceed as planned who, being the driver of the Durbarmarg police station's crime response vehicle, was incapable to execute it alone. Therefore, he asked help from Prasanna Shrestha, a constable at the police station.
Meanwhile, Shrestha informed the station's chief DSP Ranjan Dahal that 15 kg of gold was being smuggled; he however did not give him details of the incident. Interestingly, Dahal did not know that Shrestha was informed by Kadayat, and Kadayat also did not know that Shrestha had leaked the information to DSP Dahal. Moreover, all three were unaware that the yellow metal was counterfeit gold.
Kaushal Patel had falsely informed Kadayat that as it was genuine gold as he feared that the police would not help him if he told them if was fake. It has been found that Dewan Patel and Kaushal Patel had planned to make money from the police claiming themselves to be informants if the robbery plan had failed.
Meanwhile, Shrestha wanted to inform his boss, Dahal, about the incident because he thought he could show him his hard work if the Patel brothers' plan of robbing the fake gold failed. If there appeared any controversy in the process, the constable also thought the DSP would be blamed.
Accordingly, the constable informed Dahal and waited in an ambush near the Chinese Visa Centre in Hattisar. But, the vehicle carrying the fake gold diverted to Kamalpokhari instead.
Finding out that the police were chasing them, meanwhile, Sanjay Patel and Iltaf Ansari dropped Nilesh Sakhiya in Sundhara with the bag of gold. "Sakhiya was told to take another vehicle from there," says an official involved in the investigation. "He was told that he would be picked up later from anywhere he would go and that he would be bailed if caught."
But, as soon as Sakhiya got out of the car, Bahadur Singh Kadayat grabbed him by the collar and took him to the pedestrian bridge nearby. Sakhiya then gave him the bag of 'gold' to Kadayat, and Kadayat let him go. Meanwhile, he took out one of the 16 biscuits of 'gold 'and gave it to his friend, Umesh Shrestha, who hid it in his room at Bagbazar. Investigators later confiscated the gold bar from his room.
Soon DSP Dahal arrived in Sundhara, and Kadayat got afraid of action against him. Therefore, he gave 15 biscuits of supposed gold to his boss, saying that the accused threw the bag and ran away.
Police are now investigating whether Nilesh Sakhiya may have any relation with Dewan and Kaushal Patels. Dewan Patel, Vijay Patel, and Nilesh Sakhiya have been arrested while Iltaf Hussain Ansari is still at large.