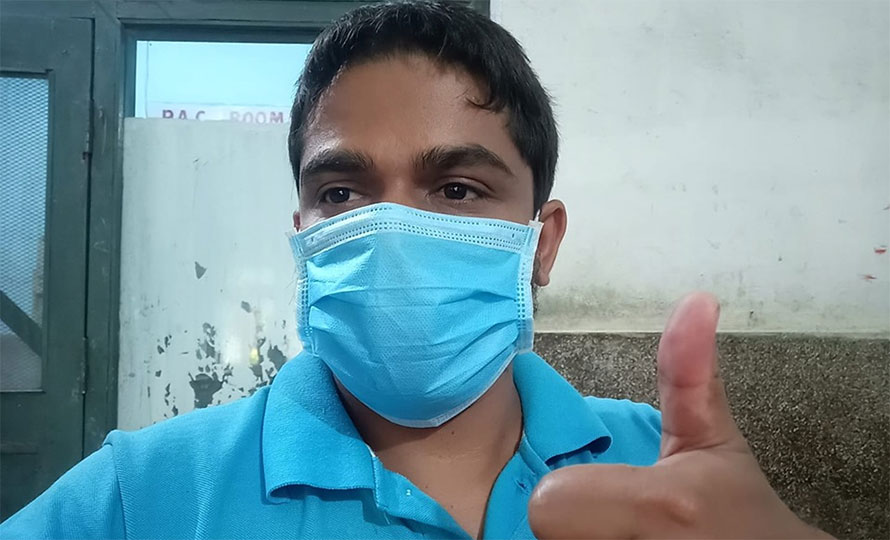 Hello readers,
I am a journalist. I report for Onlinekhabar from Birgunj, the recent 'epicentre' of coronavirus infection in Nepal. I know you believe in Onlinekhabar, and not disappointing with your expectation is a part of my duty. Accordingly, as a front liner, I have been reporting to you the latest updates about the Covid-19 outbreak here. I have not compromised my responsibility even if it means to risk my own health.
I live with my wife, Kalpana, and son, Sukrish, in Birgunj. Kalpana would frequently advise me to avoid outdoor meetings since the outbreak began. Others also had the same suggestion. But, of course, we had to go outdoors; we had to report the latest updates to you.
I may not have been able to follow the WHO guidelines for safety, but I was as cautious as I could have been. While coming back home from reporting, I used to wash my hands carefully with soap and water before going in.
On April 12, three Indians tested positive for the coronavirus in Birgunj for the first time. Since then, the number of infected cases went on increasing, requiring me to be more active in reporting. The risk increased; so did my responsibility.
On April 26, the Narayani Hospital in Birgunj discharged four Covid-19 patients. Scores of journalists had gathered on the hospital premises; I was one of them, cautiously maintaining distance as far as possible.
Last Saturday, on May 9, I travelled to Jitpur of neighbouring Bara district to attend a Nepal Army function. During the function, I was informed that one more Covid-19 case was confirmed in Birgunj. I rushed back to file the report.
While I was busy preparing another report for the day, one of my friends telephoned me to ask if I would like to undergo a PCR test for the coronavirus. I agreed and telephoned the hospital to check if we could go there to give the swab samples. The hospital staffer said all the staff responsible for collecting samples were away. I asked my friend to wait for around one hour, but he did not agree. Instead, he immediately came to my apartment in his car. We went to local Inarwa Chok where the samples were being collected from the locals. We also gave our samples.
Then, we resumed our work, not paying much attention to the test report. We were confident that the hospital would inform us at the right time.
This Sunday afternoon, I learned that a local journalist, Tiwari Yadav, was misbehaved by police. I telephoned my friend to inform about it—but learned that he was already at the District Police Office. I also rushed to the DPO. Again, I was too cautious to maintain a distance from other journalists there.
On Tuesday morning, I joined a demonstration of the Federation of Nepali Journalists against the misbehaviours on Yadav. I went to a local grocery store while returning.
In the lockdown, my daily routine had changed slightly. I had managed to look after my son's studies. His school has started online classes. A teacher had given him a reading assignment the previous day and asked me to record his reading and send the record to him. After coming back home from the protest and grocery, I made him read the text, recorded it, and sent it to the teacher. Then, I wrote a report about the protest and emailed it to the Onlinekhabar office, Kathmandu.
By that time, Onlinekhabar had already published the updated tally of Covid-19 cases in the country that 57 new cases were confirmed including 39 in Birgunj. Now, my job was to collect more information from the local sources to elaborate on the report.
While I was telephoning some of my sources, my colleague, Raj Kumar Shrestha from Onlinekhabar central office telephoned to alert me about the increased risk.
Meanwhile, my sources were not picking up my calls. After repeated attempts, Narayani Hospital's Dr Udaya Narayan Singh talked to me, but he did not have any new information. After around 30 minutes, the hospital's medical superintendent, Dr Madan Upadhyaya, also answered my call.
"Sir, do you have an idea where the new cases are from?"
"Please prepare yourself. We will call you soon."
"Prepare? For what?"
"Yes. Prepare. "
"It's funny."
Instinctively, I said, "It's funny". But, it was not funny anymore. He said, "You need to be kept in isolation. Please prepare yourself. I am checking for new information."
Desperately looking for any newsworthy information, at first I wondered why the official was joking with me. But, in a few seconds, I realised he was right—and I had to be isolated. Hanging up the call, I told Kalpana and Sukrish about the latest news.
Kalpana's face wore a gloomy look immediately, but she regained her calm, "Don't worry, hubby! I will heal you—just with hot water." Sukrish, because he was still a child, did not care much about it.
In the meantime, the chief of the District Police Office, SP Ganga Panta, telephoned me, "Did you check your report?"
I had not lost my calm. I said, "Yes, at first I thought Dr Upadhyaya was just kidding. But now, it's confirmed."
I was happy that she called me at a time when all the journalists in the district, including me, were protesting the police action (against Tiwari Yadav).
Then, I informed my parents in Makawanpur, my office team, and close friends about my report. Scores in Birgunj had already learned about me.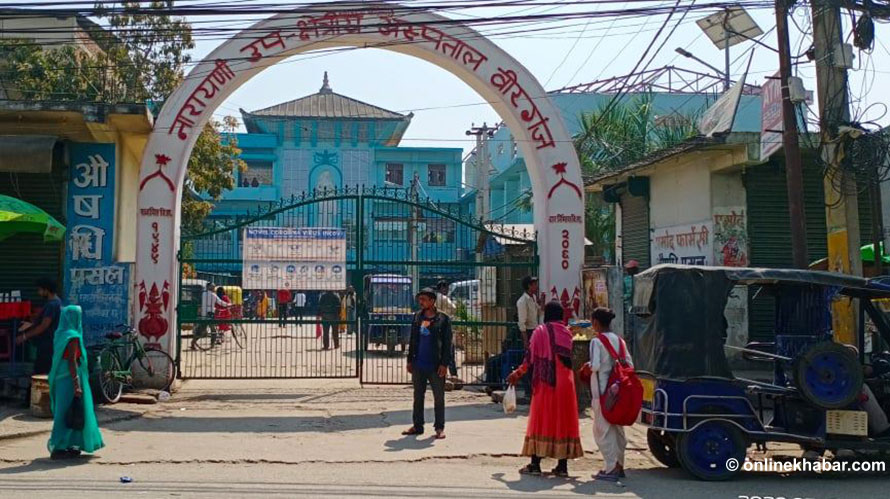 My phone kept on ringing. Most of the callers made efforts to console me and boost my morale. Unable to pick all the calls, I wrote a status on Facebook that I was fine, but that invited additional calls.
I prepared myself to be admitted to the hospital, but the hospital team did not arrive to take me there on time. I reached the hospital at 8:45 pm on Tuesday.
I was taken to the gynaecology ward of the hospital as it has now been converted into an isolation ward. Arriving there, I wanted to wash my hands, but a tap there was not working. I called the staff I had known, just to make them switch on the tap. We, the patients, were told to fill in all buckets and jugs available there as the tap cannot be kept open all the time.
While keeping the water in a filter there, we found it was leaking. We tried another filter, but that was also not different. We did not have any alternative to drinking unfiltered water.
Mosquito nets, soaps, toothbrushes, and pastes—everything was ready for us. But, the bedsheets were worn out. Fortunately, I had brought another one from my home though I forgot to bring my pillow.
At 10, we were served dinner. Ideally, it should have consisted of dal, bhat, and tarkari (lentils, rice, and curry respectively), but all dal and bhat had been used while the plate arrived at my bed. I only got a plate of curry, too hot for my tongue.
Meanwhile, my phone was still ringing. I was already tired of answering everyone's call, but still tried to answer them all. The entire ward was abuzz with noises as many other patients were being admitted till 11 pm.
At midnight, I went to the toilet before hitting my bed. There, I found a lizard trapped inside the pan. Seeing that tiny creature struggling to come out, I found myself in the same position—locked down, struggling to come out. I concluded that the lizard's risk was more dangerous than mine. Hence, I 'rescued' it out of the pan before I answered my call of nature.
Today is my fourth day in this isolation ward. Everything is fine here. I am confident that I will come out of this ward, just as fine as I always am. But, I still wonder where and when I did a mistake that made me infected. As a journalist always moving here and there in the search of news, it pains so much to be restricted in a bed.