It has been three years since volleyball got the status of the national sport of Nepal. The decision seems logical, geographically, because volleyball is played in all 77 districts of Nepal. It is popular among locals in every nook and cranny. Yet, neither the sport nor its players have made any significant progress.
In about eight decades of volleyball history, Nepal has made its international presence for only about four-and-a-half decades. So far, Nepal has won just one gold, one silver and four bronze medals in volleyball, internationally. The history of the national men's team is sadder than the women's as it was the latter that bagged the gold and four bronze medals in their nearly three decades of international play.
Another sad part about the sport is that no one knows how and when volleyball started being played in Nepal, and how it reached rural Nepal.
1. Import from Britain
What is known is that volleyball was brought into Nepal in 1933/4 from England, with Nepalis who were in the British Army being the conduits. In 1942, students of Tri-Chandra College first played volleyball at the community level. This was later mentioned in a book published after the first National Games in 1982.
Hence, the development of volleyball in Nepal seems to have started before the dawn of democracy. However, history shows concrete development in volleyball only seems to have occurred after the end of the Panchayat system in the 1990s.
Advocacy efforts to institutionalise volleyball began with the establishment of Nepal Volleyball Association in the late 1940s. However, there is not any evidence of any volleyball activities then. But, the aforementioned book does mention the National Sports Council (NSC)'s interest to promote the sport along with its efforts to include it in youth and sports competitions.
2. Formal events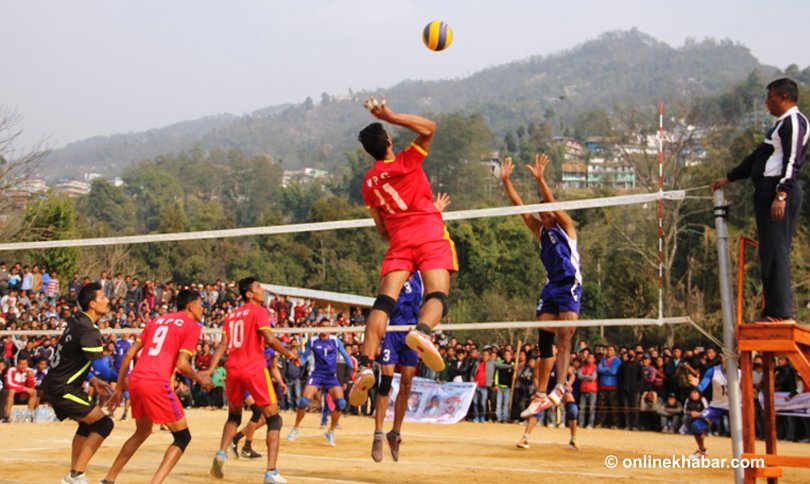 After 1945, volleyball was sporadically being played outside Kathmandu, in Biratnagar, Dharan, Pokhara, etc. Nonetheless, somehow, the competitions were being organised only among the police and the army. After the 1960s also, volleyball seems to have a history of being popular in the colleges. After 1969, the NSC is known to have distributed volleyballs, nets and other equipment to district development sports committees across the country.
In 1970, Tribhuvan University organised an inter-college volleyball competition. From 1971, volleyball training started being held in Nepal under the assistance of Japanese volunteers. It was being organised by NSC with coach Sunji Yanagiti.
In 1973, the National Sports Council organised the first-ever National Volleyball Competition in Kathmandu, in which 13 zones (Nepal was divided into 14 zones then) had participated with Bagmati and Gandaki finishing first and second respectively.
Common people's interest could have increased after this. Considering the same, the National Volleyball Association was established under Anoop Shamsher Jung Bahadur Rana's presidency in 1974. In the second National competition, all 14 zones participated with Narayani as winners. The national competition got continuity and it picked up its pace in development and popularity.
3. International debut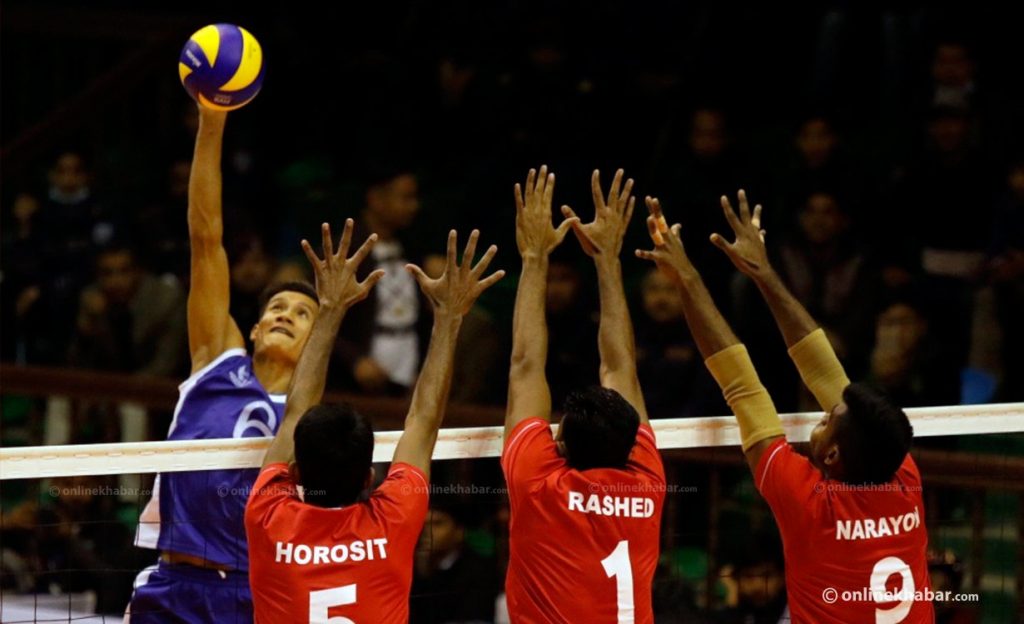 Just after two years of that, in 1976, Nepal participated in an international competition. With captain Rishi Raj Acharya Pokharel and coach Prachanda Bahadur Singh, Nepal played eight games in Lahore and Peshawar of Pakistan but did not register any win.
Other team members consisted of Resham Gurung, Madhusudan Rana, Prakash Bahadur Singh, Rabin Shrestha, Pradip Bahadur Singh, Mohan Lal Shrestha. They were selected after the third National Volleyball competition
This event is remembered in history to date. "Nepal's white dress used to get dirty every day. We had to wash the jersey every day and wear the next day," remembers Kapil Kishore Shrestha. Shrestha, a key player then, later served as a coach also.
The international appearance, according to Shrestha, was the much-needed experience for the new players. "Other four teams were better and more experienced than us. Our average age in the team was below 20. We still had not learned all the techniques. It was there that we learned about floating service and attack combination."
"Regardless of the failure to win, our team got love from the Pakistani audience, and our new experience of having a fan following, including some Nepali-speaking audience members looking for our autographs."
Followed by the debut, Nepal made appearances in China and Russia the very next year. A team under Harihar Shrestha went to China. There, they played and practised under the captaincy of Resham Gurung. "Playing and gaining experience in China and Russia was a golden opportunity for us," Shrestha says.
The event served as preparations for the Asian Games in 1978. Nepal were put in a group with Japan, Kuwait, the UAE, and Bangladesh. Nepal played and lost against each of them.
Dipak Sapkota, who played during the Asian Games in Japan, was named among the top 12 best players of Asia by a popular Japanese newspaper.
4. Historic wins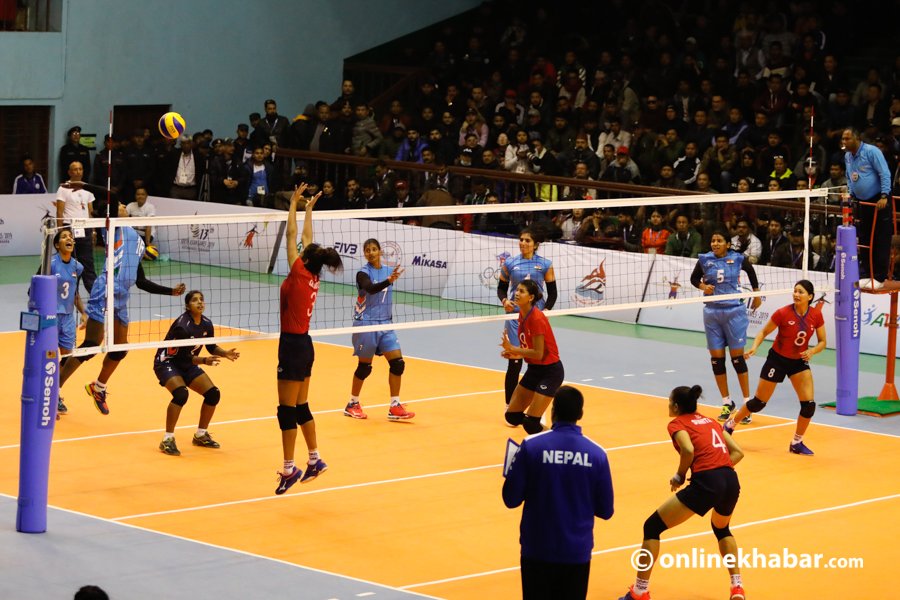 Only after four decades of the sport's history, Nepal were finally able to register a win internationally with a bronze medal. Nepal played many games, from Asian Games to South Asian Games, but never could win the titles.
In 2017, Nepal men's team participated and placed third in the Asian Central Zone Senior Men's Volleyball Championship after defeating hosts in the Maldives.
While the fifth edition of the championship was being held on the men's side, Asian Volleyball Confederation decided to hold the first Asian Senior Women Central Zone Volleyball Championship 2019, in Bangladesh.
Nepal's women's team swept all five games and clinched the gold medal, making an unforgettable history. It was even more impressive that Nepal did not lose any set in any of its matches and won the final with a score of 15-0.
The women's team, rejoicing its win, also planned to win the 13th South Asian Games. Unfortunately, even with the immense support from the audience, the dream of winning the title on home grounds got unfulfilled and they had to lose close to the finals. They did secure the bronze, after beating Sri Lanka in the semi-finals.
5. Uncertain future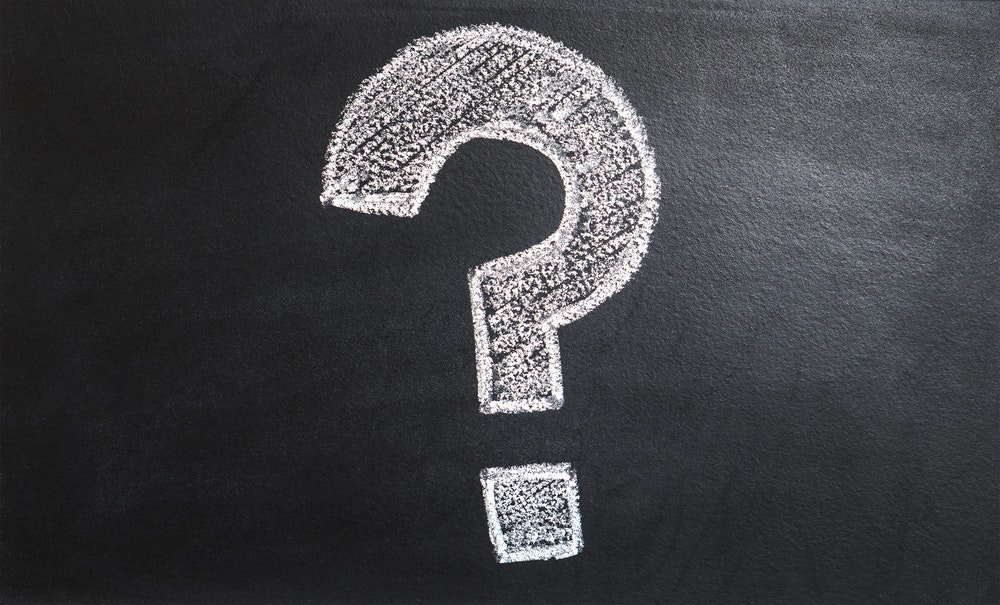 Maybe, this is the most important question: what next for Nepal's volleyball team? Unlike bodies governing football and cricket, the body governing volleyball even does not have its office. Nepal Volleyball Association was set to elect its new committee, but the elections have been uncertain due to the Covid-19 crisis.
The government's budget for volleyball is also low with only Rs five million for a covered hall. There is no volleyball academy to produce new talents. No new players are being trained from the school level. Overall, the country's national sport neither has a covered hall for practice nor the necessary preparations at the grassroots.
More than a dozen domestic sports events are held annually. The federation holds at least six competitions for men's and women's teams. Former volleyball player Harihar Shrestha says regular competitions as well the presence of the players and their games are very good. Former player Sapkota also expresses he is glad about the progress made in both men's and women's sectors. But, for the development of volleyball, the country still has to work on infrastructures and on producing players from the grassroots.