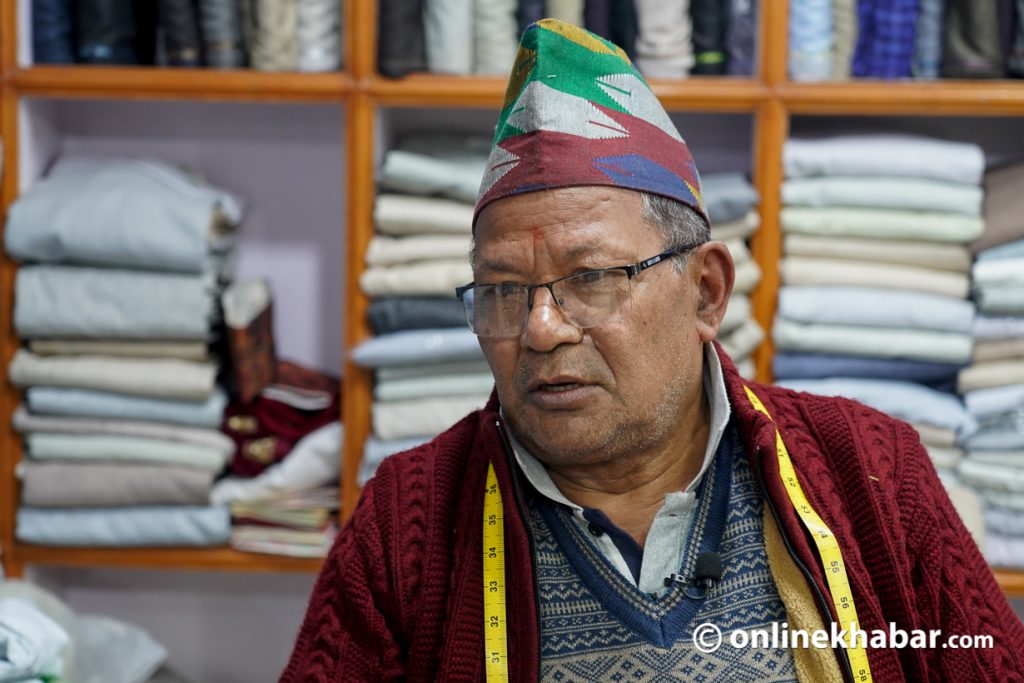 There was a time when tailoring shops were not as widespread in Kathmandu as they are now today. At that time, Harshman Shakya, the grandfather of Hera Bahadur Shakya, used to make rounds of the palace to take measurements for Juddha Shamsher Rana's clothes.
But, Hera Bahadur Shakya is unaware of what kind of clothes were sewn in the palace at that time. Neither does he know where the fabrics came from or how much they paid as wage. He did not care too as he was a child. 
Today, at 74, Hera Bahadur has adjusted to the rhythm of his life and work, just as his grandfather once did.
The interesting thing about him is that he has stitched clothes for the prime ministers and the palace staff. He remembers, in the Panchayat era, the late Prime Minister Marich Man Singh Shrestha came to him to sew clothes. And recently, he also got the opportunity to sew traditional daura-suruwal for the new prime minister Pushpa Kamal Dahal.
Standing the test of time
"I don't even know everyone. For me, everyone is the same customer. They come here and give their measurements and leave. Only after a photo is published in the papers, I come to know that a certain minister or leader has worn the daura-suruwal I made." 
It is also possible that former prime minister KP Sharma Oli also has worn a daura-suruwal Hera Bahadur Shakya had made. He wonders, "His wife is also a Shakya, that's why it is possible he sewed his daura-surwal from here." 
Shakya says, "Many prime ministers have come and gone. So has many ministers and employees. Is it possible to remember all?"
Earlier, he could identify the leaders and the ministers. The one he knew well was Ganesh Man Singh. He used to stroll around with a bodyguard and reach his shop to sew a pair of daura-surwal for himself. "Now his son Prakash Man comes here," he says.
"I don't do house calls. If they come here, I sew for them," he says.
He neither enjoys any kinship nor contractual projects. He is neither a party man nor a big trader. Still, why do the leaders and ministers rush to him to make a daura-suruwal for themselves?
For that, he does not have an answer.
But he assumes that since the previous leaders and ministers came to him, others sought him and knocked on his doors.
Passing the baton
When his grandfather died of old age, Hera Bahadur Shakya took over the business along with his father. Then his father also passed away and all work fell on his shoulders. And, he has not once let his parents down or the name of the store. That is why even after his grandfather and father, he kept going to the palace to sew clothes. 
His grandfather was very skilled and had great ethics. "Grandfather used to say that 'you don't need to read'. He used to say that one should know what work and earn. So, I never went to school."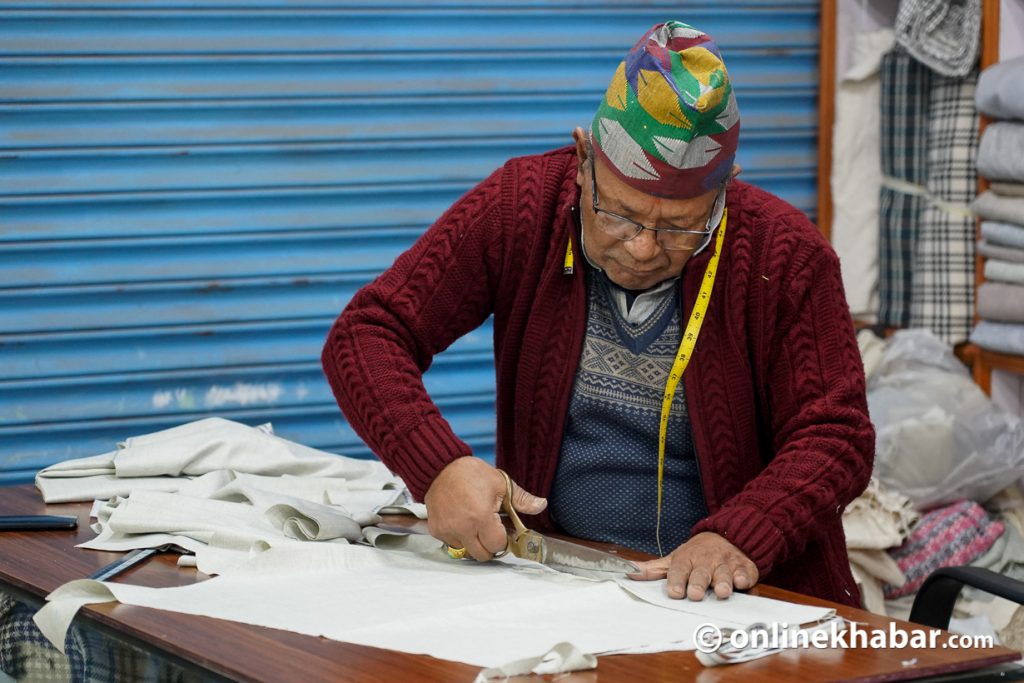 "I started sewing clothes from the age of 17," states Hera Bahadur Shakya while he continues using his scissors on a piece of cloth.
During the reign of King Mahendra, he went to the palace and got the task of sewing daura-surwal sets for all the staff there. "At that time, we used to get the work three times a year, and we used to be busy around the year."
The same thing continued during King Birendra's reign too, but only in the beginning. Later, during the coronation of King Birendra, they got more work. Most of the high-level employees would come to him to sew daura-suruwal for themselves. "We sew a lot of sets that time. It is not possible to calculate how many."
After the late 1970s, such a trend started decreasing. 
Hera Bahadur Shakya took over the business after his grandfather and father, and now he has passed the baton to his son. "Now, my son has started watching all the work. Sometimes he even does house calls for the job."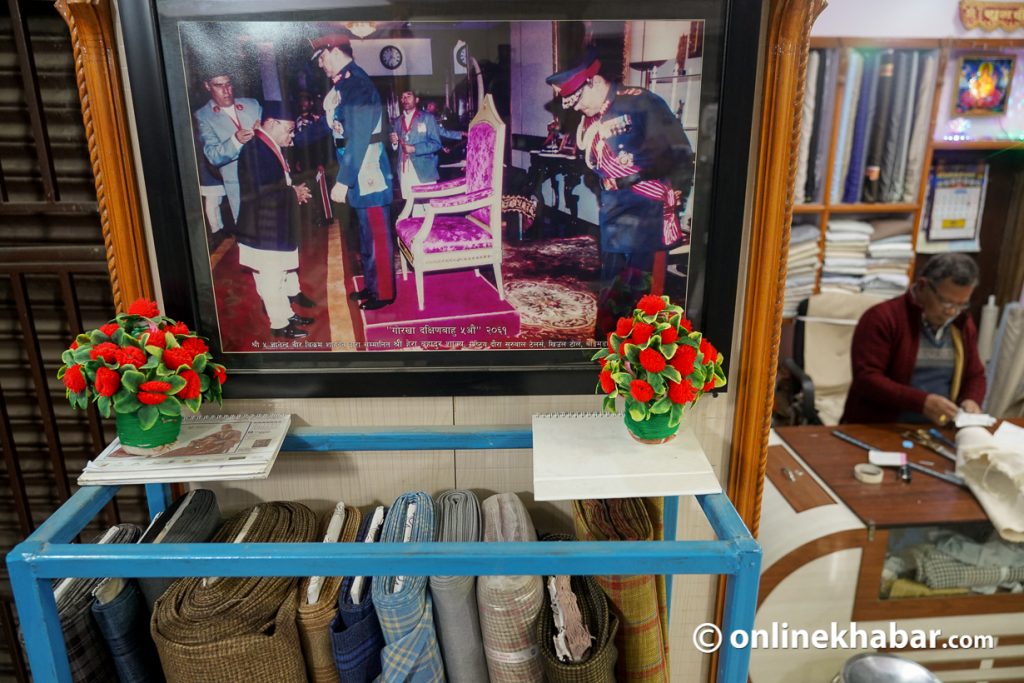 Changing times
At the time when Hera Bahadur Shakya's grandfather used to go to Juddha Shamsher Rana's palace to sew their clothes, there were only three such places in Kathmandu. His father Lakshmi Jyoti Shakya also used to tag along with him. And, they sew more war clothes there. They would be called upon, especially for that job. 
Shakya speculates that the Ranas used to import their fabric from Britain, while others in the court used to wear local clothes.
At that time, for every daura-suruwal set, they would charge Rs 12 only. The customers used to bring the fabrics. Now, a set costs somewhere between Rs 3,000-3,500.
Also, their shop was located somewhere at New Road. It was not customary to name the shop nor was it necessary. People used to know Kathmandu like the back of their hands. But, by the time Hera Bahadur Shakya took over, the city's population density had increased.
Shops were opening up at every step, and the number of houses started growing. The alleys and squares started feeling like a spider's web. So, finally, they had to name their shop to identify themselves.
"But, what should be the name?" The family started to ponder, but not for long as the name came at the top of their head the board reading Rastriya Daura Suruwal Tailors.
Today, if one goes a little further from Bhedasingh Chok, which is perennially busy, there are countless tailoring shops with similar names in the vicinity. But, once you enter the narrow street, you can see the shop of Hera Bahadur Shakya right in front of you. "Earlier, our shop was at the entrance of the road," says Shakya, "But, later, when we couldn't pay the rent, we moved inwards."
Then, they owned that house and expanded their business at home. The first floor is used for taking measurements and cutting the fabrics. On the second floor, there is a storage room for readymade sets. And, there is a factory to produce fabrics on the third floor. 
Before the Covid pandemic, there were 25 skilled people to sew daura-suruwals, but the number has reduced to just half a dozen nowadays.
Not so changing times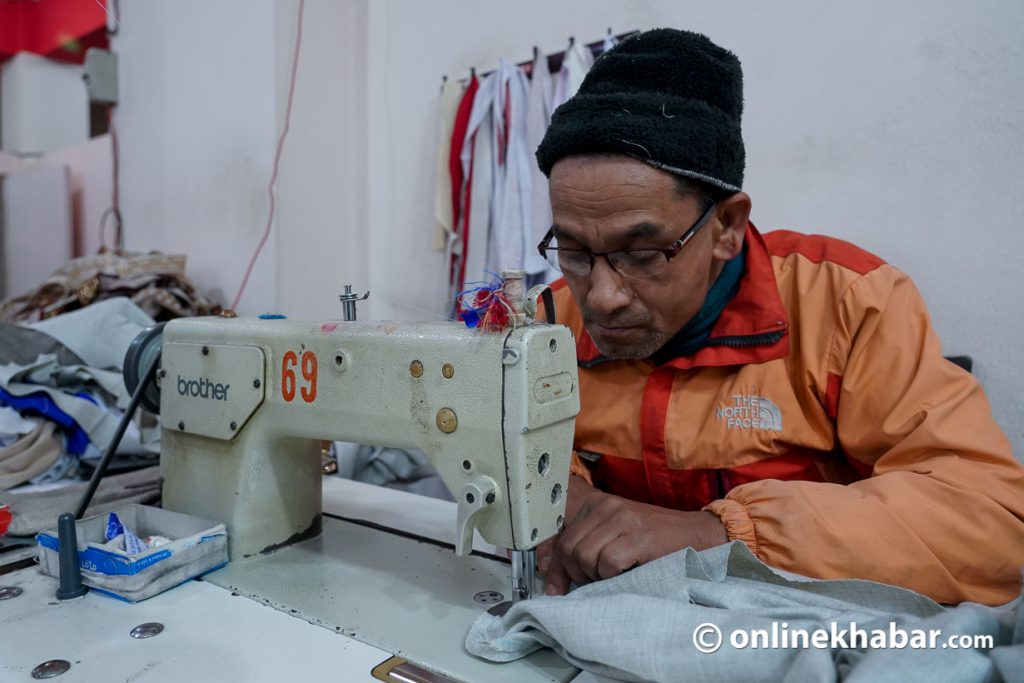 However, the pandemic was not a big deal in Hera Bahadur Shakya's life. Because he is used to many ups and downs in his life, since his childhood. Even his daily routine is the same as it used to be years ago.
"We were poor, we didn't have any land. And that's why my grandfather started sewing. Now my son, Dinesh, also does the same thing."
The earthquake of 1934 destroyed their house, and they hardly recovered from that. Juddha Shamsher suggested, "You should also take a loan to build a house."
But, his grandfather refused, saying, "No, I will not take it. I will only be indebted to the government."
Regardless of everything, times have changed now, and many things have changed with it. However, Hera Bahadur Shakya's routine has not changed.
In the morning, he is there in the shop, doing his usual work, neither laziness nor fatigue, neither confusion nor sadness. It is uncertain how he has kept the business going all these years, without a break.
---
This story was translated from the original Nepali version and edited for clarity and length.