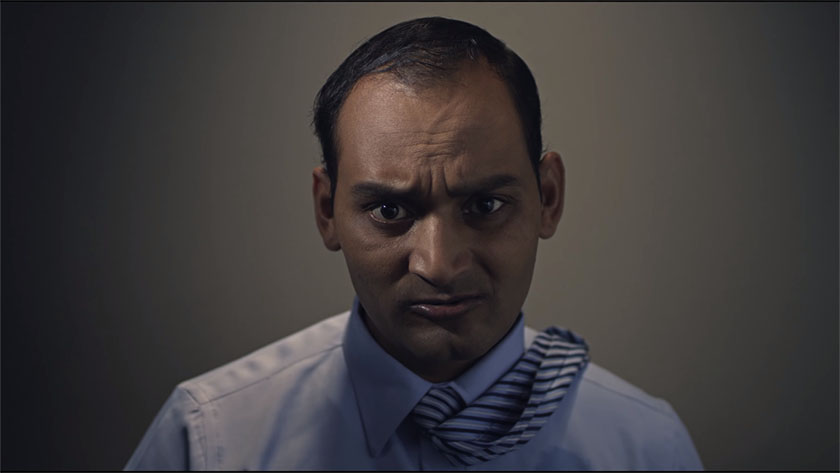 For a second week running, Nepali movie lovers have been treated with a movie that producers hardly consider making. Producers normally make movies which are either funny or are full of cheesy love stories because they know that these movies will sell and their investment is safe.
Breaking that trend, filmmakers have come up with a different movie which is sure to give the audience a new experience.
The movie Hari revolves around Bishnu Hari (Bipin Karki), a religious man in his early 30s who lives with his mother Parvati (Sunita Thakur). Hari's life is pretty laid back as he has no worries, apart from his receding hairline and an oversmart colleague at work. The story takes a turn a bird 'shits' on his head, which also brings bad luck to his life.
The first half of the movie establishes Hari as the lead character. It gives the audience an insight into Hari's monotonous life and his family history. Like the trailer, it's abrupt and fails to answer many questions. Apart from a few jokes, the half is not very engaging as there is a feel that something big is going to happen in the second half of the film.
The second half though is just a continuation of the slow first half which fails to grab the audience's attention but does get better with its various twists and turns. The fact that the directors have connected the characters helps the audience make sense of this playlike movie.
Bipin Karki, the star of this movie, had said this movie gave him artistic pleasure and he has done his role justice. He's almost ever present in all scenes as he has played five roles in the movie, but there are times one feels he has performed better when not being Hari. The movie starts and ends with him and if you're not his fan, you best not watch the movie.
Over the years, the audience has seen Karki in many roles as he has established himself as a versatile actor. We've seen him as Bindu in Chhadke, Bhasme Don in Pashupati Prassad, Pittal in Loot 2 and Goldie Don in Naakaa, but his role in Hari stands out from his previous roles.
Thinley Lhamo in her second Nepali movie has done well. Even though she has no dialogues, her emotions and expressions stand out. Sunita Thakur, who plays Hari's mother, has given a stellar performance too along with Kamal Mani Nepal, who plays the role of Hari's adversary naturally.
Safal KC and Pratik Gurung have done a good job with the direction as they have planned out most shots very well and the lighting is particularly noteworthy.
The story, however, could have been better. Although both KC and Gurung have tried to keep the audience hooked, the slow presentation makes it hard not to use the phone time and again.
The cinematography is what keeps the movie alive. Chintanraj Bhandari has captured most scenes very well and there is hardly anything bad one can point out.
Overall the movie is a good watch if one watches it with an open mind. If you're looking for something entertaining, then there are other movies in the multiplexes you can watch. But if you're looking to watch a unique Nepali movie with an artistic touch, Hari should definitely be on your list as this is more like play than a movie.
---
Run Time: 1 hour 46 minutes
Director: Pratik Gurung, Safal Kc
Genre: Drama
Cast: BipinKarki, Sunita Thakur, Thinley Lhamo