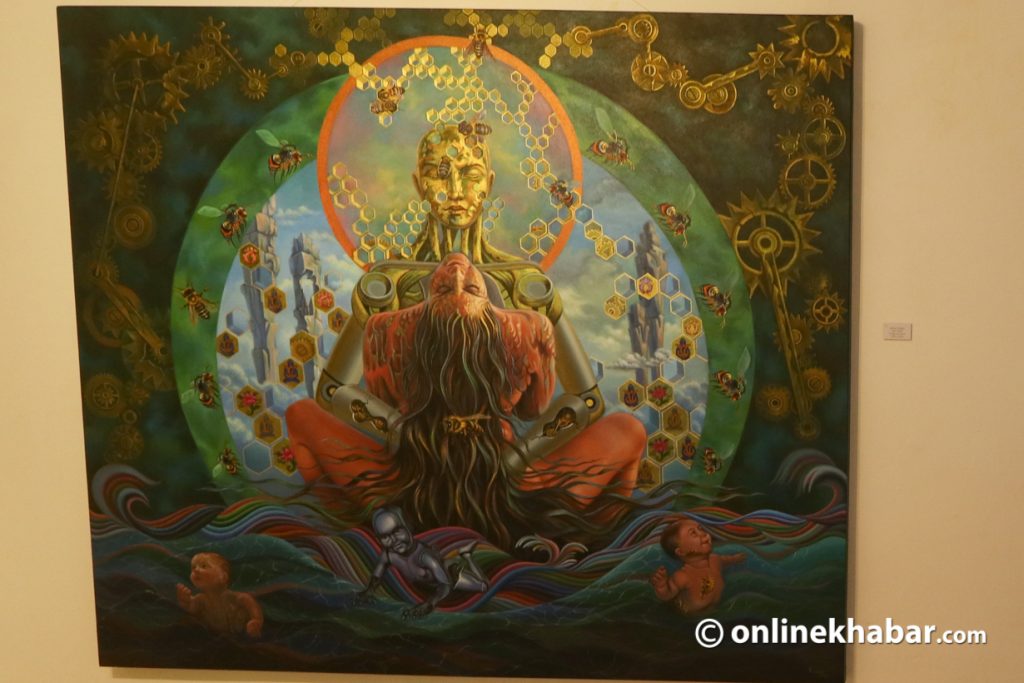 They say unity is strength; something impactful can be created with the combined energy of people if channelled correctly. Perhaps, internalising the same adage, two group exhibitions—Monsoon Printmaking 2023 and Collective Expressions—are on display at Siddhartha Art Gallery, Babermahal Revisited. These exhibitions began on January 18 and January 19, respectively.
Each group exhibition showcases the beautiful blooming of creativity, which has been possible because of their unity or because they have come together.
Monsoon Printmaking 2023
There are 35 prints on display in this group exhibition and they have used woodcut printmaking techniques.
The seed of this exhibition was sowed during a workshop conducted by Bindu, a space for artists, in the monsoon of 2022, in which 35 artists from multi-disciplinary art backgrounds participated.
As you enter the gallery's newest space Siddhartha Art Gallery Annex, the soft tone of colours used by these artists along with their choice of themes makes you feel good.
On the ground floor, the first set of prints–mostly black and white–belongs to the theme of home, connection and family.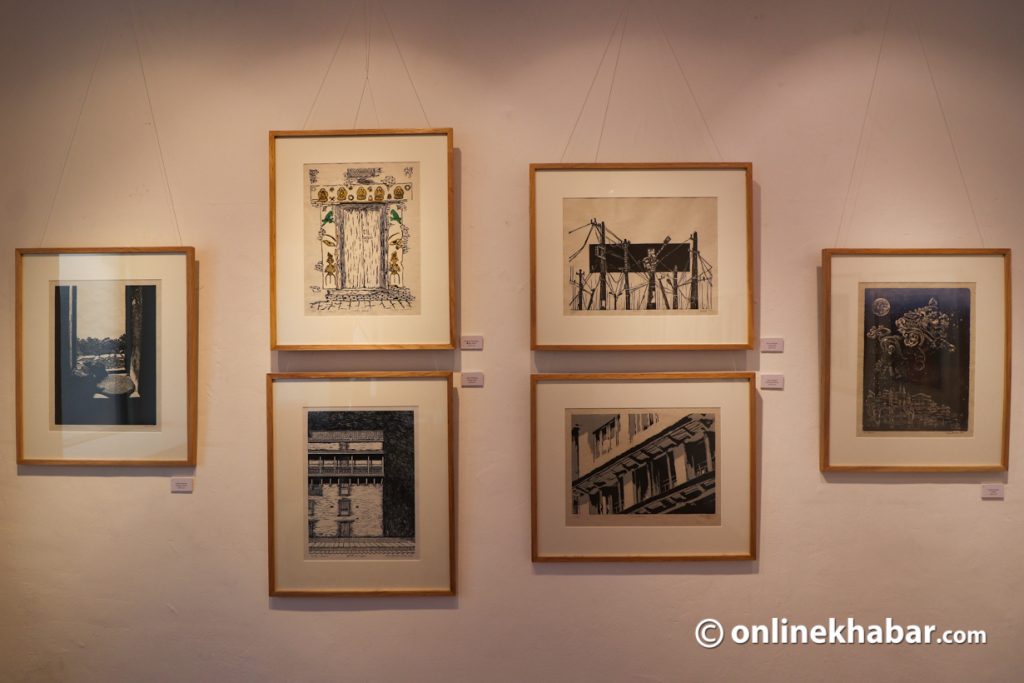 Artists Nabina Sunuwar, Manisha Manandhar, Aman Maharjan, Nicki Maharajan and Sumit Dangol have used realistic forms of the parts of houses and the surroundings such as windows, doors, old buildings and the electricity poles seen in the city.
However, artist Teesha Shrestha has beautifully showcased a mystic city at nighttime when a mystical being is roaming freely in the moonlit sky.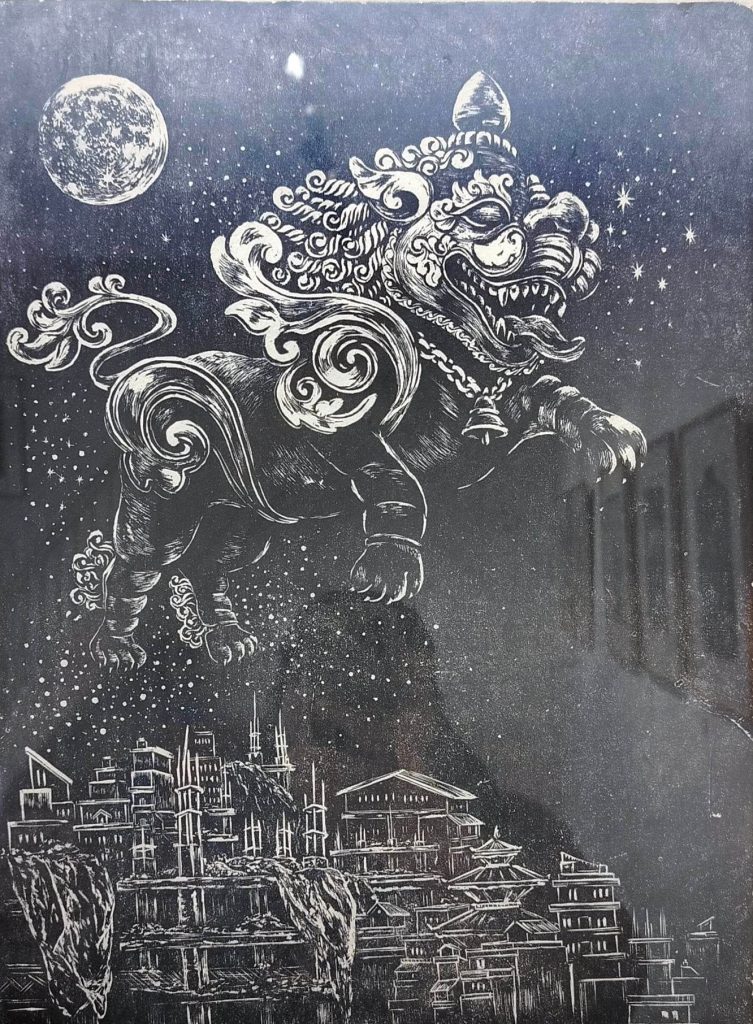 Then next to it, another set of four prints depicts the theme of alienation and extraterritorial by artists Jenney Ghale, Katyani Rai, Swastik Acharya and Anusha Thapa.
On the first floor, the prints that explore the themes of animals, music, feelings and festivities welcome you.
In printmaking, woodcut is the oldest form, which uses tools like knives to carve a design into the surface of a wooden block. Then, it is transformed into prints.
According to Bindu, the space for artists, the mission of the monsoon workshop was to develop and share the relief process of printmaking and believes this iteration of Monsoon Printmaking will play an important role in encouraging printmaking as a medium of expression in Nepali art.
Collective Expressions
Meanwhile, Pagoda Group members—Roshan Pradhan, Pradhumna Shrestha, Rudra Bahadur Pun, Kishor Nakarmi and Mala Shrestha—have organised another group exhibition in another building at Siddhartha Art Galley.
Collective Expressions feature life-size paintings that have bold, vibrant and striking hues in dark yellow, orange, gold and blue among others. These artists' paintings are more dreamlike and surreal that feature religious motifs and cultural heritage.
Artist Mala Shrestha in Collective Expressions features several gods and goddesses in different mudras (postures). She uses these powerful images to communicate a need for peace in chaotic and uncertain times.
In her The Bhairav, the figure of Lord Bhairav with his sword is depicted slowly coming out from the trunk of a tree branch. She has used the bold golden yellow colour for the deity, the tree and the wall. Though he has a smile on his face, his huge eyes and round face with a decorated crown give a vibe as if he is here to save the culture and nature from being modernised by human beings.
Then, in the paintings by Nakarmi, the image of Lord Buddha is a recurring one. In his painting Essence of Nepal, using acrylic on canvas, he has depicted the image of Lord Buddha with several other Buddha images in the background.
Overall, the painting looks similar to a thangka as it has hues like blue, yellow and red for the painting, sharing his inclination towards the Buddha's teaching.
According to the gallery's director Sangeeta Thapa, this group exhibition is a reaffirmation of the artists' commitment to highlighting Nepal's heritage while also serving as a medium to draw attention to the fact that the heritage, which has shaped people's cultural identity through the millennia, is threatened by urban pressure, haphazard planning and apathy. "Each artist addresses these concerns, with the power of their narrative and unique style," says Thapa.
If you too want to see the power of being together, visit the exhibitions, which continue till February 17 and February 18 respectively.