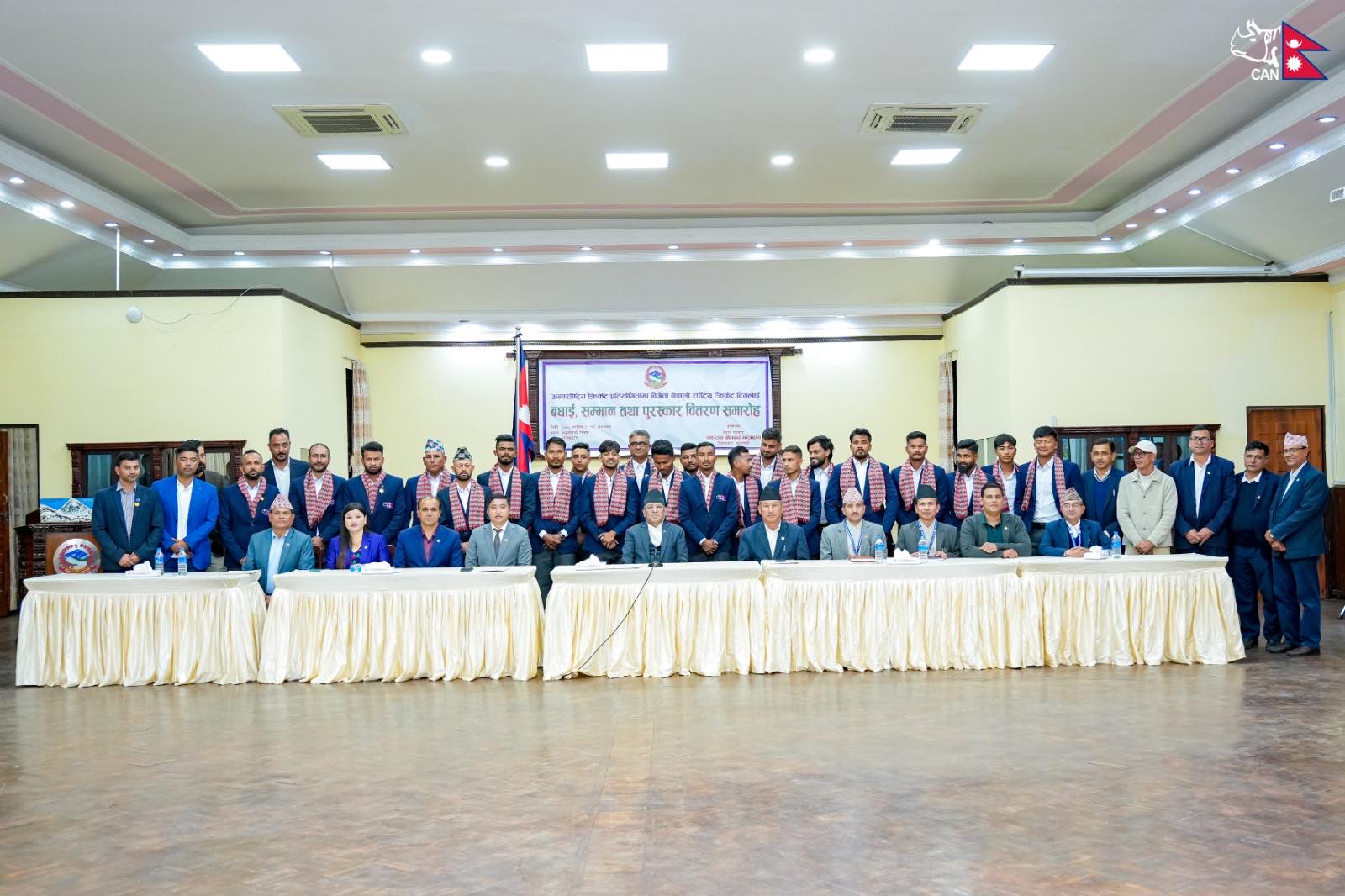 Kathmandu, November 8
The Nepali cricket team, which has performed well in two international cricket tournaments, has been awarded cash prizes announced earlier.
Prime Minister Pushpa Kamal Dahal, Minister for Youth and Sports Dig Bahadur Limbu, and Secretary of the Ministry of Sports Ravi Lal Pant recently honoured the team and presented cash prizes at a programme held in Baluwatar.
Rohit Kumar Paudel, Gyanendra Malla, Kushal Bhurtel, Sompal Kami, Dipendra Singh Airee, Bhim Sarki, Pratish GC, Asif Sheikh, Karan KC, Sandeep Lamichhane, Arif Sheikh, Lalit Rajbanshi, Gulshan Jha and Kushal Malla were handed out Rs 200,000 each for their outstanding performance in the final ICC Cricket League 2 series at home against the UAE and Papua New Guinea.
Head coach Monty Desai was awarded Rs 150,000 and assistant coach Basant Shahi, team manager Shambhu Prasad Sharma and physio Vikram Neupane were awarded Rs 100,000 each.
The team received an additional Rs 500,000 each for winning the ACC Men's Premier Cup to qualify for the Asia Cup in Pakistan and Sri Lanka. Desai got an additional Rs 300,000 while the assistant coach, team manager and physio received Rs 200,000 each.
During the programme, honours were also extended to the Nepali team for their achievement in clinching a spot in the T20 World Cup.
The government, in September, had said it did not have the funds to pay the cricket players the pledged amount.