If you want to learn how to ride a bicycle without falling down, you need to keep on moving. Movements create balance, and you need to keep it going. Veteran artist Govinda Lal Singh Dongol aims to keep his life moving so that he can achieve a balance not only in his life but in his paintings as well.
An ongoing exhibition is a testimony to this effort.
The exhibition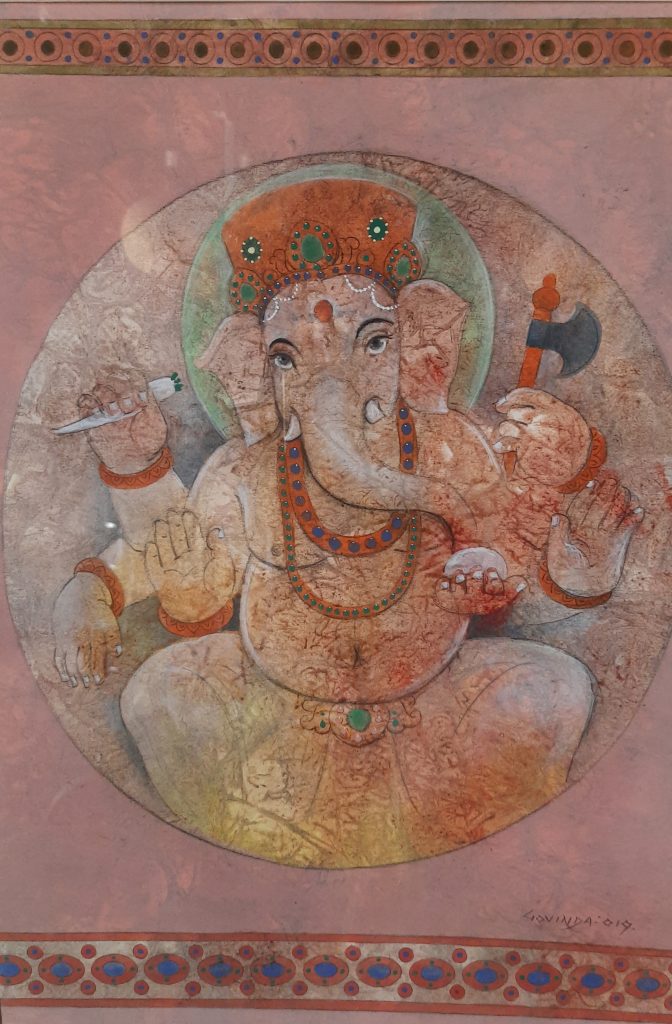 Govinda Lal Singh Dongol, 77, believes having the right balance can lead a person's life towards prosperity. Prosperity, according to him, is not only about finances but your creativity too. Hence, he is proud of himself for how he has acquired his prosperity.
"I believe I am the first Nepali artist to explore wash technique and charcoal medium in Nepal. I am the only one who can teach wash technique, charcoal medium, thangka painting and abstract painting."
In his ongoing exhibition, Integration of Tradition in Modern Form, the same idea of prosperity is reflected along with the artist's wish for the right balance. He has used Lord Ganesh, the god of success and prosperity, as his major motif.
This is Govinda Lal Singh Dongol's 12th solo exhibition that kicked off on July 7 at Souvenir's Gallery Café, Red Cross road, Solteemode. The café itself is adorned with various woodcraft items and artefacts related to the traditional Newa architecture. Dongol's paintings accentuate the beauty of the café.
However, for some, its ambience might be an overwhelming experience that is heavily decorated with woodcraft. Yet, with his paintings on its walls aptly placed, one can freely view the masterpieces around the cafe.
When tradition meets modernity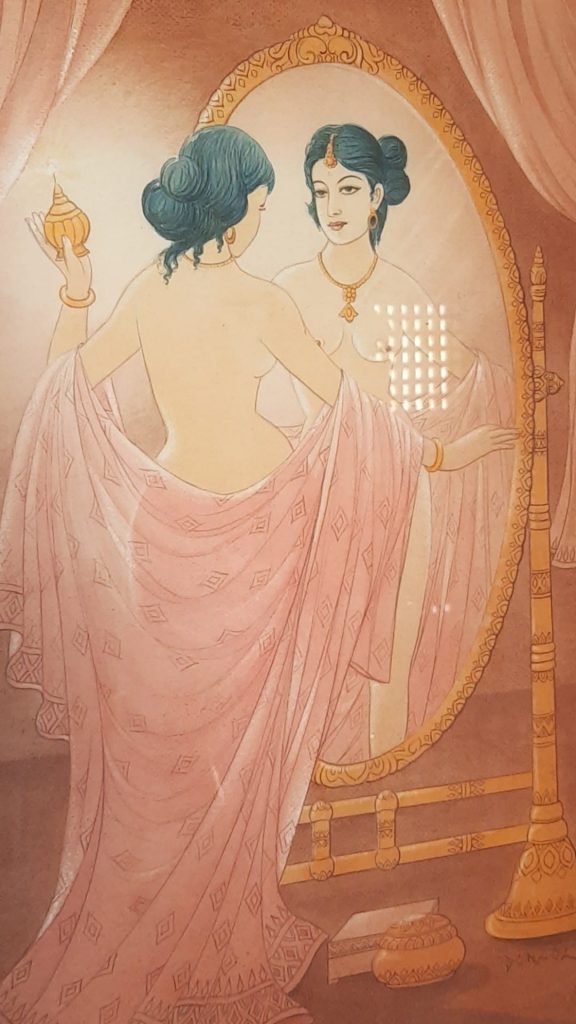 Other than Ganesh, Govinda Lal Singh Dongol has painted many other Hindu gods and goddesses in a realistic form. But, there are his abstract paintings too. Altogether, there are 23 paintings displayed in the gallery café.
In one of his paintings using the wash technique, he painted a beautiful nude woman looking at herself in a huge oval mirror carrying an oil lamp. She has wrapped half of her body with a see-through shawl. The realistic painting has a sense of serenity and tranquillity due to the perfectly applied hues and the right balance of light and shades.
Govinda Lal Singh Dongol, created the painting thinking about Muslim women during the time of regular power cuts in Nepal. He says, "I think Muslim women are the most beautiful women in the world. Their face and anatomically fit bodies make them so. And, my nude painting has a story in it."
The story begins as everyone in her neighbourhood appreciates her natural beauty. Out of curiosity and her wish to understand why everyone calls her beautiful, she takes off her clothes and glares at her own body at night. At this point, she is satisfied with her own beauty and that very moment is what Govinda Lal Singh Dongol caught in this painting.
There is a sense of clarity in the use of colours in all of his paintings. In his figurative paintings, the figures are crisp and clean. But, then, he also worked on abstract paintings. There is a colour balance and rhythm in his abstract paintings.
When asked how one should appreciate abstract paintings, he says, "An artist creates abstract paintings only after working in this field for a long time. The viewers need to feel it more than asking questions about the concrete meaning. To feel an abstract painting, the viewers have to see the painting without any hurry. Then only, they can appreciate abstract art."
According to Govinda Lal Singh Dongol, humans are built in such a way that they can figure out balance and aesthetics in anything or anybody. "You will know which abstract art is good and bad by looking at the paintings."
Moreover, the title of the exhibition is aptly taken for the paintings on display. The use of modern techniques such as wash and abstract along with traditional religious motifs like tantra, shiva linga, gods and goddesses depict the perfect amalgamation between the modern and the traditional.
Aspirations and disappointments
After his graduation from JJ School of Art in India, Govinda Lal Singh Dongol arrived in Nepal in 1971 with an aim to teach what he learned there. He dedicated more than 35 years of his life to academics of fine arts and even became the principal of Lalitkala Campus. He also contributed to the design of the academic courses for undergraduate and graduate levels affiliated with Tribhuvan University.
But, he has a lot of disappointments in the field. He complains he was wrongly accused of being a royalist.
Dongol these days might be forgetful about remembering the names of people or places, but whenever he gets to talk about art, he is as energetic as a 30-year-old. For him, his life's philosophy is all about keeping the right balance between happiness and sadness.
Govinda Lal Singh Dongol says, "Happiness and sadness are like sisters and they are there for some moments. So you need not be too excited when you are happy and be depressed and melancholic when you are sad."
The exhibition featuring Dongol's ability to have that balance in traditional and modern techniques continues till July 17.