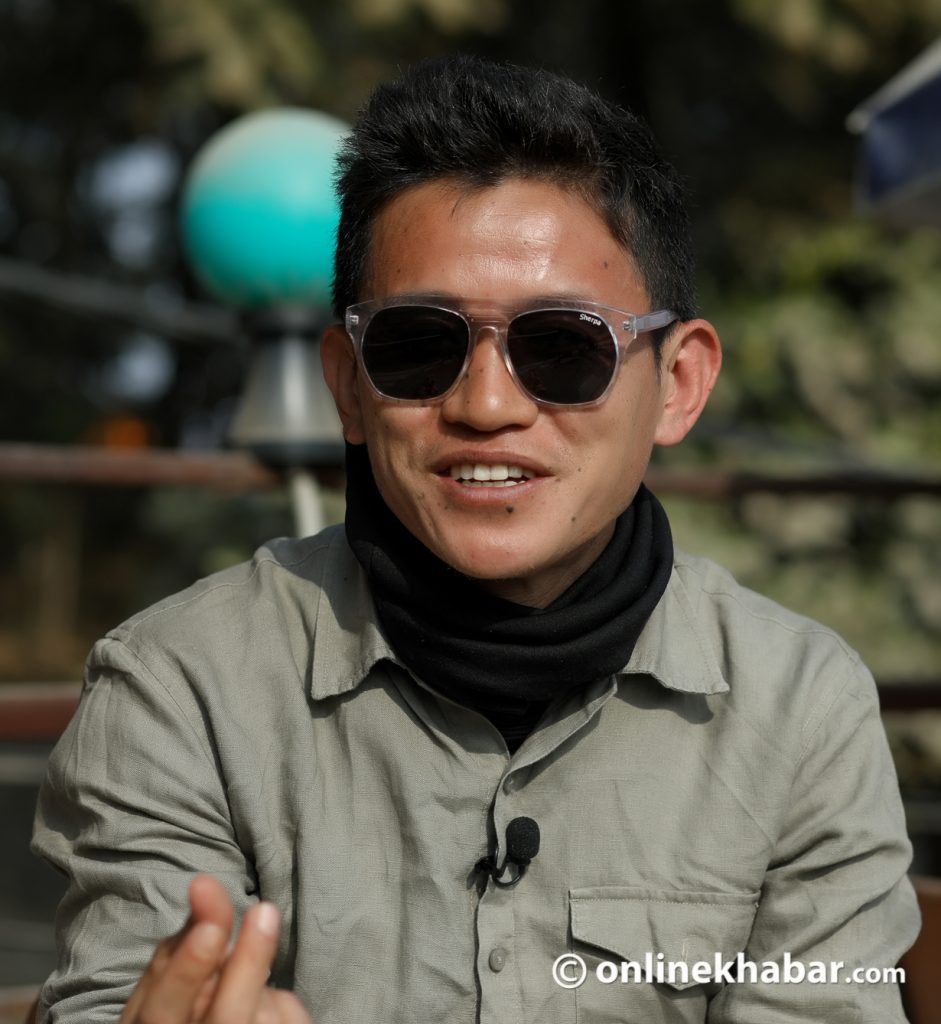 "What's in a name? That which we call a rose by any other name would smell as sweet."
Shakespeare's superfamous line from his masterpiece, Romeo and Juliet, undermines the importance of a name given to anyone, but for Ghumante, the name is everything.
The word means a traveller in Nepal, and this very definition has been an identity for Kanchan Rai and some of his friends. They have a loose network of travellers who create travel vlogs and post on YouTube and social media under the name of Ghumante. For the viewers, Ghumante is a person more than a group.
Sometimes Ghumante climbs the snow-covered peaks; other times, it wanders wildly on the plains of the Terai. Sometimes it relaxes on the bases and other times travels through the hills. A busy traveller, through and through…
Where is Ghumante? From Churiyamai to Nar Phu Valley, from Darchula to Taplejung, Ghumante has been everywhere. And, it is pointless to ask "where have you reached so far" because the list of places Ghumante has not reached is shorter.
"I just arrived in Kathmandu from Kaski yesterday. It is my job to travel, so wherever I can go, I end up travelling," says Rai, the founder of the Ghumante team.
The travelling geek
Rai, a native of Khotang, says travelling is his life.
Rai was living abroad and working for an IT company, but his desire to explore Nepal made him the Ghumante. Thus, he along with his team created travel vlogs.
Whenever he sees photos of the glimmering snow-capped mountains or the calm water casting the shadows of clouds, be it the photos of colourful flowers blooming or the plains that stretched to infinity, he felt like he was missing a lot of things and the opportunity to travel.
"My sisters and friends used to come back from travelling, and I used to get restless seeing them; thinking how people are travelling and I am here in one place."
But to travel, one needs money and equipment. "Who will give me the money just so that I want to travel?"
However, now, he realises money is not the first requirement, it is one's willpower, determination, and confidence. And, these three qualities made Ghumante and took Rai to all the corners of the country familiarising him with the soil of his country and its vibrancy.
Travelling brought him–and other members of the Ghumante team–not only work and money but name and fame also. "When they see me, they ask for a photo, shake hands, and make acquaintances."
Travelling is life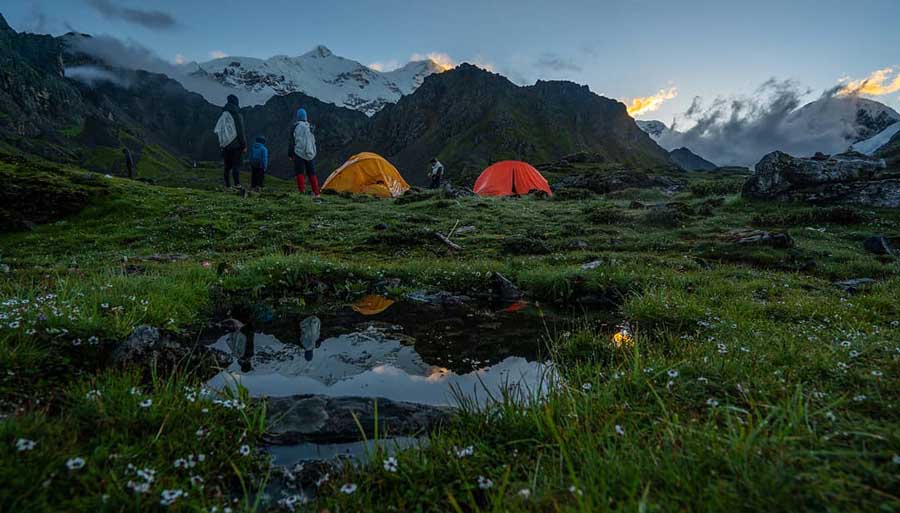 But, how, when, and where did Ghumante start travelling?
"After I left my job in IT, I started working as a freelancer and had enough time and some money," Rai says, "So I started exploring hills around Kathmandu with friends."
Soon after, Rai reached Kalinchok in Dolakha, then Helambu and Mustang. He says travelling makes people addicted. Travelling was also an escape from the confinement of the house. So, he would gather friends and go on the trip.
"I don't like to travel alone at all. I need a friend," he says, "A team of four or five people with different tastes would wander having fun and making jokes along the journey."
With time, he learned the art of travelling and his circle of friends also increased.
After they formed the travelling group, Ghumante, they decided to start their journey to the Everest base camp. Everything needed to reach there was prepared, but then, at the last moment, they wanted to change the destination to Panch Pokhari or Sabhapokhari because the EBC was crowded.
"I was in Bangkok at that time and we were talking about the trip online. They were all my online friends. Only after I came back to Nepal, I met them."
Then, this group of travellers chose Sabhapokhari as their new destination.
However, it was not easy to travel to the destination and their preparation was not enough. So, the team went to Gupha Pokhari, a peaceful destination, full of solitude. From there, they wanted to take fascinating pictures and videos of the Milky Way band. "Our plan to take photos of the Milky Way did not pan out as we imagined, but we were able to experience the first trip of the Ghumante team."
Their second destination was Dolpa, more precisely the Shey Phoksundo lake. This trip encouraged them to travel more, this time to the Api Himal base camp. "We chose the destination as it was not crowded and less explored. So, we started exploring such new places," says Rai.
The learning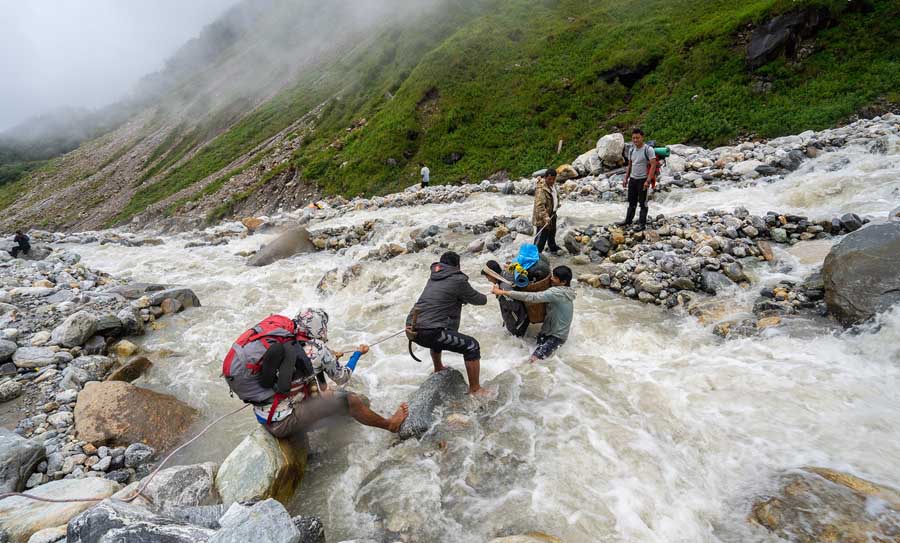 "Happiness is not in the destination but in the journey" has become an important lesson for the Ghumante team today. After embarking on a journey, every step is like a surprise. "You don't know what you'll see, what you'll find or experience," he says, "Such curiosity keeps the mind occupied. Seeing things you have never seen before and talking to people you have never talked to, your heart melts."
Different people have different appearances and different ways of living. The joy of travelling on foot is that one can get to interact with others wondering about 'what kind of people will be there?', 'how do they speak?', 'how do they make a living?', and 'how do they enjoy life?'.
But, travelling is not always fun; it can also be frustrating—not knowing what is ahead or where to live or what can you eat. "You have to take a lot of pain and risk. Sometimes you get to a terrible place. Sometimes it is uncertain whether you will live or die," he says, "Other times, you will reach a charming place. And sometimes it will be like playing an adventure game."
The memorable trip
Kanchan Rai's heart still beats fast when he remembers a trip to the far west. They had to walk a trail, which was so narrow that only one foot could be placed and they had to grab the grasses tightly for the movement. On such a trail, they walked for hours. If they got off balance even by little, they would fall before they reached their destination.
"I had walked many such ways before, but it would be for some 10 to 15 minutes at a time. But here, my muscle got a cramp, but I had to walk anyway, " Rai says, "We completed the journey at the risk of our lives: from Kalikot to Badimalika. I thought that trip was the riskiest in my life."
"But the recent trip to Bajhang surpassed even that. The trip was so scary that while editing the video, my heart kept pounding," recalling the trip, he adds, "After staying there for one night, we returned."
Floods and landslides devastated the area; even the walking path was washed away. So all that was left was a space to step one foot at a time until you reached a village. The village was on a slope. So, if it rained at night, it could wash away the house they were staying in.
Travelling across the country, Ghumante has gathered many such experiences that rarely happen in a person's life. But, Rai says the most important thing is to be able to introduce the country to the world through their vlogs.
---
This story was translated from the original Nepali version and edited for clarity and length.