Around 18 kilometres southwest of Biratnagar, the capital of Province 1, is Dhanpalthan rural municipality. The rural municipality is home to the Musahar community, most members of whom make ends meet by working in the fields of others.
As they are from a marginalised community, the majority of them live in two-room houses built by the government. That is where we found Ram Dhari Rishidev and Lakhan Rishidev.
Ram Dhari has two sons and three daughters while Lakhan has five people in his family. To ensure that they sleep with a full stomach, almost everyone from both families goes to work in people's fields.
But, a year ago, an incident happened that rocked the two families to their core. A few people, claiming to be from District Court in Morang, came to them and handed over a letter each to both families. The language in the letter was not easy to read. They went around asking others what it meant and when they found out that a tax evasion case had been filed against them, they were both shocked.
The big letters of the law
The letter stated they had to be in court within 15 days of them getting the letter. For once, Ram Dhari felt it was a joke, but soon, he knew he had to go and started to talk to people about what he could do.
Ram Dhari is a busy man in the Musahar community. He spends his entire day working in the fields of others and that meant he did not even have time to focus on this. But, every time he would be free, he would be reminded of the letter and that would make him anxious.
The letter had ordered him to be present at Patan High Court with proof of him not evading any tax. But, he could only evade tax if he was rich. He was anything but rich as he lived his life as a daily wage worker. But, the letter had said he owed the government Rs 55.3 million in taxes. In reality, he had a tough time earning enough to break bread on a daily basis.
Lakhan was not home when the official came to give him a letter. His wife Budhani received the letter on his behalf. They did not inform her what the letter was about. When they looked in, Lakhan was accused of tax evasion worth Rs 156 million.
"I don't know what is happening. I can't even read or write but here am I accused of tax fraud. How can this happen," says Lakhan.
Before the government officials rocked the lives of the two, they published a statement on November 3, 2021. Listing out people and corporations who did not pay tax, the Department of Revenue Investigation said it needed to collect tax worth Rs 2.36 billion from the listed people and corporations.
The poor men's companies
On the list were Deep International and DN International. As they were looking into it, they found that the two from the Musahar community were the owners. Following that, they filed tax evasion cases against both Ram Dhari and Lakhan.
The two know they have to go to Kathmandu and stand in front of a judge. But, both do not have money to buy a bus ticket to get there.
They know that they might be arrested any day, but they do not have the funds to buy a bus ticket and live in Kathmandu for a few days. For now, both say they will deal with the tax evasion case as it comes.
According to documents presented to the court, DN International is registered under the name of Ram Dhari Rishidev. When we went to the Office of the Company Registrar, all we found were details of Ram Dhari's citizenship and his family names. The phone number given in the office is not reachable.
"What will happen to us as it's been almost a year since the officials gave us the letter? I don't know what to do," says Ram Dhari.
His current job pays him Rs 600 a day. He is worried and sick about the tax evasion case, but he knows he does not have a choice but to keep working. If he does not, his family will have nothing to eat at night.
"We've been to many places, have even met political leaders, but no one has been able to help us," says Mohamad Khudas Miya Mansuri, Ram Dhari and Lakhan's neighbour. "They have two different companies registered on their names. What will happen now? No one knows."
The curious case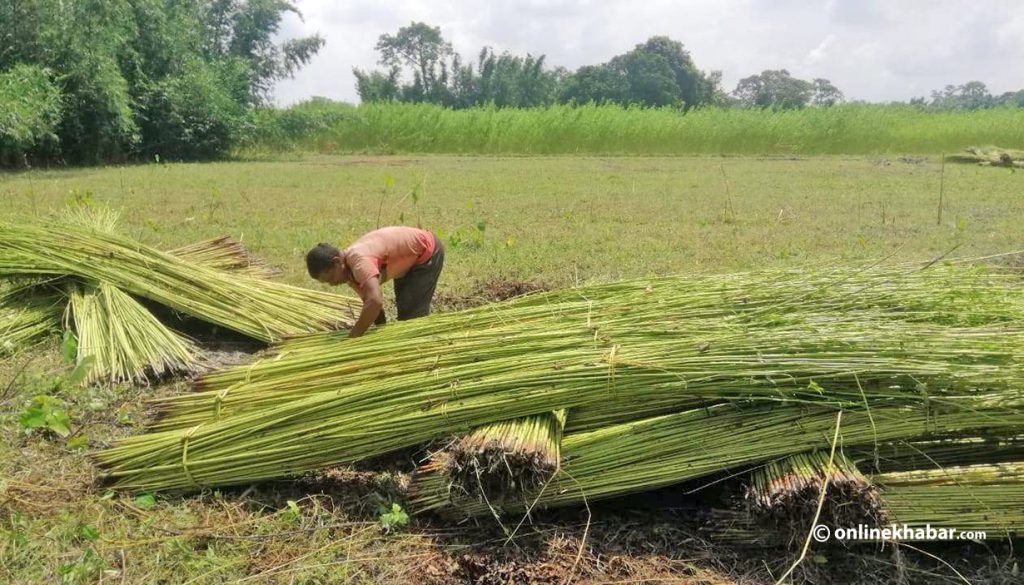 For most of last year, Ram Dhari kept thinking about how this had happened to him. He had never done any business with a bank nor had he visited any government office. He was lost for answers.
One day, he remembered what had happened in 2009 and that gave him a little clarity on the issue.
Ram Dhari and Lakhan visited Kathmandu in 2009. Ram Dhari is a follower of Kabir Das. Through this following, he met many people. One of them was Kisan Yadav, who lived in a Krishna Temple near Ram Dhari's home. He even worked at Yadav's field time and again.
Yadav's son was due to go to Kathmandu from Biratnagar, but he did not want to go. When Yadav asked Ram Dhari and Lakhan if they wanted to go, the two agreed as they would also be getting a daily allowance. But, they were time and again told to take their citizenship certificates with them.
Joining them was Prakash Upreti, Yadav's contact. In Kathmandu, Upreti brought another person called Prakash Ghimire to meet Ram Dhari and Lakhan. Ghimire took the two's citizenship certificates and came back after a while and returned it to them.
Ghimire and Upreti then took them to a place which Ram Dhari thinks was a government office.
"They had a file with them and in the file was Rs 5,000. After the work there, they took us to a bank in Kalanki," says Ram Dhari.
He remembers that it was a bank because of the instruction Ghimire and Upreti had given them.
"He told us to tell it was ours and we were doing a clothing business," he says.
They signed a paper too as they were told they would be getting Rs 5,000 a month. The two were given Rs 2,000 for their time as Ghimire and Upreti bought them a few clothes, after which the two boarded a bus and returned. Ram Dhari since then has not returned to Kathmandu.
Ghimire even sent the two Rs 5,000 two months in a row. But, after that Ghimire went into hiding and they never saw him again.
"I think we are in trouble because of this," says Ram Dhari.
—
Following the court's summons about tax evasion, Ram Dhari and Lakhan's neighbours often told the two they would go to jail. These talks often made both of them anxious.
They even went to meet Prakash Upreti who took them to Kathmandu. Upreti told them not to take this seriously as these types of letters would keep coming.
"But how can I not worry? It's a letter from the court. A summons. I fear I'll be in jail," says Ram Dhari.
Lakhan's wife, Budhani, was shocked when a court summoned her husband.
"We are labourers. He's always working in the field. How can he owe the government so much," she questions.
The tricky trap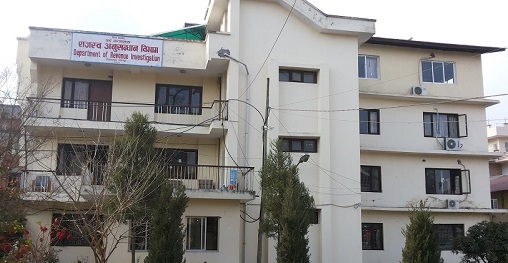 As we dove deep into the tax evasion case, we found out about Prakash Raj Giri, who operates multiple businesses in the country. Giri has also been subject to tax evasion for a while now. He is believed to supply items to different government offices.
"In some cases, Giri has shown fake bills. If the security agency wasn't involved, there would be no way of him being able to do this," says a source from the Department of Revenue Investigations.
When quizzed about who owns the companies he was a part of, Giri says he has no idea who these people were.
"I've used bills from these companies because I had to as in many cases people never gave me a bill," he told the Office of the Company Registrar.
A tax evasion case was registered against Giri for Rs 211 million on January 9, 2020.
When he was investigated, it was learnt that he was using fake bills from companies that were under the names of Ram Dhari and Lakhan. He was also doing fake transactions to facilitate tax evasion.
"I don't know who these people are or where can we find him," he told the department.
Many people have been accused of tax evasion in this case. But, the government attorneys never tried to visit the people whose name has come up. They did not try to see how these people lived or if they could be involved in tax evasion.
Even though Giri named the people from whom he purchased fake bills, the government attorneys did nothing to them and instead filed a case against people like Ram Dhari and Lakhan.
The detailed report submitted to the Department of Revenue Investigations states that innocent people were duped by establishing in their name to facilitate tax evasion. It also states how people used illiterate people to do so.
This case is still at the Patan High Court. But, its shockwaves have reached 300 kilometres away in Biratnagar.
"If I had opened a company and earned money, wouldn't I have something to show for it? These are all lies as we've been used as pawns by someone who has earned a lot using our signatures and citizenship cards," says Lakhan.
---
This story was translated from the original Nepali version and edited for clarity and length.