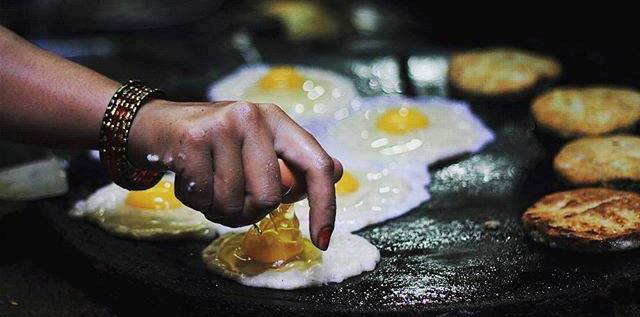 The food scene in Kathmandu has witnessed an explosion of sorts over the past few years. Not that there haven't always been good places to eat before that: I remember even back in the 90s, tourists arriving here from India were amazed and impressed by restaurants in Kathmandu that scored higher on both variety and affordability compared to what they'd experienced in India. And some of those old favourites from years ago are still going strong.
Fire & Ice still has my favourite pizza and the Rum Doodle is still serving up awesome food. I love breakfast dishes at pretty much any time of the day, and I will always be a regular customer at Mike's Breakfast—in fact I ate there just last week and found out that the classic eatery still continues to provide both excellent food and service.
I am also thankful for the delicious new choices now available at places like Café Soma and Curilo, to name just a few.
But new restaurants are continuing to open all the time, sometimes they are up so fast that it's hard to keep up with them, and to pick the latest worth-trying places becomes difficult. Some fold within a few months, but the good ones endure, proving, I think, that there's a market in Nepal for varied food choices.
Momos are here to stay
Years ago, I remember a restaurateur telling me that he had to keep momos on his menu even when it didn't go with the style of food he was serving, because if he didn't, no one would come to eat.
"People will come and order momos," he had said. "If they're good, then they'll try something else on the menu."
Momo is still as popular as ever, and probably always will be. But the days he spoke of are in the past, I think, with everyone becoming a lot more adventurous in their taste and willing to try new things.
The world comes to town
And while not all world cuisines are represented in our fair city as yet, there are excellent choices now for many Asian countries—Vietnamese, Chinese, Korean, Japanese, Singaporean and so on.
There are several fine-dining places focusing on French food while Piano B up in Bhanimandal is serving up some excellent Italian dishes. Their handmade pasta I had the last time I was there was all the more delicious because the flavours served there are so uncommon here.
And just last week I was delighted to discover The Bent Fork, which surprised me with its bold flavours, and the huge range of tastes on offer on its menu.
Foodies take word of mouth more seriously
Ayesha Lissanevitch, the owner of The Bent Fork, told me that most of her customers hear about the restaurant by word of mouth, and I still think that is how most of us who live here make our dining choices.
A friend and fellow foodie told me of her disappointment with a recent meal at one of Jhamel's new eateries (for the purpose of this article shall remain nameless). With more places to eat at than one can possibly try, you can bet that that one won't be on my list anytime soon.
The old haunts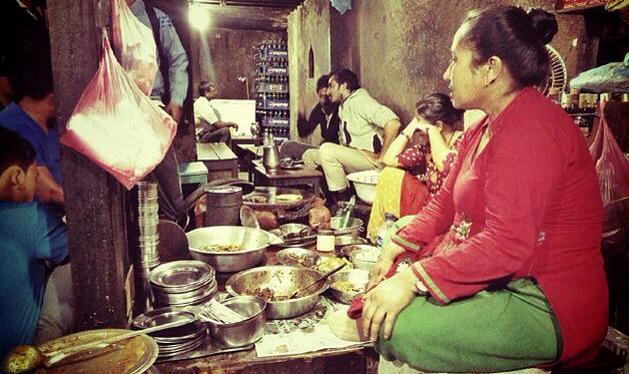 Despite the wealth of choice we now have, I don't think there's any danger of us neglecting the old haunts, though. Nepali food—as well as more specifically, Newari food which I love—is still going strong; some places like the Village Café in Patan are making it popular among a wider crowd that may not venture into small nameless places, though I still think those are the best places to go to for a genuine Newari taste experience.
In the last two months I've been lucky to eat at three Newari places that were new to me—a breakfast place in Patan with tasty alu chop and an amazing malpuwa that I still dream about—and two delightful holes-in-the-wall eateries located in the maze of gulleys between Asan and Jyatha where I enjoyed amazing sekuwa, bara, and tasty offal bites.
These were all places I would have never found on my own; so I'm grateful to those friends who introduced me to them. In addition to the enjoyable eating experience I had there, personally, it made me happy to see these places filled with regular patrons.
We do have shiny new restaurants opening all the time, yes, but these little nooks and crannies are the heart and soul of Nepali food and I'm happy to say there seems to be no danger of that changing anytime soon.
Now back to the momos!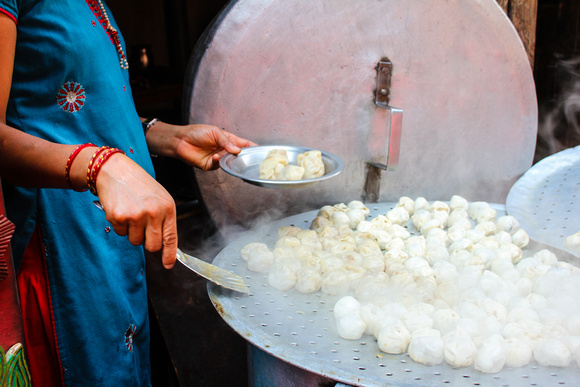 And while my friends and I talk about which new restaurants are good and which aren't, we also still talk about our favourite momo and where they can be found. We often don't agree on this, which is why it will likely remain a conversation topic in the years to come.
Despite protests from some of my friends who tell me they are unhealthy, I enjoy a plateful of those delicious, greasy buff ones at the New Everest Mo:Mo Centre behind Thamel. Feel free to disagree with me and tell me the ones you think are better. I'll make sure to add them to my list of places to try!
***
Image credit
Toasted banana bread with maple syrup and strawberries at Cafe Soma. Photo: Cafe Soma/Facebook.
Inside Honacha in Patan. Photo: Honacha/Facebook
Momos in the making. Photo: thelongestwayhome.com
***
Also read