On February 23, the General Post Office in Dillibazar of Kathmandu received two cartons from England. The packages were supposed to be sent to Raj Shikhar Gupta in Parsa. However, the officials of the post office doubted it because similar packages were repeatedly coming into the post office.
They hence decided to check the packages. After all, they are authorised to do so if they suspect anything. The staff found that those boxes had uniquely shaped candy packets unlabelled. One of them dropped on their table without their notice.
The curious three employees could not resist their urge to taste the candies. They even kept some of them in their pockets for their children.
However, they had to be taken to the hospital after some minutes of consuming the candies as they showed unusual behaviours. The office also decided to take the candies for a lab test to find out that they have been facilitating drug smuggling without their knowledge.
Lately, drug smuggling rackets have found a new way of importing drugs. In the new modus operandi, they import drugs from various online platforms based in countries like the UK, the USA, Canada and others via the post office.
The curious case
The then chief of the Dillibazar Post Office says the supposed candies were balls of some illegal drugs. "We hence immediately called the Narcotics Control Bureau (NCB) of Nepal Police."
To run further investigations, the NCB started controlled delivery of the consignment. According to the Postal Act, such a controlled delivery is permitted if officials suspect drug smuggling via post offices.
"After 15 days, the goods reached the Parsa District Post Office," says an investigative officer. "But, no one came to collect the parcel for a few days."
However, on March 10, 22-year-old Raj Shikhar Gupta of Parsa, who had ordered the parcel, came to the post office to receive his belongings. The NCB's Operation Candy Box team immediately arrested him.
Inside the parcel, they found 4.1 kg of candies containing marijuana. Although the debate about marijuana legalisation is getting new heights in Nepal recently, it is still illegal to produce, import, export, trade and consume it in Nepal.
The NCB found that there was another similar box coming from Germany waiting to be delivered to him. The boxes had tablets consisting of 170 grams of methamphetamine, also known as the ice drug. Notorious for being one of the most expensive materials among drug smuggling rackets, it costs Rs 10,000 per gram in Nepal.
Currently, Gupta is in judicial custody of Parsa.
Filmy unfolding
During the interrogation, Gupta claimed the drugs were not ordered for him. According to the investigative officer, at first, he even denied that the candies belonged to him. But, once, the police showed his name in the parcel, he was speechless.
While police tried knowing about the procedure of drug smuggling, he did not answer. The investigators also asked how long he had been receiving the drugs in such a way; he did not answer again.
Then, the police tried to discover new things from his cell phone. But, as Gupta was using an Indian sim, they could not access its call details and other information. According to the statement given to the police, he studies in Delhi and lives with his uncle's family.
The police tried to look into other data on his phone, but he did not give the password. After repeated queries, he provided the wrong code, ultimately locking the device.
More cases alike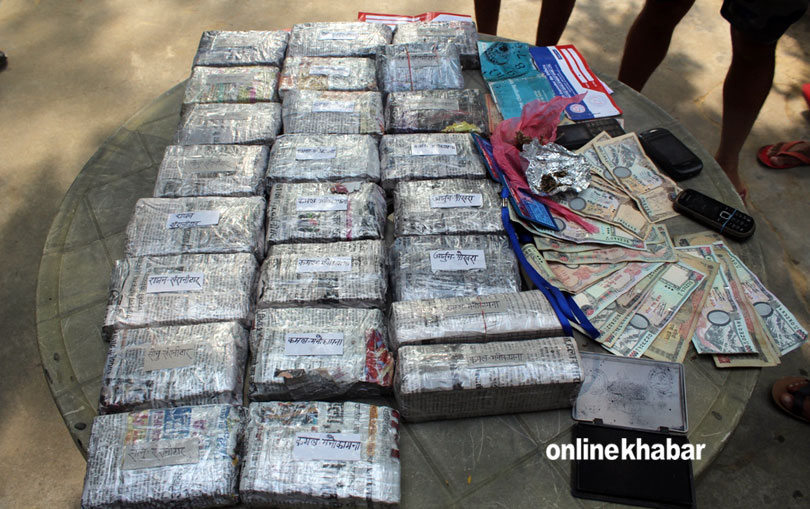 There are a couple of recent cases in which the post office has been used for drug smuggling.
Nigendra Krishna Malla, 37, of Sohrakhutte, Kathmandu, was also found to be ordering drugs from Canada and receiving them from the post office.
Malla stayed in Canada as a student for four years. He says he got addicted to drugs there and learnt about online companies that would deliver the drugs to different destinations. After returning to Nepal, he started ordering drugs from an online platform based in Canada. He used to send his restaurant's employee Himal Yogi of Pyuthan, to receive drugs at the post office.
On May 16, the post office received a packet consisting of two envelopes in it. Due to their unusual shape and feeling, officials investigated them. This was not the first time such packets had arrived at Malla.
"When we opened the package, there were two packets inside it. One of the packets consisted of 14 grams of marijuana and the other packet consisted of 7.5 grams of marijuana and 1.5 grams of hashish," says DSP Phanindra Prasai at the NCB.
Malla's employee Yogi was arrested on May 18 immediately after he received the parcel. Then, the police arrested Malla at Golkhupakha and raided his residence at Sohrakhutte. There, they found 4 grams of cocaine and 5 grams of hashish and 2.5 grams of magic mushrooms.
However, Malla claims that he does not use the drugs that were found in his room. During the investigation, Malla told police that those drugs belonged to his friends frequenting his residence.
Now, Yogi has already been released on bail, and Malla is in judicial custody.
"Yogi is innocent, he was unaware of the drug smuggling case," says Prasai, "Malla used to order drugs from Canada because it was more easily accessible for him and he didn't have to ask the local dealers for drugs, which was full of hassles."
—
Similarly, the post office on April 1 also found drugs in a suspicious envelope in the name of Top Bahadur Bista. As the officials called the police, an NCB team waited for Bista to receive his parcel and arrest him.
But, Bista also suspected the police presence and ran away. But, fortunately, the officials had a copy of Bista's citizenship card and it made them find him again.
During the investigation, he claimed that the letter belonged to Dammar Bahadur Gurung. Following the information provided by Bista, the NCB team went to Dodhara Chandani municipality-7, Kanchanpur and arrested Gurung. After being arrested, Gurung accepted that he was meant to receive the mail but claimed that the items inside it belonged to someone else.
"Someone whom he met during his work in India asked him to receive the goods from the post office, offering Rs 20,000," says an investigative officer. "He even showed his chat with an Indian citizen on Whatsapp."
As informed by the police, Gurung, who earns a normal income, frequently travels to Delhi from Nepal to deliver the smuggled drug in the hope of some extra money.
As stated by the police, Indian citizen Sonu Jain used to order goods from the USA. With a deal to give him a job during the Covid lockdown, Jain gave Gurung the responsibility to receive letters from the post office.
New mediums and methods
According to a report from the United Nations Office of Drugs and Crime, after Covid-19, drug smuggling rackets are in search of new routes and methods to smuggle drugs. In that regard, they have discovered a dark net and post offices to smuggle drugs.
"The drugs ordered from other countries are stronger than the local ones so they are being smuggled from foreign soil through Nepal's post office," says NCB chief SSP Bikas Raj Khanal.
"Many drug users are comfortable buying drugs online as people from well-off families feel uncomfortable contacting local dealers," says Khanal.
According to DSP Prasai, lately, the trend of drug smuggling through the postal service is increasing. Most of the drug users in Nepal consume pharmaceutical drugs, marijuana, hashish, and heroin made up of opium.
"Nepal has also been a transit for drug smuggling targeted at countries like India, the UAE, Qatar, Malaysia, Hong Kong, Thailand and different European nations."
Nepal Police registers around 3,000 drug smuggling cases every year. Many of them include foreigners. A total of 18 per cent of jailbirds in Nepal are convicted of cases related to drug smuggling.