The Narcotics Control Bureau (NCB) of Nepal Police seized the biggest heroin haul so far during its three-day White Dust operation in mid-June. According to SP Jeevan Shrestha of the bureau, police have seized 51 kg of the contraband drug. This is a big amount as the police seized 35.735 kg heroin in the last five years before the beginning of this fiscal year.
Nepal's largest heroin haul has also garnered the interest of the United Nations Office on Drugs and Crime (UNODC). Nepal Police has also collaborated with the Narcotics Control Bureau of India (NCB) and the South African Police Service to further investigate the matter.
It is not that other countries have not seized bigger hauls. But, the main reason behind the interest from other countries in this particular operation of Nepal Police is the international route used by the smugglers, which is quite unusual.
The opposite route
On the UNODC website, one can track the trafficking route of heroin based on its country of origin. The UN agency reports that 80 per cent of the world's heroin is produced in Afghanistan.
The common trafficking route starts from Iran, Afghanistan or Pakistan commonly understood as the Golden Crescent as well as Myanmar, Thailand and Laos, which are called the Golden Triangle.
Heroin produced in the Golden Crescent travels to Europe and other American countries via Iran and Turkey. Meanwhile, the drug produced in Pakistan travels through east and south Asian countries and goes out to Africa and those from Iran are smuggled into European countries via Turkey.
In India, opium is commercially cultivated in 22 districts of Madhya Pradesh, Rajasthan and Uttar Pradesh, but the total amount of heroin produced in India is very small, experts say.
In the past, Nepal's heroin hauls were small in comparison to the international market. According to the bureau's DSP Phanindra Prasai, "Some of them used to come from India, some from Pakistan and other countries."
"But, looking at this heroin haul, we think it may have originated from a country of the Golden Crescent of investigation, possibly Afghanistan," says an official of NCB Kathmandu.
But, what is baffling people is why the heroin haul travelled backwards towards Asia rather than towards the US or Canada as usual. Therefore, security officials are suspecting that it is a new ploy of the international drug mafia.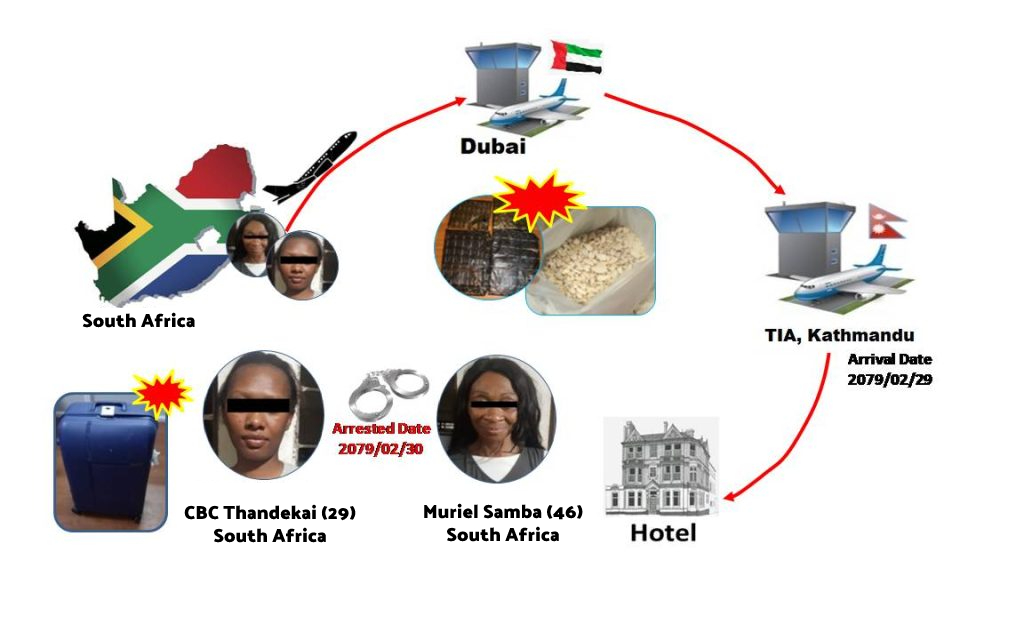 The unusual route
Retired DIG Hemant Malla Thakuri says smugglers may have been looking for new alternatives after the police tightened the route to Africa and Europe via Africa. "They may be were planning to send the heroin haul to Europe and the United States via Nepal. It may also be because they were thinking of selling the drug in India as it could not penetrate Europe or the United States."
However, NCB's records also show that heroin that reaches Delhi [India] comes directly via the UAE, Saudi Arabia and other countries. Therefore, the Indian police have also pointed out there is a need for a detailed investigation into the recent heroin haul in Nepal.
Look at the amount of heroin seized in Nepal, Malla also suspects that the haul may have come from Afghanistan. "The quantity of this heroin haul suggests that international drug traffickers may have expanded their network to Nepal as well."
The 90-million-rupee haul
On August 29, 2021, the NCB held a press conference saying they seized cocaine worth Rs 90 million from three foreign nationals they had arrested.
An NCB team had started monitoring vigilantly after a 30-year-old Sirle Gama, an African national, managed to pass 2.966 kg cocaine through the airport security into Kathmandu. Then, they had arrested 26-year-old Getyud Neonard Kimaro, a Tanzanian national, and 33-year-old Vijay Singh, an Indian national.
The seizure of cocaine was a great success. But, the NCB got another success soon. The investigation conducted at the Central Forensic Science Laboratory of the police revealed the supposed cocaine was heroin, which was more expensive than cocaine.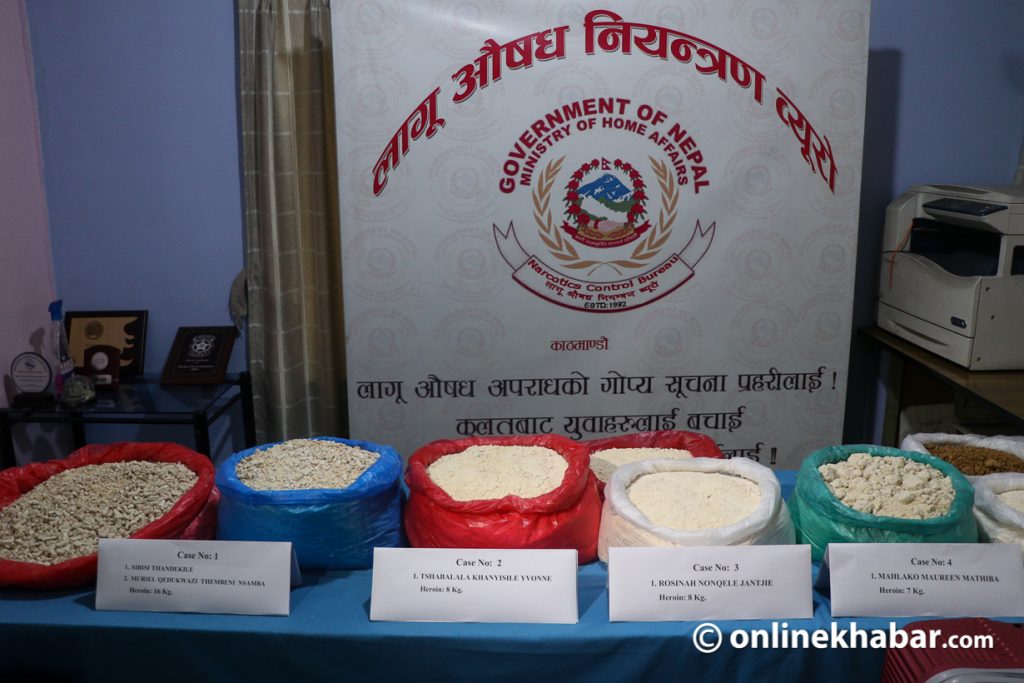 Before that, there was no record of any heroin haul coming to Nepal from Africa. Hence, the NCB began a further investigation into the suitcase that had a false bottom. There were no new tips, but the incident taught the police that they should now monitor citizens coming from Africa too.
On April 15 this year, according to the bureau officials, a suspicious passenger–an African national–travelled to Kathmandu on a flight from Johannesburg, South Africa, via Doha. The 35-year-old Kaputula Abisarg was arrested with 7 kg heroin from his false bottom. Abisarg was supposed to hand over the drug to an Indian national. But, before that, the police arrested both of them. After the two incidents and finding out that a woman had been sent to Kathmandu in a suitcase with a false bottom, they kept a close watch.
Meanwhile, on June 12, African nationals 29-year-old CBC Thandekai and 46-year-old Muriel Samba came under police suspicion as they reached Kathmandu via Dubai. When the police checked them, they recovered 16 kg heroin.
A day later, they seized 8 kg heroin from the 39-year-old Sabalala Bhoni who came to Nepal from Dubai. On the same day, another 8 kg was recovered from Roshna Janjei, an African national who came to Kathmandu from Dubai. Police also arrested three more people who had come from Dubai and Doha carrying suitcases.
According to DSP Phanindra Prasai of the bureau, the market value of the total heroin haul (51 kg) is Rs 1.2 billion.
Women in heroin smuggling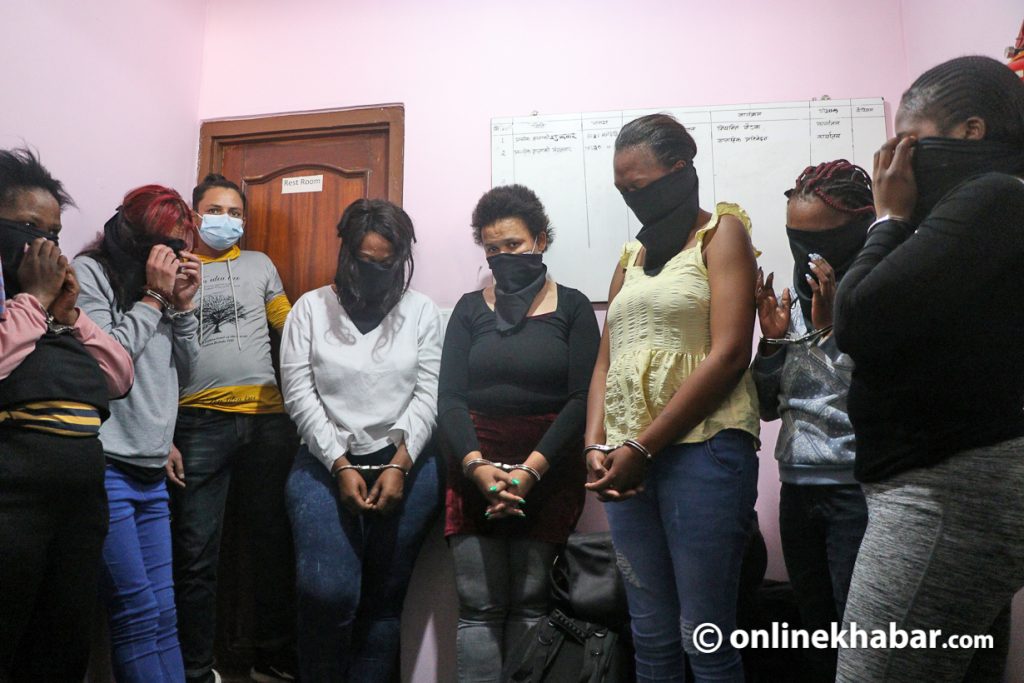 According to the NCB, the woman arrested on June 12 was working as a food delivery person in Johannesburg and was not earning well.
One day, her coworker Muriel Samba offered her a job and said she would get USD 2,500 for taking a suitcase to Nepal. She said that she had been to Nepal twice, and assured him that there would be no problems. "I had to work hard to make ends meet, so I came to Nepal with him. But, I was arrested in Kathmandu," she said. Muriel, on the other hand, has already gone to India.
"They must have come to Nepal thinking it was difficult to smuggle goods in India," says an official, adding that they were already preparing to take the heroin haul to India by land hinted by a vehicle they recovered with an Indian number plate.
---
This story was translated from the original Nepali version and edited for clarity and length.