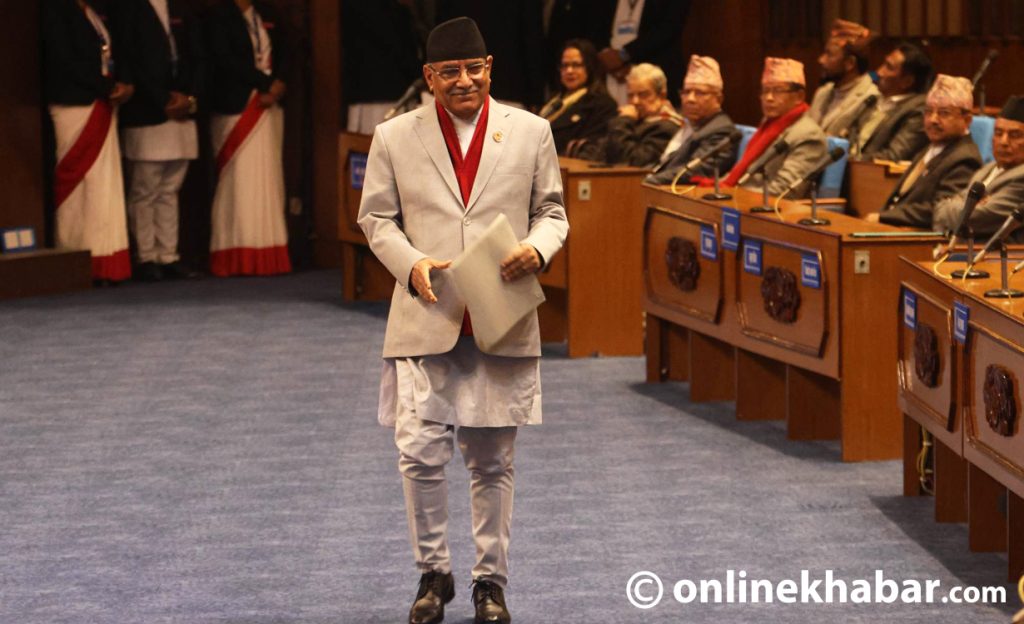 Kathmandu, January 10
After the main opposition, Nepali Congress submitted itself to the ruling alliance, Prime Minister Pushpa Kamal Dahal won a vote of confidence of the House almost unopposed.
Of the 270 lawmakers of the 275-member House who were present during the vote today, 268 voted for the premiership of the CPN-Maoist Centre chairman.
Prem Suwal of the National Workers and Peasants Party and Chitra Bahadur KC of Rastriya Janamorcha opposed the motion of confidence vote.
It means the House of Representatives does not have any opposition party for now as the two parties opposing Dahal have not got the recognition of a national party as per the parliamentary laws.
Constitutional experts say the Nepali Congress now cannot claim itself as the opposition party although its president Sher Bahadur Deuba told the House that it would be in the opposition despite extending the vote of confidence to Dahal.
Deuba's membership of the Constitutional Council as the main opposition leader has come under serious question.
It is assumed that Deuba supported Dahal hoping for a favour from the Maoist side for the presidential election to be held after a few weeks.
Analysts say Deuba also hopes he could bring back Dahal from CPN-UML chairman KP Sharma Oli's side and revive the erstwhile coalition that contested the 2022 November elections together.