Anjita Bista, 21, from Lalitpur, gave birth to a baby boy in Patan Hospital three months ago. The child was born premature, three months before the normal delivery time, with a lot of health complications.
Therefore, the hospital told the parents that the child needed different treatments for which they should deposit over two million rupees gradually. Then, Bista sold all my jewellery she had. Other family members also contributed their shares and collected Rs 1.3 million in total. But, the treatment was still going and the hospital bills were escalating accordingly.
The family was sad; they wanted to save the child but they did not have money.
After Bista and her family were left with no alternatives, they opted for crowdfunding on the recommendation of Sneha Dhakal, an admin at a private Facebook group. Bista collected the needful money in a short time soon.
She is one among many people who have used social media platforms such as Facebook to save lives via crowdfunding. Along with the popularity of these forums, crowdfunding is proving effective for some people seeking support whereas different factors have affected successes for others.
Life-saving help
"Soon after birth, he was required to be kept on a ventilator. He was just 840 grams then," Bista says about her son. Later, he was also diagnosed with extremely low birth weight IAGA and neonatal respiratory distress syndrome (RDS) and bronchopulmonary dysplasia (BPD) with grade I PVL.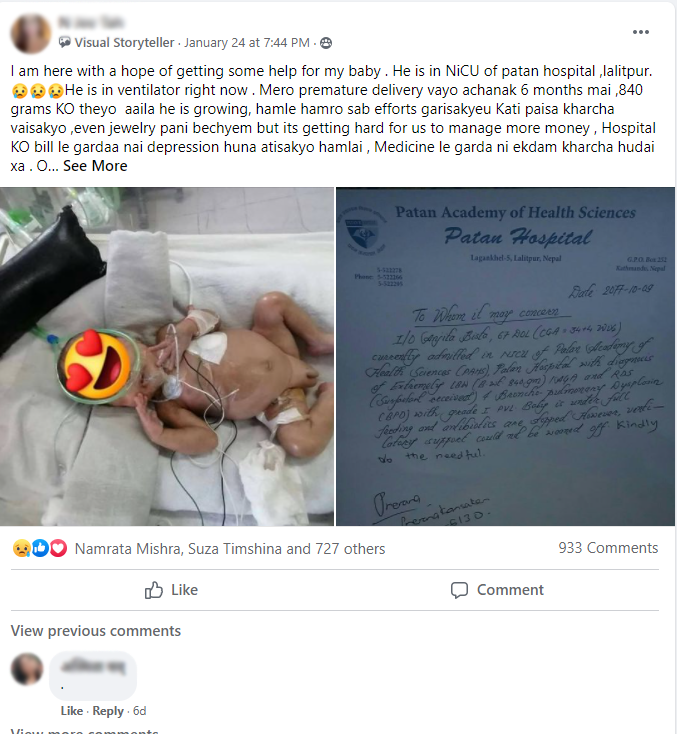 Bista works as a school teacher in Godavari on the eastern outskirts of Lalitpur whereas her husband had returned home from the UAE last year. For a working-class family like her, additional treatment for these complications were unimaginable.
"Then I shared my problem with the group admin, seeking help," she says, "After all, I had to save my child anyhow."
"I also showed her all the reports. Initially, she personally helped me for the medicines, but that was not enough."
This was when Dhakal suggested Bista should go for crowdfunding with a target of collecting Rs 500,000 initially.
Accordingly, they posted about the case in the group and pleaded for help. Sneha Dhakal, who has also been recognised as an influencer among Nepali Facebook users, says, "I personally asked my family, relatives and friends to contribute to the cause. I also posted about this case in other groups also."
Fortunately, within a week, they were able to collect the required amount. Bista shares, "As of now, the treatment is going well, and we have deposited the amount for treatment."
Anushka Dahal, an active social media user, who is also an admin of Women's Room Reloaded Facebook group with over 60,000 members, says her group has also helped many people crowdfund.
"It has been five years since we have started helping people. Though we have no exact data, so far, we have helped more than 50 families since the start and it's still going on."
Varying success rates
But, not everyone is as lucky as Anjita Bista and they get their needful support on time. In many cases, the effectiveness of crowdfunding depends on the reach of the posts and the cases, says Dahal.
"Most of the cases that need emergency funds have been successfully completed. But, there are a few cases for which we don't get much attention."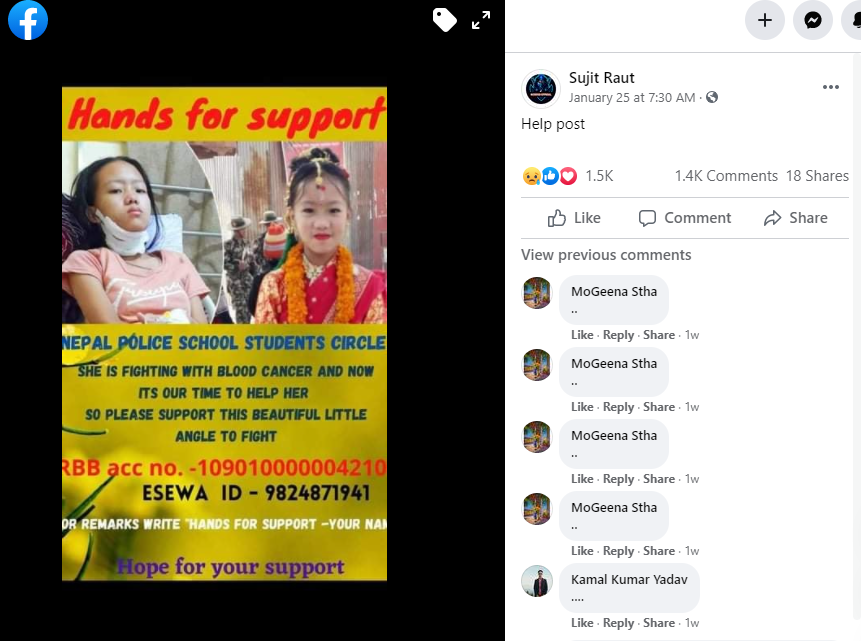 Sushma Gautam, a Nepali student in Australia, who had been fundraising for her distant relative of Chitwan battling with cancer, also highlights the same. "It's not working at all. Just the friends whom I could convince have donated and a few more. That's it."
Gautam, who is neither much active in such groups nor is an influencer or has access to such influencers, was facing difficulty in raising the funds. However, she was able to collect about USD 437 (approximately Rs 50,000) within two weeks.
Nonetheless, she maintains, "But still, that will help a lot to his family as I am trying to support them at least for food and oxygen."
Meanwhile, Anushka Dahal shares, "Most of the time, the amount collected through crowdfunding is usually in the thousands, but less than a hundred thousand (rupees)."
She vaguely remembers, "Around three years ago, we had collected a large amount of money, over Rs. 100,000, for landslides victims."
Among many help posts that appear on social media platforms, especially on Facebook, very few manage to meet the target while a lot of posts get lost garnering the only dots in the comment section.
Involvement of celebrities and viral pages
One of the calls for help that have garnered mass attention in recent times is the case of Siyona Shrestha, an infant who is diagnosed with spinal muscular atrophy type 1. Her family needed around USD 2.1 million (approximately Rs 250 million) for the medication that is reportedly available in the United States
However, with 'viral' social media pages like Routine of Nepal Banda, other active Facebook groups, and celebrities like Deepa Shree Niraula shouting for help, they have been able to collect about 70 per cent of the required amount, says Sandeep Shrestha, Siyona's father.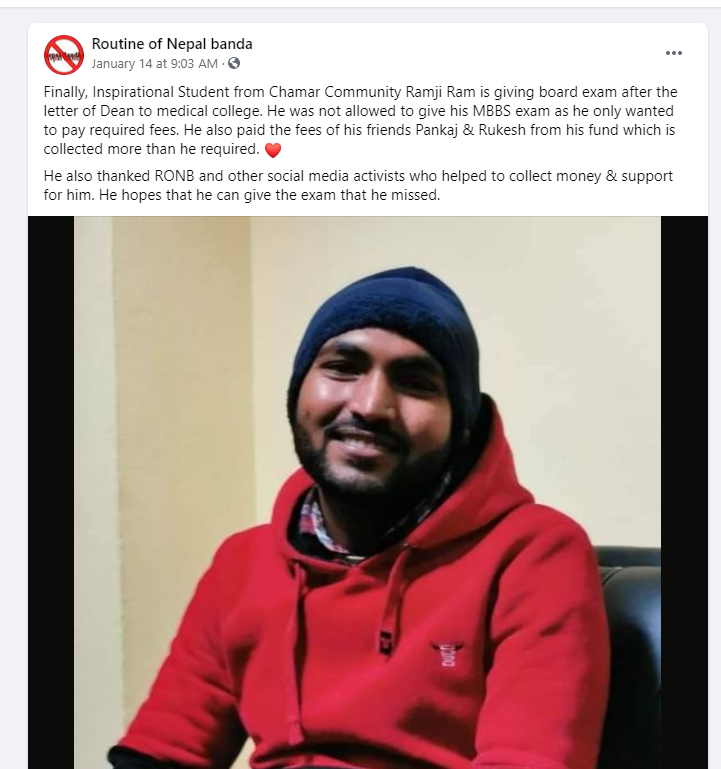 It has already been around 10 months since this initiative to save Siyona started.
Similarly, Birgunj-based MBBS student, Ramji Ram, was also able to collect the money required to pay for his education thanks to the support of Routine of Nepal Banda.