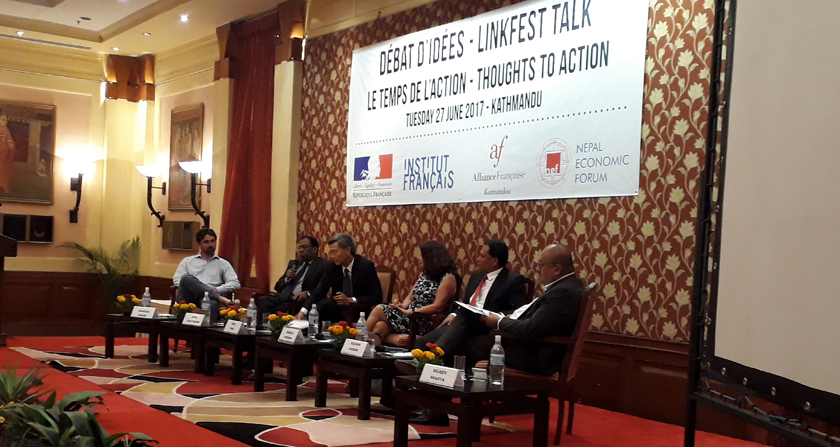 Kathmandu, June 27
Regional connectivity will have important implications on Nepal and its neighbours as the country prepares to formally implement the BBIN (Bhutan, Bangladesh, India, Nepal) motor vehicle agreement, speakers at a programme organised in Kathmandu by the French Embassy, Alliance Française de Katmandou, and Nepal Economic Forum organised said.
At the 'Linkfest talk on Economic Development in Landlocked Countries-Part 2', a panel discussion featuring prominent personalities from different fields reiterated that the mindset of the leaders and the people needs to change if regional integration is to gather momentum.
On the panel were Bipul Chatterjee, Executive Director of CUTS international, Centre for International Trade, Economics & Environment (India) Francois Driard, CEO of Himalayan French Cheese (Nepal), Kulman Ghising, Managing Director of Nepal Electricity Authority (Nepal), Minh Pham, former UN resident coordinator and Rensje Teerink, Ambassador of the European Union Delegation to Nepal (Nepal).
While Chatterjee updated the audience on the recent developments in BBIN, Driard talked about various challenges facing his business for lack of connectivity.
Similarly, Ghising said that regional connectivity can begin with the energy sector as it is 'non-invasive' in nature. Pham shared in experience of working with the ASEAN countries, Ambassador Teerink talked about the European experience.
The discussion was moderated by Sujeev Shakya from the Nepal Economic Forum.