Kathmandu, April 5
Agitating civil servants have captured the office of their authentic trade union's election office. Their chief election officer, Gita Prasad Timalsena, has 'gone missing'.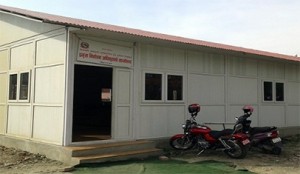 Civil servants organisations affiliated to the UCPN-Maoist, the Mohan Baidhya-led CPN-Revolutionary Maoist, Madheshi parties, among others, are staging sit-ins, lockouts and shouting slogans.  On Monday, they shouted slogans outside the election office. They are on a sit-in at the office on Tuesday.
"Yesterday, we staged a protest outside the election officer's office. Today, we are staging a sit-in inside the office," spokesperson for the Joint Struggle Committee, Prabhas Prasad Sah, said. "The election officer has gone missing and we are searching for him."
These employees are demanding civil servants' elections on proportionate-inclusive basis, removal of 20 per cent threshold and start of a process to make temporary, wage-based employees and contract-based employees permanent. This process, according to employees, has been on hold for 25 years. The agitating parties have accused the election office of setting the date for polls and opting for election regulation amendment without their participation. Sah said they will continue their agitation unless and until their demands are met.