Returning from a trek in Kumbu in November 2019, Raj Manandhar came across a crowded camp at Namche Bazar. First, he thought it was an awareness drive conducted by the Sagarmatha Pollution Control Committee (SPCC). But when he approached the crowd, he was pleasantly surprised.
"They were distributing bags with waste that would be recycled. These were small bags, smaller than a kilogram," says Manandhar. "They wanted us to take the bags to Lukla from where it would be flown to Kathmandu–an idea to involve trekkers in this initiative. I carried two bags down to Lukla myself."
The package was part of the 'Carry Me Back' initiative started by Sagarmatha Next in coordination with the SPCC and Eco Himal. Their aim through this initiative is to promote responsible tourism and use tourists to clean the trails. That is not only it; they have also been using the waste to make art as they believe that initiatives like these are key to changing people's perception of waste.
Waste management at the peak
"Through this project, we want to help the SPCC manage the waste that comes with all the tourists that come to Khumbu during the peak season. If everyone participates, managing it will be easy," says Tommy Gustafsson, a co-founder and director at Sagarmatha Next.
The SPCC, since 1996, has been active in cleaning the trails around Khumbu. For the past 25 years, it has done a lot in the area: from cleaning the trails and banning glass bottles to banning the use of single-use plastics and bringing down 8,300 kg waste from Mount Everest itself. But, every year, it was plagued by the same question – what to do with the waste that is collected?
Dealing with organic waste which amounts to 39 per cent was easy. But waste like pet bottles (7.6%), plastic (13.8%), glass (5.2%) metal and aluminium (2.2%) was quite hard to put away.
At first, it tried recycling. But, it was a tedious process. As everyone was busy during the tourist season, there was no time or human resources to segregate waste. The people there chose an easy option, dig a pit and burn the waste. In order to stop this, the SPCC got an inflamator which burnt things quite quickly with little smoke. But, people hardly used that.
"They said it wasn't practical, which is why they dig pits in areas where tourists wouldn't go and light the waste on fire," says Phinjo Sherpa of Eco Himal.
Then, there were other plans to get the waste down. The first thought was using helicopters, but that was too expensive. Then, suggestions were made about using donkeys. But, as they carry heavy weight up the mountain, experts suggested that they should not be carrying much weight as they would otherwise be exhausted. The proposal of using porters was also brought up, but the SPCC and Sagarmatha Next did not want to exhaust them either.
But in 2019, Gustafsson, Sherpa, and the SPCC along with the Saraf Foundation came up with a new idea. They decided to take a shredder all the way to Namche and use torn up tents and old banners to make bags to put the shredded waste. 
"The next part of the plan was to hand these bags of shredded plastic and aluminium to tourists. At first, I thought it was ambitious. But, what followed surprised us all," says Gustafsson.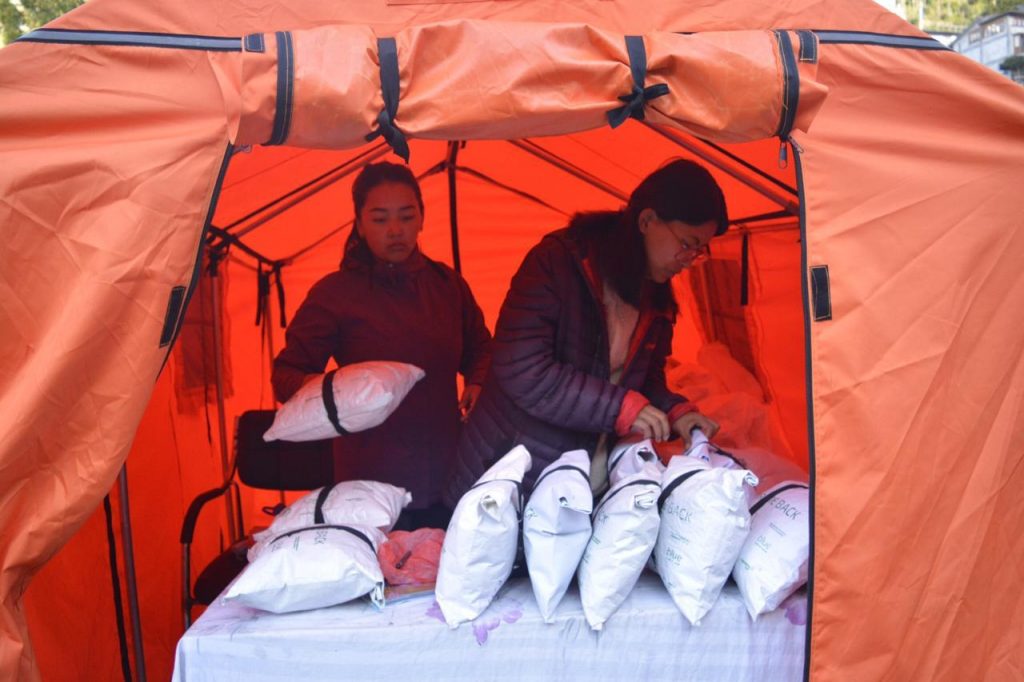 Making everyone responsible
Having understood that over 60,000 tourists had travelled to the Khumbu region in 2018, they felt the numbers would be similar. So they were hopeful. But, even an optimistic Gustafsson did not imagine that the participation would be as good.
They set up camp for six weeks between October and November 2019 and packed up 5,400 bags, each weighing 1 kg or less.
"The first 1,000 bags disappeared in four days. Everyone who came down from the EBC or from Ama Dablam was quite happy to take back," he says.
The bags were then emptied at Lukla and brought back to Namche again for a refill. The remaining 4,400 bags also went by easily. "This was a pilot project, the one that we had not thought would do well. But, surprisingly, people cared a lot about it, both locals and tourists." Gustafsson says that a Nepali guide carried a record 32 bags while a British trekker carried 14.
They had similar aims in 2020. However, the Covid-19 pandemic put a halt to it. But, with trekkers expected to be back this spring, Gustafsson says there is hope.
"Local participation has been good too. They have understood why we have wanted to do this project and why it is important. Once our centre in Syangboche is up and running, we will invite locals and show them how the project can help make this place cleaner."
Creating impressions and inspirations
Phinso Sherpa says that having seen what is possible, a lot of lodges in the Khumbu valley have already started segregating waste.
"This shows that we are heading in the right direction," he says.
The next step now is using recycled waste. Most of it is used by Blue Waste To Value while some are upcycled by Moware. Apart from that, they also use waste to create art. This first happened in 2012 with the waste brought down from Mount Everest being used. Some of these art pieces were sold for a thousand dollars.
"We want to show people that there is value in this. People need to stop treating trash like trash. We can use it as a resource too. That is why we have created a space for artists who can come in and stay with us and use these recycled waste to create art," says Gustafsson.
The project has been lauded by everyone who has seen it, says Gustafsson. Conservation areas in Nepal have already contacted them about replicating the project in their area. Apart from that, people from Kazakhstan have also contacted them.
"This is a model that can work in any country. Just [it] needs time and dedication. Hopefully, this can branch out in the next five years," says Gustafsson.
Photos: Tommy Gustafsson/Sagarmatha Next